When you want thicker and fuller hair, you need tea tree oil shampoo. Ancient natural remedies, like tea tree oil, have long been praised for their health benefits. Many formulations for skincare and haircare include tea tree oil since it has antimicrobial, antibacterial, and anti-inflammatory properties.
The most common use of this supplement is as an acne-fighter, but it can also soothe scalp irritations like redness, itching, and dandruff. This is achieved by eliminating buildup of chemicals and dead skin cells. This promotes a healthy environment that promotes hair growth to produce thicker hair. Hair loss can also be minimized by minimizing inflammation since inflammation on the scalp often interferes with hair growth.
Which Is the Best Tea Tree Oil Shampoo for Hair Loss?
While tea tree oil has been scientifically proven to have hair benefits, it might not be enough by itself to improve hair quality. The best tea tree oil shampoos for hair loss also include supporting ingredients, such as DHT blockers, nourishing natural extracts, vitamins, and proteins, to improve their effectiveness. Regardless of whether you are suffering from hair loss, thinning, or damaged hair, these are the best tea tree oil shampoos that will help you regain your crown. Take a look!
Neutrogena Healthy Scalp Shampoo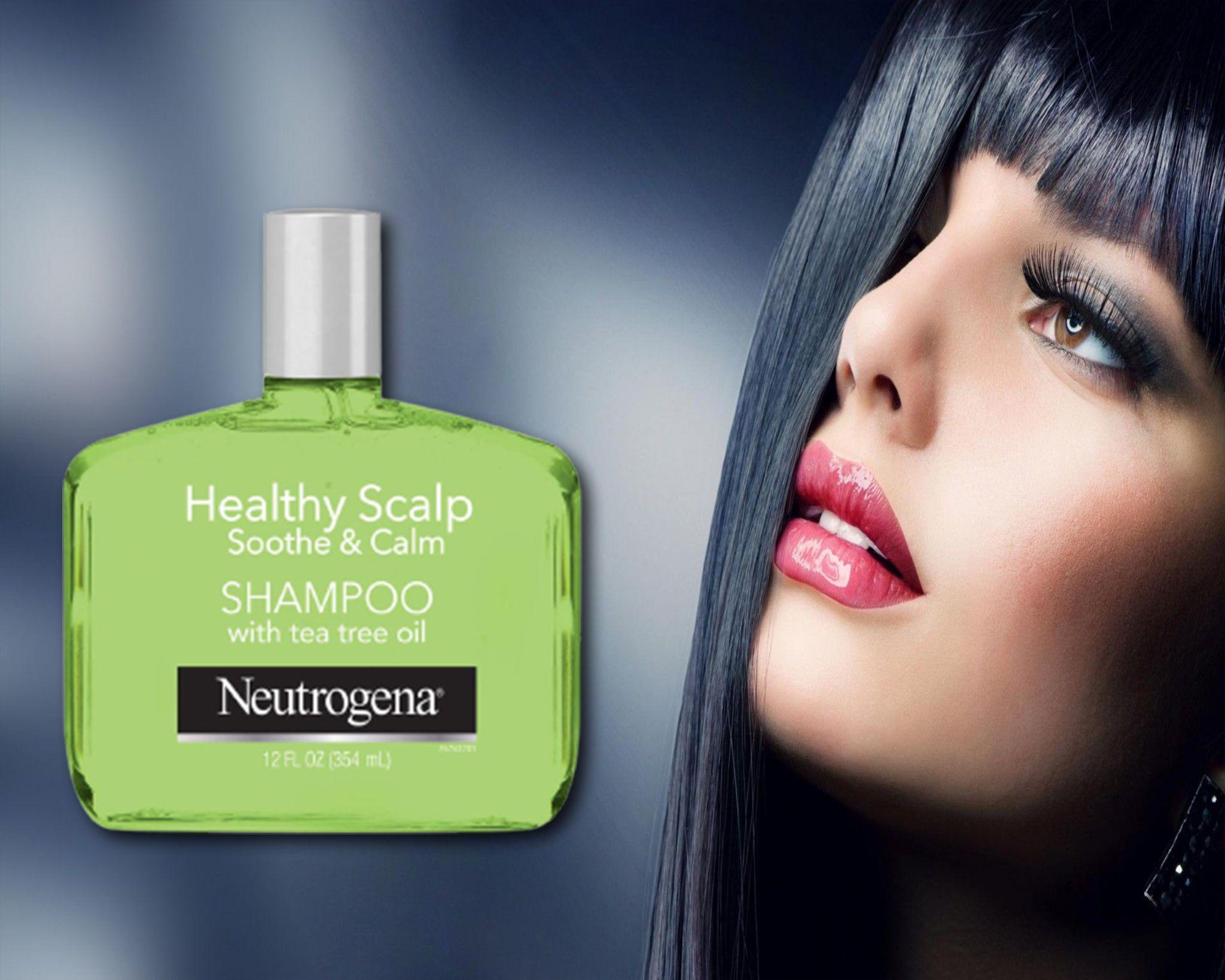 Image Source: neutrogena.com
For beautiful strands, calm dry scalps and hydrate strands. Tea tree oil is used in this shampoo blend to soothe and reduce discomfort, as well as to calm and moisturize dry scalps. Tea tree oil is a natural conditioner that helps to relieve dry, itchy scalp and also hydrates hair.
Regular application of this pH-balanced, clinically proven scalp care system results in a soothed, healthy scalp & beautiful hair. A dermatologist-recommended product. Contains no parabens and no sulfates. Suitable for color-treated hair. Suitable for all hair types, gentle, non-medicated, and non-drying formula.
Trader Joe's Tea Tree Tingle Shampoo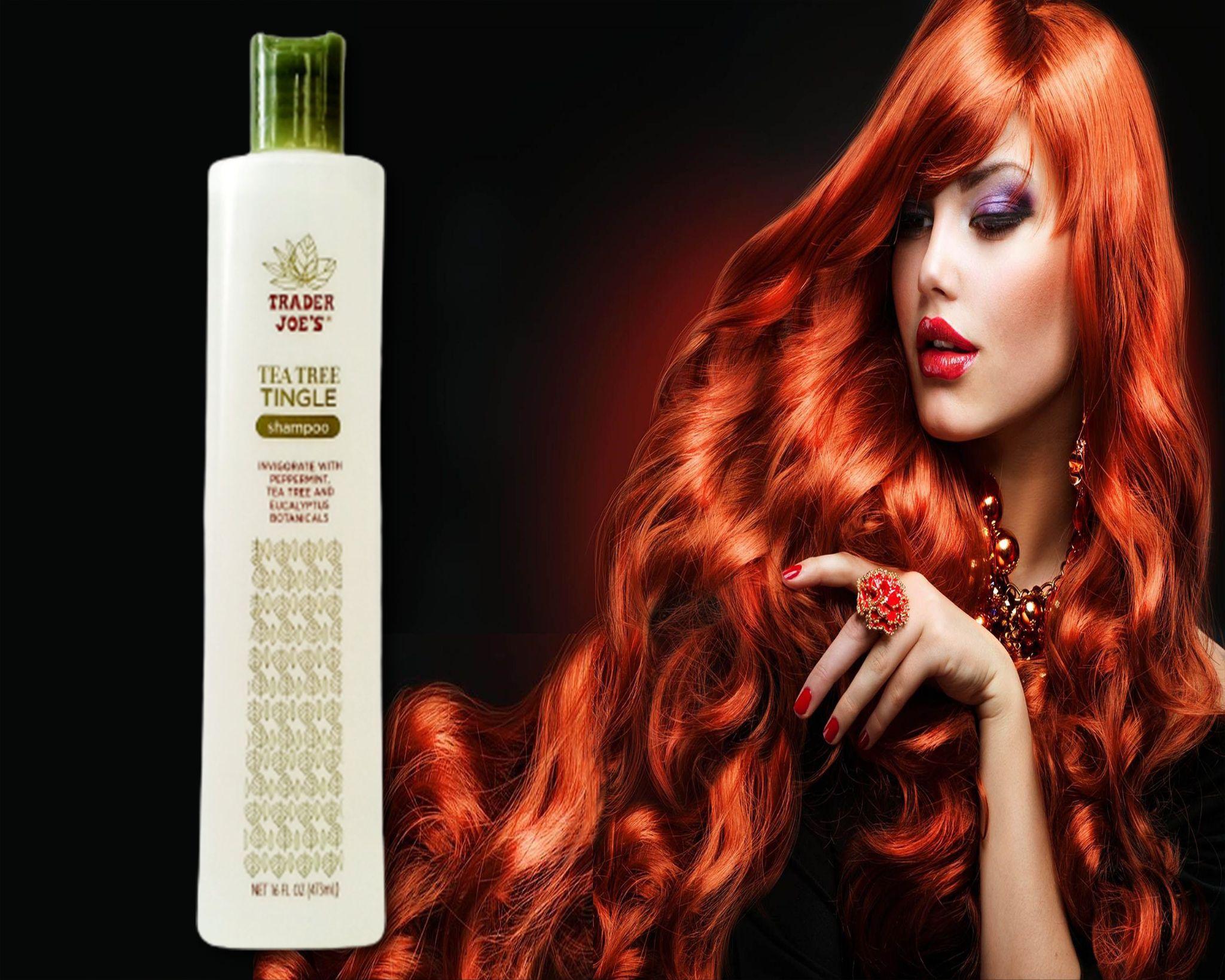 Image Source: Google.com
In terms of tea tree oil shampoos for hair loss, this is the most affordable. Trader Joe's Tingle Shampoo contains many hair-loving ingredients that cleanse and hydrate hair while soothing dry scalp. Herbal oils such as tea tree, peppermint, eucalyptus, and rosemary nourish and refresh your scalp, soybean proteins and vitamin E strengthen hair, and chamomile and lavender calm strands. This product is free of SLSs and contains organic botanicals.
Giovanni Tea Tree Triple Treat Invigorating Shampoo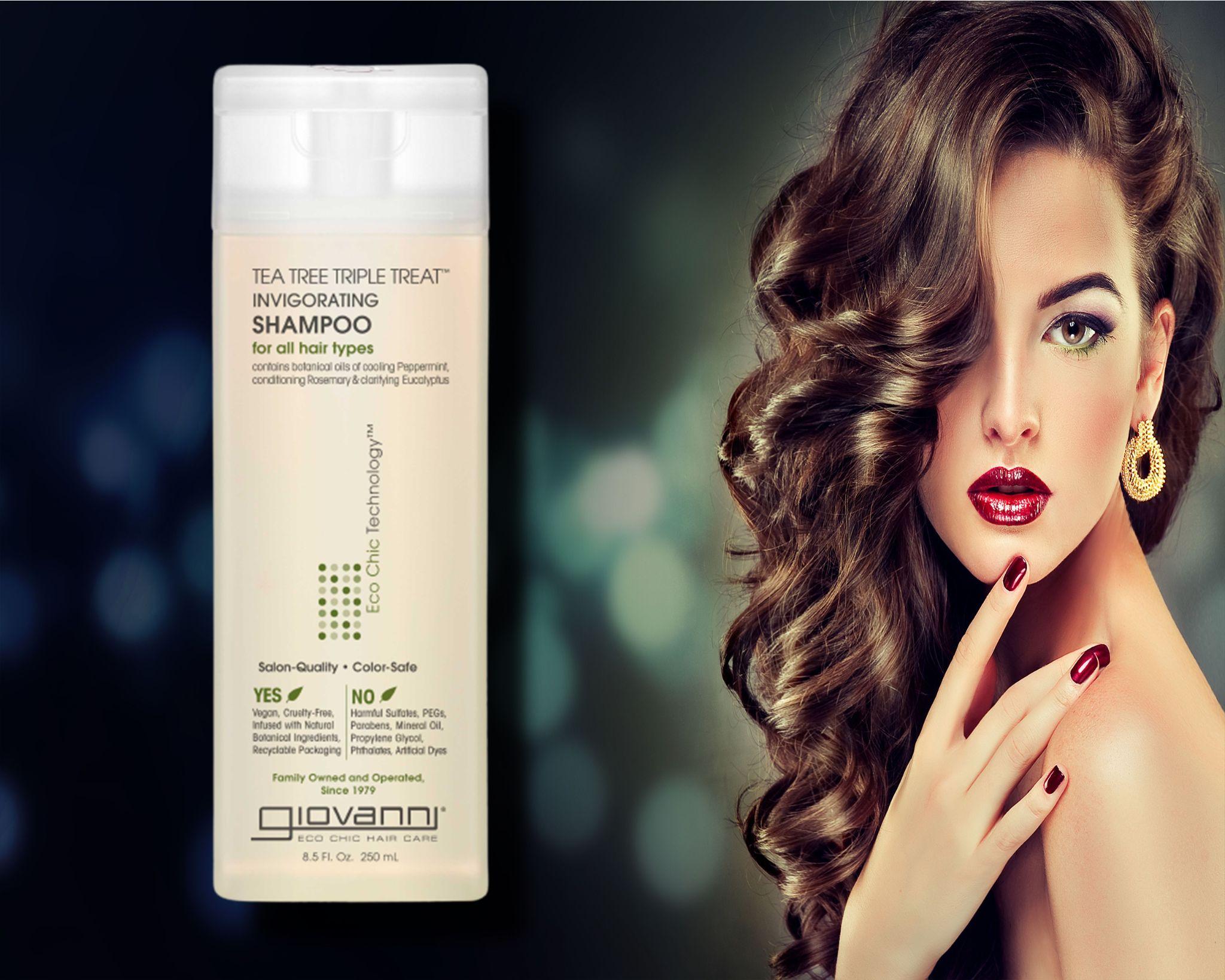 Image Source: giovannicosmetics.com
It is important to wash your hair with shampoo. You should be able to feel the shampoo as you wash your hair. The invigorating ingredients in Giovanni's tea tree shampoo hydrate and revitalize each hair strand and wash away any impurities from the previous day.
As a result, your hair and mind are left with something rich, something clean, something that is extremely stimulating. Stimulates scalp circulation so your scalp feels revitalized and renewed. Stimulates, conditions and clarifies hair with a three-organic-oil blend. The sulfate-free shampoo will not dull your hair or strip the color. Furthermore, it is paraben-free, cruelty-free, and color-safe.
The Body Shop Tea Tree Purifying & Balancing Shampoo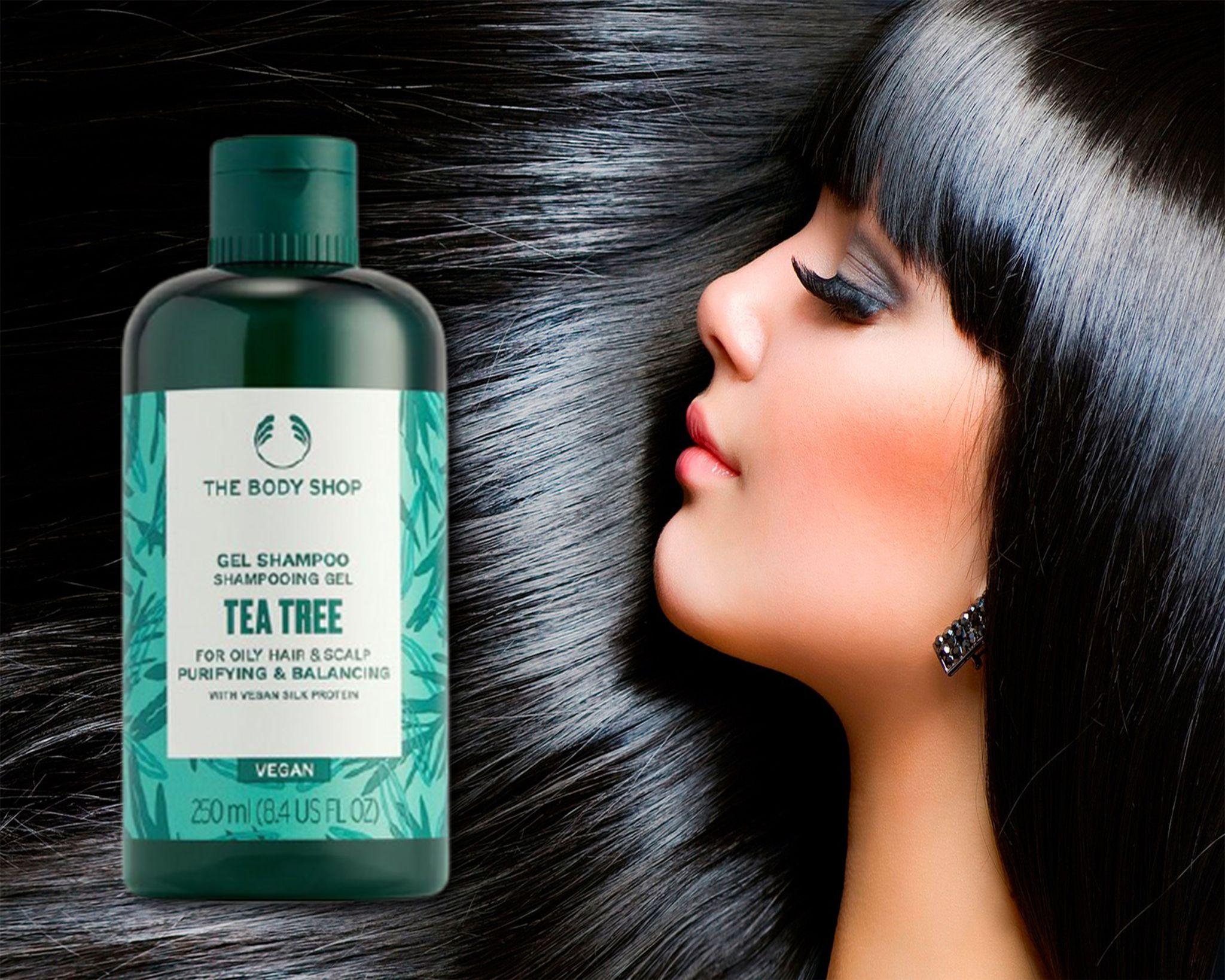 Image Source: thebodyshop.com
Our Tea Tree Purifying & Balancing Gel Shampoo will rejuvenate oily hair. Organic hair care lovers will appreciate the fact that the Body Shop Purifying Shampoo is made with 93% natural ingredients. Tea tree oil is not the only ingredient included in this shampoo; salicylic acid is also included, which unclogs pores and encourages hair growth.
It's true, this formula contains glycerin, peptide, and vitamin E to nourish the scalp and counteract the drying effects that salicylic acid may have. Vegan Silk Protein is used to create this formula.
DrFormulas HairOmega DHT Blocker Shampoo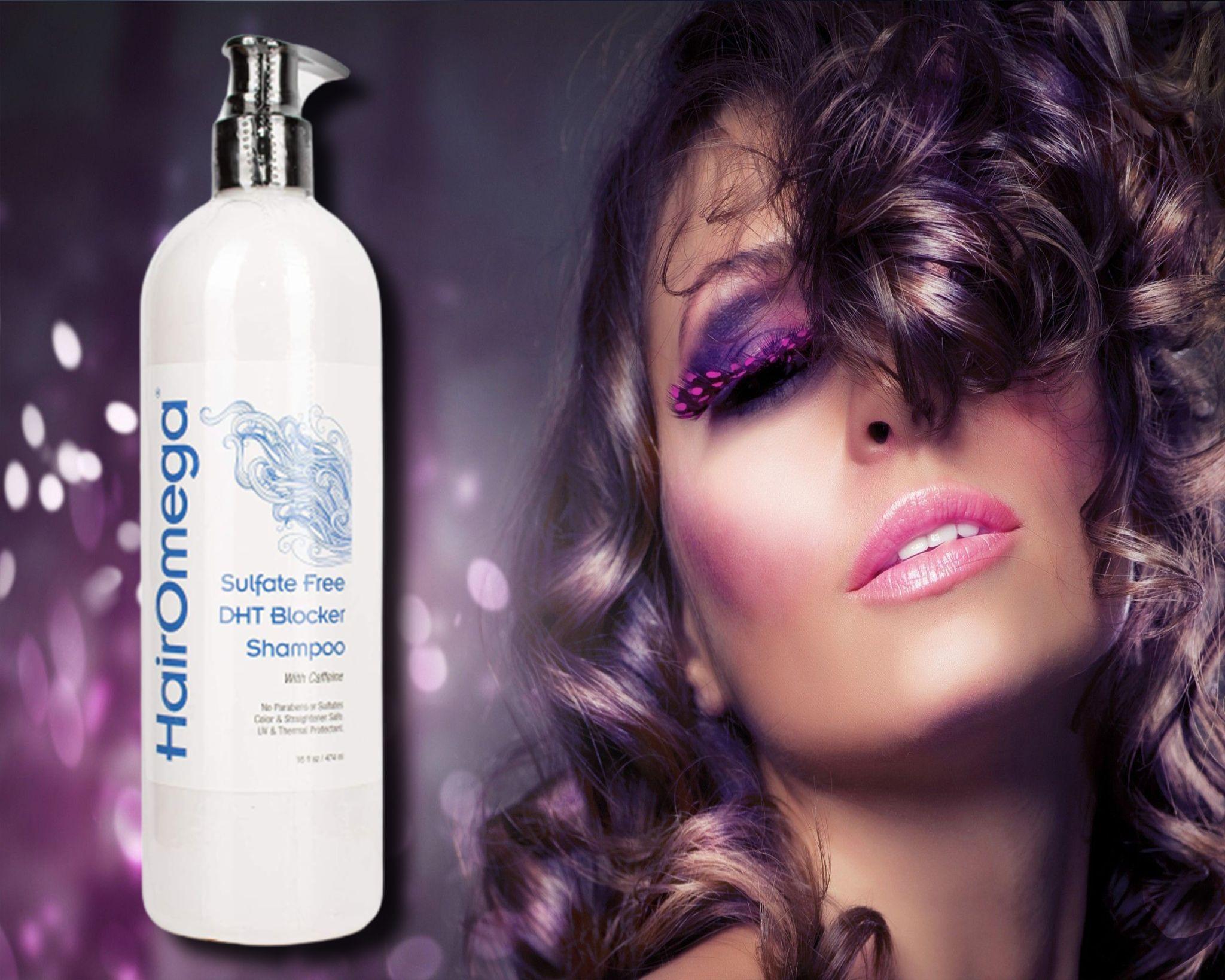 Image Source: drformulas.com
Natural DHT blocking compounds together with essential hair vitamins form DrFormulas HairOmega DHT Blocker Shampoo, resulting in nourished, healthy, and strong hair growth as well as a healthy scalp and healthy hair. With Moroccan Argan, Jojoba, Lavender, and Tea Tree Oils, this shampoo conditions and soothes hair.
The use of a sulfate-free shampoo ensures hair, scalp, and follicles are cleansed without damaging them. Using essential oils prevent dryness and itching by rehydrating the skin and scalp. Also, they prevent hair from becoming dry and brittle and promote hair growth. Among its hair-thinning ingredients are caffeine, vitamins B2 and B5, biotin, niacin, as well as green tea, willow bark, and saw palmetto extracts.
PURA D'OR Professional Grade Shampoo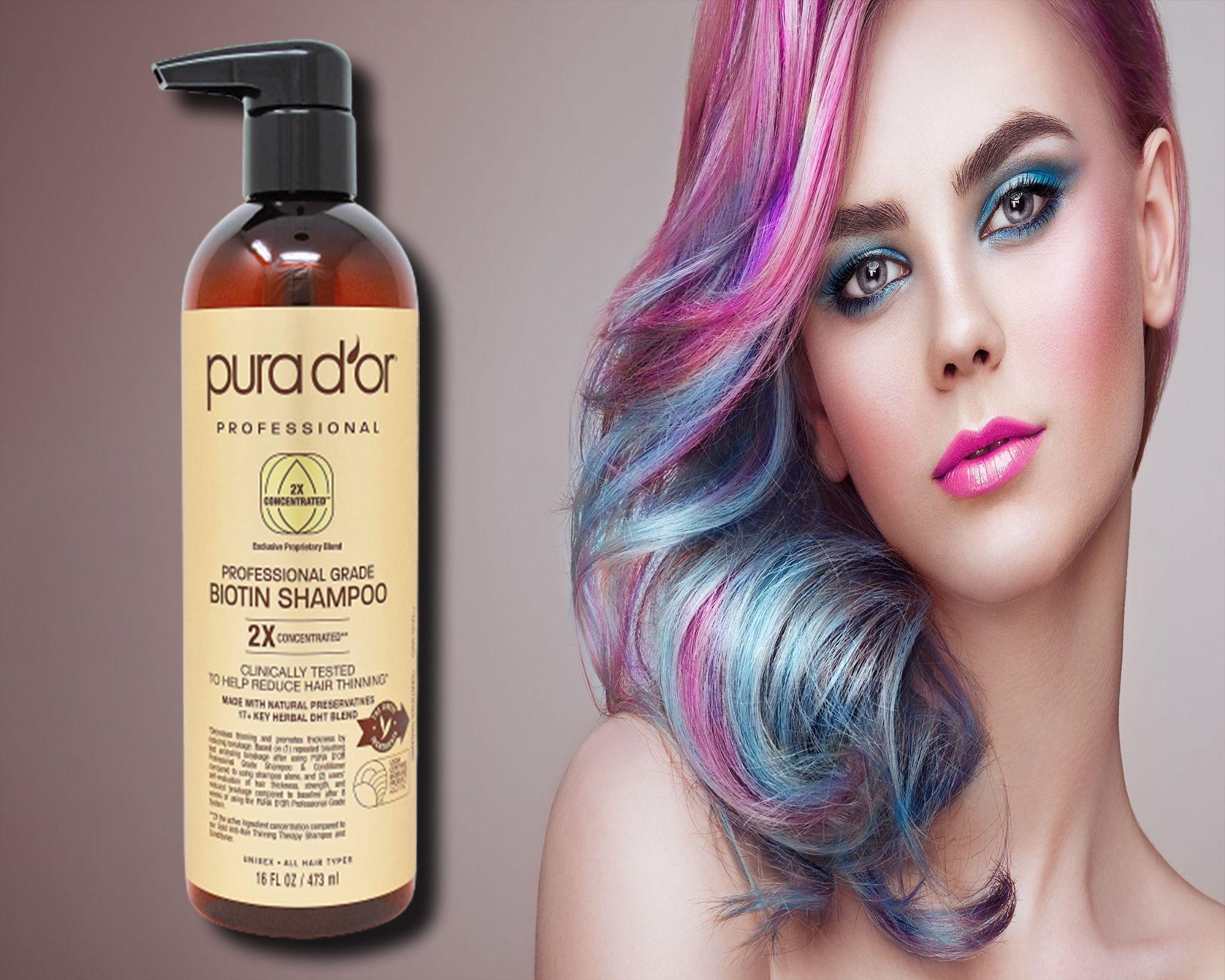 Image Source: purador.com
Clinically proven to combat hair loss caused by breakage, PURA D'OR maximum strength system boasts 17+ key ingredients in an organic Aloe Vera-based formula. Developed with a proprietary blend to provide strength and hydration for thicker, healthier-looking hair strands,
This professional grade system makes hair stronger, healthier-looking, with increased volume and shine. Hair thickening shampoo with double strength is its key benefit. For improved hair thickness and added volume, with ingredients that nourish the hair follicle from root to tip. Stimulates healthy hair growth and slows hair thinning.
A shampoo for damaged an thinning hair formulated with a proprietary blend of natural oils to restore the hair's moisture. This shampoo adds shine, luster, and strength to hair. Provides rejuvenating care for the scalp. Hair stimulation shampoos contain key active ingredients that reduce shedding by cleansing the scalp from the cause of hair thinning. They contain puraplex technology. Biotin, Argan Oil, and other natural essential ingredients are combined in this product to combat most common hair issues in both men and women, like thinning and itching.
Paul Mitchel Tea Tree Special Shampoo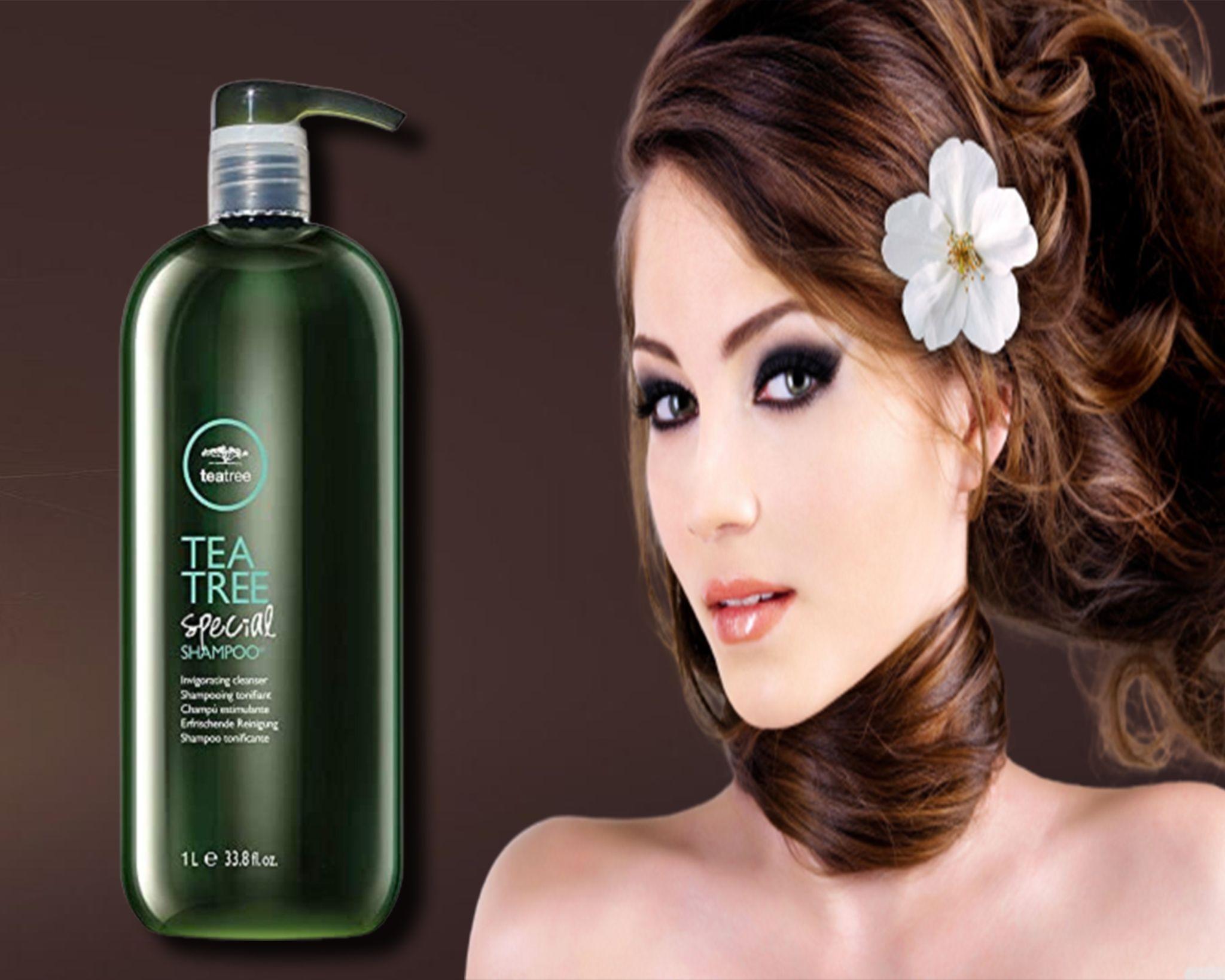 Image Source: paulmitchell.com
Paul Mitchell Tea Tree Special Shampoo is one of the best-selling tea tree oil shampoos on the market. Keep your hair clean and healthy by using it. While gently removing impurities and product buildup, it does not remove essential nutrients and moisture. Infuse hair and scalp with tea tree oil and peppermint oil with Paul Mitchell Tea Tree Lavender Mint Shampoo.
Hair is left looking and feeling lustrous. The formula contains more hand-selected ingredients that will thoroughly cleanse your hair, leaving it with a lustrous shine. Tea tree oil, peppermint, and lavender work together to create Paul Mitchell's Tea Tree shampoo, which leaves your scalp feeling fresh and tingly throughout the day, as well as smelling wonderful!
Hair La Vie Shampoo for Hair Growth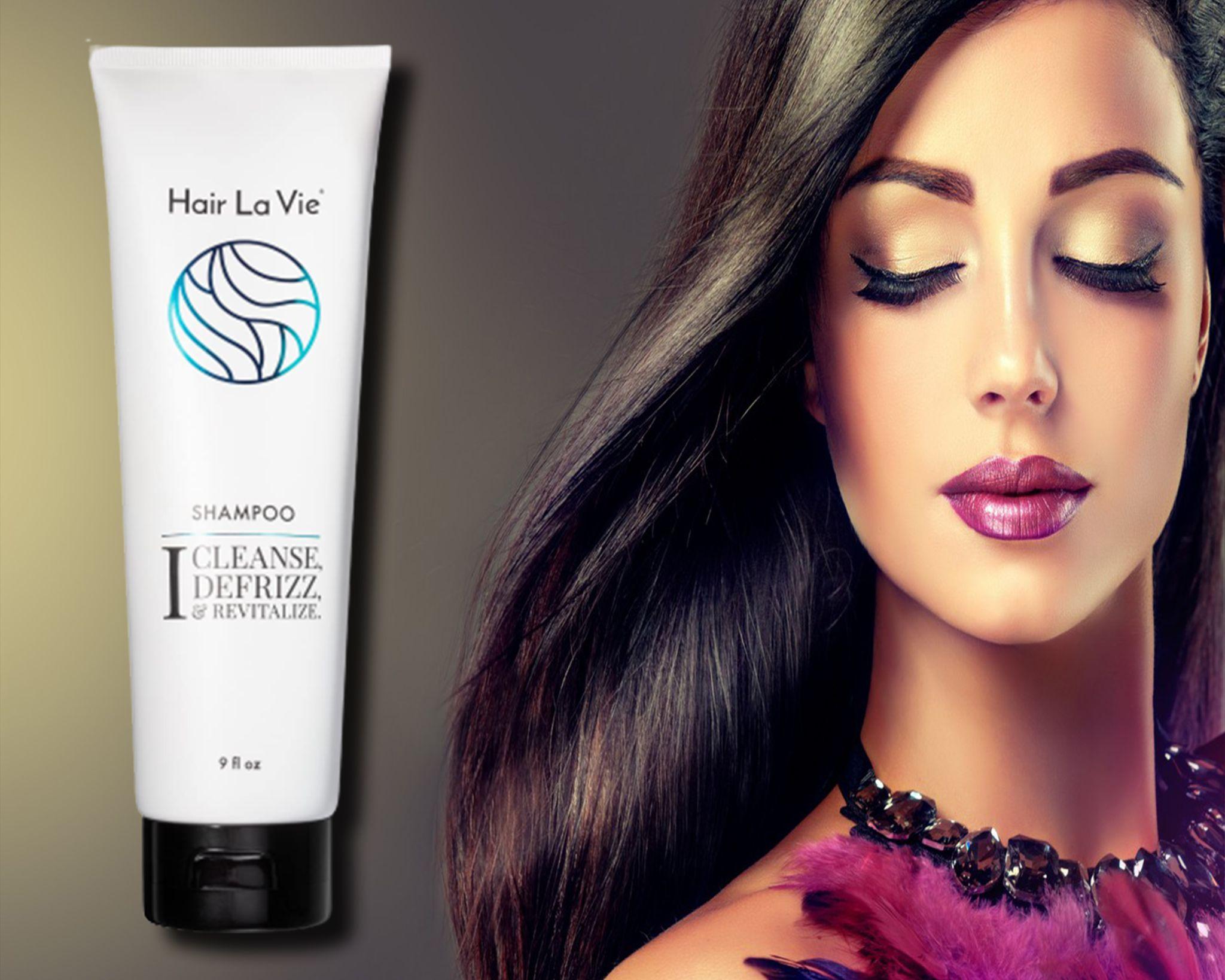 Image Source: hairlavie.com
Hair La Vie Shampoo was created to be both a gentle cleanser and a liquid hair vitamin that can be applied directly to your scalp. This shampoo is infused with all the good stuff and none of the harmful SLS, parabens, or fillers. Hair La Vie Shampoo is formulated with Marula, Coconut, and Peppermint oils to nourish weak, brittle hair and dry scalp.
An exclusive blend of 19 natural oils, extracts, vitamins, proteins, and amino acids helps renew lost nutrition to help hair look beautiful and feel stronger from the inside out. The natural Shampoo from Hair La Vie is free of damaging silicones, parabens or water-insoluble silicones that clog pores. This shampoo leaves hair softly detangled. Consistent use of these nutrients will lead to less breakage, split ends, and damage, since they are easily absorbed.
Cleanse your hair with a tea tree and peppermint experience that stimulates the scalp and helps to remove dirt buildup and heavy styling products. It nourishes hair, strengthens strands, and promotes healthy circulation on the scalp thanks to essential keratin proteins, silk amino acids, and saw palmetto.
CHI Tea Tree Oil Shampoo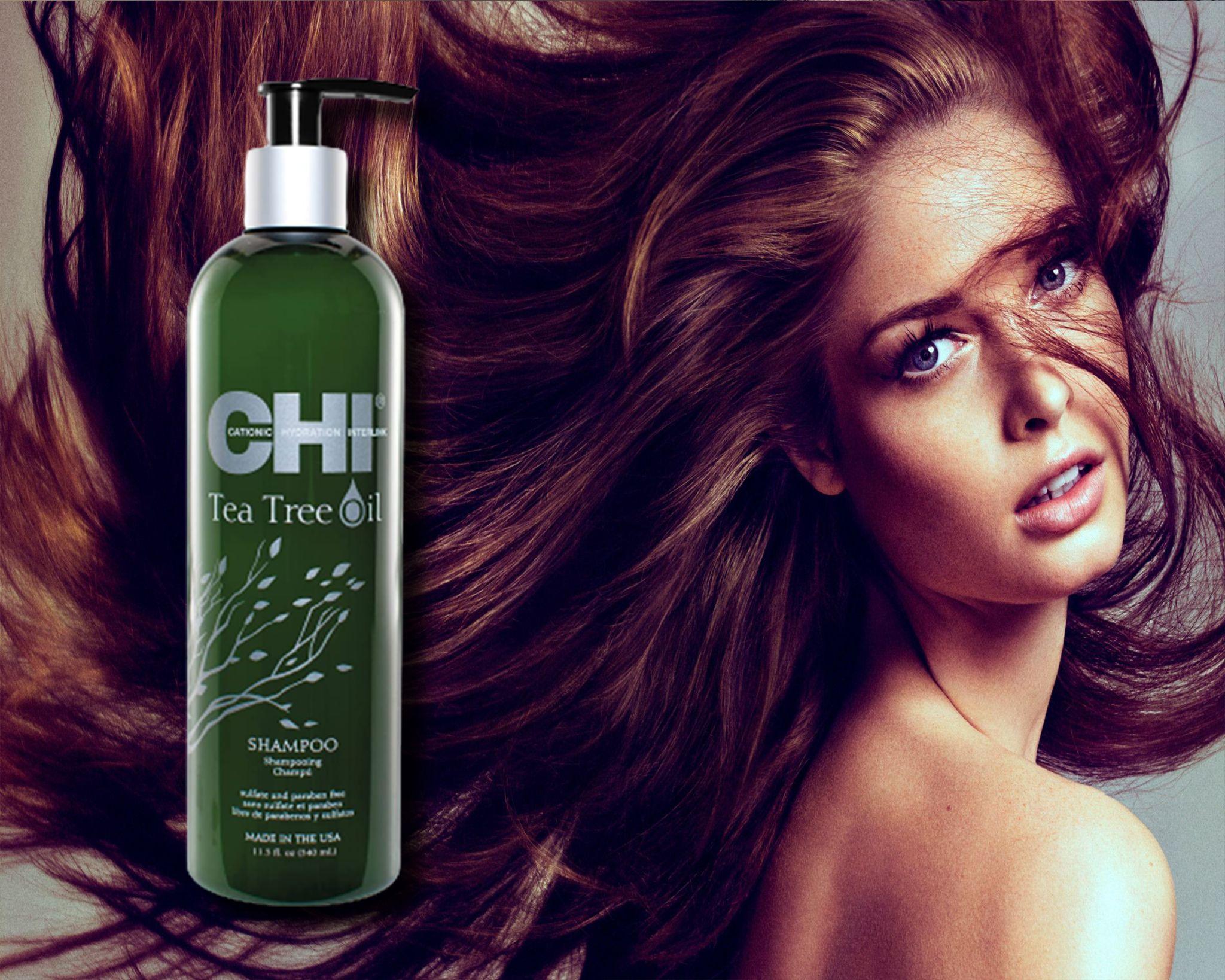 Image Source: chi.com
Choosing this tea tree and peppermint oil shampoo will help you achieve denser hair if you suffer from itchy and flaky scalp. Itchy scalps are usually a sign of inflammation, since dead skin cells and impurities can build up in follicles, clogging them up. Inflammations affect hair follicles, causing hair loss as a result.
Tea tree oil and glycolic acid are great for clearing leftovers and unclogging pores, and relieving scalp inflammations. Furthermore, peppermint oil promotes scalp blood flow, which increases oxygen and nutrients reaching the hair follicles, therefore boosting the hair growth process.
Paul Mitchell Tea Tree Scalp Care Anti-Thinning Shampoo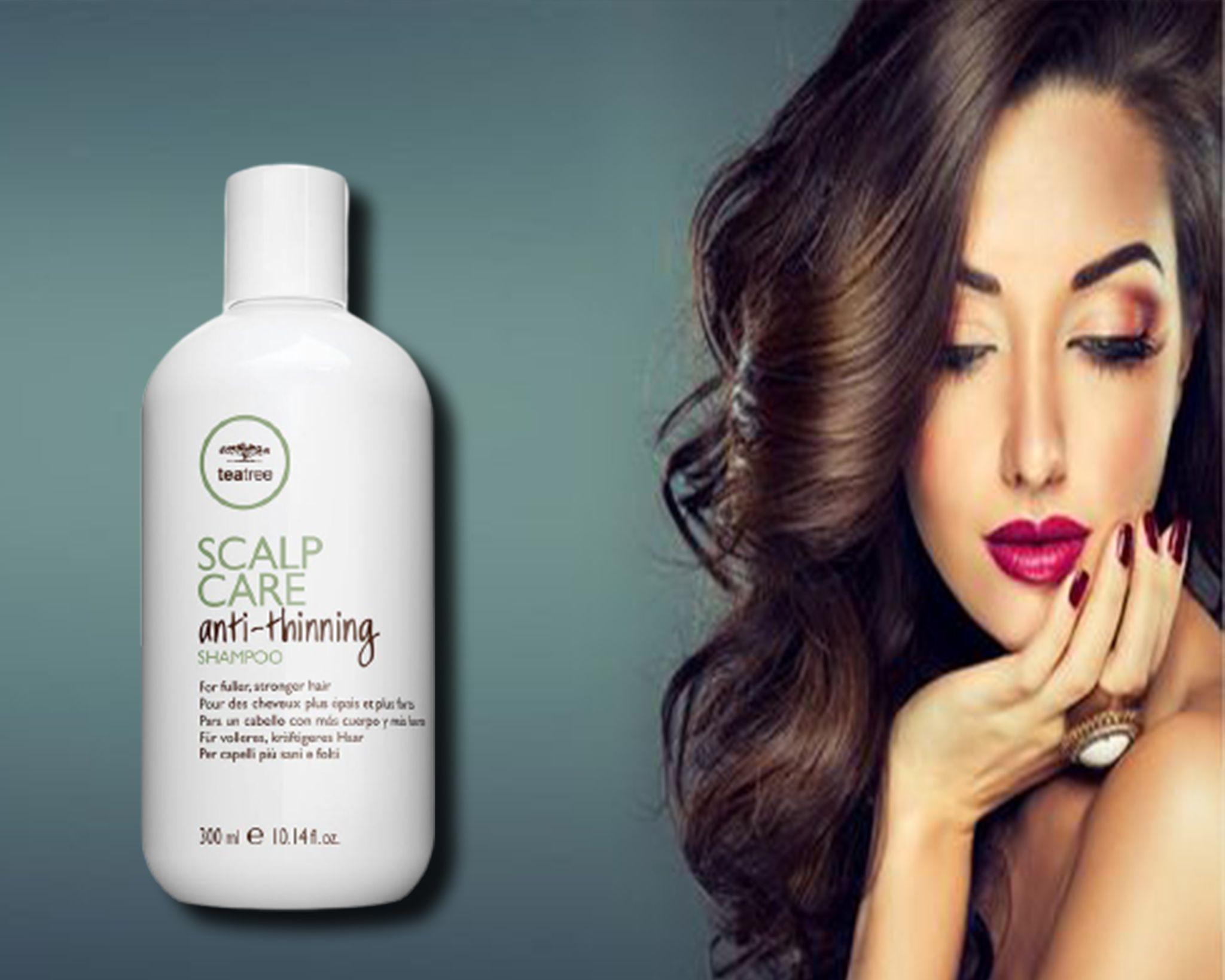 Image Source: paulmitchell.com
As one of the best tea tree oil shampoos for hair loss, it has everything you'd expect from a scalp stimulating product. Their Regeniplex complex combines Kakadu plum, pea peptides, clover flowers, turmeric, and ginseng to claim their top spot. Anti-inflammatory, antioxidant, and nourishing properties soothe the scalp and protect hair follicles, thereby reducing hair loss. This complex is topped off with tea tree oil, which offers even more calming effects, especially effective for fragile and thinning hair. The product contains botanicals and fatty acids derived from coconut oil.
By Rashmi Goel