Discover the year's best outdoor apparel brands, from budget leaders to mountaineering specialists
There is a market for outdoor clothes, which are suitable for all types of outdoor activities. It is evident that people are turning more and more towards the outdoors based solely on what they have been doing in the last year alone. Being cold or wet while enjoying fresh air is more annoying than anything.
Even with the proper gear, even adults can spend a few hours in nature without having to hurry inside because the weather is not cooperating. Considering their ethical nature and number of sustainable options, their price may at first seem high to you. Don't forget though that there is no better feeling than being comfortable and happy in your own skin, so give a few of these outdoor clothing brands a shot. You won't regret it!
In the long run, you will save money if you shift your mindset from spending less money on lower quality things and instead invest in a few high quality pieces that you will wear all the time and will also last a lot longer. There are some clothing brands geared toward specific needs, such as hiking boots or backpacks, but most focus on specialized clothing such as base layers or waterproof jackets, and some offer a bit of everything.
PATAGONIA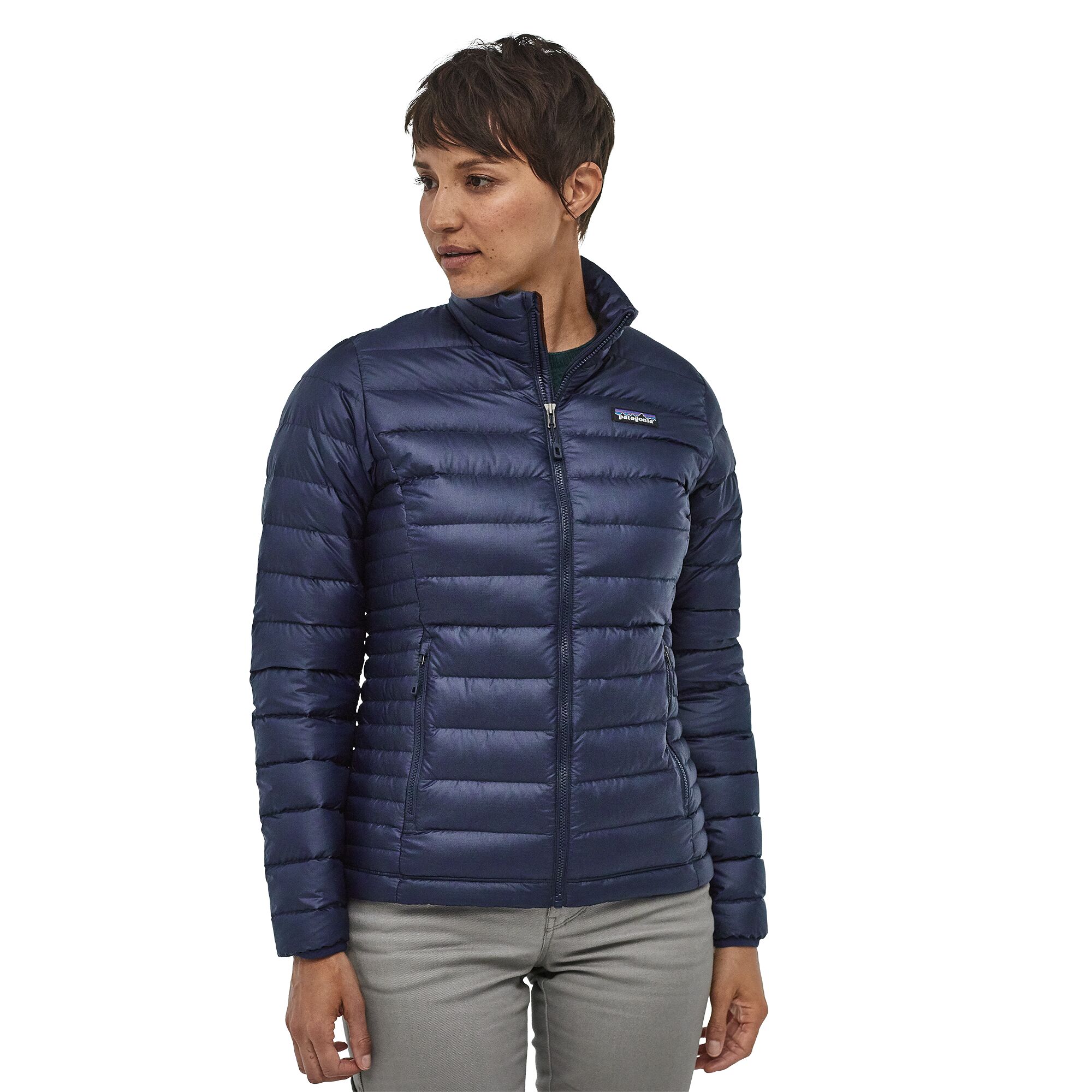 WOMEN'S DOWN SWEATER
Mountain exploration is at the heart of Patagonia's heritage as an outdoor brand. Yvon Chouinard founded the company in 1973 to highlight his expertise in rock climbing. The company offers a wide variety of outdoor apparel from hard shell suits to base layers to accessories, among others. With an extensive lineup of both technical and casual products, including the legendary Down Sweater (casual) and synthetic standouts like the Micro Puff and DAS Parka (technical), they excel at insulation in particular.
Patagonian spends a lot of time and money on environmental and sustainability initiatives, such as incorporating recycled materials into their products, offering repair services, and selling used gear through their Worn Wear program. Patagonia gear consistently crosses over well between daily use and backcountry use. The Patagonia logo and cachet come at a higher price, but the effort to be transparent and stewardship are worth it.
ARC'TERYX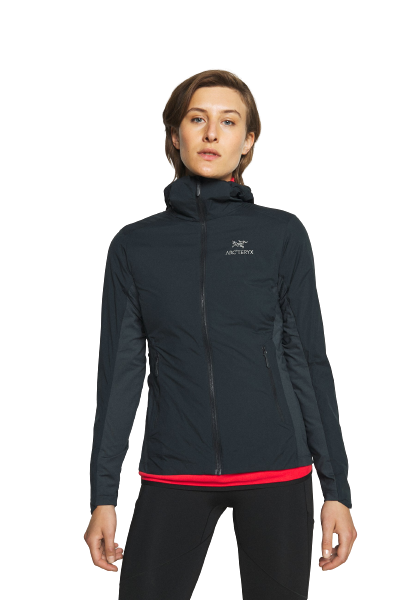 WOMEN'S ATOM HOODY JACKET
One of the most respected outerwear brands in the world, Arc'teryx is based in Vancouver, Canada The Arc'teryx product line includes base layers, daypacks, hiking shoes, insulation, climbing and skiing gear, and much more. Their best-selling items include long-standing models such as the Beta AR and Alpha SV hardshell jackets. ARC'TERYX gear is well-made, beautiful, and durable. Besides the steep price tags, Arc'teryx products are often highly technical and slim-fitting. In the case of the Atom LT synthetic, which is an appealing, venerable option, performance and quality are well balanced. Although the Atom is still pricey ($259 for the hoody version and $175 for the vest), it does come with a lifetime guarantee. Hardcore adventurers and backcountry enthusiasts revere Arc'teryx.
MARMOT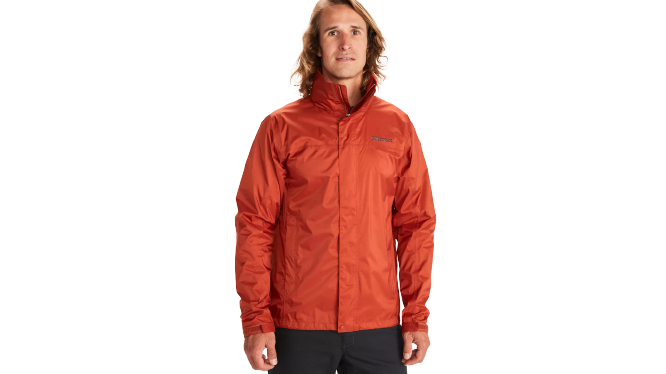 MEN'S PRECIP® ECO JACKET
Mountain climbing gear from this US company is among the best in the world. If you're looking for a casual outdoor adventure brand that offers a superior value, Marmot represents an excellent choice. Marmot prides itself on offering quality and affordability for everything from winter jackets to rain gear to ski shells. The company does offer a few notable high-end pieces, including the Gore-Tex-equipped Spire hardshell ($435) and resort-ready Freerider Jacket ($485), but its strength lies in the budget/midrange category. Marmot's PreCIP (now PreCip Eco) and Minimalist rain jackets, along with the Montreal Down Jacket, have consistently outperformed the competition and offer great performance for light outdoor use. The price is hard to beat, but for casual use, hiking, summer backpacking, and around-town adventures, the protection and features are sufficient.
COLUMBIA SPORTSWEAR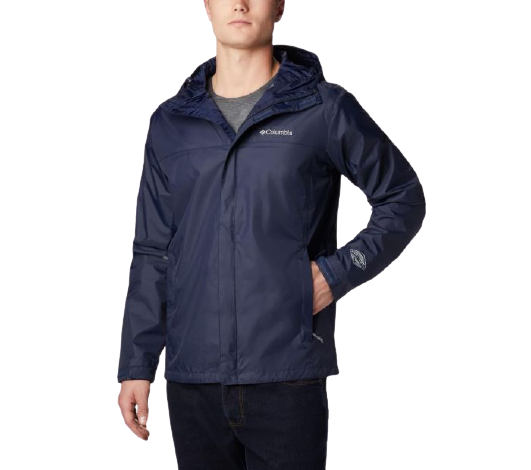 COLUMBIA MEN'S WATERTIGHT II RAIN JACKET
Since its founding in 1938 as a hat distributor, Columbia Sportswear has become synonymous with casual outdoor clothing. Their collections of clothing and footwear are particularly impressive in the budget arena, with prices considerably lower than their competitors. With the Watertight II rain jacket, you get a durable, 2-layer jacket that can handle moderate precipitation and short hikes on the trail. A cheap shell like the Watertight will wick moisture far faster than premium shells, while the lack of pit zips and cheap construction drastically degrades breathability. The biggest selling point for many people, though, is value, and casual recreationalists who don't need top-of-the-line waterproofing or technical features can save big without too many sacrifices. Columbia also offers a variety of "big and tall" options that make it more appealing to individuals with larger builds.
REI CO-OP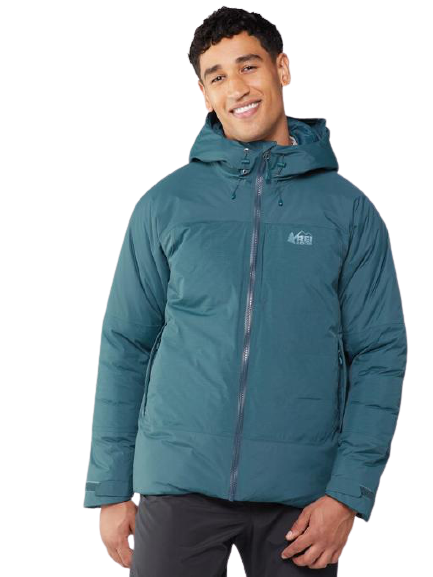 REI CO-OP MEN'S STORMHENGE DOWN HYBRID JACKET
It is well-known throughout the country among outdoor enthusiasts that REI Co-op is a great company. The REI chain boasts 165 store locations across the country, with excellent sales throughout the year. Furthermore, REI supports environmental and community initiatives, conservation efforts, and sustainable practices within its own line of outdoor apparel and gear. With the commitment to make its own clothing in 2014, REI quickly assembled a well-rounded clothing assortment that ranged from hardshells to down jackets to winter parkas. With high-end fabrics at great prices, the company uses premium materials from brands such as PrimaLoft, Pertex, and Gore. Popular items include Stonehenge down jackets and XeroDry and Stormbolt rain shells. For the level of performance that REI gear delivers, its prices are surprisingly reasonable, and we have consistently been impressed with its overall value.
THE NORTH FACE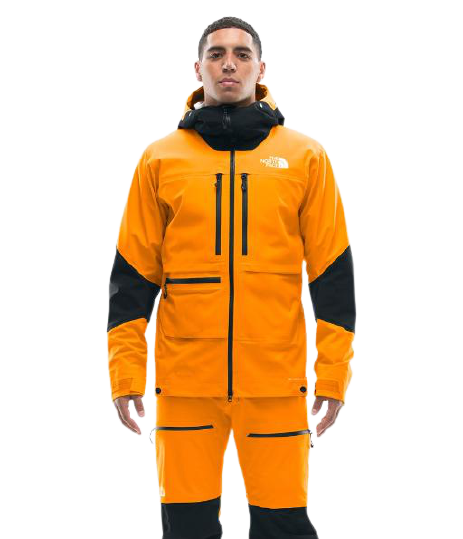 THE NORTH FACE MEN'S SUMMIT L5 FUTURELIGHT JACKET
There's no way we can get through this list without mentioning The North Face, a storied mountain brand with an impressive history of high-altitude exploration. Known for their bright orange and yellow tents, they've amassed a team of high quality athletes, including world-class climbers Alex Honnold and Margo Hayes and dedicated mountaineers Jimmy Chin and Conrad Anker. The Summit Series from TNF, which includes a mountain-ready L5 Futurelight shell to a Down Belay Parka, is undeniably premium outerwear constructed to withstand harsh conditions and demanding pursuits. North Face also excels at the causal end of the spectrum, as evidenced by their world-famous Denali fleece and ThermoBall synthetic, a comfortable, around-town option. There isn't an effective middle ground between their strengths – serious mountaineering and everyday clothing. Our experience is that TNF's jackets often have a boxy fit, while their core apparel is typically less durable and less detailed compared to Arc'teryx and Patagonia. The brand's lifetime warranty against defects is one of the best on the market, and prices are often good for what you get.
OUTDOOR RESEARCH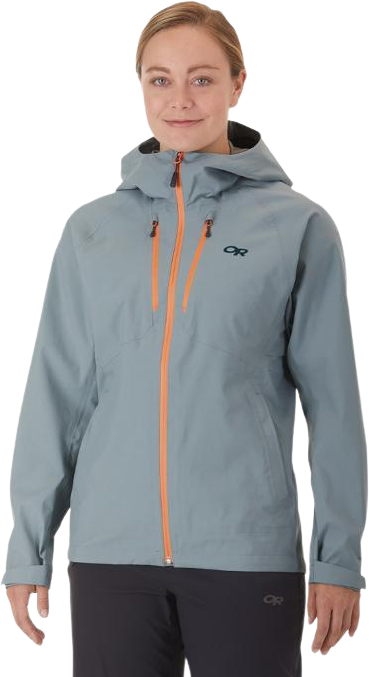 OUTDOOR RESEARCH WOMEN'S MICROGRAVITY ASCENTSHELL JACKET
https://www.outdoorresearch.com
This region of the Pacific Northwest is one in which the company Outdoor Research (OR) is especially known. After a climbing partner suffered frostbite from a pair of poorly designed gaiters on Alaska's Denali in 1980, mountaineer Ron Gregg founded the company. Over the past few years, the brand has expanded its focus considerably, covering activities from hiking to skiing, with a specifically well-executed selection of shells and insulation. This membrane for OR's ski shell and rain jacket-called AscentShell-has proven to be weatherproof, mobile, and breathable (although a little below Gore-Tex in terms of all-out protection). The fit isn't always perfect but OR gear consistently strikes a great balance between price and performance.
KUHL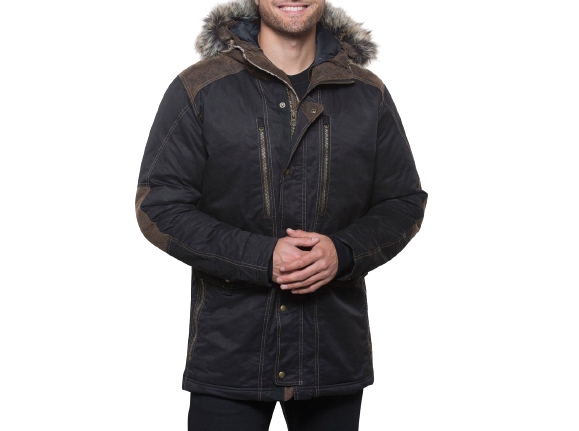 ARKTIK™ DOWN PARKA
The story of Kuhl began in the Wasatch Mountains of Utah, where its founders and mountaineer Conrad Anker were looking to create comfortable and functional clothing and accessories for skiing and mountaineering. Nearly 40 years later, the brand has established itself as a big player in the outdoor apparel business, particularly in the lifestyle and hiking categories. Kuhl offers a nice selection of competitively priced base layers, down jackets and winter jackets. The products will stand up to regular wear and abuse. The design of Kuhl products is usually distinctive and utilitarian. Especially in darker colorways, the Arktik Down Parka stands out with its burly shell, faux-fur hood, and paneling along the shoulders and elbows. Kuhl has an excellent range of hiking pants, including the Renegade, and the quality is superb. The hiking and lifestyle selection offers great durability and competitively priced items.
PrAna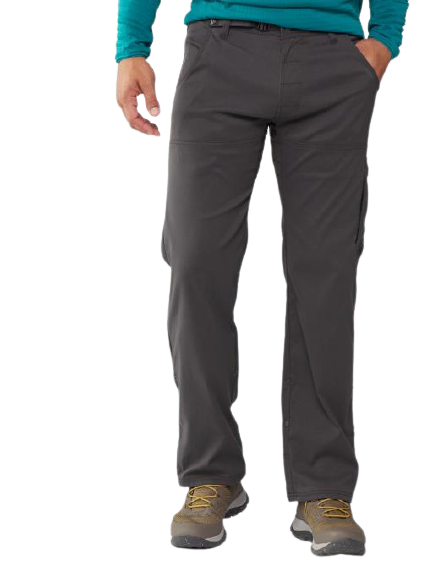 PrAna Stretch Zion Pants
prAna was founded in 1992 by two yoga and climbing enthusiasts who sought out sustainable yoga and climbing apparel. Currently, prAna is one of the leading brands in the industry for eco-friendly practices, using organic cotton, recycled wool, RDS-certified down, and bluesign-approved fabrics. PrAna also offers a variety of colors and sizes – one editor discovered the brand years ago because they sold a 31-inch-waist pant, which is uncommon in the industry. The prAna Stretch Zion pant earned this year's top spot in our hiking pant round-up because of their exceptional comfort and performance. These classic colors, as well as their functionality as climbing pants, make it an excellent choice for around-town wear, travel, and outdoor activities. While prAna is not the best choice for those looking for specialized, mountain-ready shells and insulation, it is an excellent everyday option. The company, whose ethos is devoted to quality and the environment, was acquired by Columbia Sportswear in 2014.
FJÄLLRÄVEN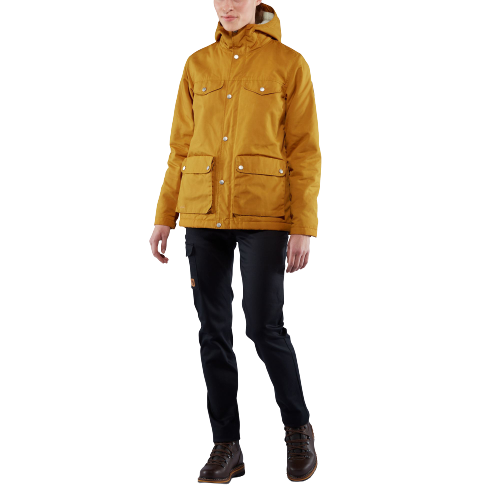 WOMEN'S GREENLAND JACKET
Originally a backpack company, Fjällräven's Kanken backpacks and bags are a trademark of the company. It was founded in 1960. The Swedish brand has grown considerably since it was founded and has been equally acclaimed for its line of upscale hiking apparel. The mountain-specific products offered by Fjällräven are stylish, durable, and outstanding in their performance in mountain environments. The G-1000 fabric is Fjällräven's signature and hardworking fabric used throughout most of their lineup. The material is 65% polyester and 35% cotton. Outdoor clothing often gets a bad rap for its small breathability, but Fjällräven's blend has plenty of breathability, and you can add their Greenland Wax for better water resistance. As with Kuhl, there may be some who dislike the fabrics and constructions, but we do enjoy them.
RAB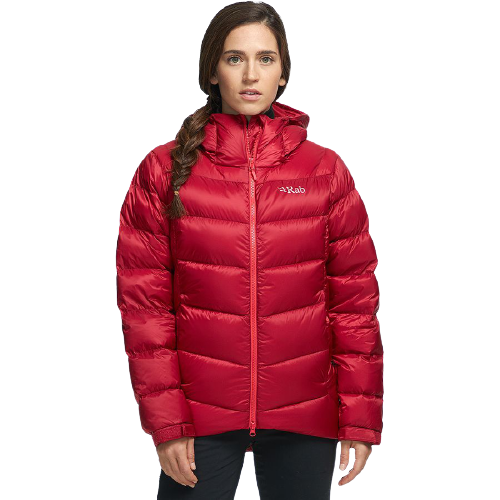 RAB WOMEN'S NEUTRINO PRO JACKET
It's possible Rab does not have the same name recognition as some of the companies on the list above, but this U.K.-based alpine specialist makes high-quality down jackets and shells that rival the performance of Arc'teryx and other premium brands. With Neutrino Pro, its generous dose of premium down, weather-resistant and durable Pertex Quantum Pro shell, and reasonable $375 price tag, they are our favorite heavyweight down jackets for this season. The company also makes Gore-Tex shells, such as the highly feature-laden Muztag GTX and the ski-centric Khroma series. Although Rab products are undeniably premium, the two biggest downsides are cost and availability. Additionally, Rab gear is difficult to find in the United States, although REI and Backcountry have begun carrying it. Among other companies in the technical/high-end category, Norrona and Mountain Equipment provide distinguished products, although both are much less present on the U.S. market.
Black Diamond Equipment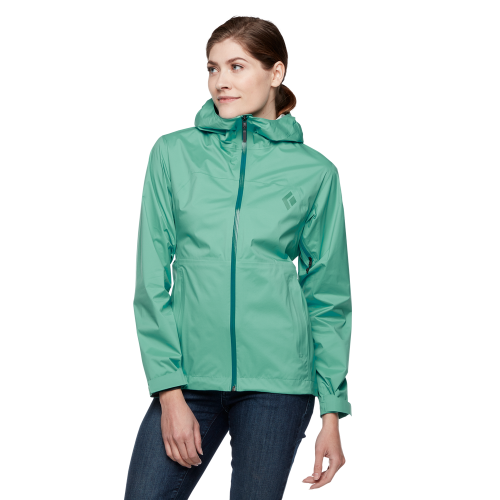 BLACK DIAMOND WOMEN'S STORMLINE JACKET
https://www.blackdiamondequipment.com
Chouinard Equipment is a company founded by Yvon Chouinard, founder of Patagonia, which produces climbing equipment. Despite having a strong presence in climbing equipment-including their cornerstone Camelot series-the brand jumped into the outdoor apparel scene in 2013. In the years since, the collection has expanded to include an impressive selection of shells, insulation, base layers, and accessories.Much of Black Diamond's apparel is geared towards climbing and backcountry skiing, which makes sense given the company's background. As a result, you can wear a few crossover items every day, such as the StormLine Stretch rain shell. Furthermore, their in-house BD.dry waterproofing membrane isn't as bombproof as Gore-Tex, but balances protection, mobility, and breathability while keeping costs low.
EDDIE BAUER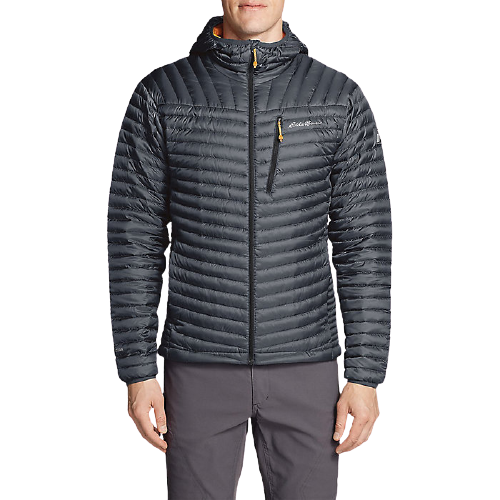 Eddie Bauer First Ascent Men's Microtherm 2.0 Stormdown Hooded Jacket
Eddie Bauer has been around in Western Washington for a long time. Founder Eddie Bauer patented the first quilted down jacket in 1936. Throughout the 1950s and 1960s, it outfitted many important expeditions across the globe, such as those to summit K2 and Mt. Everest. A wide range of products are offered today, including hiking boots and accessories, insulated jackets, rain gear, and winter parkas. Likewise with The North Face, Eddie Bauer offers outstanding technical products, but its offerings aren't as popular among average outdoor enthusiasts. As a result, we have been impressed by their products, in particular the MicroTherm series, which uses premium and incorporates performance features like stretchy side panels and underarm mesh for ventilation. Ultimately, Eddie Bauer seems to be broadening their appeal, and we look forward to following their progress.
COTOPAXI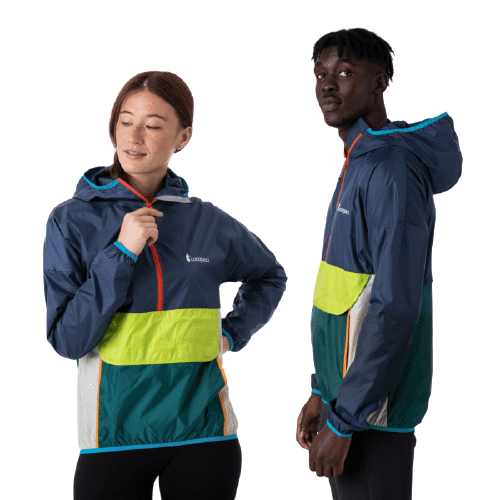 Cotopaxi – Unisex Teca Half-Zip Windbreaker
The outdoor brand was started by Davis Smith in 2014. A portion of the company's revenue is allocated to a charitable foundation whose mission is to award grants to nonprofit organizations and humanitarian organizations. Additionally, Cotopaxi is a B Corp and a climate neutral company, working to measure, offset, and reduce greenhouse gas emissions and minimize their overall impact on the environment. Cotopaxi is known for their retro styling, with vibrant colors and patterns that set it apart from all the competition, in addition to their ongoing efforts in sustainability and social stewardship. Two of their popular products are the Fuego down jacket and Teca windbreaker, both of which have fun looks and are made of quality materials that look good in town and work well outdoors. Lastly, some people may find that the above styling is too flashy, but it's just a matter of personal preference, and we personally admire the uniqueness of Cotopaxi's designs.
MONTBELL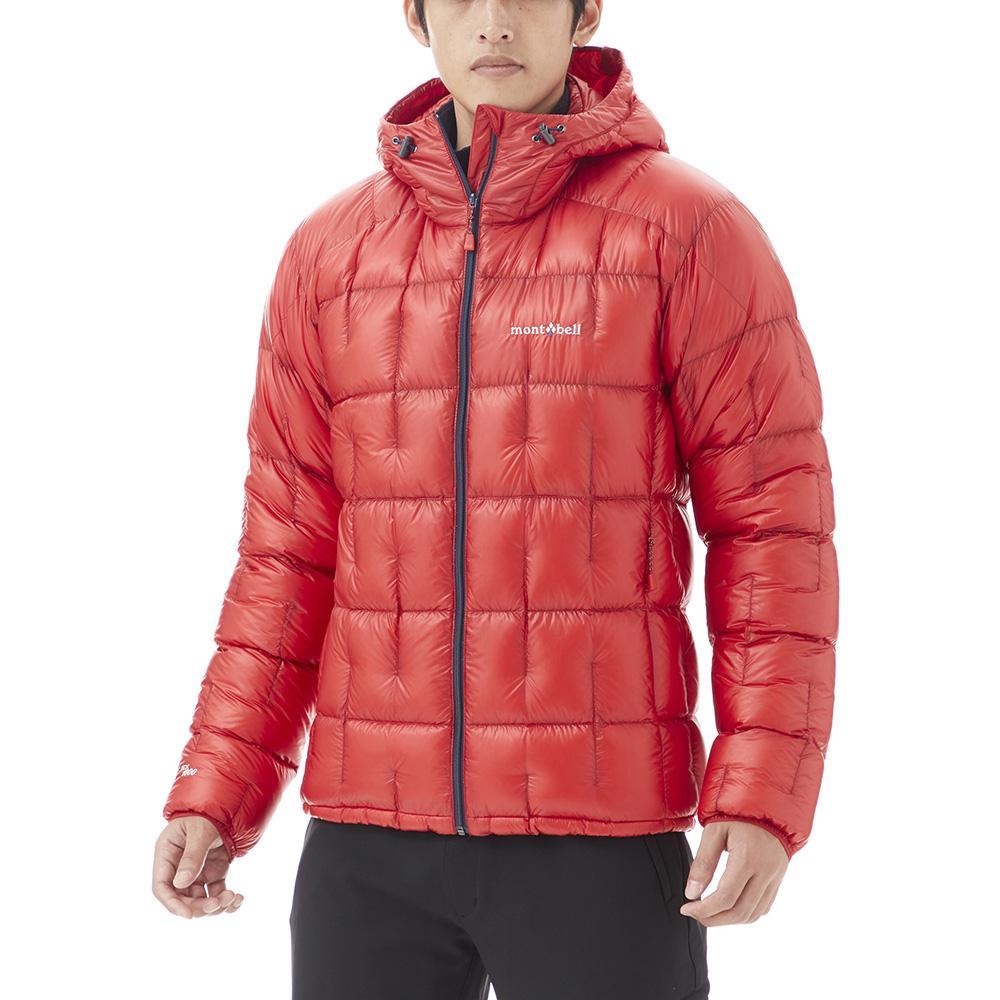 MONTBELL JAPAN DOWN JACKET MEN'S PLASMA 1000 ALPINE HOODED
Montbell is a Japanese company that caters to one very niche market segment: lightweight (UL) consumers. One of the leaders in fast-and-light product categories, Montbell is known for ultra-premium down products and ultra-thin shells such as the 10-denier Versalite rain jacket. All in all, the Versalite and Plasma 1000 Down Jackets weigh remarkably little and check in at just 4.8 and 6.4 ounces, respectively. In comparison to other companies, these are almost unmatched numbers. Thus, these aren't everyday wear items, and their style is highly technical. However, if you're a thru-hiker or an alpinist looking to shed pounds, Montbell products are often priced surprisingly well for their level of performance.
MOUNTAIN HARDWEAR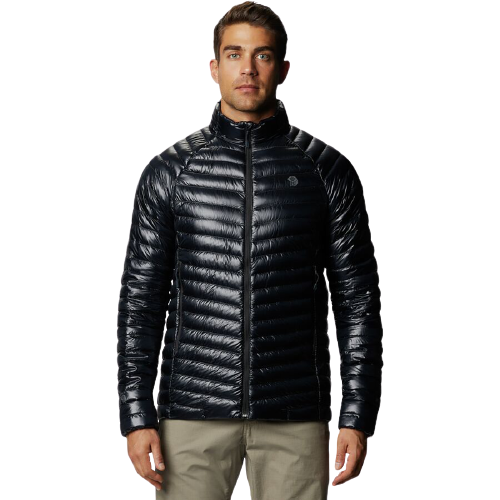 MOUNTAIN HARDWEAR GHOST WHISPERER JACKET
https://www.mountainhardwear.com
The Mountain Hardwear brand has fallen off the radar for a while, but they've made significant strides of late in both quality and sustainability, and their current lineup shows a lot of promise. In addition to down products, the company's growing Gore-Tex shell fleet and snow gear sets it apart from the rest. Currently, the Ghost Whisperer "/2" carries the torch with a sub-9-ounce weight, excellent packability, healthy dose of high-quality down, and practical features. The MH Vaporlite remains the choice of outdoor adventurers wanting fast and light travel. Among their hard shells on the hardwear front, the brand's Exposure/2 collection combines a minimalist Paclite with a premium Gore-Tex Pro for a nice balance of protection and weight, and their ski line incorporates Gore's proven membranes. Additionally, we appreciate the brand's continued focus on sustainability, as reflected in the use of responsibly sourced down in many of its new and updated products. Overall, this brand is definitely on the rise, and we are excited by their recent progress.
BERGHAUS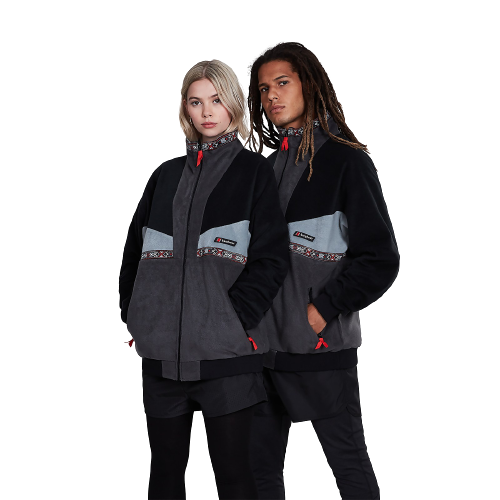 Unisex Tramantana 91 Fleece Jacket – Black
Peter Lockey and Gordon Davison founded the organization in 1966. The company provided outdoor clothing and gear to customers in Sunderland, Tyne & Wear, UK, in 1996. The Berghaus brand products range from men's, women's, and children's water-resistant jackets to fleeces, base layers, socks, and leggings. In addition to their outdoor specific items, Berghaus also produces a range of colorful clothing and mountaineering equipment. Among the first waterproof outdoor clothing manufacturers, they used GORE-TEX. The brand's pieces are beautifully designed and come with lifetime guarantees.
The above brands can be purchased from a variety of gear retailers and manufacturers online in 2021. In addition, many of the companies listed above have modern websites that allow you to access their full collections. Lastly, support your local outdoor store when you can and try on the gear in person to ensure it fits correctly.
By Rashmi Goel