This winter there are a lot of things you are looking forward to: finally gathering up with close friends and family, eating some good food, drooling over desserts, and most importantly getting dressed up in festive holiday outfits. After all, it is the season for posh parties and dinner nights, and celebrating in style should be your motto. You don't need to worry. You can combine what you already have and piece together a great outfit. You can go for velvet, sparkles, knits, suits, prints, and you will have fun. The New Year is coming and after spending holidays at home in the two years, people are going out on holidays and celebrating and they need some time out.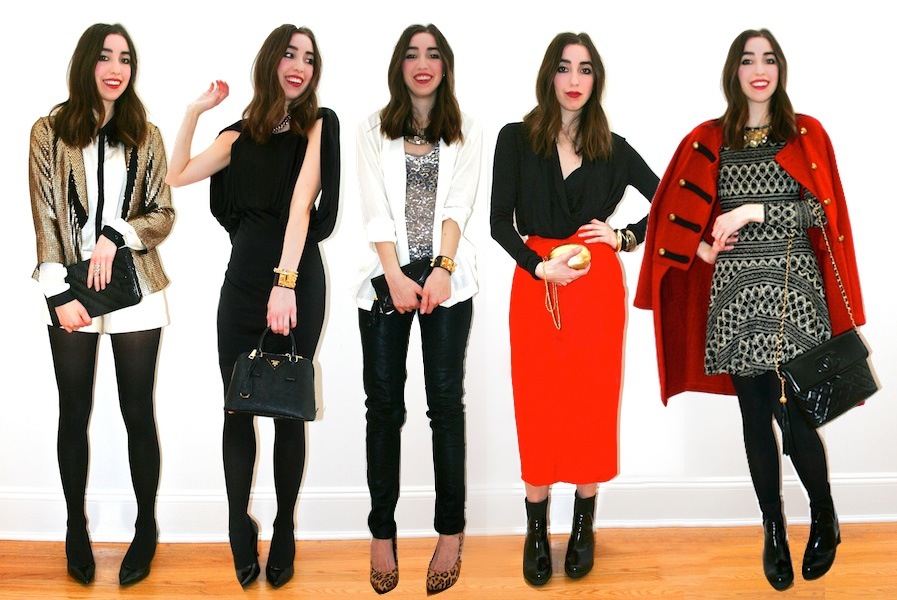 Image source: stylecaster.com There are certain eclectic and fun styles to go for. Certain holiday outfit ideas will add all-the-more elegance and vibrance to your holiday celebrations.
Feathers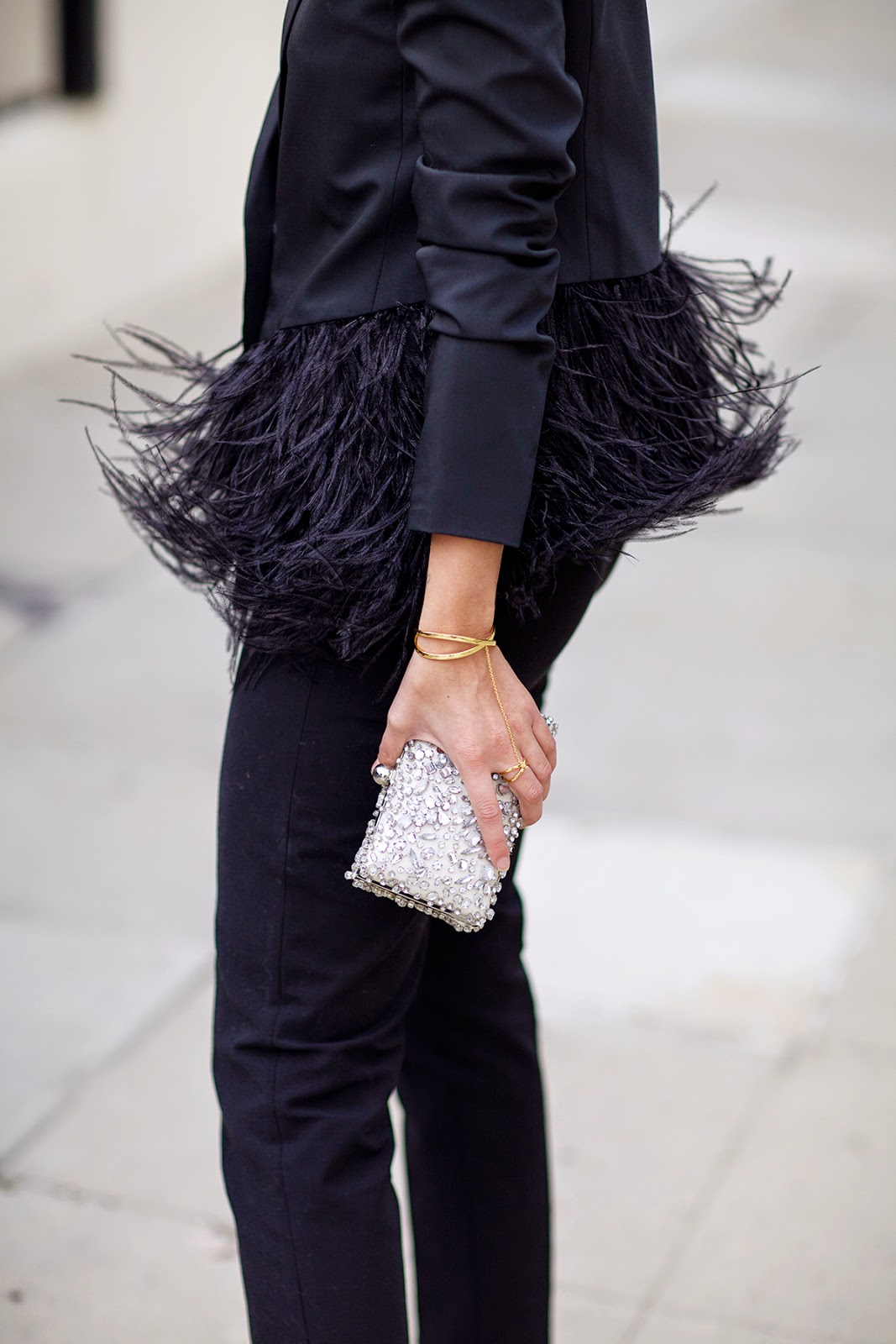 Image source: closetfullofclothes.com When it comes to holiday outfit ideas, feathers are on the top of the list as they are a must-have trend. It appears to be daunting to wear at first, but it is easier to carry. You can even carry full-on feathered garments. It is easy. You can carry feathered bottoms or feathered tops, it's all up to you.
Trousers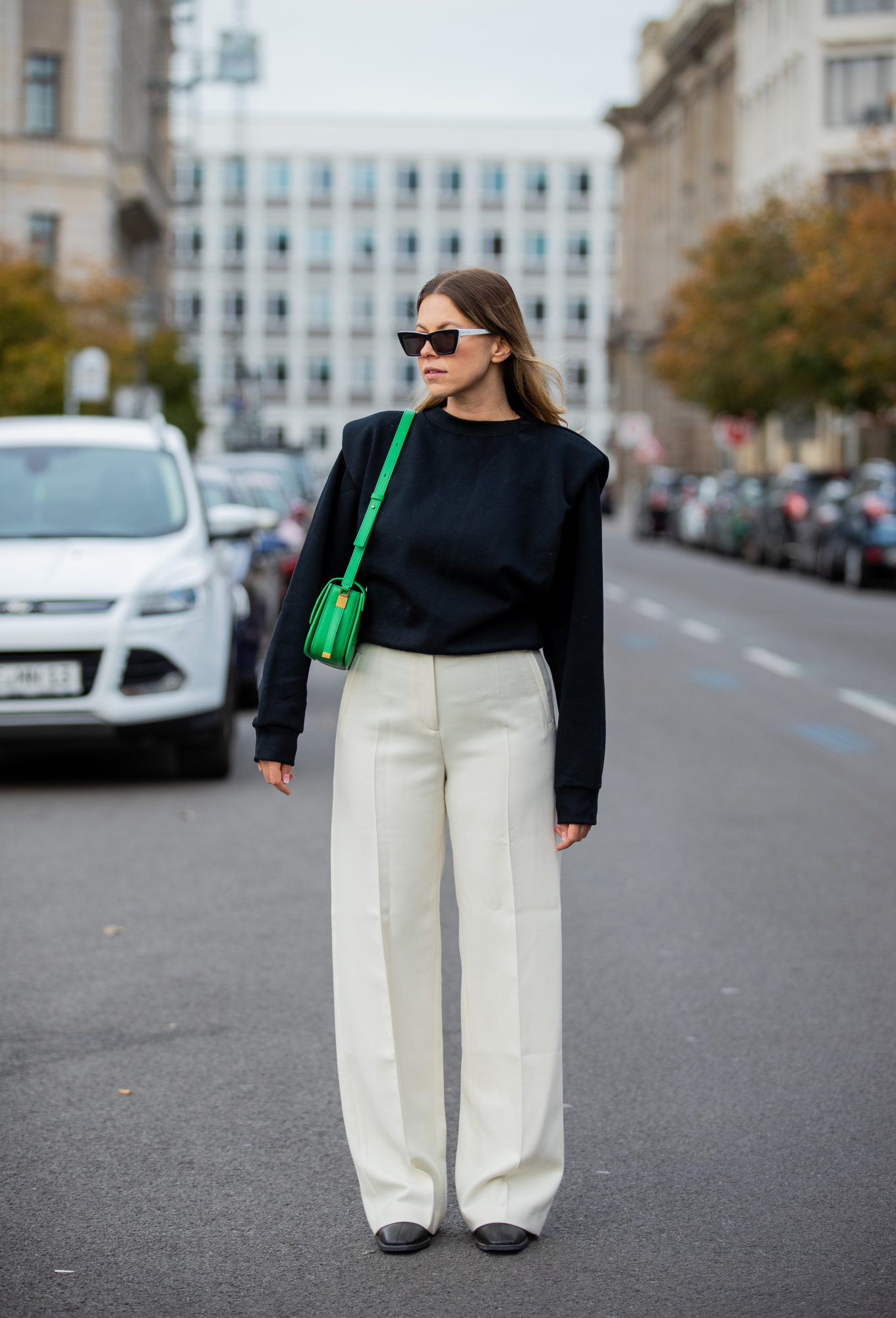 Image source: instyle.com Who says you can't wear trousers for a party. You definitely can. This will make you look comfy and equally festive for all your holiday celebrations.
Mini skirts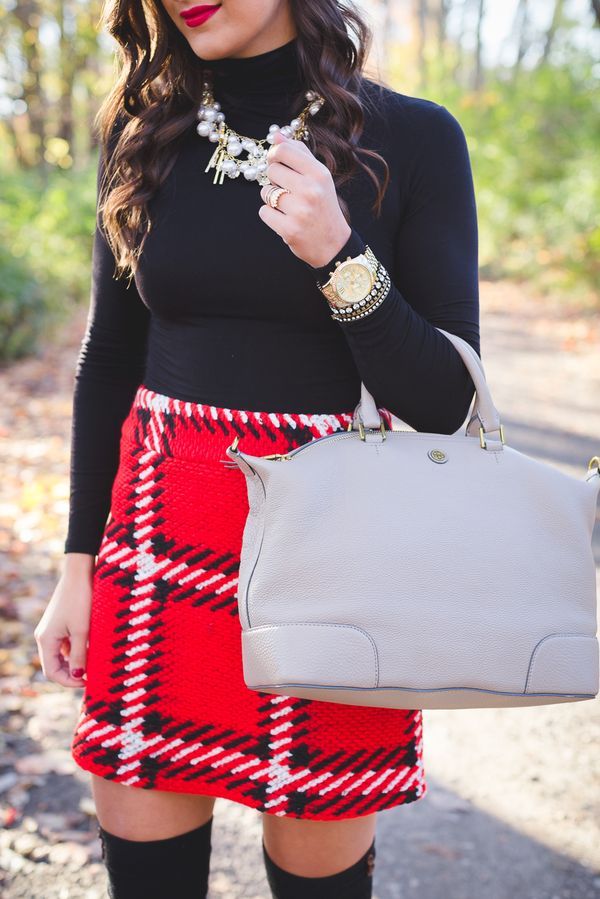 Image source: pinterest.com Miniskirts will dominate the fashion scene for years to come. There are sequins and vibrant patterns that you can choose from. You can rock a micro-mini skirt also and will look good.
Sweater dresses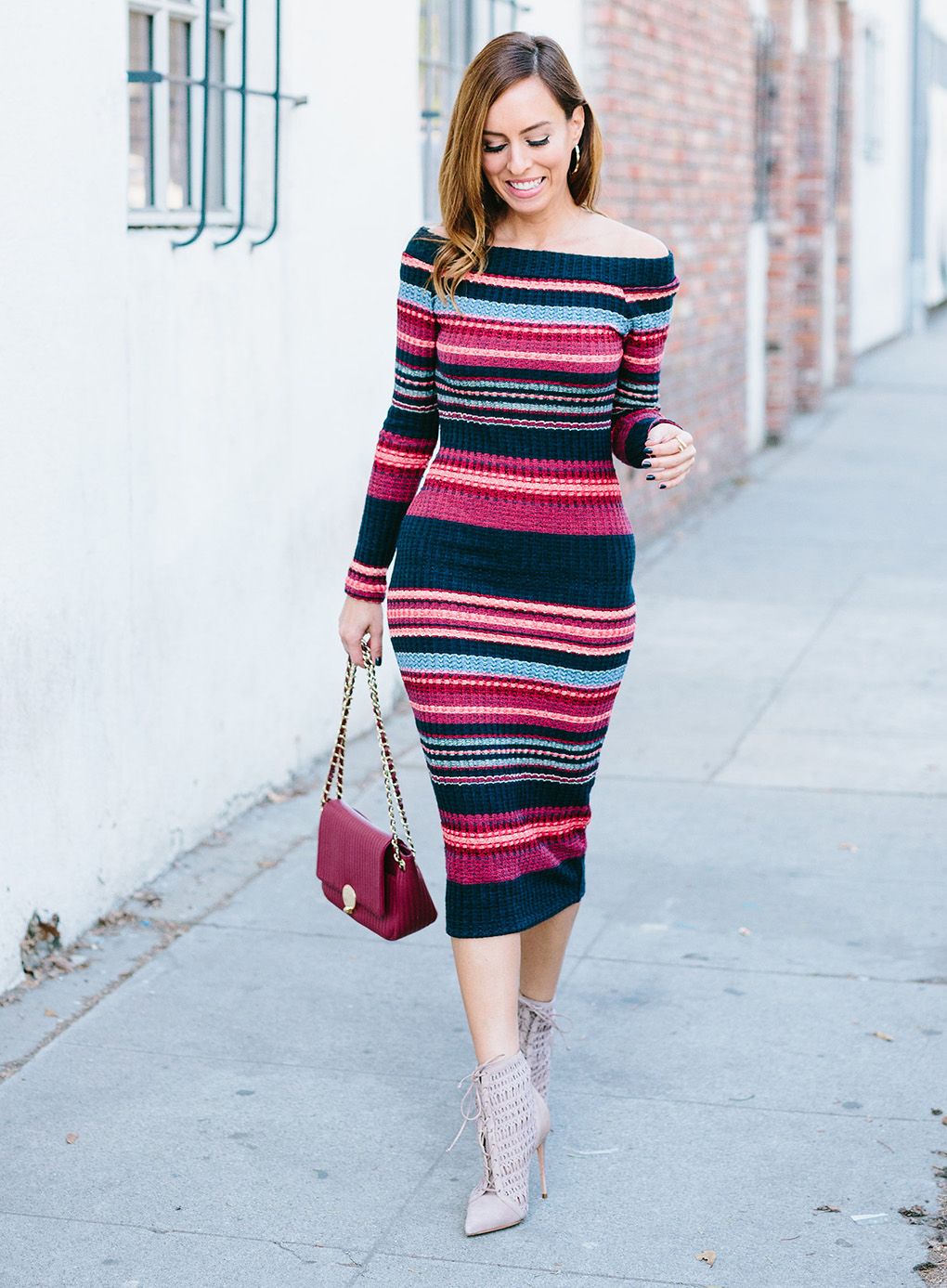 Image source: sydnestyle.com Staying warm this winter season can be fun actually and you can never go wrong with a sweater dress. You can choose cozy and cute knitted sweater dresses.
Embellished shoes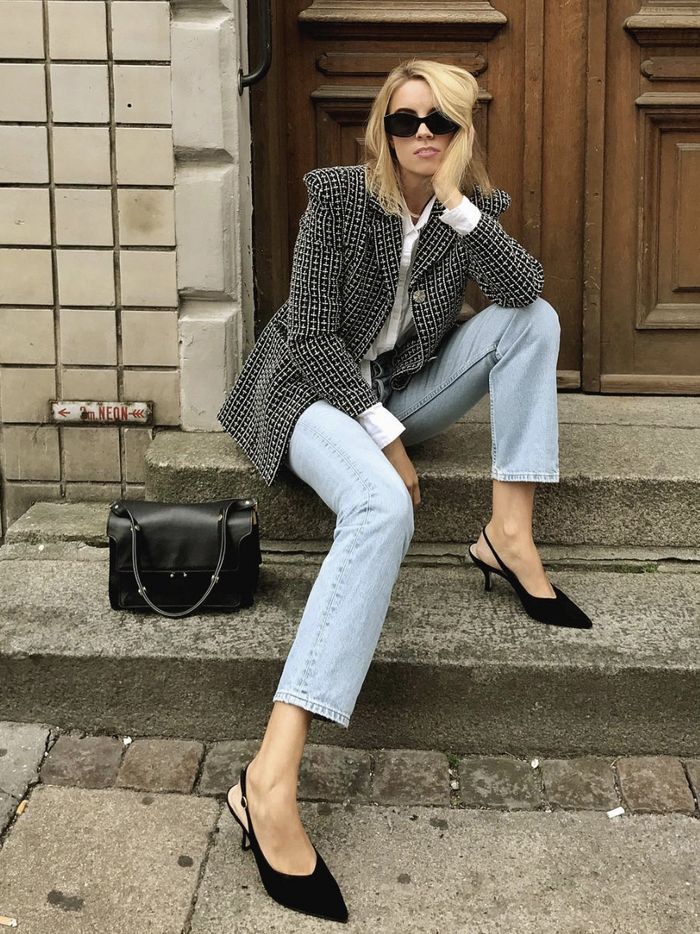 image source: whowhattowear.com Footwear is a must-have in the wardrobe and you can't skip that. You have to carry footwear and they need to be fashionable.
Colorful suits
Suits are the most rocking style statement. They, of course, can be worn at parties. Colorful suits are coming to the fore and rocking.
Pearls
Pearls have made their mark as the biggest beauty trend in the fashion arena and it's not stopping. It looks very elegant and chic. You can carry pearl earrings and hairpieces.
Velvet
It is one of the favorites among the people. It is super soft and stylish. It keeps you warm. Velvet dresses and blazers are what you need and elbow-length gloves will also look great.
Catsuits
Catsuits are becoming the trend and celebrities are also rocking it.
Statement tights
In the past few years, there has been a resurgence of tights as they have been the closet essentials.
Metallics
Metallic looks ever-elegant. They are glittery and shimmery.
An all-blue set
Monochromatic blue invokes the vibes of snow. It looks navy.
A festive blazer
When in doubt, you can go metallic. You should have this closet essential.
A suit crewneck
You can add a t-shirt or sweater under a shirt. It will look good.
A subtle Christmas print
You can buy and go for Christmas clothes that don't feel like a costume. You can carry a subtle evergreen tree print.
A neon shirtdress
Neon shirtdress looks very chic. It looks trendy as well.
Plaid with an edge
Red plaid is a staple and closet essential. But you can even add a belt and a studded bag.
A Christmas scarf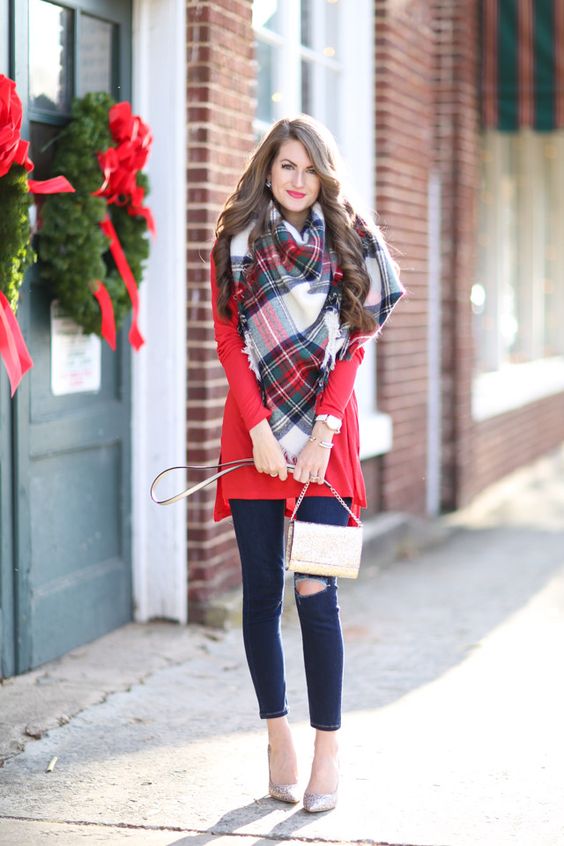 Image source: styloholic.com You can carry a Christmas scarf and rock it. It will look rocking.
A beige sweater+ palazzo pants
You can pair a beige sweater and palazzo pants. It will look even more stylish with a coordinating color like warm copper.
A sparkly top and velvet pants
Sparkle is what you want and glittery things are captivating and spell-binding.
Winter whites
White as always looks very elegant and nice. So, one should go for it.
A suit set and black boots
An adorable miniskirt and jacket look very nice. You can also carry a turtleneck and tights.
A red coat and patterned tights
The favorite color of Santa is red and it is rocking and stylish as well as cute.
A classic red sweater
Embrace the red. You can also combine red and black. It looks very vibrant. It looks cool.
A floral set
A floral set looks very trendy and gives a good look as well. So try it out.
All in plaid
You can even stay in trousers all day that's all in plaid and it looks very stylish.
A wool cardigan
It looks very good with combat boots. So rock a wool cardigan with combat boots.
A green sweater and white pants
A green sweater and white pants are worth it. Embrace it.
A shiny suit
Suit as discussed earlier are closet essentials. They are a staple. Whether the gathering is formal or informal, they look great. This is the reason we recommend wearing shiny suits.
A good mix of plaid and velvet
Red and green plaid have been festive essentials and this leads us to another classic holiday outfit combination, tartan print, and velvet. You can come up with a combination: your favorite bodysuit with an elegant velvet blazer and midi skirt- this will give you a fancy look.
Metallic: you can go for this
You can add glitz to your holiday outfit with a gold or silver dress. With regards to shape and style, the choice is all yours. You can choose whichever silhouette you feel most like yourself: just be you. Then you can add a twist with carrying accessories. You can shine for your next holiday party.
A suit full of sequins
You can go for sparkling clothes. Enjoy and have fun by replacing out your traditional suit with sequins suits. If you get overwhelmed by it, you can go for a darker shade, or go for neutral basics like black boots or a white simple shirt.
Statement pants
If you are too simple but still want to flaunt a fashion statement, you should focus on the bottom half of the holiday outfit. A pair of sequins or leather pants will look amazing when worn with a white blouse or a turtleneck.
Winter whites
There is this romantic and eleant feeling about a winter white. To rock this monochromatic look, you should play with texture. You can add a fur jacket or vest or go for pieces with intricate beading.
A cardigan and jeans
You can go for a button-up cardigan. It can give everyday items like jeans and tee, a holiday outfit twist.
Oversized sweater dress
A sweater is having all the qualities you need: comfortable, fashionable, and practical also. Plus, it is a one-and-done outfit.
Plaid pieces
Plaid is the closet essential you need and it is one of the best. If you have a checkered dress, you can layer it over a turtleneck for a spin or style with a sweater with a pair of plaid pants.
A sweater and trousers
If you are looking for happy jeans and sweats, you can rock a holiday outfit with a pair of oversized trousers. They are very comfortable for relaxing on a couch and can be dressed in your favorite knit, a jacket, and a baseball cap.
A matching set
If you want to just chill out there with your friends in a holiday celebration, you can take up joggers and your favorite sneakers. However, another easy option is to go with a bright matching set by combining it with matching footwear.
A sweater and jeans
Sometimes, the best outfits are the ones that we don't think of. You can rock a classic sweater with bootcut jeans and kitten heels. You can also go for joyful, vibrant seasonal colors like green, blue, or even white.
A midi dress or skirt set
If your family event is more formal, you can go with a midi or coordinating skirt set. You can ace up some accessories as well. It will also pair well with any shoe, from boots to sneakers, to heels.
A blazer and a bold skirt
A vibrant skirt of any kind can be a great piece to style around during a holiday celebration. Make it the focal point of your outfit and you can even add a solid blazer and boots to pull it all together.
Loungewear like look
A velvet set of trousers and a simple top are elegant and festive and seem to be loungewear. The addition of heels is the icing on the cake.
Fashion-forward additions
A vest can also be a fashion statement and keep you warm. Trendy boots can give you a rugged feel and a layered necklace can look amazing.
By Bhawna