Men's footwear is incomplete without boots. An essential feature of a men's boot is its ability to be multi-functional, comfortable, and weather-resistant. Without a pair of men's boots, it can be difficult to put together your winter wardrobe. A good pair of boots can make an outfit great and, if they are styled correctly, make you look really smartistic (smart with artistic flair; my boots are on right now). Every kind of style can be complemented by a pair of boots, since boots disregard no boundaries. It isn't necessary to spend a fortune on designer boots, but being able to spend a little on shoes makes sense. For experienced boot wearers, it is obvious what looks good, but for newbies, finding a good pair of boots may seem daunting. Consider your options before purchasing faux leather boots if you're tempted to buy them. After breaking in leather boots, they will conform to the shape of your feet, making them much more comfortable. Boots for men should be maintained properly to prolong their life. Especially if your footwear is made from leather or suede, it should always be waterproof, conditioned, and cleaned regularly. Beginners might find it challenging to find an appropriate pair of boots. Check out these tips for help when looking for your next pair.
Types of Men's Boots Out There
Cap Toe Boots
On top of the toe box of the boots, an additional piece of leather resembles a cap. These boots can be identified by the stitching across the top of the toe box. The extra layer of leather that these types of toe boots use is for that extra protection. Boots of this type range from rugged boots to dress boots.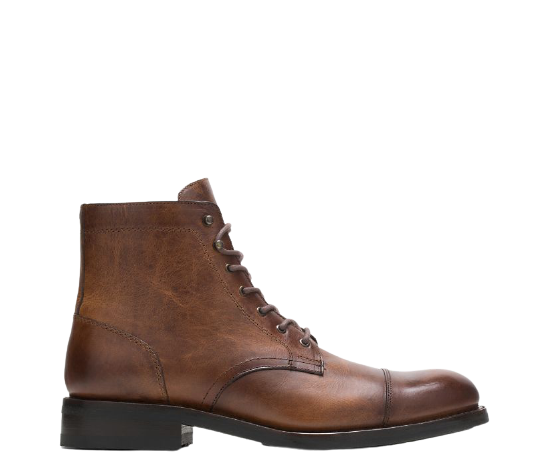 Chelsea Boots
A stretchy elastic panel fits snugly around the ankles of Chelsea boots. The addition of fabric tabs and loops at the back of Chelsea boots was a classic design feature of their Victorian origins that facilitated easy wear and removal. In the 19th century, Queen Victoria's shoemaker, J Sparkes-Hall, developed them as an alternative to lace-up riding boots. Chelsea boots pair well with almost anything, from slim-fit tailor-made trousers to smart, rolled-up jeans, and are most often worn under desks or pub tables. Whether they are chunkier in the winter or sleeker and slimmer in the summer, Chelsea boots can be worn year round. Traditionally, Chelsea boots were considered a more formal shoe, but brands like Prada and Church's have embellished them with rugged twists in recent years, making them perfect for whatever the weather. Alternatively, if you prefer a more traditional look, a pair of slim-soled shoes will look great with a suit or jeans.
Chukka Boots
Chukka boots were developed by British troops working in India, and the name is derived from polo games that Americans playing off-duty would play wearing their ankle boots while Chukka boots have more of a military vibe. The soldiers serving in Egypt during World War II adopted a variant with a crepe rubber sole, including Nathan Clark, a descendant of the Clark shoe dynasty. Upon returning home, he made a suede version – the desert boot. Chukka boots, created by Clarks footwear, sit right on or just above the ankle and are lacing-less, with two to three eyelets. The Chukka boot is a classic shoe that is wearable all year long, making it a timeless wardrobe staple. It is possible to wear them with casual and dressed-up outfits, which means that you can wear them pretty much with anything you already have.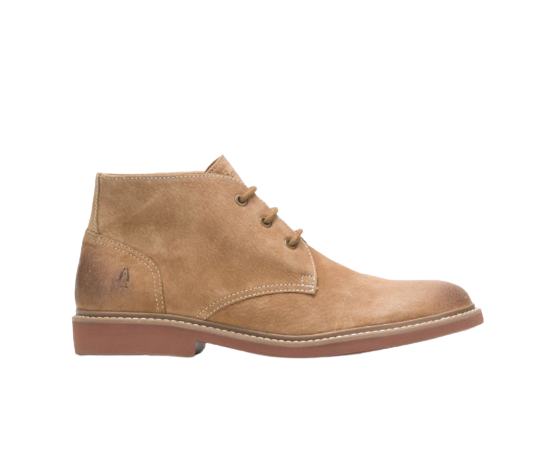 Moc Toe Boots
A vision of Moc Toe Boots was to protect the toe area. To do that, the manufacturer might have used leather or seams. It is essential that the work boots get the job done so that many people will buy them. Mooc toes include shoes with a textile on their vamps that extends near the end of the toe, forming the "moc" toe area. An element of the look can be either leather, or a simple seam. Traditional moccasins were the inspiration for this style. These boots are typically worn casually. The moc toe boot is in style everywhere you go. The versatility of moc toe work boots means you can pair them with anything in your closet to keep you going throughout the working day. Working in these shoes will enhance your productivity at work.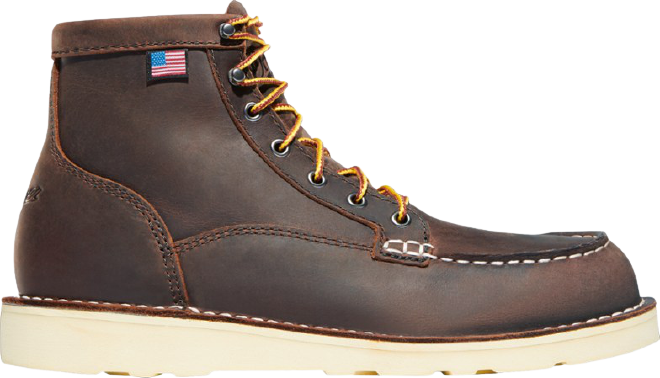 Outdoor Boots
The sole purpose of outdoor boots is to protect you from the elements. A variety of outdoor boots are available, including winter boots, hiking boots, duck boots, and welly boots. Casual, for sure.
Snow Boots
Generally water-repellent, snow boots are waterproof. Snow and water are kept out of the boot by a high side and an exterior rubber sole. Winter conditions call for snow boots, which are used in slushy, muddy, and wet situations. With a snow boot you can walk easily and comfortably in snowy or wet conditions. Wet and snowy conditions can require the use of snow boots, and children must wear them when playing in muddy or wet conditions. Because they are well-insulated, they are also suitable for walking in streams in winter.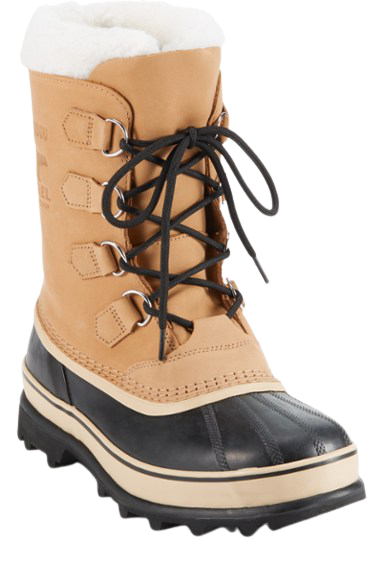 Hiking Boots
The hiking boot is footwear designed for use during outdoor activities such as hiking or strolling. A hiker's ability to walk long distances without injury is determined by the quality and durability of hiking boots, which are among the most important items of hiking gear. In hiking boots, it is comfortable to walk over rough terrain. It is highly recommended that hikers wear boots that protect their heels and feet. Ankle support is provided by hiking boots, which are quite stiff. Light, thin-soled trainers are also an option that is less popular. It is important to wear shoes that are neither too loose nor too tight to prevent blisters and sore feet. Warming, hiking socks are recommended, as well as a thin, inner sock that can cushion the feet. Other outdoor activities include backpacking, climbing, and mountaineering.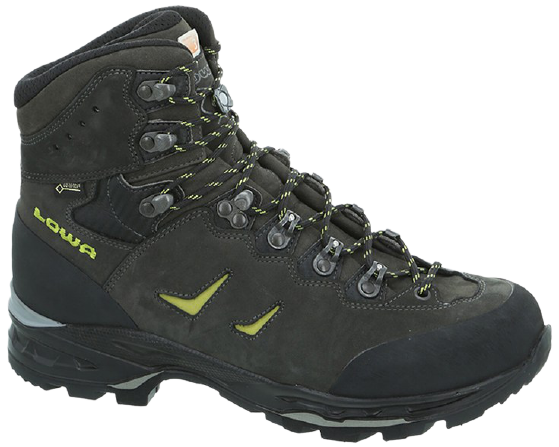 Duck Boots
"Bean Boots" (originally called Maine Hunting Shoes) are waterproof boots made by L.L.Bean. The boots feature a rubber sole and a leather upper. Invented in 1911, the boots were an instant success. Hunting and fishing were two of Leon Leonwood Bean's interests. He was from Freeport, Maine. In his usual pair of hunting boots, Bean's feet were getting wet and cold while he was hunting. Using rubber soles from rain boots and leather uppers, he persuaded a local cobbler to assemble the shoes. The L.L. Bean Company was founded in 1912 by Bean. To sell and market the shoes is The Bean Company. Despite the fact that the first 100 pairs of the boots sold quickly, they had a defect in the connection between the rubber and the leather. The company made specialty soles for the boots he sold, and Bean returned all the money to his customers. When the special soles were added to the boots, they became an instant hit. The only alterations made to the boots were the addition of a chain design in 1947.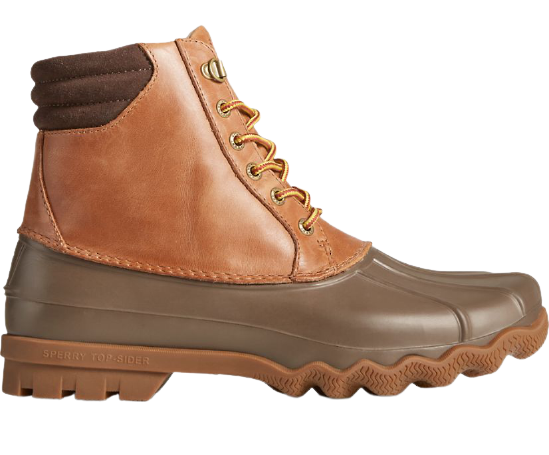 '
Welly Boots
Hessian boots, a military riding boot, are the ancestors of Wellington boots. Their popularity was attributed to their creation by Arthur Wellesley, the 1st Duke of Wellington. Throughout the 19th century, British aristocracy and middle class wore Wellington boots for practical reasons. So rubber waterproof boots got their name and may no longer be associated with a specific class of boots. Nowadays, they are used for a wide range of outdoor activities and agricultural pursuits. These are generally worn when walking on wet or muddy ground or in order to avoid heavy showers and puddles. There are some that are shorter, but the majority are just below the knee. Safety or hygiene shoes such as the "Wellington" are common in diverse industrial settings: protecting workers in the mining industry against mud and grime; protecting chemicals in chemical plants; and ensuring high levels of hygiene in food processing plants, operating theatres, and dust-free enclosed manufacturing environments. Boat decks are protected through the use of non-marring, slip-resistant sailing boots with non-marring, non-skid soles. Because rubber doesn't provide enough warmth, you should wear thermal socks under these boots.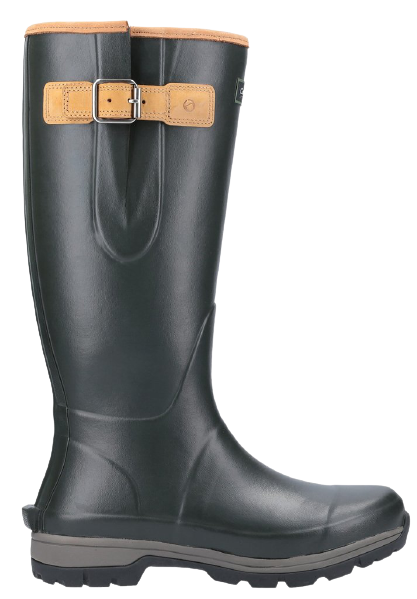 Riding Boots
Generally, riding boots are designed to be used with horses. With the classic boot, the leathers of the saddle don't pinch the rider's leg, the toe is strong to protect the rider's foot while on the ground, and the heel prevents the foot from sliding through the stirrup. When a fall occurs, the sole is smooth or lightly textured to avoid being caught on the tread of the stirrup. With a heel of less than an inch, modern riding boots are relatively low-heeled, but historically it was common for them to have higher heels, as it has always been vital for riding boots to keep the foot from slipping through the stirrup. Nowadays, only certain cowboy boot styles retain higher heels than other modern riding boots.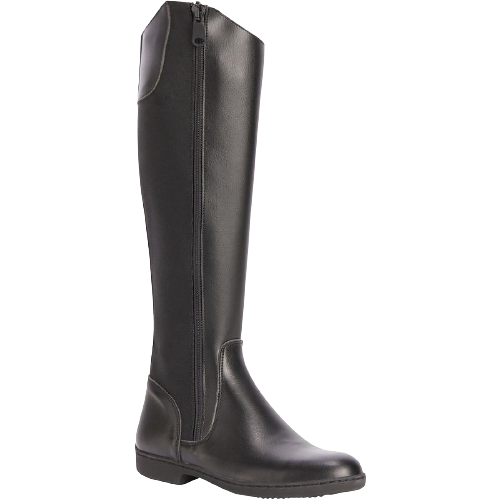 Wingtip Boots
It is a traditional style of low-heeled shoe or boot distinguished by multiple-piece uppers made of durable leather with decorative perforations (or broguing) at their visible edges. A typical brogue is an outdoor shoe with highly perforated uppers designed to dry more quickly in rainy climates. Brogues were once viewed as being inappropriate for most occasions, but are now considered appropriate. In addition to the four general types of brogues (full, semi-, quarter, and longwing), there are four types of closures (Oxford, Derby, ghillie, and monk). As well as their traditional form as sturdy leather shoes or boots, the multi-piece, serrated or perforated construction of brogues is still common in the modern footwear form.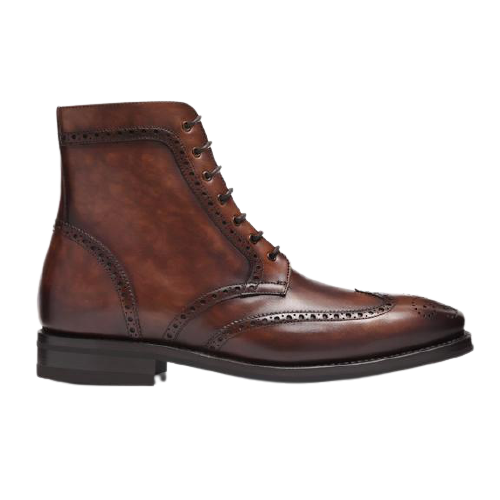 Different boot styles
Above, we talked through the different styles of men's boots, from Chelsea boots to hard-hitting hiking boots. When selecting a style, consider how you feel about the following features:
Boots are normally fastened with laces, but the amount of laces varies from a desert boot to a combat boot. A pull-tab design, such as on Chelsea boots, is another option for slip-on, slip-off footwear.
Men's boots tend to have a subtle heel, just enough to provide comfort without being too obvious. Cowboy boots, however, have a distinctive heel that can add a touch of drama.
Men's Chelsea boots and work boots are the most versatile boots because they reach up to your ankle. It may be better to look for a boot that has a lower cut and shows a little ankle on more formal occasions. A higher boot, such as a snow or rain boot, might offer added protection against the elements. Combat boots also reach further up the calf.
Padded ankle- hiking boots and sneaker boots with padded ankles provide more support and comfort.
The decorative elements can include perforations, such as with brogues, or wingtips, or straps and buckles, such as with jodhpur boots.
Materials
The men's boot's material should be considered after the style has been selected. Boots for men tend to be made of leather or suede. Leather boots, however, are stronger and last longer than suede boots because they are pliable and soft. Nubuck is an alternative to suede that is more durable.
Leather outsoles are durable, versatile, and can mold to your feet over time, providing a comfortable fit. Additionally, they can be made from rubber, which is water-, shock-, and slip-resistant. Desert boots are known for their crepe rubber soles, which have a unique texture. Although they look nice, their traction is subpar.
This material's round, recessed lugs are quite thin, but they are still quite durable and slip-resistant. These boots are often found on men's dress boots. Vibram soles combine foam and rubber and can be used in lightweight work boots or hiking boots.
Construction
Based on the construction of your boot, you can expect different levels of performance. A boot with Goodyear welting -a continuous leather strip stitched around the insole and upper -provides durability and water resistance, and is considered to be among the best boot styles available.
Another important aspect of the footbed is its deep heel cup or heel stabilizer, which aids alignment and provides support and comfort.
These boots provide additional protection from impact and shock, as well as from electrical currents. Steel or carbon fibre-toed boots are also an option.
Colour
Finally, you should consider the color of your boots. As a general rule, black and brown are acceptable. Black is a timeless option, perfect for formal occasions. Brown is a more casual and versatile color.
I have attempted to guide you here on boot types, materials, construction, color and their differences. I hope it will assist you in purchasing one for yourself. My next article will discuss the best boots for men. So make sure to check out.
By Rashmi Goel