Military fashion has proven to be a great trend and style more than just being transient and moved on to become a classic look for men.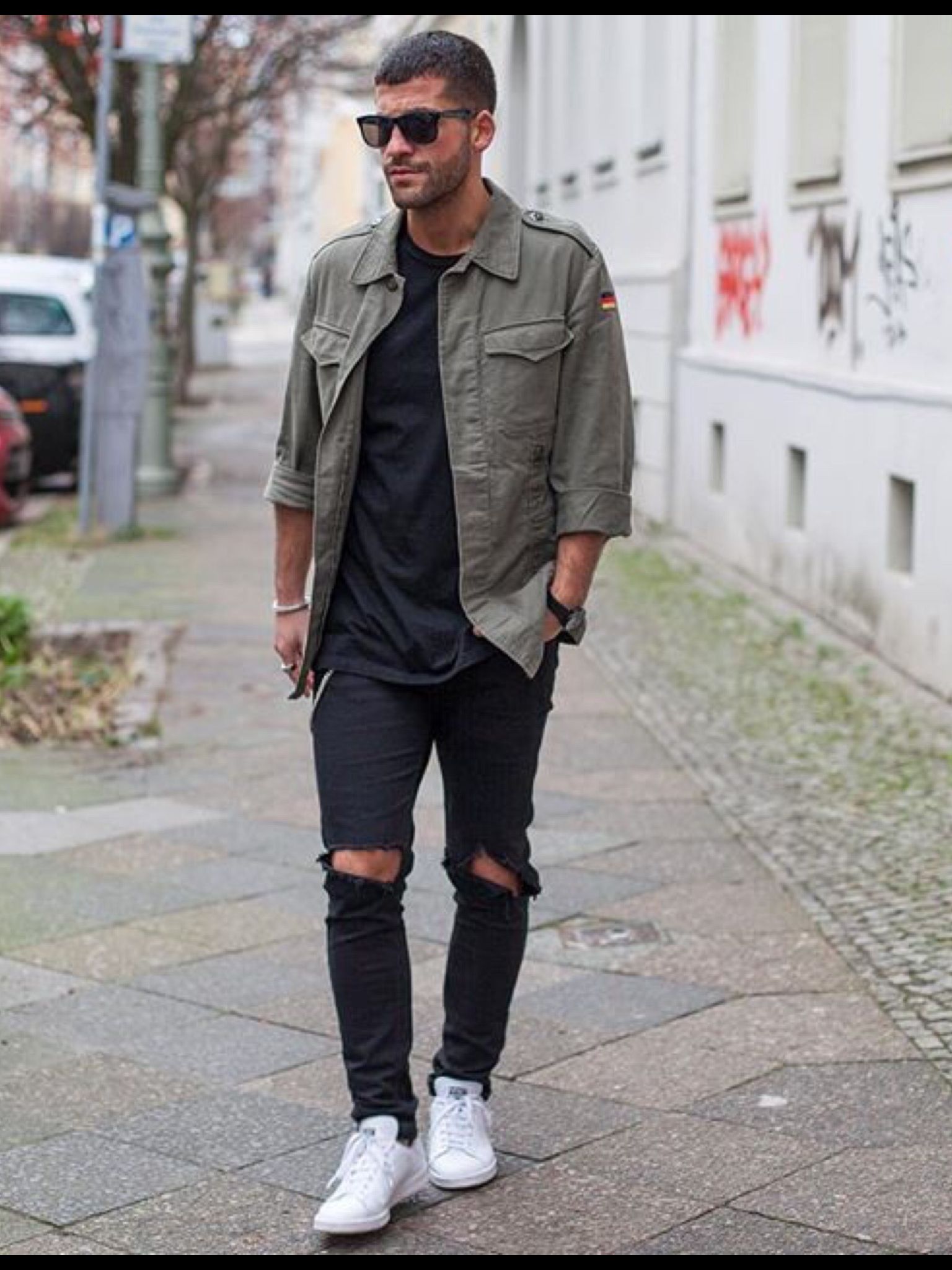 Image source: pinterest.com
The aesthetic make-up of structured coats, vibrant hues, and masculine combat prints- is a fusion of functional uniformity, but reimagined for today's stylish men.
Military pieces pop out of the confines every season and with every season comes a fresh look on a classic. This is how to extract military style in a civilian world.
The modern military drill is all about:
1. Outerwear and topping tailoring and urban wear. Camo is one of the popular ways of military styling, but it is not the only one.
2. The boots: Heavy-duty versions of the Derby with crepe.
3. The color and pattern: This is the most striking and interesting element of military attire, shades of green, khaki, and brown over trousers, shirts, and tees, before going with reworked camouflage prints- in the most unlikely places.
Camouflage is the go-to military print for men looking for a fashion streak.
Military Green Suits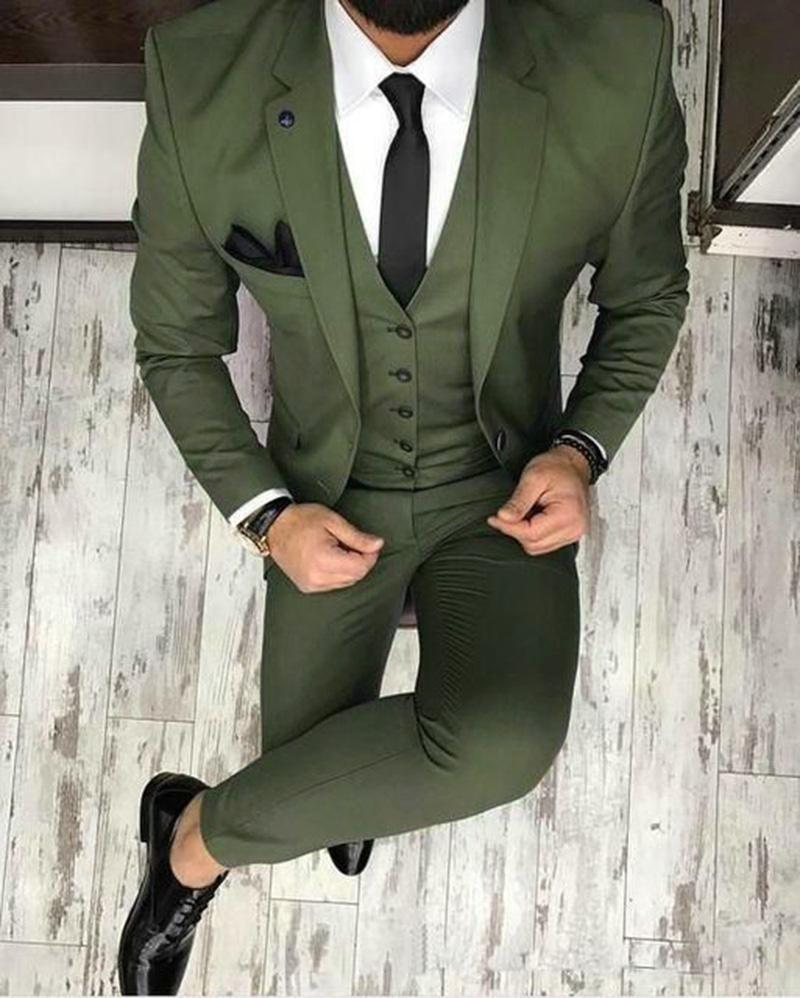 Image source: classyby.com
Green- in both khaki and olive shades – is the best color for military style. The natural hues are a great replacement for black and navy and should not be worn with camo- print, as it creates a fancy-dress look.
Green suiting was a huge and great trend and in olive shades- the earthiness of the color aligning with natural fabrics such as linen. Separating a cotton suit is a nice option also, pairing the jacket with a white tee and black trousers in jersey.
You can add a camo-print pocket square for an extra thematic look. with the blazer. Leave the trousers for a collared shirt in 70s brown and add matching chocolate brown loafers.
The washed-out denim – either as a jacket or ripped jeans – pairs well with khaki; you can select an army green tee under a bomber for more casual looks or a black trench coat to carry over an olive green shirt. Otherwise, go completely tonal.
Parka is the foundation of this look.
Camo is not office-appropriate, it does work well for smart-casual occasions. For example, pair a faded camo-print tee under a navy blazer and the khaki chinos and white sneakers for a cool weekend look.
Camo footwear fires up an off-duty look, ranging from sliders to sneakers. Military boots appear very good on army games, especially with camo-print socks slightly exposed under roller chino cuffs.
Never go full camo-keep it one piece at a time.
Military green pea coats
Outerwear is the most essential military-style item and there are two main enemies and competitors this season- the pea and officer coat. The Peacoat is associated with marines and has very quickly become a modern essential. This style is made famous by Daniel Craig and Steve McQueen. The double-breasted cut, matched with a sprawling, flared collar, fits nicely over a suit in a stylish way.
Keep it simple- don't get the style into detail. Do not go for a print. The brass buttons can be replaced with tonal buttons to match the color of the coat. If you are going to a dress party mix-in tee top, make sure the coat isn't too oversized.
For mod work attire, the parka with more weight in clean detail and design is ideal over suits. The militant hues pop over a light grey suit and black boots or Chelsea. Then you can wear a trilby if you are feeling up and you can also wear a tweedy waistcoat for a tonal and textured three-piece suit.
Camo pants, chinos, shorts and trousers
Even military style has got to the sports-luxe trend conquering men's clothing right now. Typical utilitarian details such as cargo pockets and thick kinds of cotton are interchanged with metallic zips and synthetic fiber. You can pair the neo-pants with military boots and a cool fit tee: opting for the half-tuck with a matching belt. For a layered look, you can pair up a tee with a bomber jacket in sporty nylon, adding air force appeal; especially when paired with aviation sunglasses.
Military Green Parka
Parka is the foundation of the military look.
Camo pants, chinos, shorts and trousers
Image source: onshopdeals.com
The same rules also apply to shorts- keep them fitted and roll the cuffs for an effortless summer kick.
Key military style pieces
Outerwear: Burberry is the go-to-trench look. You can also grab a sporty rubber parka.
Military clothing is based on practicality and uniformity. Over time, military style has provided the fashion industry with utilitarian inspiration and unique ideas.
Camouflage prints
Camouflage prints, including all its variations is one of the most popular military-influenced fashion elements. The use of camouflage print has been popular since World War I. it is the print that adds more depth to the outfit. It was worn to protest a war, show support of the military and to simply communicate the edgy street style. Camouflage is a pattern that you can love or hate. From leggings and cool tees to jackets and hats, camo-printed fashion makes a style statement everywhere.
Combat boots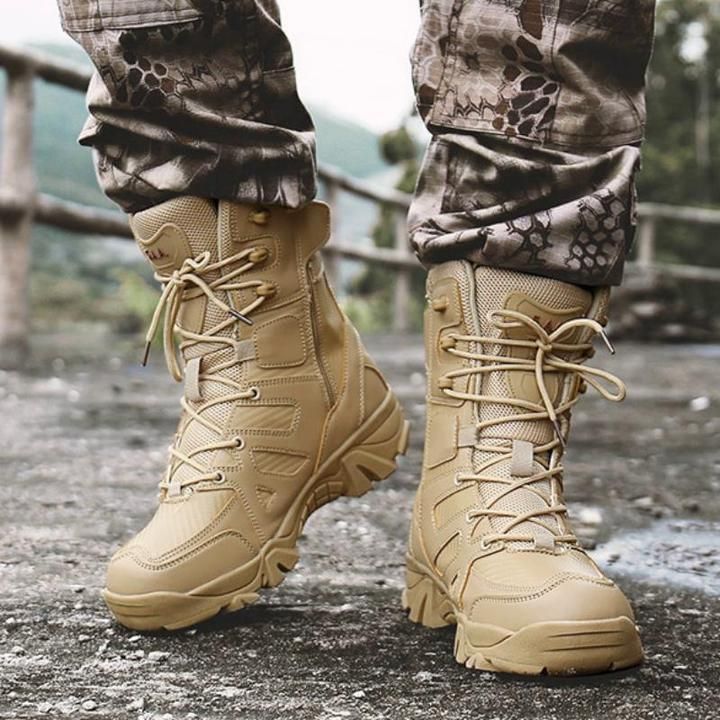 Image source: pinterest.com
The origin of combat boots can be traced back to the rock subcultures of the late 1970s and 80s. "Combat" boots were first manufactured for combat training, which was first issued to the Assyrian foot soldiers. At that time, the boots were studded with "hobnails"-small metal nails with a sharp pin or screw fastener. Over time, the function and comfort of combat boot evolved to better suit a soldier's work in the field.
The bomber jacket or fight jacket was initially created for military pilots of the U.S. Army in 1950. This is worn by celebs also. This jacket is very popular. Today the significance of this flight jacket today is based mostly on style and swag, with trendsetters often adorning their style with custom rebellious messages and band names for an extra statement. It continued to gain momentum in pop culture and hip-hop. The bomber jacket comes in multiple colors and can be worn with many outfits. It can be a minimalist outfit or add an edgy-sporty style to the little black dress. Accessories, such as aviator shades, also add to a cool military outfit.
When it comes to knowing the reason as to why olive-green is such a heavily used color in the army, it's simple. This shade is another way to hide from the enemy's view and allow them to blend with the surrounding terrain naturally. And also today people love olive green. The shade is no doubt very versatile. So, everybody is trying it, not just the military people. It looks good in spring. There are wide variety of options with this color. They are endless. Cute rompers, pants suits, long duster coats, cargo pants, button-up tops and leggings are the options that you may want to explore. Olive green can give a free-spirited earthy style also or a casual fashion also.
Military uniform is a standardized dress worn by members of the army. Military styles have undergone significant changes over the centuries, from colorful to more elaborate, ornamented clothing until the 19th century, to utilitarian camouflage uniforms for field and battle purposes from World War I.
Parade uniforms
Traditional colored uniforms have long since given a way to clothing more suited for actual combat in modern conditions. Bright colors are now reserved for wear by units having ceremonial functions.
Teenager in cargo pants, men in flight jackets and hooded parkas are common sights on the fashion scene. Fashion runaways have featured camouflage dresses, white leather trench coats.
Trench coat
Today the sleek, belted silhouette is a luxury essential and there have been many variations, including long and short cuts, single and double-breasted and even modern color-pop styles.
White T-Shirt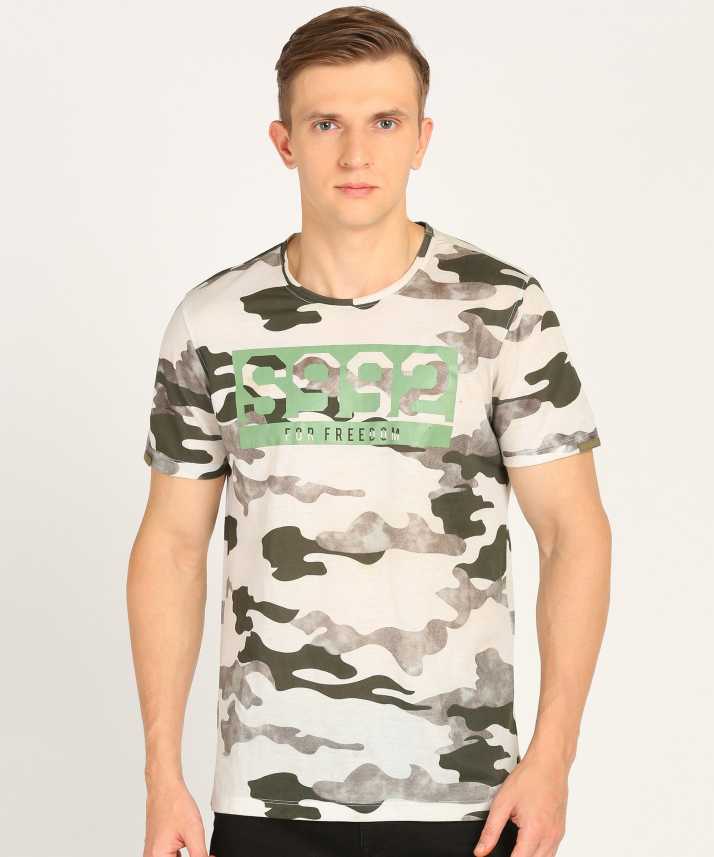 Image source: flipkart.com
It is the most iconic one. The most classic version of the T-Shirt is a short-sleeved white cotton crew neck, which came in the US navy and later in the army in the 1910s. When the war ended, this became a style. Brando, Dean, Beckham all wear these and the rest is history.
Cardigan
This green chic classic also has military roots.
Cargo trousers came in for a tough ride during World War II. Side patch pockets on tailored and casual trousers have been a trend. They are available on the high street fashion.
Style lessons to learn from the military
Go all-in Green
Even if you don't have a traditional military garment, you can sign up to military style by utilizing its preferred color. Shades and hues of green are undoubtedly the color trend.
Get suited for war
Military coats, duffles and peas, in particular, can be an attire.
Ponder over the details
You particularly don't need to be too fashionable to carry military fashion. Ponder over the details.
Go commando
'Carramato', is a tread design. It is originally a word for tank. Today, rugged commando soles are a way of saluting the fashion and not just a way to easily navigate rain, ice and snow.