Washing your face is one of the most basic skincare steps, but dermatologists and skincare experts recognize the importance of choosing the correct cleanser. Washing your face removes makeup, dirt, and pollution, as well as excess oil that dulls and clogs pores, causing discoloration and breakouts. Regardless of your skin type, there is a face wash or cleanser for you, no matter what the condition is: combination, dry, oily, sensitive, acne-prone, or somewhere in between, here are some of the best options.
Skin Ceuticals' Soothing Cleanser Foam
Image Source: Google Image
When it comes to removing leftover makeup, impurities and excess oil, SkinCeuticals' foam rises to the top. In a survey of consumers, 96% responded that it cleaned deeply and was easy to rinse off, also earning a nearly perfect score. It had a "refreshing texture" and "left no residue."
Cetaphil Gentle Skin Cleanser
Image Source: Google Images
The classic low-lather, powder-fresh-smelling Cetaphil liquid leaves skin clean yet supple thanks to moisturizing glycerin. It rated highest among testers, with 86% saying they'd continue to use it, and scored well for making skin feel soft and hydrated.
La Roche-Posay Toleriane Hydrating Gentle Cleanser
Image Source: Google Images
Hydrating Gentle Cleanser With this daily facial cleanser for normal to dry skin, makeup, dirt, and toxins are gently removed. Contains no sulfates, oils, fragrances, or sulfates, so it will not clog pores. This gentle cream cleanser restores skin comfort and keeps skin hydrated. This product contains glycerin, which is a wonderful hydrating ingredient without overproducing oil.
Aveeno Positively Radiant 60 Second In-Shower Facial
Image Source: Google Images
Radiant yourself naturally. You only need to wash to show off your true beauty. Designed to remove dirt, oil and makeup, this brightening cleanser contains moisture-rich soy extract. Plus, it's oil- and soap-free, so sensitive skin will appreciate how gentle it is.
Mele Refresh Gentle Hydrating Facial Cleansing Gel
Image Source: Google Images
Gentle Hydrating Cleansing Gel cleans skin without stripping it, while removing impurities and cosmetic build-up in just one use. This daily cleansing gel thoroughly cleans skin while hydrating it at the same time. Massage damp face and neck with a lather day or night. Clean with warm water.
This cleansing gel is free from parabens, sulfates (SLS), alcohol, mineral oil, and phthalates. We could never create the perfect skin care system without dermatologists of color participating. It was for this reason that MELÉ skin care was developed by dermatologists of color who understand, at a cellular level.
Ambi Skincare Even & Clear Exfoliating Wash
Image Source: Google Image
Foaming Cleanser gently removes dirt and impurities from the skin to reduce breakouts and dark spots. This formulation contains EvenBlendTM, a combination of Soy Extract (to combat hyperpigmentation), Vitamin C & E (to rejuvenate skin), and Salicylic Acid, which maintains skin clarity and tone. Furthermore, it is oil-free, hypoallergenic, and gentle enough to be used on sensitive skin.
Fresh Soy Face Cleanser
Image Source: Google Image
A cult favorite due to its pH-balanced formula, which means it works on all skin types that effectively removes dirt and impurities makeup—even mascara—without drying for soft, supple skin. The product contains amino acid-rich soy proteins, calming cucumber extract, and balancing rosewater. Besides soothing and toning, this pH-balanced formula is non-stripping.
Pure Skin First Aid Beauty Face Cleanser
Image Source: Google Image
A fragrance-free, gentle cleanser that effectively removes makeup, dirt and grime, leaving skin soft and supple. The whipped texture transforms into a sumptuous cream when blended with water. Infused with a powerful Botanical Antioxidant blend, it helps safeguard skin against environmental aggressors while also calming irritated skin. This non-stripping, pH-balanced formula works to maintain skin's natural acidity and helps reduce flare ups, never leaving skin feeling tight or dry.
Purity Made Simple One-Step Facial Cleanser
Image Source: Google Image
Now with no parabens, the #1 facial cleanser in the U.S. This one-step facial cleanser melts oil, dirt, and makeup. It is an award-winning product. In one easy step, this paraben-free cleanser cleanses and lightly hydrates for skin that feels perfectly clean and balanced.
Youth to the People Superfood Antioxidant Cleanser
Image Source: Google Image
This premium face wash is specially formulated with cold-pressed antioxidants - spinach, kale, and green tea - for an ultimate cleanse. Preventing pore blockage, removing makeup, and removing stains are among the benefits of this product. It is pH balanced without drying out or stripping. This is a green juice cleanse for your face.
iS Clinical Cleansing Complex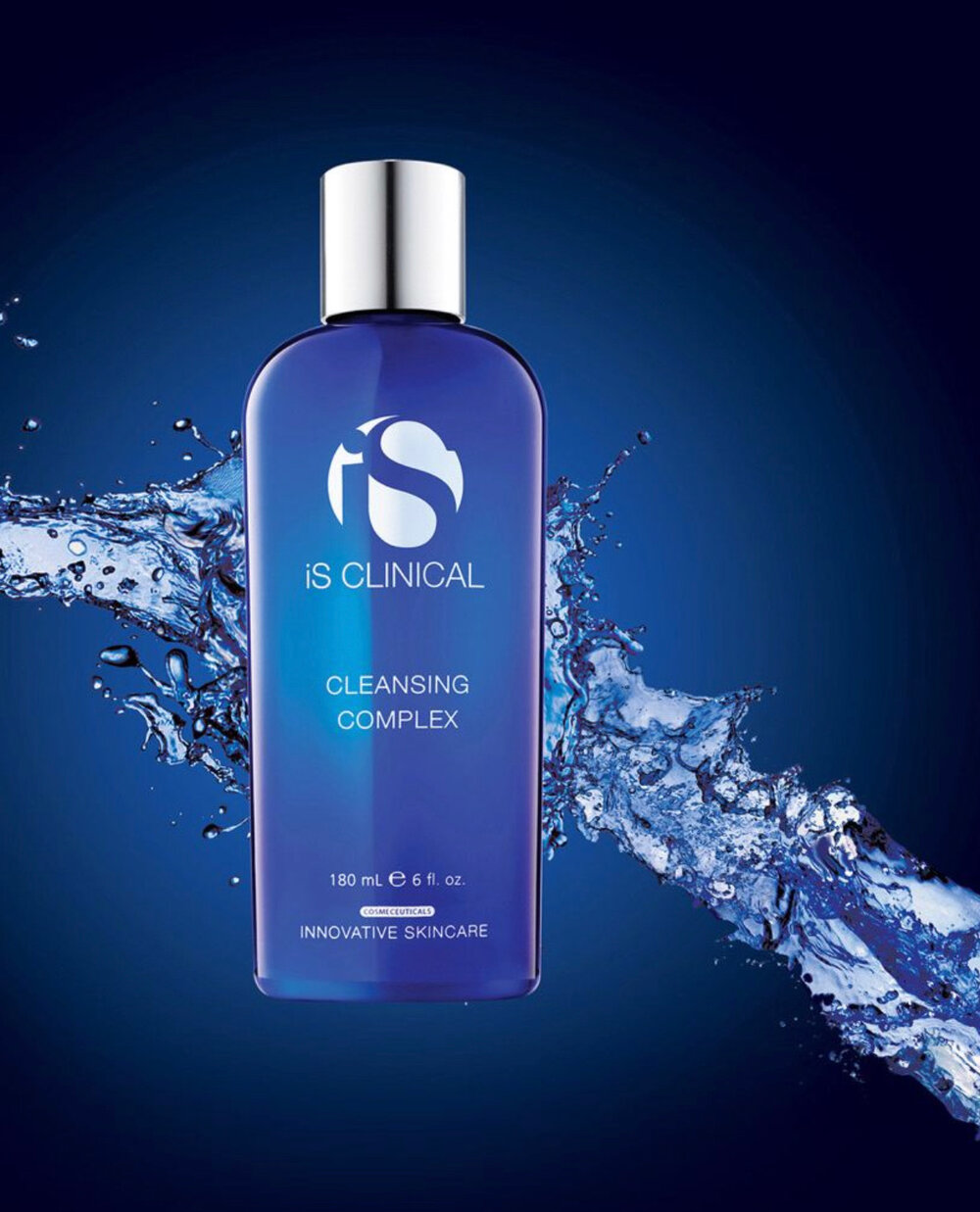 Image Source: Google Image
This is a gentle, yet powerful cleansing gel that works well on hypersensitive skin. In the CLEANSING COMPLEX, bio-nutrients, antioxidants, and mild resurfacing ingredients work together to deeply cleanse the surface of the skin and pores without stripping the skin of its natural oils. When used as part of a professional facial, this product is excellent for removing makeup and is very effective at that. This product is suitable for all skin types and ages, including those with blemishes.
Glytone Mild Gel Cleanser
Source: Google Images
The exfoliating properties of 3.4 PFAVTM Glycolic Acid are combined with Glycerin to preserve skin's water balance, keeping skin hydrated and nourished. As part of its exfoliating and removing capabilities, Glytone Mild Gel Cleanser contains AHAs. This gentle face wash is formulated with glycolic acid to get rid of dead skin cells, resurface the skin, and nourish the skin and promote cellular regeneration. The pH levels of your skin are balanced, and you attain a brilliant glow. The product is recommended for skin types that range from normal to dry.
Skinkraft Deep Facial Cleanser
Image Source: Google Images
Skin is cleansed and exfoliated gently with this sulfate-free product, keeping it moist without stripping it. Any skin type can use this product. A gentle exfoliant, hydroxy acids help remove dead skin cells from the surface of the skin. Besides glycolic and mandelic acids for mild exfoliation, this formulation also contains niacinamide. Willow bark extract is also included in the formula, which dissolves pores-clogging impurities as well as balancing sebum production and removing dead cells.
Tatcha The Deep Cleanse Exfoliating Cleanser
Image Source: Google Images
With natural Japanese luffa fruit, this exfoliating cleanser unclogs pores while lifting dirt deeply while leaving the skin soft and hydrated. Wild Rose and Leopard Lily are Japanese plants that help tighten pores and minimize excess oil production. With the Deep Cleanse gel, dirty oils and dirt are easily lifted away without over-drying the skin. Its amino acids purify the skin while keeping it moisturised and fresh, keeping it soft and comfortable.
Paula's Choice The UnScrub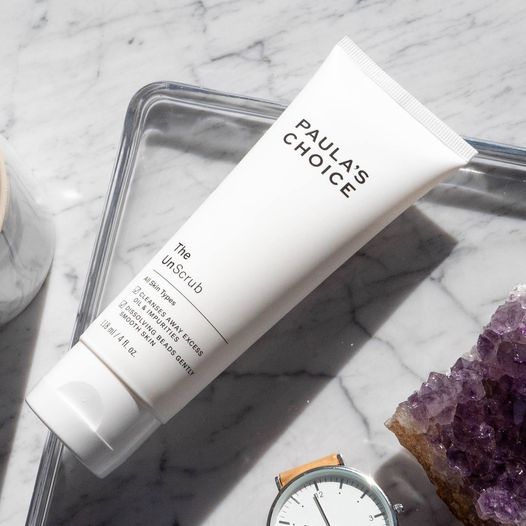 Image Source: Google Images
In this granular facial cleanser, jojoba beads are included. As you scrub, it lathers up, giving it a milky texture. Using this product, you can remove makeup without irritating your skin, dissolving dirt and makeup, and it's so easy to use. In spite of its gentleness, it is still effective in removing makeup and dirt. Tea's caffeine reduces puffiness while its antioxidant properties soothe and balance the skin.
Erno Laszlo Pore Refining Detox Double Cleanse
Image Source: Google Images
This two-in-one cleanser contains superfruit extracts and charcoal beads that provide an invigorating but gentle cleanse. Formula removes daily buildup on skin and prepares it to absorb moisture and nutrients. The Fruit Extract Complex of the gel gently removes surface buildup without stripping or drying out the skin. Skin appears smooth, rejuvenated, and pores appear smaller.
Ursa Major Fantastic Face Wash
Image Source: Google Images
This foaming face wash removes makeup and dirt without drying out your skin or sanitizing it. With AHAs and BHAs in it, it gradually minimizes texture and reduces dark spots, yet it's gentle enough to use every day without irritating the skin. Freshen up your skin with this cleansing face wash.
Elta MD Foaming Facial Cleanser
Image Source: Google Images
Foaming facial cleanser brings your skin back to life. Makeup, oils, and other impurities are naturally released by a gentle enzyme blend and amino acids in the skin and in the pores. Your skin feels clean and nourished after using the thick, rich foam.
Normaderm Deep Cleansing Gel
Image Source: Google Images
Phyto Active Daily Deep Cleansing Gel will completely remove dirt, oil, and impurities directly from your face. The dermatologist-tested formula uses a blend of salicylic acid, zinc, copper, and a detoxifying water to reduce acne scars, clogged pores, and blackheads. The enzymatic base gently cleanses without overdrying. Enhances skin tone & texture over time and leaves skin visibly purified. Free from oils, soaps, sulfates, and parabens. Adult acne-friendly.
Naturopathica Manuka Honey Cleansing Balm
Image Source: Google Images
Honey, sweet almond oil, and shea butter are among the plenty of moisturizers in Naturopathica's balm. The formula gently cleanses while soothing dehydrated skin. This Manuka Honey Cleansing Balm cleanses the skin through gentle exfoliation, removing makeup and impurities while moisturizing. It cleanses skin without leaving it dried out since New Zealand's Manuka honey hydrates it without dehydrating it.
Your Good Skin Refreshing Face Wash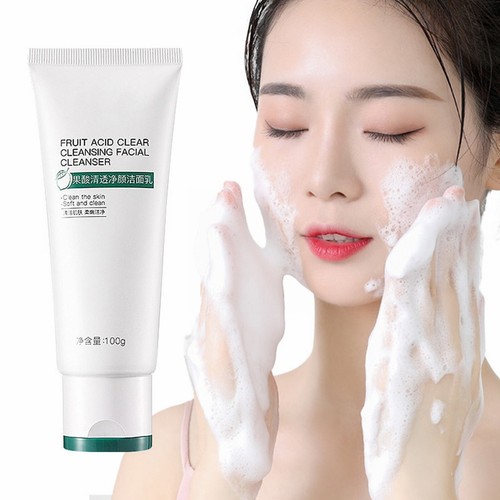 Image Source: google Images
Thanks to its fragrance-free formula and medium suds, its gel cleansed the skin with the most radiance and clarity. To brighten skin and remove make-up, excess oils, and soil, Green Tea Vitamin C & Bisabolol face wash is enriched with Green Tea Vitamin C & Bisabolol. A dermatological test was performed on this product, and it is fragrance and paraben free. It is suitable for skin of all kinds, even those with sensitive skin.
Mary Kay TimeWise Repair Volu-Firm Foaming Cleanser
Image Source: Google Images
With this anti-aging cleanser, dry, dull skin can be restored to radiance and moisture balance. These rich, moisture-rich, cashmere-soft foams offer skin rejuvenation benefits beyond anything else on the market. Using a gentle sweeping motion will remove impurities from the skin, leaving it clean, hydrated and fresh.
GARNIER SkinActive Micellar Cleansing Water
Image Source: Google Images
This is North America's #1 Micellar Water* for removing makeup and impurities from the skin. The oil-free, alcohol-free, and fragrance-free all-in-one cleanser will deeply cleanse your skin regardless of your skin type.
ST. IVES Cleansing Stick
Image Source: Google Images
You can feel your best when you use St. Ives Apricot & Manuka Honey Cleansing Stick. You've never had so much fun washing your face! Contains 100 percent natural coconut oil to leave your skin feeling fresh, radiant, and alive. Daily, morning and night, you can use the Korean beauty product. Maracuja trees and apricots make an excellent combination! Manuka honey (also known as the queen bee of honey!) is an apricot-derived honey that is reputed to refresh tired skin. Amazing how awe-inspiring this is!
OLAY Daily Deeply Clean 4-in-1 Water Activated Cleansing Face Cloths
Image Source: Google Images
Time (and sink space) are limited when you have to shave, cleanse, remove makeup, apply toner, scrub, and apply a mask? These powerful little cloths won't let you down! You can use antibacterial soap anywhere and anytime while your delicate eye area is thoroughly cleaned, and you feel strong enough to take on your toughest makeup days with antibacterial soap. Despite the loss of the cloth, the benefits last. Infused with ultra-soothing grape seed extract and glycerin, our formula nourishes and replenishes your skin. Designed for use anywhere and at any time, just add water and lather up. This soap-free product was dermatologically tested.
ELEMIS Pro-Collagen Cleansing Balm
Image Source: Google Images
For the ultimate cleansing experience, it transforms into 3 unique textures. The products nourish as balms, remove makeup as oils, and hydrate as creams. Additionally, Rose and Mimosa waxes are infused with Elderberry, Starflower and Optimega oils. Contains 9 essential oils including lavender, chamomile, and eucalyptus to invigorate the senses. The skin is thoroughly cleansed, soothed, and left soft to the touch.
Neutrogena Skin Balancing Milky Cleanser
Image Source: Google.com
The one that moisturizes and soothes. Here's the perfect match for skin that's dry and sensitive! Developed with dermatologists, it is designed to gently exfoliate and moisturize skin while respecting its natural pH. It melts dirt and impurities away while retaining the skin's moisture barrier.
Bioderma Sensibio H2O Soothing Micellar Cleansing Water and Makeup Removing Solution
Image Source: Google.com
The ultimate micellar water to gently exfoliate, cleanse and remove makeup and dirt, while respecting the skin's delicate pH balance. Micellar water from Bioderma makes it easy to remove makeup (even waterproof mascara!) in just one quick step, whether you're using it in the morning or in the evening. Additionally, it's hydrating and soothing, so it's suitable for skin that's sensitive or prone to irritation.
Don't waste time and pamper yourself with the best facewash for your skin.
By Rashmi Goel
You May Also Like
How to Boost Beauty From the Inside with Swisse