Welcome to the Ariana Grande Makeup routine, the perfect way to achieve the superstar's signature look in just a few simple steps! Start with a hydrating primer to give your skin that coveted smooth and glowy finish. Next, apply a light coverage foundation, preferably with a dewy finish, to create a flawless base. Add a pop of color to your cheeks with a peachy blush, and define your eyes with a soft brown or matte black eyeshadow. Finish off with a swipe of liquid liner and your favorite mascara for a dramatic lash look, and you're ready to step out with confidence and grace, just like Ariana.
Pop superstar and style icon, Ariana Grande is known for her powerful voice, catchy songs, and trendy fashion. With her signature ponytail and glamorous looks, she has captured the hearts of fans around the world. Fans world over go crazy over her beauty and style. Let us take a closer look at the routines she swears by.
The Tricks to Achieving Ariana Grande's Radiant Glow
Image Source: google.com
If you've ever seen Ariana Grande makeup routines, you've probably noticed her radiant and glowing complexion. Want to know her secret? We're here to spill the beans!
1. Keep Your Skin Clean: Ariana's flawless skin starts with a clean canvas. Make sure to wash your face daily with a gentle cleanser to remove dirt and impurities. This helps prevent clogged pores and breakouts, giving your skin a healthy base.
2. Hydrate: Drinking plenty of water is crucial for glowing skin. Hydration keeps your skin plump and moisturized, giving it a natural radiance. Aim to drink at least eight glasses of water daily to keep your skin fresh and vibrant.
3. Moisturize Daily: To maintain a healthy glow, it's essential to moisturize your skin regularly. Find a lightweight, oil-free moisturizer that suits your skin type and apply it every morning and evening. This helps lock in moisture, keeping your skin soft and supple.
4. Protect Your Skin from the Sun: Sunscreen is a must for maintaining youthful and glowing skin. Apply a broad-spectrum sunscreen with at least SPF 30 every day, even on cloudy days. This protects your skin from harmful UV rays, prevents sunburns, and helps maintain a healthy complexion.
5. Embrace a Healthy Lifestyle: Ariana's glow is not just about skincare; it's also about leading a healthy lifestyle. Get enough sleep, eat a balanced diet rich in fruits and vegetables, and exercise regularly. These habits promote overall well-being, which reflects positively on your skin.
Unveiling Ariana Grande's Go-To Lip Colors and How to Wear Them
Image Source: google.com
Ariana Grande is not only known for her unique voice and style but also for her iconic lip colors. If you've ever wondered how to achieve her stunning pout, you're in luck! I
1. Classic Nude: Ariana often rocks a beautiful nude lip, which is perfect for both casual and glam looks. To achieve this, start with a nude lip liner that matches your natural lip color. Then, apply a creamy nude lipstick or lip gloss. This color lends a sophisticated touch to any ensemble.
2. Bold Red: For a statement-making look, Ariana loves to wear a bold red lips. Choose a vibrant red lipstick with a matte or satin finish. Make sure to line your lips with a red lip liner first to define the shape. Red lips are perfect for special occasions or when you want to feel extra confident.
3. Playful Pink: Ariana's makeup looks often feature a playful pink lip color. Opt for a bright or soft pink lipstick, depending on your preference. Pair it with a touch of clear lip gloss for a juicy, glossy effect. Pink lips bring a youthful and fun vibe to any ensemble.
Ariana's beauty brand, r.e.m. beauty, offers a lip kit called Sweetest Berry, which is one of her favorites. It includes a berry-toned lipstick and a matching lip liner. This kit is perfect for achieving Ariana's signature berry lip look.
Remember, confidence is key when wearing any lip color. Experiment with different shades to find the ones that make you feel your best. Whether you go for a nude, red, pink, or Ariana's r.e.m. beauty lip kit, embrace your inner diva and rock those lip colors with pride!
The Secret to Ariana Grande's Perfectly Flawless Skin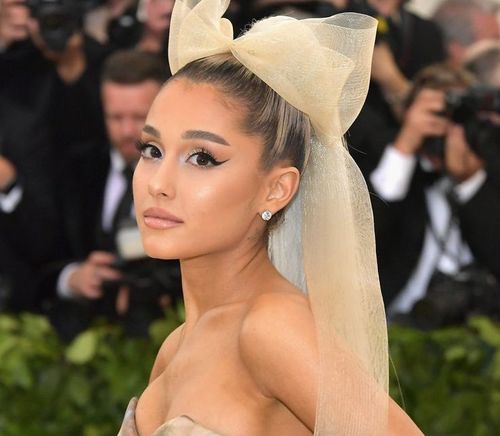 Image Source: google.com
Ariana has been in the limelight since her childhood. Years of wearing makeup, she has perfected how to create the perfect base. Here is the ultimate Ariana Grande makeup routine to achieve a flawless base like hers!
1. Hydrated and Prepped Skin: Ariana believes that skincare is the key to a beautiful canvas. Before applying makeup, she ensures her skin is well-hydrated and prepped. Start by cleansing your face, followed by applying a moisturizer suitable for your skin type. This step helps create a smooth base for makeup application.
2. Lightweight Foundation: Ariana prefers a lightweight foundation that gives her a natural-looking finish. Choose a foundation that matches your skin tone and apply it evenly using a makeup sponge or brush. Blend it well to achieve a seamless and flawless complexion.
3. Concealer Magic: To hide any blemishes or under-eye circles, Ariana uses a concealer that matches her skin tone. Apply it sparingly and blend it gently with a beauty sponge. This step helps create an even skin tone and gives a bright and awakened look. R.e.m. Beauty has a diverse shade range of concealers to choose from.
4. Set with Powder: To ensure her base makeup stays in place, Ariana lightly dusts her face with a translucent setting powder. This step helps control shine and gives a matte finish. Apply the powder softly across your face with a fluffy brush.
5. Softly Defined Contour: Ariana loves a softly defined contour to add dimension to her face. Choose a cool-toned contour powder or cream and apply it along the hollows of your cheeks, jawline, and temples. Blend it well to create a natural shadow effect. No one can compete with Ariana's chiseled look!
Steps to Achieving Ariana Grande's Iconic Cat Eye
Perhaps the most iconic element of her makeup is Ariana Grande's eyeliner. Ariana Grande winged eyeliner tutorial went viral a few months back. Ariana Grande eyeliner technique is a flawless, quick, and effortless means to achieving the best, most chic eye look ever!
1. Prep Your Lids: Start by prepping your eyelids with a primer or concealer to create a smooth base. This helps the eyeliner stay in place.
2. Choose the Right Eyeliner: For a precise and bold cat eye, Ariana prefers pen eyeliner. Ariana Grande eyeliner, the r.e.m. beauty eyeliner marker is her favorite. It is a smooth and precise product that ensures a sharp finish even for a beginner. With the r.e.m. eyeliner Ariana Grande makeup instantaneously becomes easy!
3. Create the Wing: Start by making a thin line from the outer corner of your eye to the end of your eyebrow. This will serve as the base for your wing. Then, draw a line from the outer corner of your eye to the center of your eyelid, following your lash line. Extend this line slightly upwards and outwards to create the wing.
4. Fill in the Lash Line: Connect the wing to your upper lash line by drawing a thin line along your lash line. Make it thicker towards the outer corner of your eye to create a dramatic effect.
5. Perfect the Shape: Check both eyes to ensure the wings are symmetrical and adjust as needed. Use a cotton swab soaked in makeup remover to clean up.
6. Add Mascara and Finishing Touches: Finish off your cat eye by applying mascara to your upper and lower lashes. This will add volume and length, completing the eye-catching look.
You might not be able to perfect the Ariana Grande eyeliner technique in the first go or be as smooth as the viral Ariana Grande winged eyeliner tutorial, but with practice and the right products, you can achieve a snatched Ariana Grande eyeliner look very easily!
Written by- Ananya Majumdar