Those micro miniskirts and ultra low-rise jeans you thought were the height of fashion from the turn of the century are just the tip of the fashion iceberg. Wait till you hear the sartorial sector's newest obsession. Copenhagen's runway shows at the beginning of this month first saw Moon Boots on the streets. Moon Boots are the most popular footwear trend of F/W 22. Since their debut in Copenhagen in the early 2000s, the astronaut-inspired ankle- and knee-high boots that dominated Sundance Film Festival fashion have spread to fashion shows in New York, London, and other major cities. Moon Boots are perfect with knee-high leg warmers, slouchy trousers, and minidresses this season, which is probably why they are almost sold out. Additionally, influencers and celebrities are embracing this style for their end-of-winter wardrobes, fueling its comeback. A fascination with outer space permeated every aspect of pop culture during the 60s. During the 1969 moon landing, images were broadcast around the globe, and the boots the astronauts wore as they explored the lunar surface became the inspiration for an international shoe company. The Original Moon Boot, designed by Italian-born Giancarlo Zanatta in 1969, quickly surpassed all expectations. Moon Boots remain an iconic part of the fashion scene thanks to collaborations with designers like Dior, Chanel, and Moncler. Moon Boots are becoming increasingly popular. Do not let the last pair pass you by, if you want one.
MOON BOOTS
Classic Low Pillow Boots
A metallic finish updates the classic design of the Icon Low Pillow Moon Boot to give it a sparkle like stars in the night sky. The design takes inspiration from high-tech astronaut gear used during the 1969 lunar landing. The rubber tread sole features suction pads that provide a great deal of ground grip, as well as an insulated midsole and lightweight midsole.
Mars Velvet Boots
The Moon Boot is one of the most iconic footwear designs. Lunar Boots, first introduced in 1969 as a tribute to the astronauts' footwear, have an original, futuristic look that has made them a staple of winter wardrobes ever since. Moon Boots remain a top trend due to a variety of stylish designs, including collaborations with coveted brands like Jimmy Choo and MSGM. This ankle-high pair of Moon Boots gets a colorful update in pastel velvet. Lightweight-meets-chunky design features a low-key logo accent for a subtle signature finish.
Low Glance Bootie
Glimmering isn't always gold, there are times when satin Moon Boots shine. The Icon's design riffs on the high-tech astronaut gear from the 1969 lunar landing. The design incorporates all the hallmarks of the original: an insulated midsole, a lightweight midsole, and rubber tread soles with suction pads that provide good traction.
Highsnobiety Icon Red Nylon Boots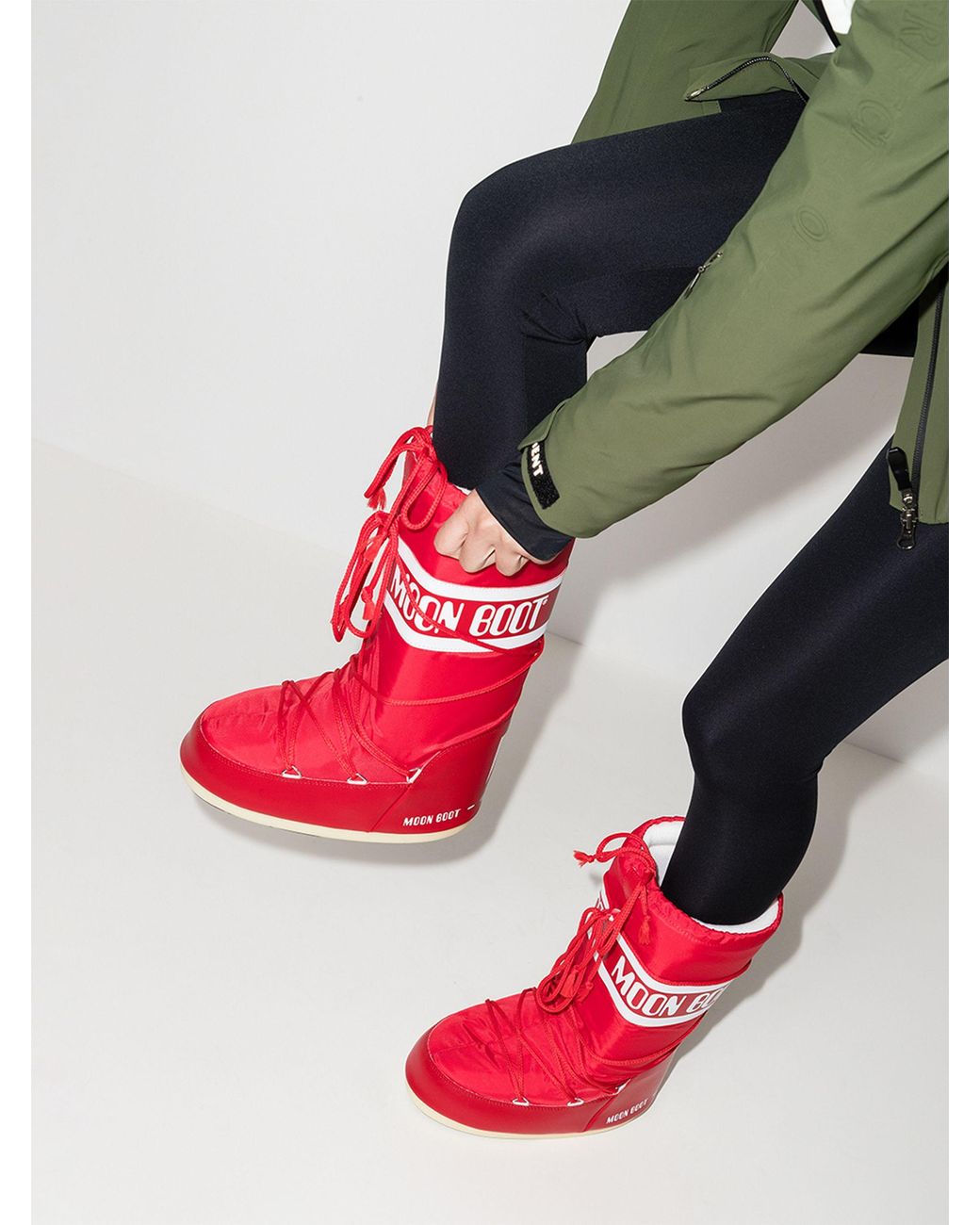 The title of Space Cowboy wouldn't be complete without a pair of Icons from the Highsnobiety X Moon Boot collaboration. Printed with a bandana pattern, the style's nylon construction fuses futuristic references with a heavy dose of Wild Western flair. The criss-cross laces on this shoe and the suction pads on its rubber tread soles are functional features that help keep the wearer on solid ground.
Icon Snow Boots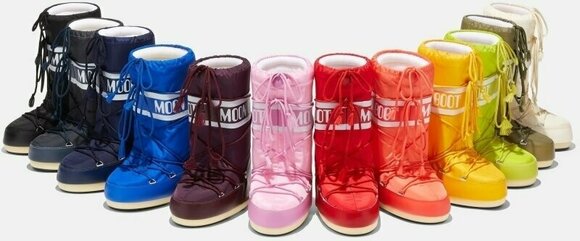 The original Moon Boot may have taken one small step for man, but it made one giant step for footwear. A riff on high-technology astronaut gear inspired by the lunar landing of 1969. Featuring a lightweight midsole and suction pads on the rubber tread sole, it offers serious ground control.
Shearling and Suede Snow Boots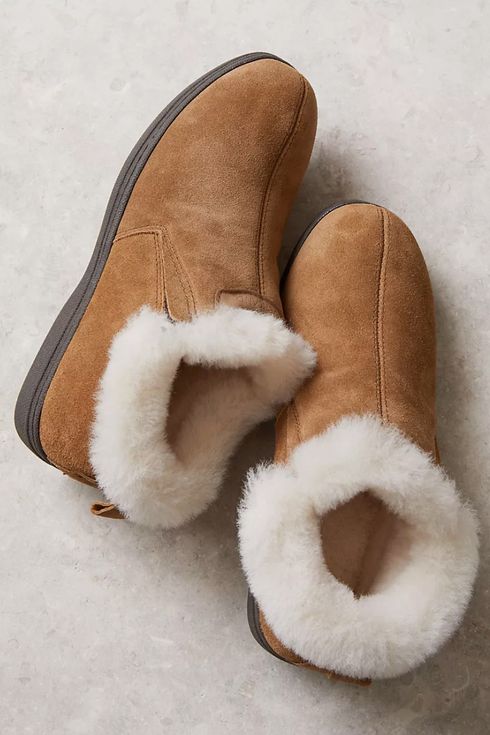 The Icon takes its cues from high-tech astronaut gear and the moon landing of 1969. Rubber tread sole with suction pads offers serious ground control, and the shoe is insulated and fitted with a lightweight midsole. Featuring cozy shearling and tan-brown suede, Moon Boots iconic Icon boots have a practical rubber sole with grips.
SIMILAR SILHOUETTES TO SHOP
Jeffrey Campbell Snowies Knee High Winter Boot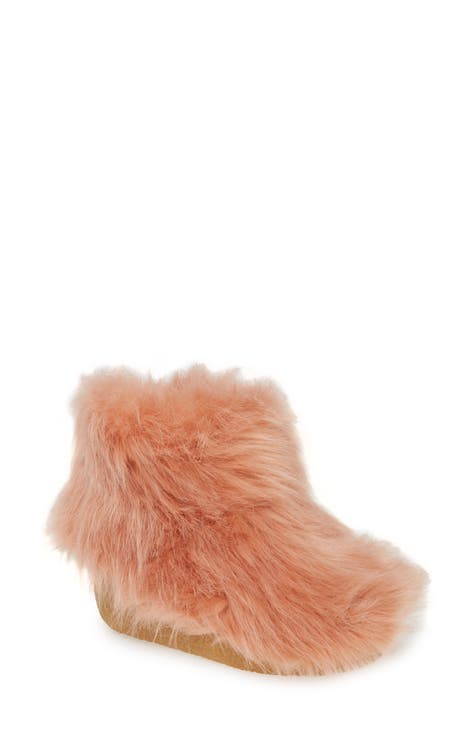 https://jeffreycampbellshoes.com
The Jeffrey Campbell shoe brand pushes the boundaries of fashion. The company is based in Los Angeles, and its team is close to their peers. By making bold footwear for everyone at an affordable price, the JC mission is to empower individuals through progressive silhouettes and achievable looks. Retro-inspired boot with knee-high silhouette, padded insulation and durable lug sole is made for rough winter weather.
Chloé Charlee Leather And Shearling Ankle Boots
The luxury French fashion brand Chloe, which celebrates free-spirited femininity, is a favorite of many people all over the world. Women had the option of wearing ready-to-wear garments, but it also changed completely the way fashion was viewed. The Charlee snow boot is made from smooth suede and smooth calfskin. The lining is made of shearling for ultimate warmth this winter. The laces are connected by criss-crossing ropes and are tied in a decorative bow at the back.
Cougar Verity Genuine Shearling Waterproof Boot
For over 70 years, they have made boots and shoes. They blend functionality with style. They honor the past and embrace the future. Designed to make shoes that are functional and stylish. With humble beginnings making shoes in a converted parachute plant, they have refined our craft over the years. They have grown into a global footwear staple where fashion meets functionality for all seasons. This mid-height boot features an incredibly soft curly shearling collar and tongue. A round toe completes the look. There is an ankle wrap on the front. With contrasting polyurethane cushion midsole and lightweight thermoplastic rubber outsole.
Bogner Les Arcs Quilted Shell And Faux Leather Snow Boots
Bogner's 'Les Arcs' snow boots incorporate all the elements you need for a comfortable and supportive winter style. The jacket is made from faux leather and has a quilted shell that is padded for warmth. With the faux shearling lining and tractioned rubber sole, these boots provide extra warmth and stability in frigid conditions. Embrace your chalet retreat with the practical, yet enduringly stylish Bogner Les Arcs snow boots. These shoes feature a tactile cushioning lining and trekking-style lace-up uppers, named for the famous ski resort. While their faux leather exterior is great for aprés-ski, their interior is equally as wonderful.
Amina Muaddi Heidi Shearling-Lined Leather Boots
The Jordanian-Romanian fashion designer, shoemaker, entrepreneur, social media influencer, model, creative director, and entrepreneur Amina Muaddi hails from Romania. She launched her own shoe and heels line called Amina Muaddi. Among the celebrities with whom she has worked for her brand are Kendel Jenner, Hailey Beiber, Rihanna and others. Amina Muaddi creates pared-back boots in the form of Heidi, instead of the usual opulent fashion. Shearling lining and tonal suede construction make sure the pair remains minimal while providing robust insulation.