It is important to make sure that your trip is one you will remember and cherish for the rest of your life. The stress we experience during our trip and leaving our packing until the last minute may result in a bad memory. Thus, we pack unnecessary items and unnecessary items that would be a waste of space. Packing light is as easy as following these steps: Type Of Trips: Your first priority should be to consider your trip type. No matter what kind of trip it is, from a beach vacation to a road trip to an adventure trip. Choose Your Luggage/ Suitcase: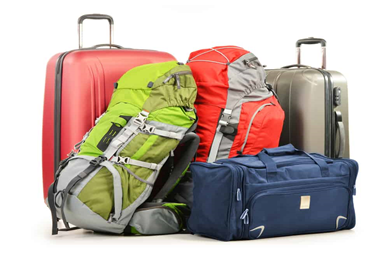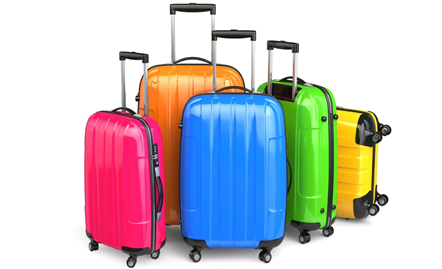 Photos courtesy Google Choosing the right bag is the first step in packing. Taking the right luggage depends not only on the length of your trip, but also on the type of trip you are taking? If your luggage/case is small, you are likely to pack light and efficiently. The problem is, if the suitcase is large, you tend to put everything in it, even things you probably won't use on your trip. Choose a suitcase or bag that is small.
CHECK LIST: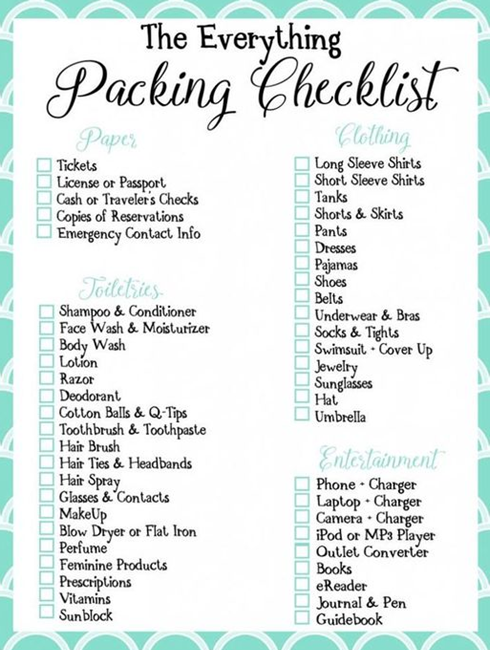 By listing down items you will need while you are on vacation you will keep yourself organized. It will be easier for you to choose things that you may overlook for your trip if you make a list according to your destination. No matter where you are going, you need to write down the basic essentials that will be needed no matter what.
Basics
Clothing
Footwear
Toiletries
Miscellaneous
Lay It Out:
Divide everything into groups by laying it out on your floor or bed
Basics
Clothing
Shoes
Toiletries
Miscellaneous
Let us start from; Essential items include: money, credit cards, passport, laptops, phones, tablets, IPads, travel pillows, umbrellas, water bottles (depending on the trip), first aid kits, and much more. Clothes: shirts, tanks, shorts, Bermudas, trousers, pants, dresses, undergarments, swimwear, socks, pajamas. Typical footwear: includes shoes such as sneakers, walking shoes, sandals, flip-flops, stilettos, and boots. Bathroom items: Shampoo, conditioner, toothbrush, toothpaste, Hairbrush, body wash, deodorant, clips, scrunches, hair dryer, tweezers, hand sanitizer, etc. Items of miscellaneous use: hats, caps, bracelets, bangles, sunglasses, belts, earrings, laundry bags, magazines, guides, snacks, and so forth. Review your list and check off the items you have listed. In this way, we can determine what we need and what is extra. Getting Rid of 1/3 Things Keep in mind how long and where we are going so that we can pack the things that are a necessity and discard the ones that won't be useful. Essentials: Check your list once more and separate what you will need, such as a wallet, cash, credit cards, phone, charger, travel pillow, first aid box, etc. These are the things you can't forget. With apps and features so advanced that smartphones are capable of doing everything, none of us need iPads, tablets, or laptops. Nevertheless, if you are traveling on business, you can take one of these things that you consider essential. Depending on the trip, water bottles and umbrellas are also optional. Clothes: First of all, you will want to determine how many outfits you will have to change during the day. You may want to consider pairing your things so you can wear them more than once. For instance, jeans can be worn for two to three days and you can just keep on changing the tops, shirts, etc. Carry more tops and fewer bottoms. Take out the clothes you don't think you need for your trip and mix and match the clothes you have. Two outfits can be chosen for nightwear that can be worn alternate days. For undergarments, you should carry the same number as the number of days you will be on vacation. Therefore, the fewer the clothes, the more relaxed you will be. Shoes: Your footwear is no different. Keeping in mind the kind of trip you are taking is the most important factor. Prepare footwear that is versatile and can be worn with multiple outfits. An essential part of every vacation is a pair of sneakers, sandals, and flip-flops. Toiletries: Packing toiletries depends on where you will stay on your trip. You can get toothbrushes, toothpaste, body wash, hair dryer, hair dryer, shampoo, hair conditioner at the accommodation you are staying at. The housekeeping staff can also provide an iron if you do not have one in your room. One or two shades of lipstick, eyeliners, and kajal may also be all that is needed in terms of cosmetics. Choosing complementary shades for your outfits can make a big difference. Other than that, be sure to pack sunscreen, makeup, and mascara. Miscellaneous: All you would need here is a belt, watch, bracelet, hat, and earnings that will be suitable for most items. All the above has saved you time and reduced your checklist by more than 1/3. Travel without the hassle of carrying a heavy suitcase or bringing home clothes you didn't wear and didn't need while you were away. By Rashmi Goel