Tropical print shirts for men are popular fashion items that often feature vibrant and colourful patterns inspired by tropical flora and fauna. They are typically made from lightweight fabrics and are associated with a relaxed and casual style. Here's everything you need to know about tropical print shirts for men:
Tropical print shirts, also known as Hawaiian shirts or Aloha shirts, originated in the 1920s in Hawaii. They were initially made from traditional Japanese kimono fabrics and gained popularity among locals and tourists alike.
Tropical print shirts are characterised by bold and eye-catching patterns. Common motifs include palm trees, hibiscus flowers, pineapples, birds, fish, and other elements found in tropical regions. These patterns are often arranged in a repetitive and symmetrical manner. Tropical print shirts are typically made from lightweight and breathable fabrics suitable for warmer climates. Cotton, rayon, silk, and linen are commonly used materials for their construction. These fabrics allow air to circulate and keep the wearer cool in hot weather.
Image Source: google.com
Tropical print shirts come in various fits and styles to suit different preferences. Traditional Hawaiian shirts have a relaxed and loose fit, often featuring a camp collar and short sleeves. Modern versions may offer a slimmer fit or different collar styles such as button-down or spread collars.
The colour palette of tropical print shirts is vibrant and diverse, reflecting the vibrant nature of tropical regions. Bright and bold colours are commonly used, including shades of blue, green, red, yellow, and orange. These colours create a lively and tropical aesthetic.
Tropical print shirts are versatile pieces that can be styled in different ways. While they are often associated with casual wear, they can be dressed up or down depending on the occasion. They can be worn with shorts, chinos, or even tailored trousers, and paired with sandals, sneakers, or loafers.
Tropical print shirts are particularly popular during the summer season, beach vacations, and tropical-themed events. They are suitable for casual outings, pool parties, BBQs, and other relaxed social gatherings. However, it's important to consider the dress code of the specific event or location before wearing a tropical print shirt.
How to Choose the Right Tropical Print Shirt for Men in USA?
Image Source: google.com
Choosing the right tropical print shirt for men involves considering various factors such as pattern, fabric, fit, and personal style.
Pattern: Tropical print shirts come in a wide range of patterns. Consider the size and intricacy of the pattern based on your preference and body type. Larger patterns may suit taller or broader individuals, while smaller patterns can be flattering for those with a smaller frame.
Colour Palette: Pay attention to the colour palette of the shirt. Vibrant and bold colors are characteristic of tropical prints, but choose colours that complement your skin tone and personal style. If you prefer a more understated look, opt for shirts with more muted or earthy tones.
Fabric: Consider the fabric composition of the shirt. Lightweight and breathable fabrics like cotton, rayon, silk, and linen are ideal for hot and humid climates. Additionally, check if the fabric is prone to wrinkling, as some tropical print shirts may require more maintenance in terms of ironing or steaming. Traditional Hawaiian shirts are typically loose-fitting, while modern versions may offer slimmer or more tailored fits. Consider whether you prefer a relaxed, laid-back look or a more streamlined silhouette.
Image Source: google.com
Collar Style: Pay attention to the collar style of the shirt. Traditional tropical print shirts often feature a camp collar (also known as a Cuban collar) that lays flat and doesn't have buttons. However, modern variations may have button-down or spread collars. Choose a collar style that aligns with your personal style and the occasion you plan to wear it for.
Occasion: Consider the occasion or setting where you plan to wear the tropical print shirt. If it's for a casual outing or a beach vacation, you have more flexibility in terms of patterns and colours. However, if you're attending a more formal or business-casual event, opt for a subtler tropical print or pair the shirt with tailored trousers to strike the right balance.
Personal Style: Ultimately, choose a tropical print shirt that resonates with your personal style and makes you feel confident. Consider how the shirt will integrate into your existing wardrobe and if it aligns with your overall fashion aesthetic.
Try Before Buying: Whenever possible, try on the shirt before making a purchase. Pay attention to how it fits, whether the length is appropriate, and if the pattern and colours suit your complexion. If trying in person isn't possible, carefully review the size chart provided by the retailer and read customer reviews for insights into the fit and quality.
Remember, the key is to choose a tropical print shirt that you feel comfortable and confident wearing. Trust your instincts, and select a shirt that reflects your personality and makes you excited to wear it.
10 Creative Ideas for Styling Tropical Print Shirts for Men in USA
In this paragraph, I will tell you how to choose best and perfect stylish tropical print shirts for men in USA at affordable price. Visit Fashion Sootra! Styling tropical print shirts for men in creative ways can elevate your look and make a statement. Here are ten ideas to inspire you:
Casual Cool: Pair a vibrant tropical print shirt with a pair of neutral-colored shorts, such as beige or khaki. Complete the look with white sneakers or sandals for a laid-back and effortlessly cool outfit.
Monochromatic Ensemble: Choose a tropical print shirt with a single dominant color, and style it with shorts or pants in the same hue. This monochromatic approach creates a cohesive and sophisticated look.
Pattern Play: Embrace the boldness by mixing patterns. Pair your tropical print shirt with shorts or pants featuring a complementary pattern. Stripes, polka dots, or even a subtle floral print can work well when combined thoughtfully.
Layering: Use your tropical print shirt as a layering piece. Wear it unbuttoned over a plain T-shirt or a solid-coloured long-sleeve shirt. This adds depth and visual interest to your outfit while keeping it versatile for different weather conditions.
Resort Chic: Dress up your tropical print shirt by pairing it with tailored trousers or chinos in a complementary colour. Opt for a more refined shoe choice, such as loafers or boat shoes, and consider adding a blazer for a sophisticated resort-inspired look.
What Are the Benefits of Wearing Tropical Print Polo Shirts?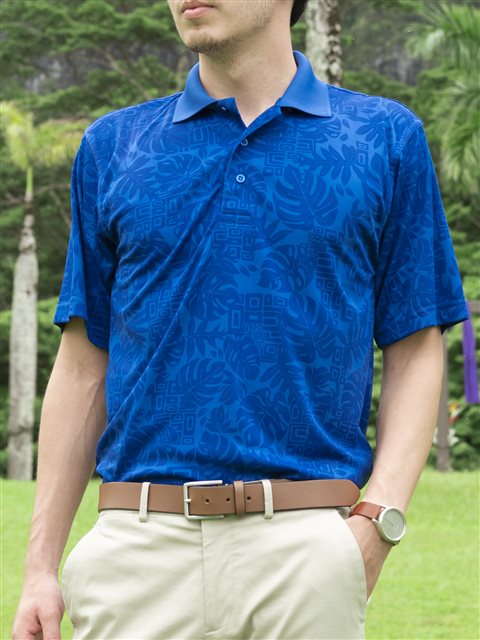 Image Source: google.com
Introducing our latest range of men's tropical print polo shirts - the perfect addition to your summer wardrobe! Designed with comfort and style in mind, these shirts feature bold prints inspired by the tropical regions around the world. Crafted from premium-quality materials, you can expect impeccable fit and durability from each piece. Wear them with shorts, chinos or jeans - these polos will effortlessly elevate any outfit.
Get ready for summer with our men's tropical print polo shirts! These shirts are perfect for adding a pop of color to any outfit. Searching for high quality and branded tropical print polo shirts in USA. They are also built to last. Whether you're headed to the beach or just out for a casual day, these shirts will keep you looking stylish and feeling comfortable.
Pop of Colour: If you prefer a more understated outfit, use your tropical print shirt as a statement piece. Wear it with neutral-coloured bottoms and accessories, allowing the shirt's vibrant colours to take centre stage.
Denim Duo: Create a casual and stylish outfit by combining your tropical print shirt with denim. Whether it's jeans, denim shorts, or a denim jacket, the juxtaposition of the relaxed tropical vibe with the ruggedness of denim can create a visually appealing look.
Casual Office Attire: Depending on your workplace dress code, you can incorporate a tropical print shirt into your office attire. Pair it with tailored pants or chinos in a neutral colour and add a blazer for a polished yet relaxed business-casual look.
Layer with a Sweater: Transition your tropical print shirt into cooler seasons by layering it with a lightweight sweater. Opt for a solid-coloured sweater that complements one of the hues in the shirt's pattern. This adds warmth and sophistication to your outfit while maintaining the tropical flair.
Beach to Bar: If you're heading to the beach or a beachside bar, wear your tropical print shirt as a beach cover-up. Pair it with swim trunks or linen shorts, and don't forget your flip-flops or sandals. It's the perfect way to showcase the tropical vibe and embrace the vacation mood.
Remember, fashion is subjective, so feel free to experiment and mix these ideas to match your personal style and the occasion. Have fun with your tropical print shirts and let them reflect your unique personality.
By: Chetali Pandey
You Must Also Like
Essential Elements of a Successful Outfit for the Kentucky Derby