Hydration is necessary when the skin feels tight, uncomfortable, and flaky. Now what? Whenever your skin is dry, it is most likely caused by damaged skin barrier, which can no longer protect your microbiome system, resulting in even more dryness. Furthermore, due to its dryness, skin cannot maintain hydration levels properly, leading to premature aging.
Adding the right products to your skincare routine is essential. Besides emollients and occlusives, your skin needs humectants as well to draw in moisture. Which is the best humectant? That's right, hyaluronic acid. Oils, fatty acids, urea, and petroleum jelly are excellent emollients, which return moisture to your skin, making it as soft as before, while occlusives like beeswax, shea, and cocoa butters lock in moisture.
What Causes Dry Skin?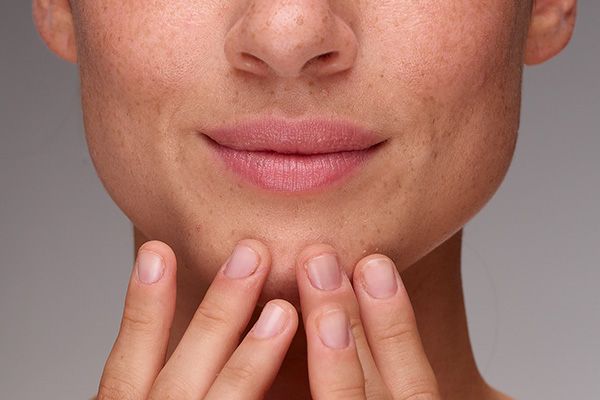 Image Source: Google.com
A variety of factors can contribute to dehydrated skin: genetics, age, pollution, lifestyle, medicine, or climate. Dry skin remains tight and can be difficult to apply makeup to. Dry skin becomes even less capable of absorbing moisture, becoming flaky or itchy to the point of becoming even drier. Read on and get great skin.
Morning Routine
Start the day right with a morning skincare routine designed for dry skin. In order to combat skin damage caused by UV rays, pollution, dust, and smoke, you need to do the following. It is important to protect your skin from external aggressors in the AM to decrease the chances of premature aging as well. Make your dry skin feel loved by taking these steps.
Cleanser
Image Source: Google Images
Cleansers for dry skin should take away impurities while hydrating and nourishing the skin. The cleanser you choose might strip away the needed moisture from your skin all at once if you aren't using it according to your skin type.
Pick a moisturizer containing hyaluronic acid, ceramides, butters, glycerin, oils, and squalane, unscented and soap-free. You'll also want to look for a cleanser that has a creamy or gel-like formula rather than one that is foamy, allowing you to remove the sebum from your skin.
Juice Beauty Steam Cellular Cleansing Oil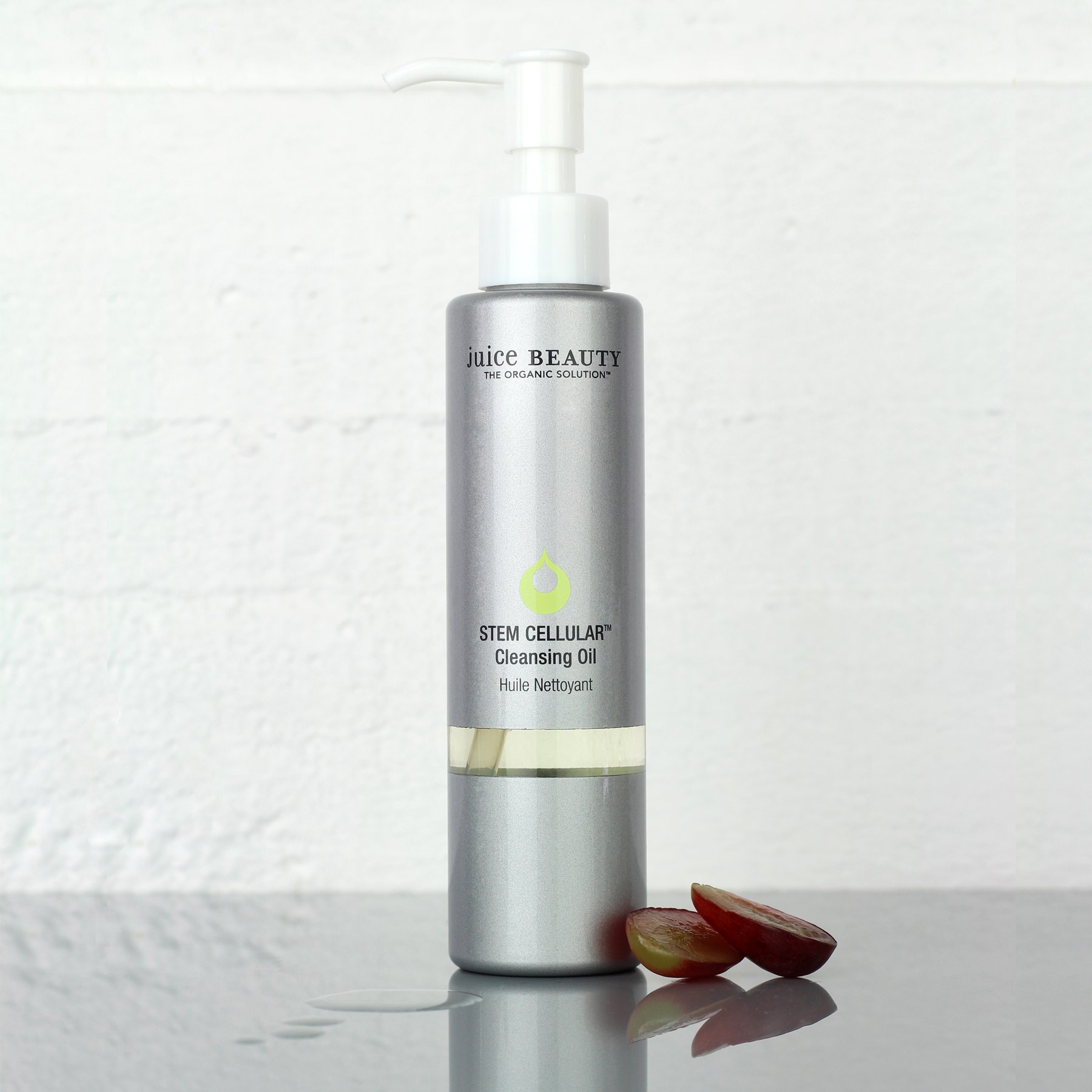 Image Source: juicebeauty.com
This deep cleansing oil formulated with grapeseed, may change, and hot wood oils is designed to cleanse, soften, and balance the skin's natural moisture levels. The STEM CELLULARTM Cleansing Oil from Juice Beauty is a must have for all skin types, and is especially beneficial for skin with signs of aging such as wrinkles and fine lines.
Natural oils are balanced by a rich, hydrating cleanser. The emulsion "blooms" into a luxurious lather for easy rinsing. It removes makeup while dissolving impurities. This product contains Vitamin C and E to provide powerful antioxidant action. Parabens, petroleum, propylene or butylene glycol, sodium lauryl sulfates, pesticides, phthalates, artificial dyes and synthetic fragrances are not present in the formula. No tests on animals were conducted.
Toner
Toners may seem unnecessary, but they may add a surprising amount of moisture to your skin as long as you use the right product. You should avoid astringent toners that contain alcohol if you want to keep your skin healthy. Instead, your toner should be infused with moisturizing ingredients like peptides, jojoba oil, rosehip oil, glycolipids, and HA. Toner not only adds moisture to your skin, but it also prepares it for what comes next.
Fresh Rose Deep Hydration Facial Toner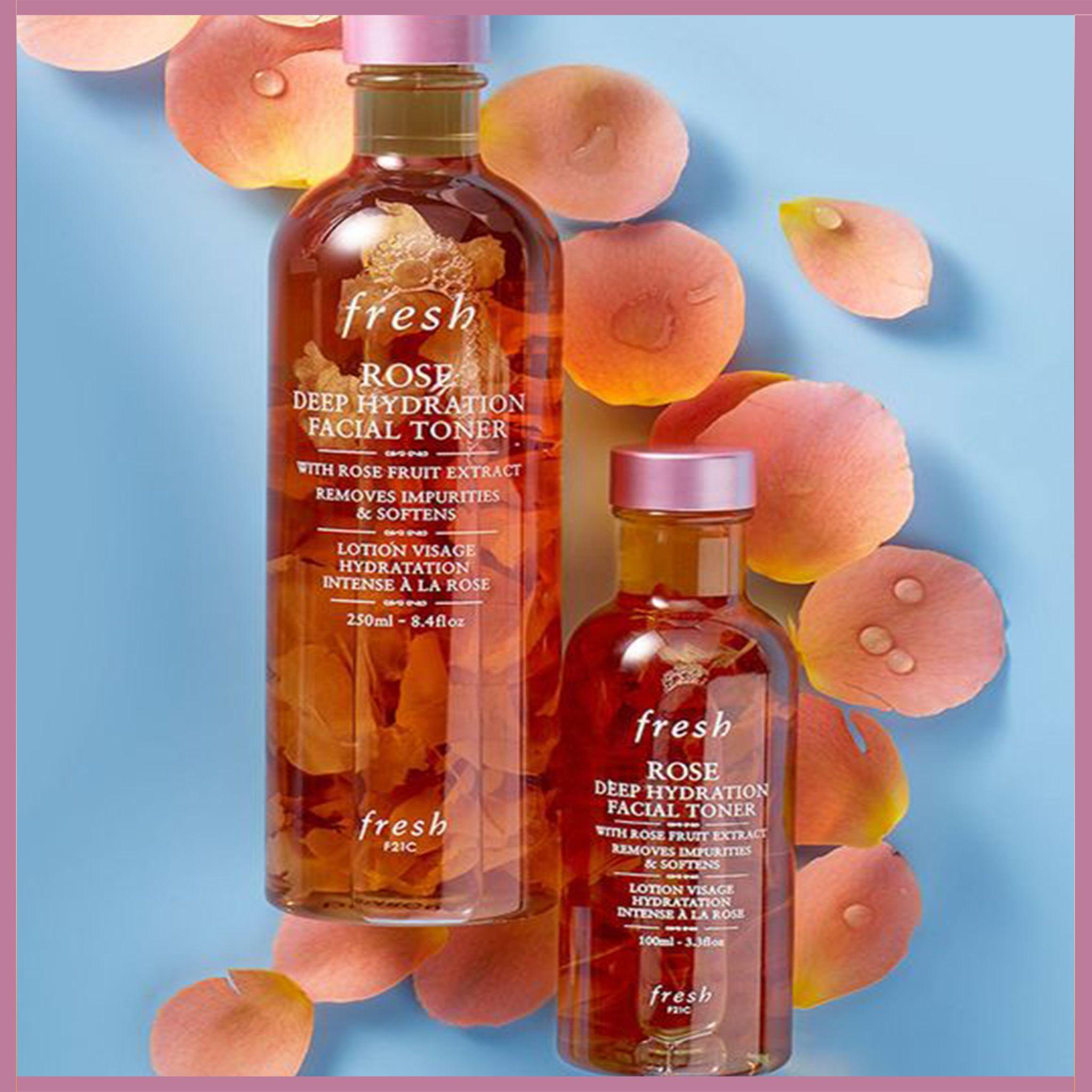 Image Source: fresh.com
A daily, non-stripping toner with real rose petals and hyaluronic acid that minimizes the look of pores while increasing skin hydration. This best-selling, alcohol-free formula has an unmatched amount of rose power: toning rose fruit extract, soothing rosewater, nourishing rose oil, and real floating rose petals.
It hydrates and clears skin of leftover impurities, leaving it silky soft and prepped for the products you apply after. Deeply hydrates skin. Softens and refines the look of pores. Tones and preps skin for next steps.
You need a serum so much! Serums, by their nature, are quickly absorbed below the epidermis, where they restore moisture. Small molecules enable this to happen. Dry skin needs a creamier serum that contains HA to pull water to the skin, vitamin E to soothe and protect, peptides to support the skin's regeneration process, and antioxidants to fight free radicals.
Elemis Peptide4 Antioxidant Hydra-Serum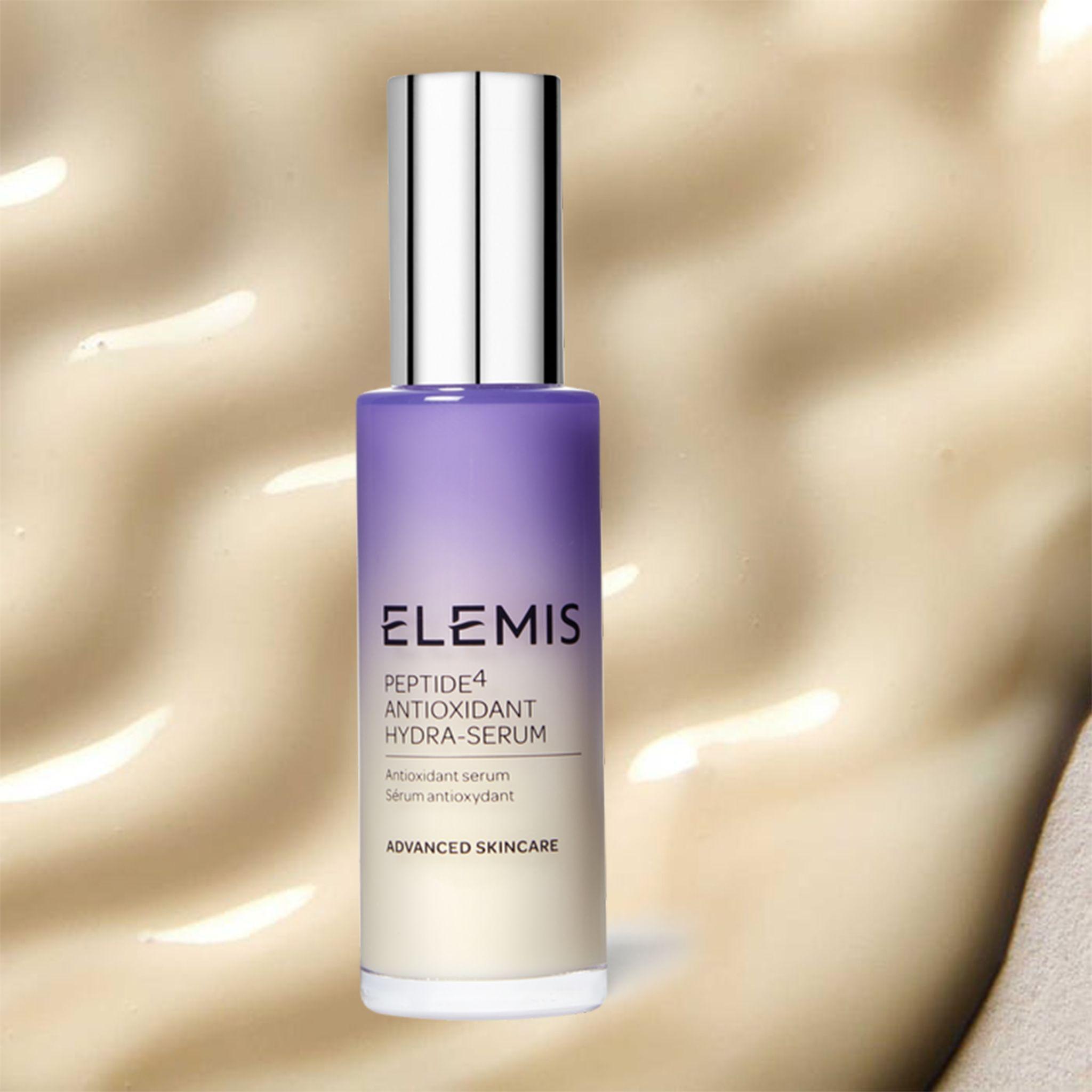 Image Source: uk.elemis.com
With this antioxidant-rich serum, you can rejuvenate tired-looking skin. With this lightweight serum, the skin's own natural defenses are strengthened against everyday pollutants. Enhanced with Hyaluronic Acid and Honesty Seed Oil, the formula deeply hydrates skin while softening lines and wrinkles.
Leaving it feeling smooth and protected. Lotus Flower Milk, Saffron Flower, and Indian Gooseberry are rich in polyphenols and flavonoids that help reveal smoother, brighter and flawless-looking skin.
Moisturizer
As the day progresses, the skin needs protection against free radicals as well as hydration. UV, pollution, and dust can break down the protective barrier, leaving your skin vulnerable, increasing the chances of it drying out even more. Ceramides, B5, niacinamide, peptides, amino acids, and antioxidants provide a large portion of that protection.
For the daytime, however, use a light moisturizer like a gel that won't feel heavy on the skin - this is for the evenings, and you'll see why soon enough. If your moisturizer contains at least 30 SPF, you've hit the jackpot, eliminating the need for a second product. However, if your moisturizer does not contain any SPF, you will still need a SPF moisturizer afterward.
Murad Perfecting Day Cream SPF 30
Image Source: Google.com
This daily moisturizer with SPF nourishes & protects the skin while minimizing the look of fine lines. One step hydrates, offers broad spectrum SPF, and protects against damaging free radicals. Moisture and suppleness are restored; lines appear minimized.
Hydrates and conditions skin with fatty acids to restore suppleness with this lightweight anti-aging SPF moisturizer. Pomegranate and grape seed extract help diminish the appearance of fine lines and wrinkles. SPF Moisturizer Combats Dullness, Dehydration, and Visible Fine Lines.
Eye Cream
We all have thin eye areas, so hydrating ingredients with anti-aging properties are essential in the eye area. Rejuvenate your eye area with skin-nourishing ingredients, such as antioxidants, peptides, ceramide, and hyaluronic acid.
Charlotte Tilbury Magic Eye Rescue Cream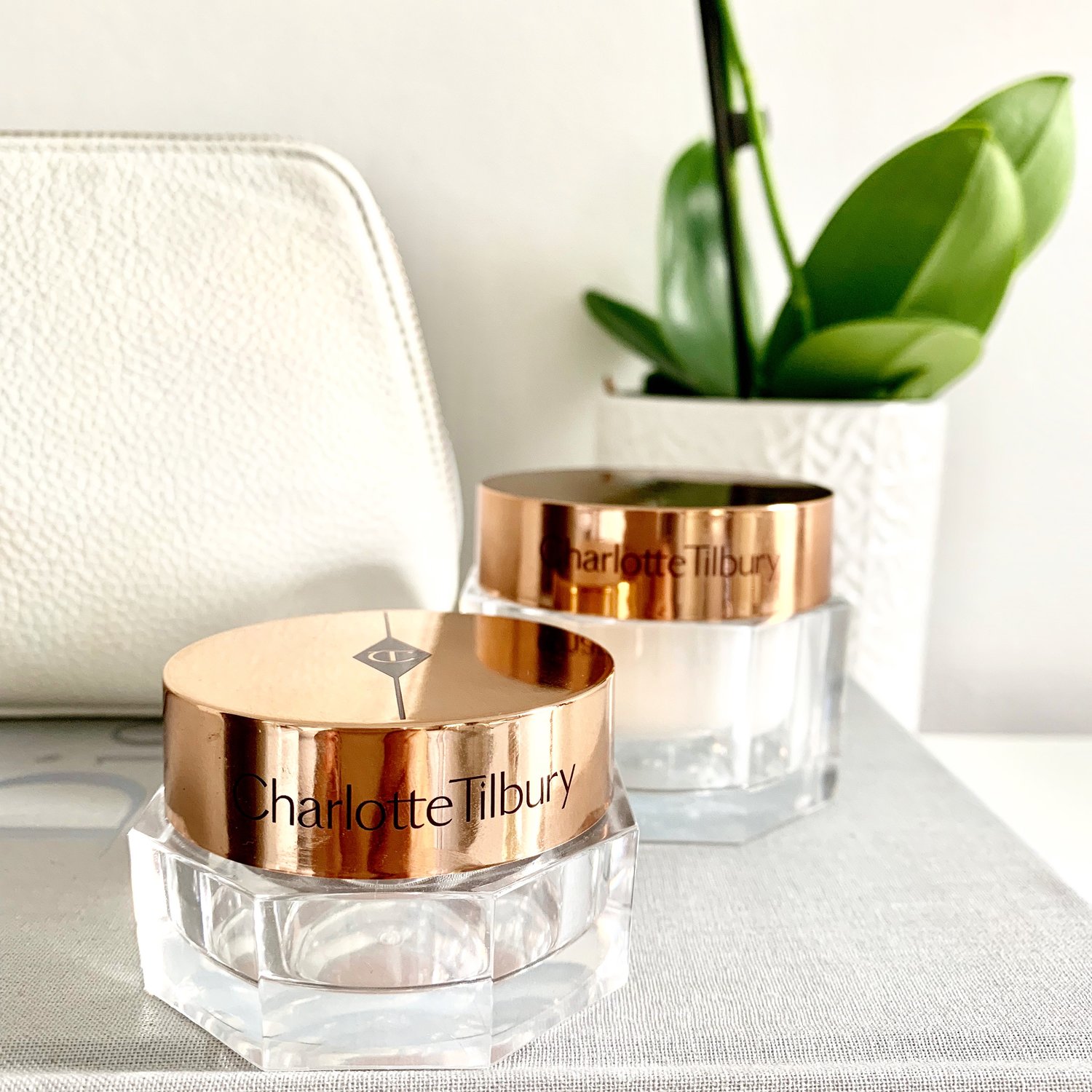 Image Source:charlottetilbury
Charlotte's magic eye rescue is an award-winning brand that helps to smooth and brighten the appearance of the undereye area with a creamy texture that glides over fine lines and wrinkles, brightening dark circles while providing a cooling, soothing effect to reduce puffiness. The supercharged formula smooths, plumps, and locks in moisture to restore softness to your skin! Winter Daphne Stem Cell Extract promotes the health of the skin's barrier function, which allows it to keep its moisture and stay smooth and vibrant.
Makeup
There is no doubt that you should have products that address dry skin in your makeup bag. Among the most important are makeup base, concealer, foundation, and blush. Primers do more than just keep makeup in place; they also create an even complexion to prepare your face for better eyeshadow and foundation application. You definitely need a foundation for dry skin - liquid, creamy formulas with skin-nourishing ingredients. Choose a hydrating concealer as well. If you have oily skin, you may want to skip the setting powder and instead choose a setting spray. For blush stick to a creamy formula. For a liquid highlighter, choose one that is water-based.
Dr. Jart Cicapair Tiger Grass Calming Mist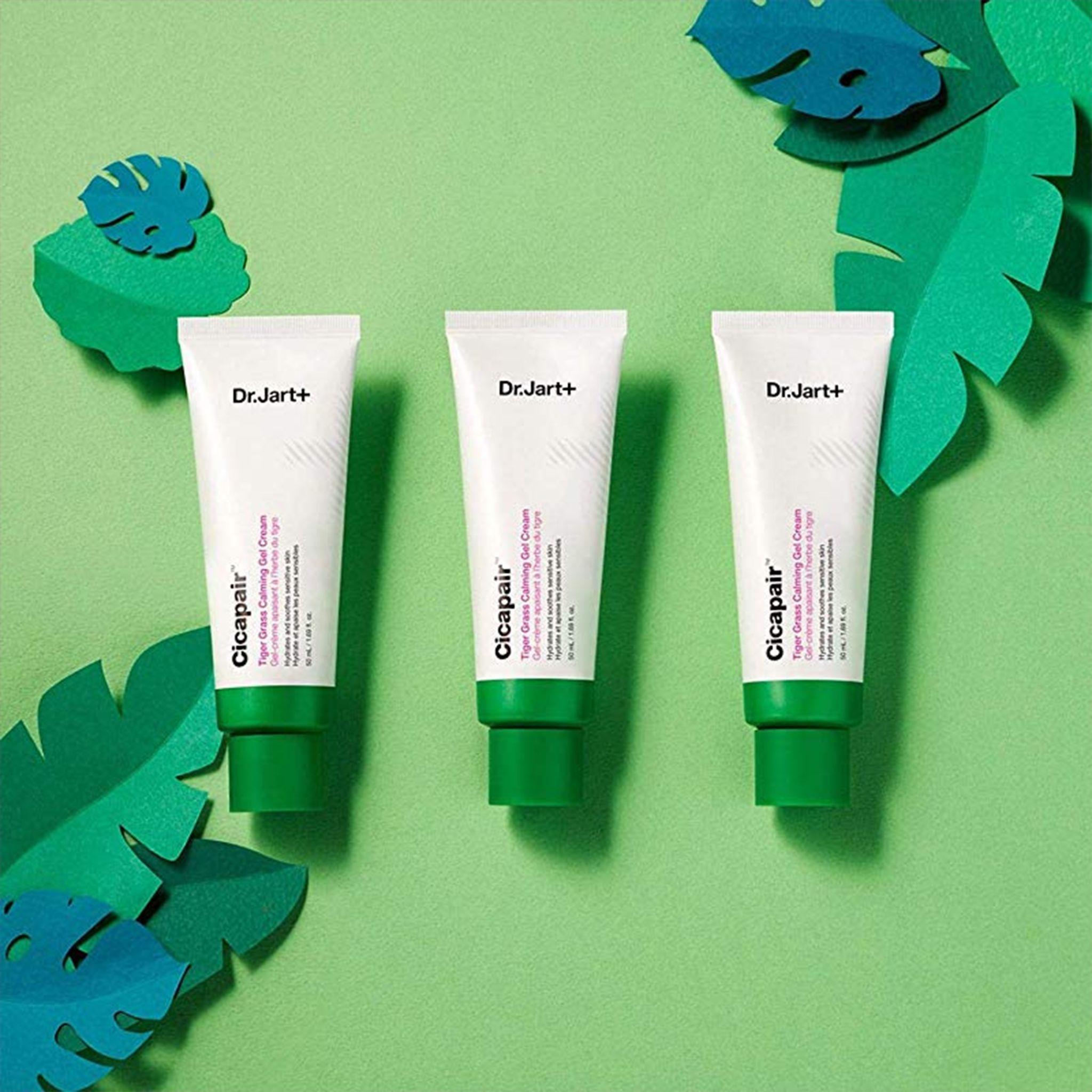 Image Source: drjart.com
Sensitive skin feels instantly soothed and gets lasting relief from this hydrating mist. Using Jartbiome, our proprietary microbiome complex, this formula helps strengthen, balance, and improve skin's defenses. This mist has been developed by Dr.Jart + using the following ingredients: JartbiomeTM, CicabondTM, and Centella Cx.
An Evening Routine for Dry Skin
During the night, skin cells regenerate, growing and repairing tissues. It is for this reason that a heavier cream is required. You get the greatest impact from your skincare regimen during this cell makeover mode. It goes without saying that you should clean your skin first - even if you're not wearing makeup - and apply a toner afterward. Toners prepare the skin for serums.
Serum
It is the perfect elixir to help your skin be hydrated while sleeping. Applying a serum at night will wake up your skin quenched since your skin cells are undergoing a makeover. Using a serum rich in hyaluronic acid, the one that makes the skin look plump, you can do this. Using a peptide serum is also a good idea. You can also apply a facial oil if your skin is very dry.
Tata Harper Nutrient Face Oil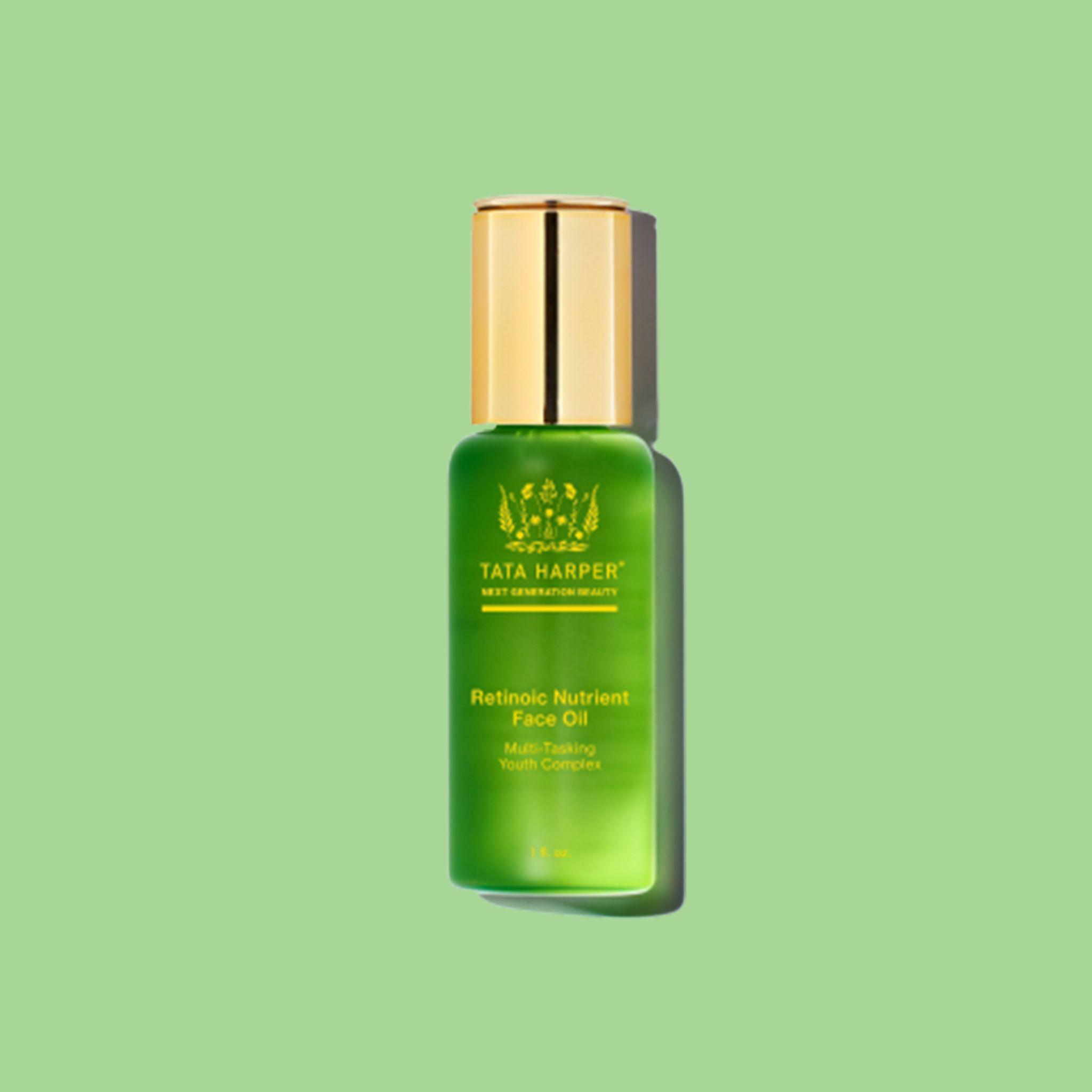 Image Source: Google.com
A lightweight face oil that combats visible signs of aging for radiant, balanced looking skin. Recommended for fine lines and wrinkles or uneven skin texture. A luxurious face oil will restore your youthful glow. This multi-tasking complex helps reduce the appearance of early wrinkles with rosehip retinoic acid, while vitamins and minerals nourish the skin to look young and healthy. There are five sources that minimize the look of wrinkles, six sources of vitamins and minerals, and seven sources to smooth and soften the texture of skin.
Moisturizer
When you apply a moisturizer in the evening, you should use one that is heavier than the one you use in the morning. Sleeping causes your skin to lose moisture. A hydrating moisturizer will replenish that water loss, so you won't wake up with that crepe-y feeling and appearance. Consequently, hydrating your skin with a moisturizing moisturizer is your best bet. In the morning, your skin will reward you for your efforts!
Clinique Moisture Auto-Replenishing Hydrator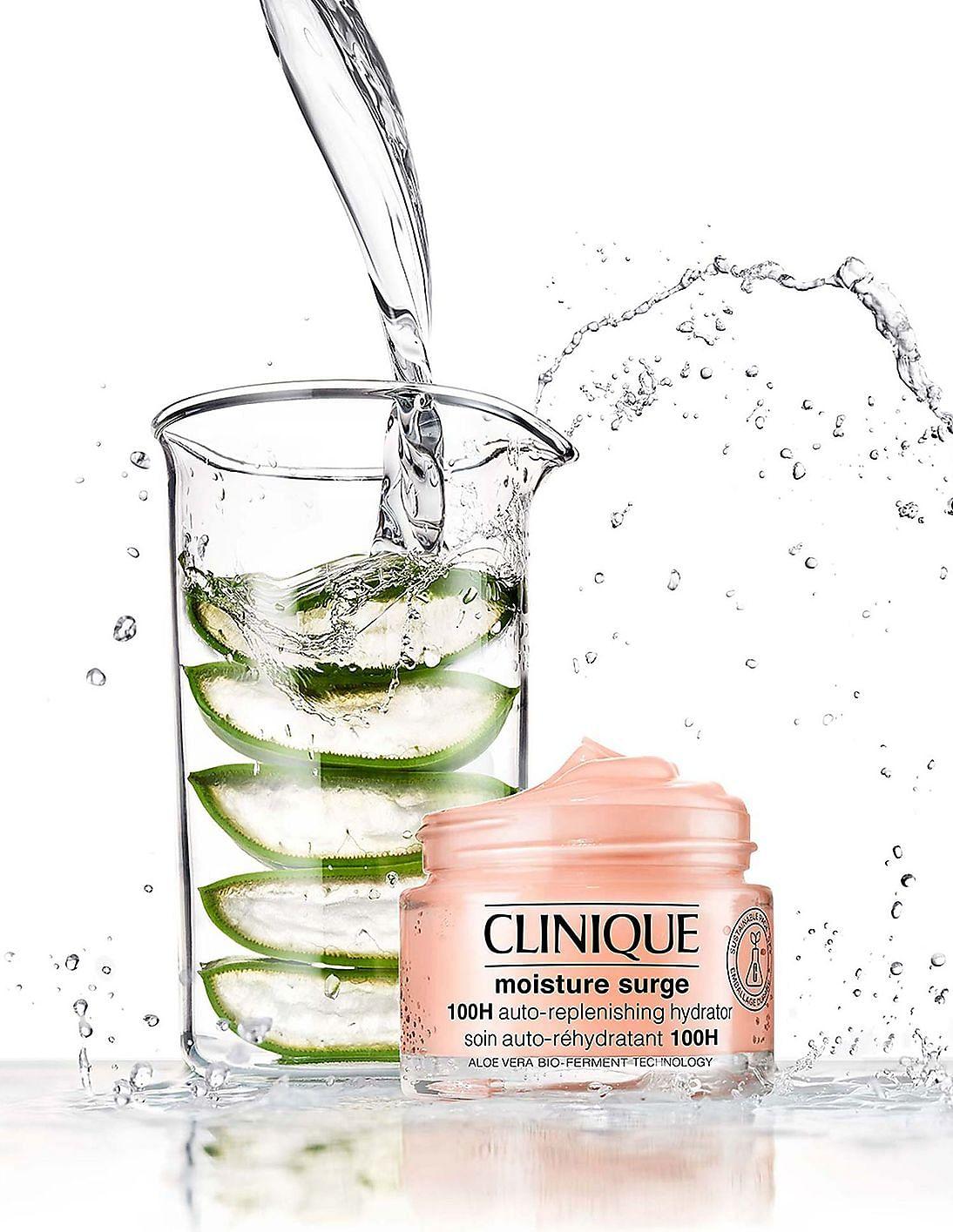 Image Source: clinique.com
With an exclusive aloe bio-ferment and hyaluronic acid formula, this oil-free gel cream moisturizer penetrates deep into skin, lasting up to 100 hours, even after washing your face. A dual-action hydrator that uses Auto-Replenishing Technology to constantly hydrate the skin from within and lock in moisture for an endlessly plump, healthy glow. Mask wearers will find Moisture SurgeTM 100H a true moisture marvel.
Weekly Routine
It is a good idea to do some stuff once or twice a week. If your skincare regimen is overdone, it can damage your skin barrier and increase dryness.
Exfoliant
You can remove dead skin cells that make your skin look dull once a week by using a scrub or an exfoliator. Choose one with tiny particles to avoid irritating your skin. And if it's got hydrating ingredients, you're good to go. You will look better and be able to apply products to your skin more effectively if you slough away dead skin cells.
Tatcha The Rice Polish Foaming Enzyme Powder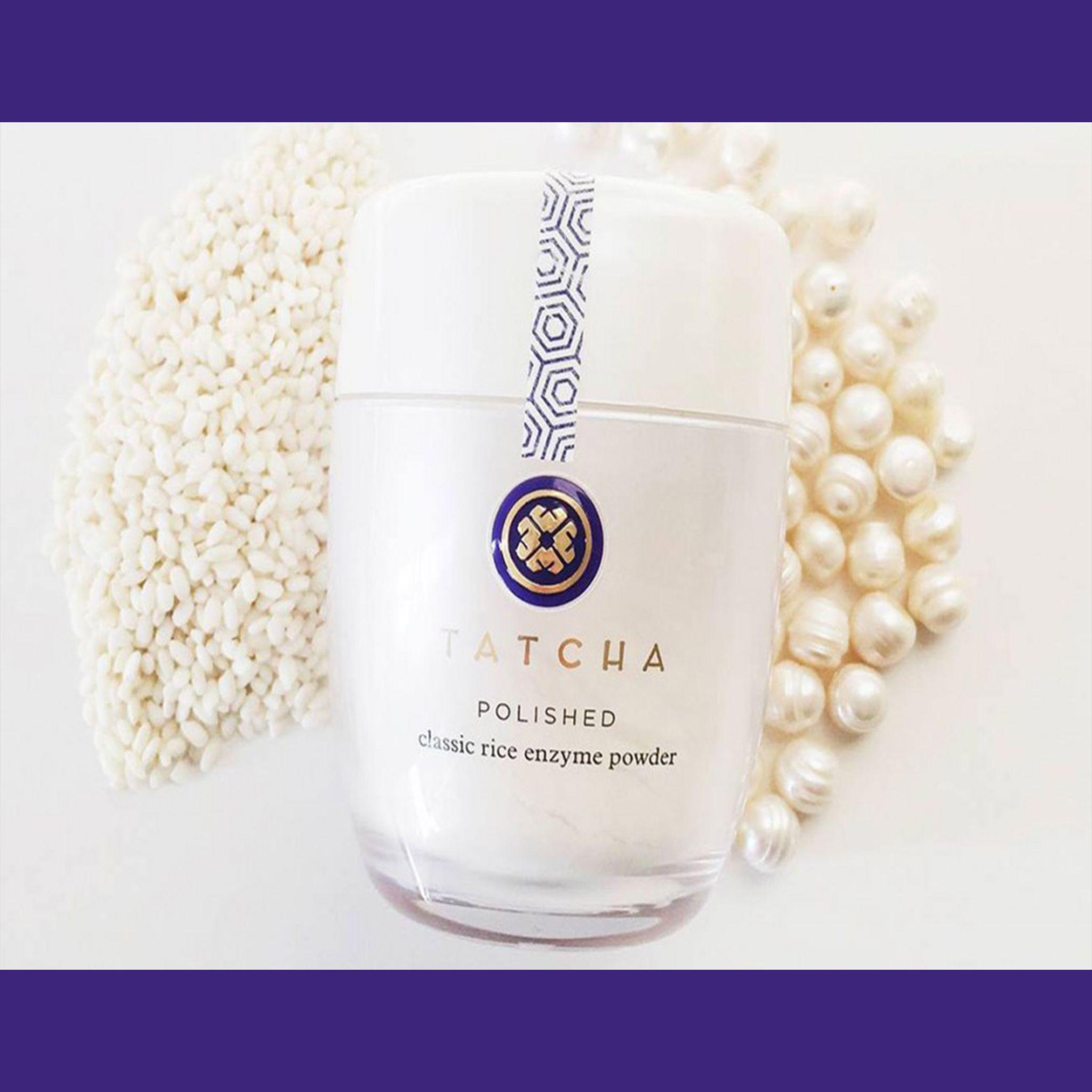 Image Source: tatcha.com
This water-activated exfoliant is crafted with Japanese rice bran and silk protein to leave skin feeling smooth and glowing. Rice Polish exfoliates your skin without abrasion and contains pure ingredients from Japan. By combining rice bran and papaya enzymes, you instantly get smooth, makeup-ready skin.
With a pH neutral, amino acid base formula, you can effectively clean without stripping skin of essential moisture or disturbing the skin's barrier function. The result is baby-soft, supple skin. With Hasasei-3TM, a trio of fermented Japanese superfoods - green tea, rice, and algae - you can restore a healthy-looking glow. With silk protein, The Rice Polish: Classic moisturizes and nourishes combination to dry skin.
Mask
Use a hydrating mask every now and then to keep your dry skin hydrated. Besides relaxing your skin, a hydrating mask provides it with skin-loving ingredients for a softer appearance. With each application of a hydrating mask, you'll notice a radiant glow and an overall improvement. Take a deep breath, and wait until your skin reaches its peak.
Lancôme Advanced Génifique Hydrogel Melting Mask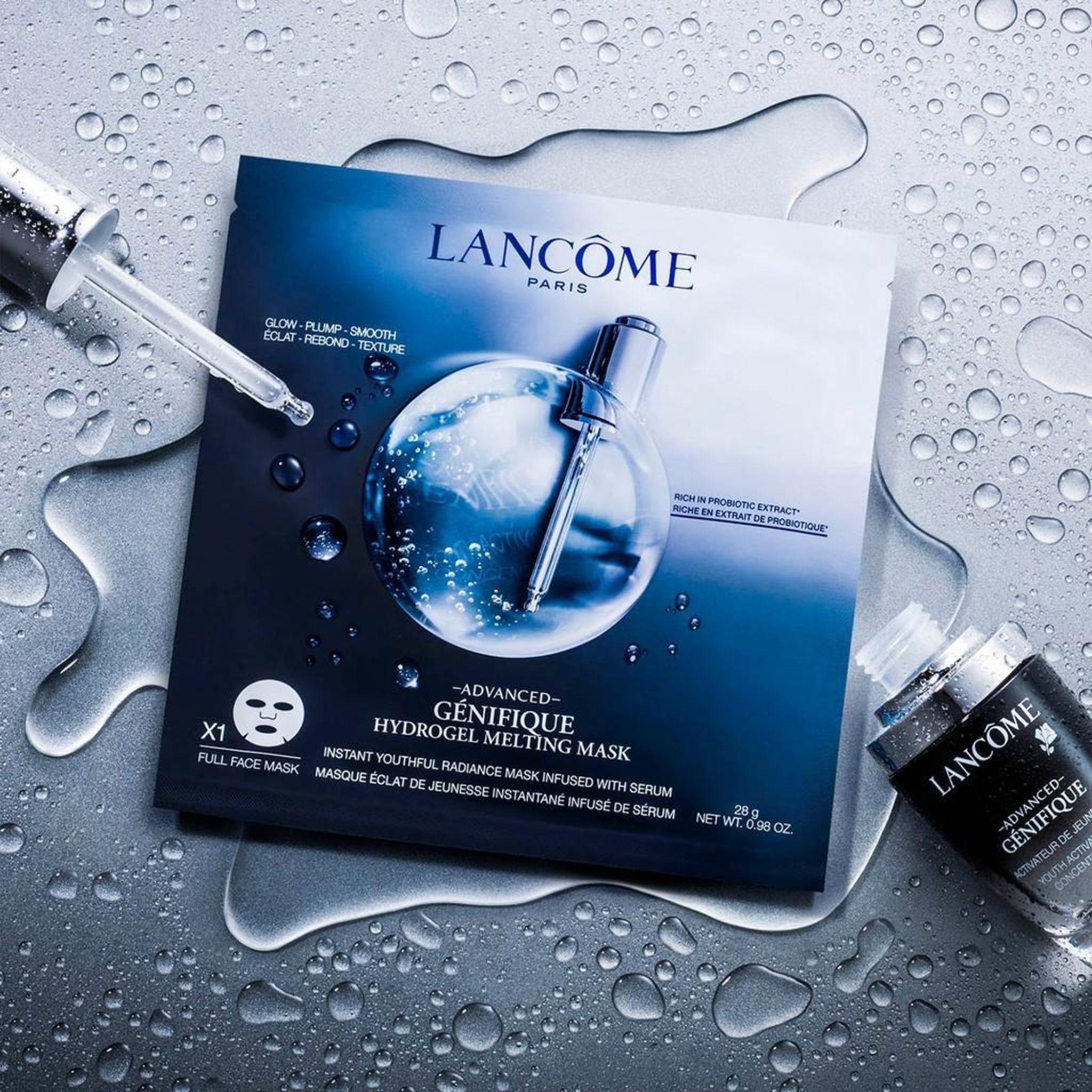 Image Source: lancome-usa.com
Hydrogel sheet masks that instantly hydrate, smooth, and plump the Dry Skin Care Routine. Feel like the hydrogel sheet mask is melting on your skin, leaving you with a comfortable, cocoon-like feeling. Bifidus extract from Advanced Genifique serum is included in the mask, helping to strengthen and protect the skin's moisture barrier.
A 30-ml bottle of Advanced Genifique serum contains the same amount of Bifidus extract as each mask. Approximately ten minutes after application, the skin is left feeling hydrated, and fresh. Despite having a youthful appearance, the skin appears radiant, pores appear smaller, skin texture seems refined, and fine lines appear reduced. This sheet mask does not leave the skin feeling sticky or shiny. Boost your skin's moisture level with capsules serum as well. These products are pretty powerful since they contain more active ingredients than serums.
ROZGE Facial Repairing Capsules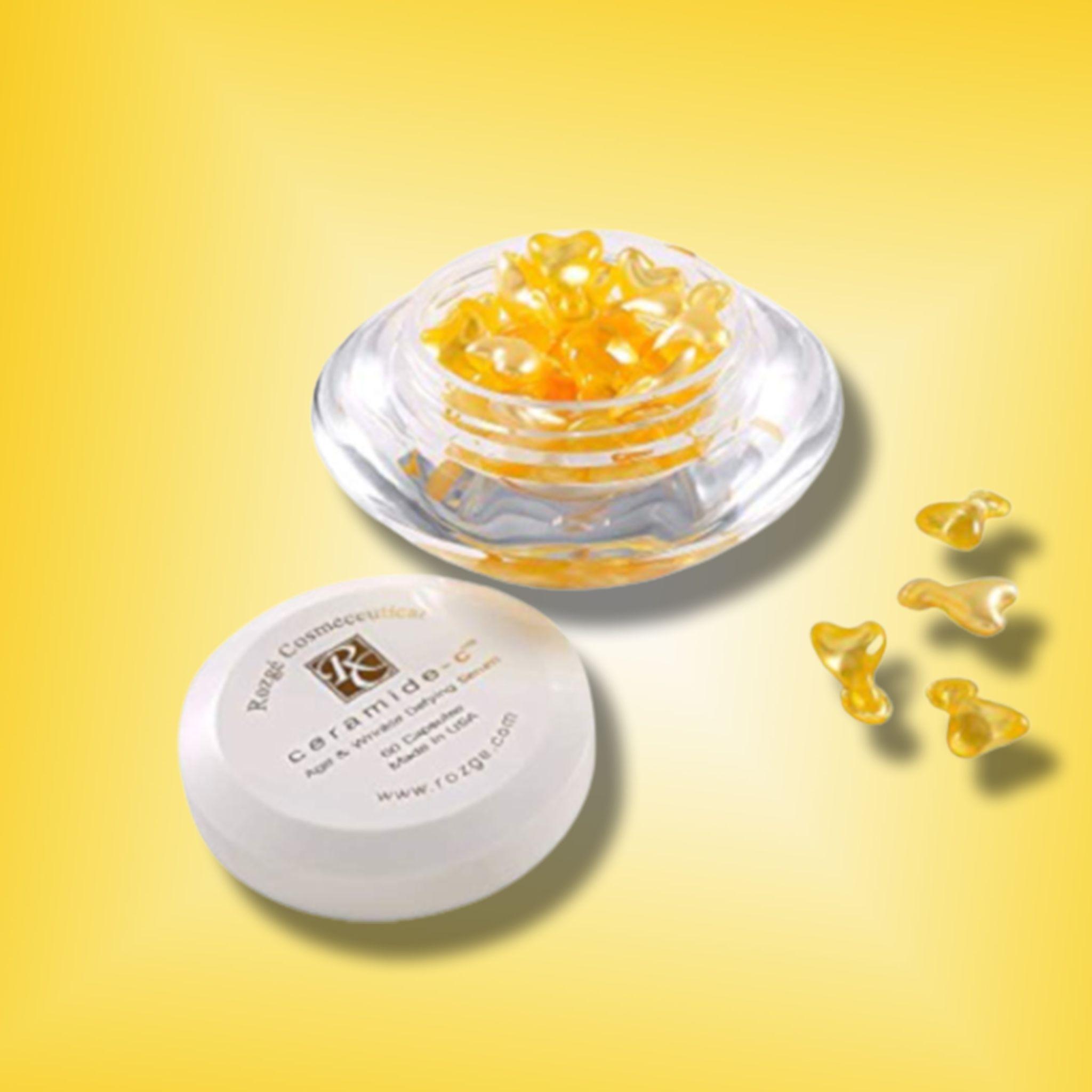 Image Source: Google.com
The age and wrinkle defying serum reduces the appearance of wrinkles and fine lines by restoring skin's ceramide. It contains most effective natural ingredients like antioxidants and vitamin C, making it a great anti-aging serum for both women and men. It is formulated with rosehip extract to repair damaged skin cells, squalene to prevent UV damage, orange blossom to increase circulation, evening primrose to strengthen and tighten the skin, and annatto extract to act as an antioxidant. After the skin has absorbed the serum, it becomes softer, silkier, and luminous.
The capsules are concentrated enough to cover the face and neck, the upper chest, and both hands. This product is very concentrated, and a little goes a long way without any shininess or oily residue. It is fully and easily absorbed and doesn't feel heavy on the skin, so you can use it in the morning or at night.
By Rashmi Goel
You May Also Like
28 Best Face Moisturizers for Every Skin Type 2023