A tattoo is a form of body modification done by inserting ink, dyes, and /or pigments, either permanent or temporary, into the dermis layer of the skin to form a design. The art of making tattoos is called Tattooing. Tattoos are like an extension of our personality. Tattoos carry meaning also. Love them or loathe them – tattoos are truly a global phenomenon.
Tattooing is a close relative of scarification and piercing and examples exist across the planet. Celebrity tattooing has certainly brought the practice into the mainstream. Now there are multiple TV series about the life and times of the tattoo artist. It feels like tattoos are everywhere these days, but they have been there for ages. Dating back to the Neolithic period, tattooing was originally performed for reasons like religious ceremonies and a rite of passage.
Tattoos have been around for at least 50000 years as research has shown. Today, gradually,social acceptance has helped the tattooing industry grow big. The tattoo artists are talented. Given the rich history of tattoos, we can see that they are really popular once again.
This is all because they are being worn by celebrities, athletes, and people in the fashion industry. When carefully done, tattoos can be a wonderful tool and form of self-expression in historical times, tattoos were typically associated with sailors, criminals, and other cultures.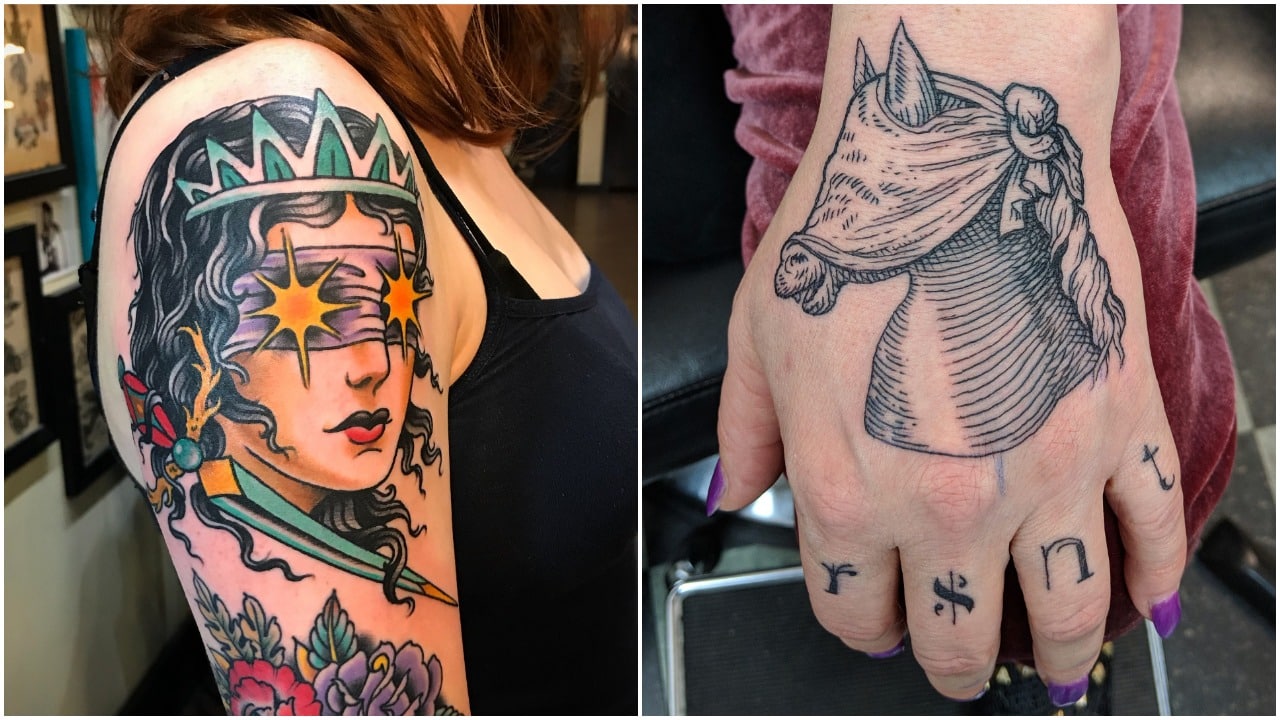 Image Source: bigseventravel.com
There are 3 types of tattoos: purely decorative (with no specific meaning); symbolic (with a particular meaning important to the wearer); and pictorial (a depiction of a specific person or item). Tattoos are pretty cool and celebrities love to get them done on their body.
Some tattoos done by celebrities carry a symbolic meaning to them like something personal or a beautiful thought that they relate to. It seems like the celebrities are getting tattoos done every chance they get in. Below are the craziest tattoos celebrities have got done and they will amaze you.
Hailey Bieber
Hailey Beiber's New York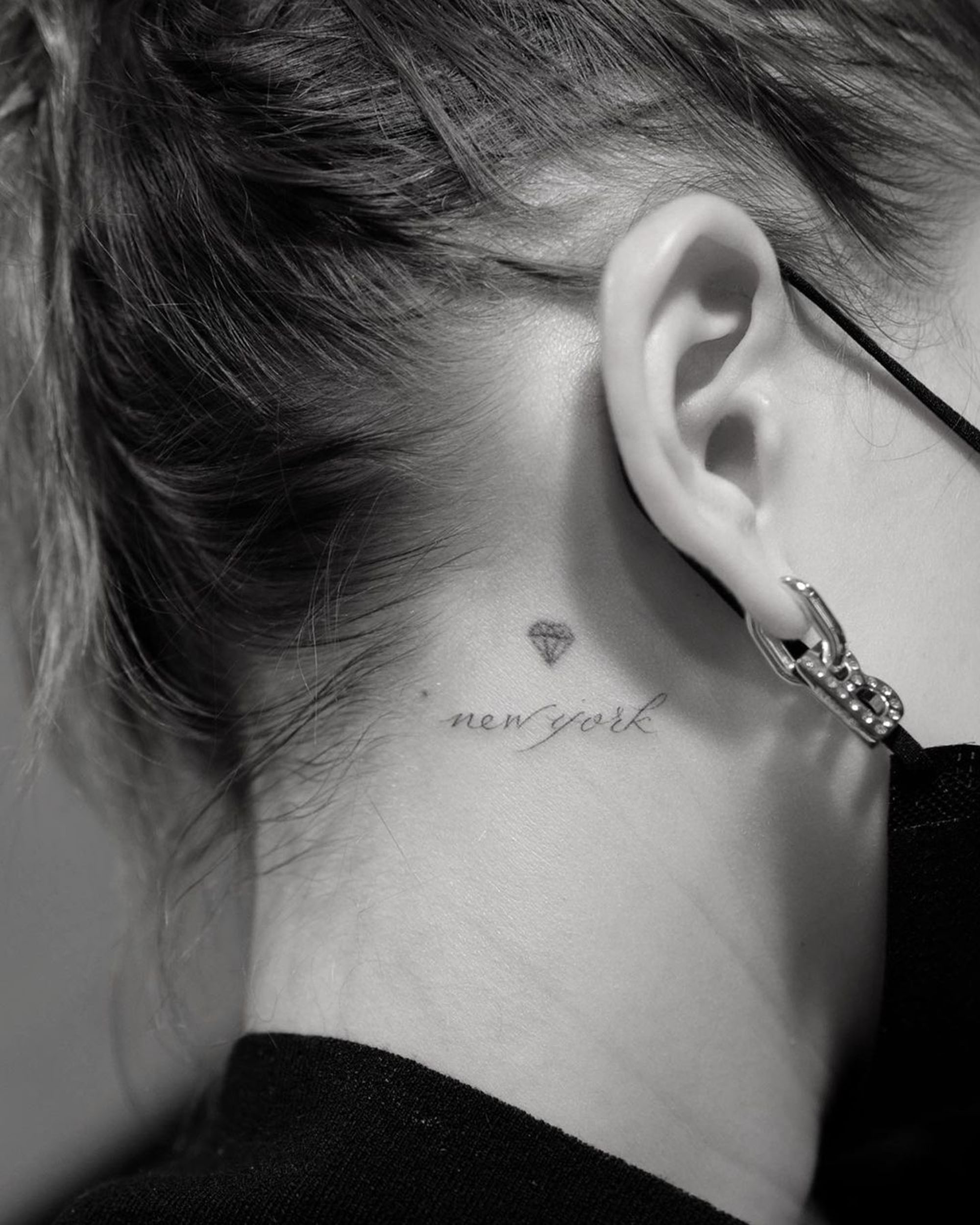 Image Source: pagesix.com
Supermodel Hailey Bieber paid tribute to New York with her tattoo. The celebrity tattoo artist was Dr. Woo. She got "New York" written on her neck by Dr. Woo. He shared a photo of the fresh design on Instagram also. He is a Los Angeles-based tattoo artist. The name of the city was written in a small, lower-case, cursive font on the side of the neck.
Below the tattoo, there was a diamond. According to Dr. Woo, the model got this tattoo "awhile back", so it isn't clear how recent it is. The tattoo speaks of her love for New York City. It is like an ode to her favorite city. It is as a tribute. Hailey's tattoos are generally fine line and minimalist designs. There is another thing quite interesting and ironic.
It is the fact that this new tattoo is in the exact spot that she asked her husband, Justin Bieber, not to get tattoos in anymore. Woo's comment section was showered with admiration for Bieber's tattoo. The model is yet to share any of the details behind the tattoo with her 40 million Instagram followers or on her YouTube channel. It is no surprise that she is being asked a lot of questions from fans about it. There may be a new dedicated video on the story behind her new tattoo.
Hailey Bieber's special "J" tattoo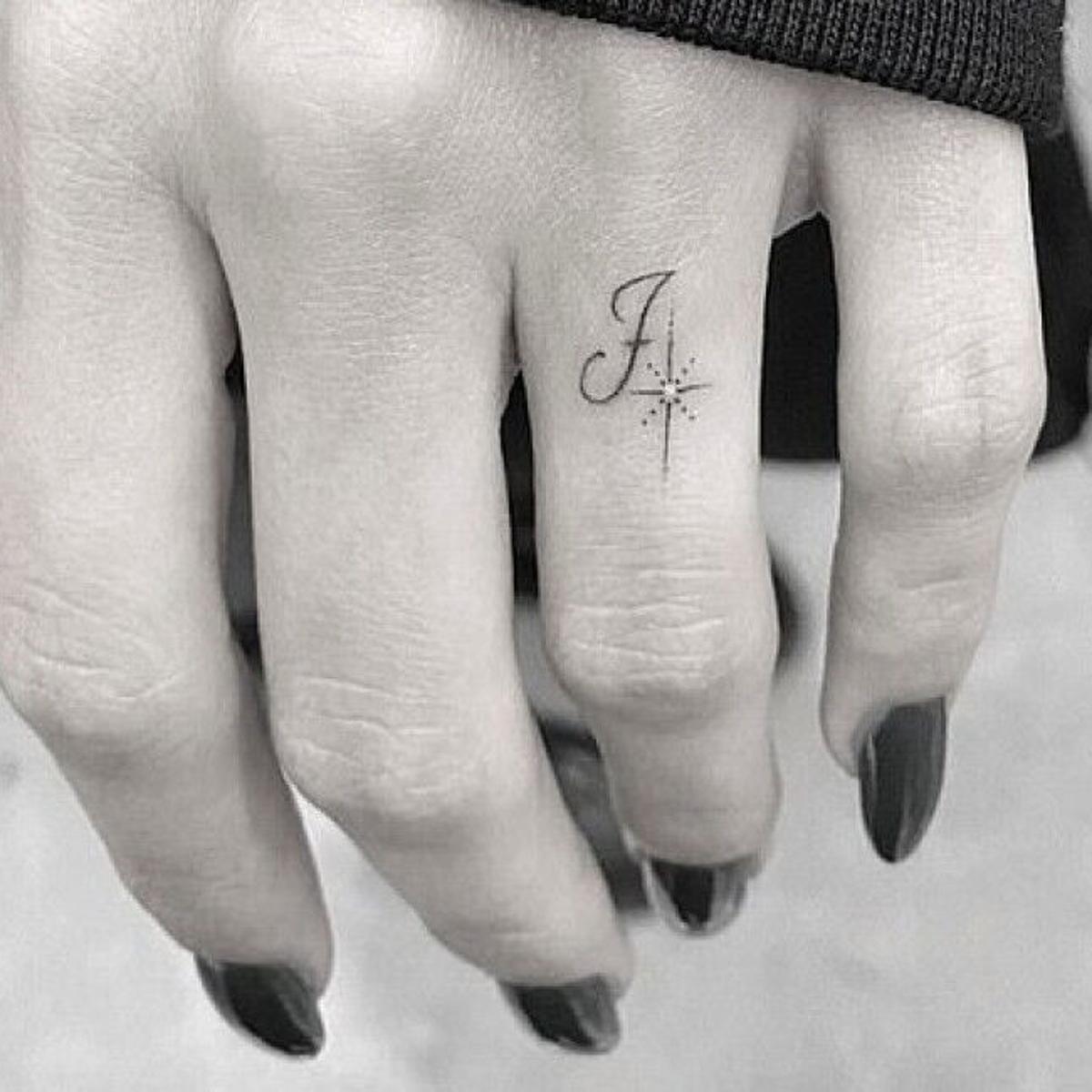 Image source: celebretainment.com
Hailey Bieber opened up about her tattoos during an interview with Elle magazine. She said that she has "20-something" tiny tats on her body, including a "J" on her finger. People are saying that it is dedicated to her husband Justin Bieber. The tattoo is simply gorgeous. It includes the initial "J" along with a sparkling star on her ring finger for her husband Justin Bieber.
Hailey Bieber's gun tattoo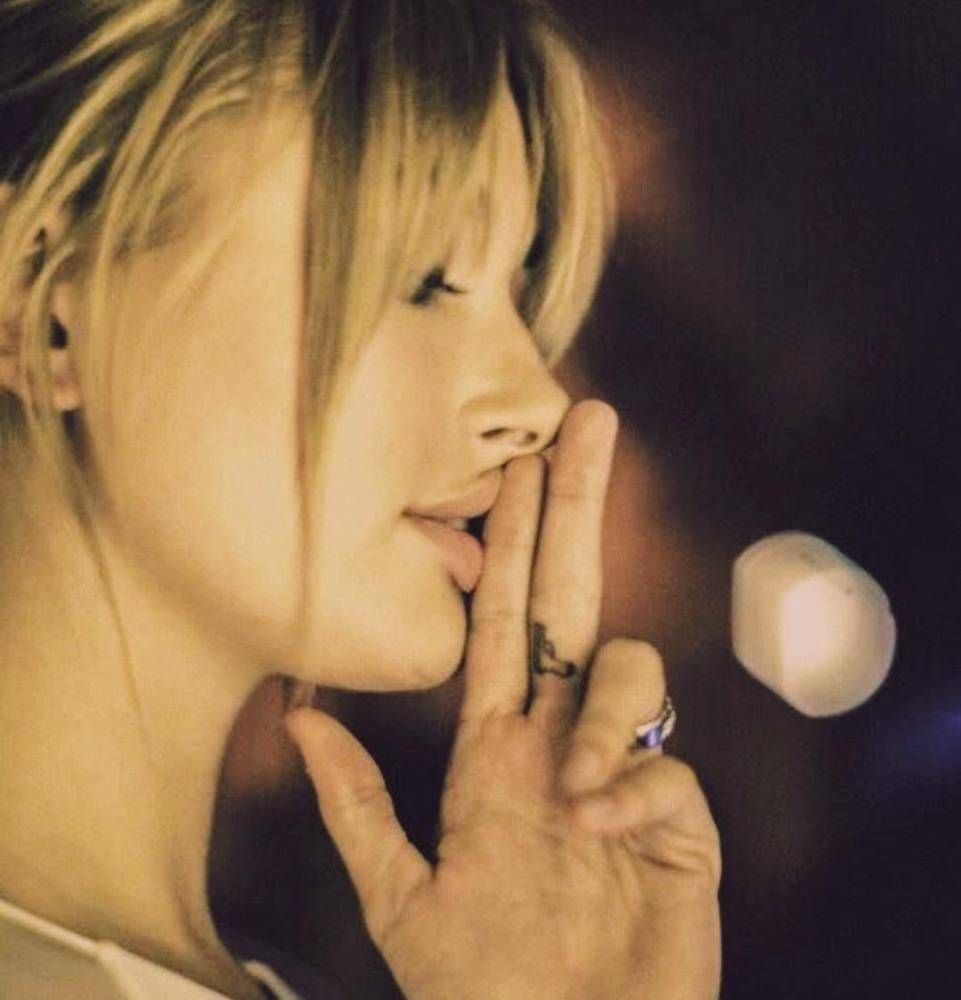 Image source: pinterest.com
She also opened up about the gun tattoo on her middle finger. She says that it's the one tat that she regrets. When she was 18, she thought that it looked cool. But now as a 24-year-old, she would never do that. She thinks guns are violent.
Hailey Bieber's First Tattoo Ever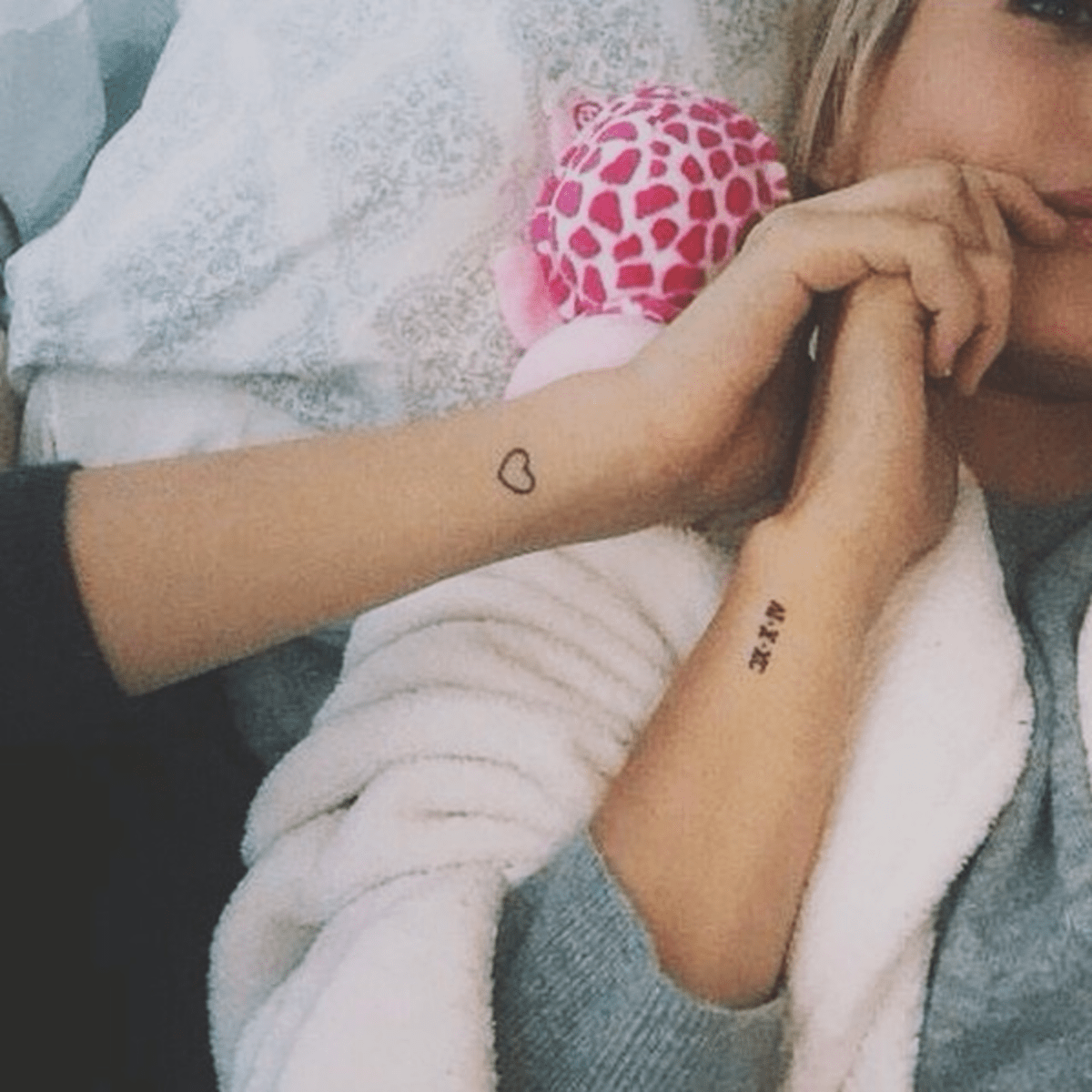 Image source: inkedmag.com
Hailey Bieber's first tattoo ever was of her parents' wedding date which is written in Roman numerals. It was given by her celeb tattoo artist Jonboy. Hailey's dad Stephen Baldwin was showing Jonboy all the tattoos that Kat Von D did and Hailey said to his dad if she can get a tattoo. And he said that she can but when she would be 18. So when she turned 18, she came to him and got her parents' wedding date in roman numerals on her wrist.
Hailey Bieber's Symbols Tattoo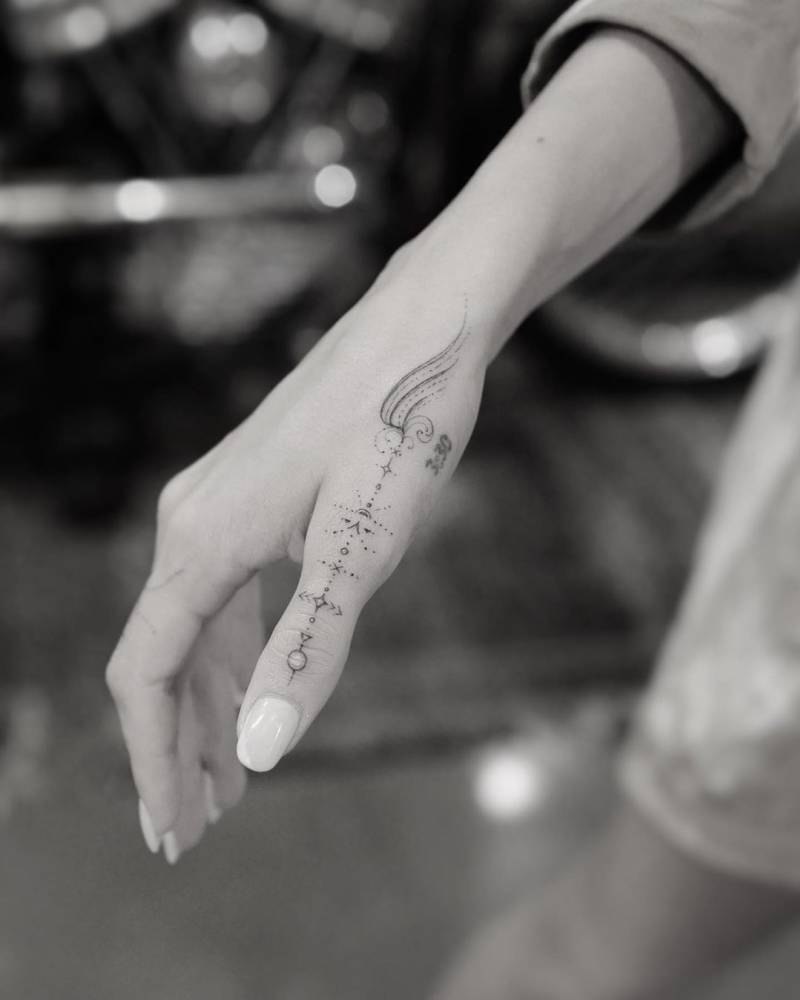 Image source: tattoofilter.com
Hailey's entire hand is already covered in dainty ink, but the girl keeps going. Her tattoo artist is Dr. Woo. He made the tattoo of a stylized arrow on the side of her palm.
Selena Gomez
Selena Gomez Rose Tattoo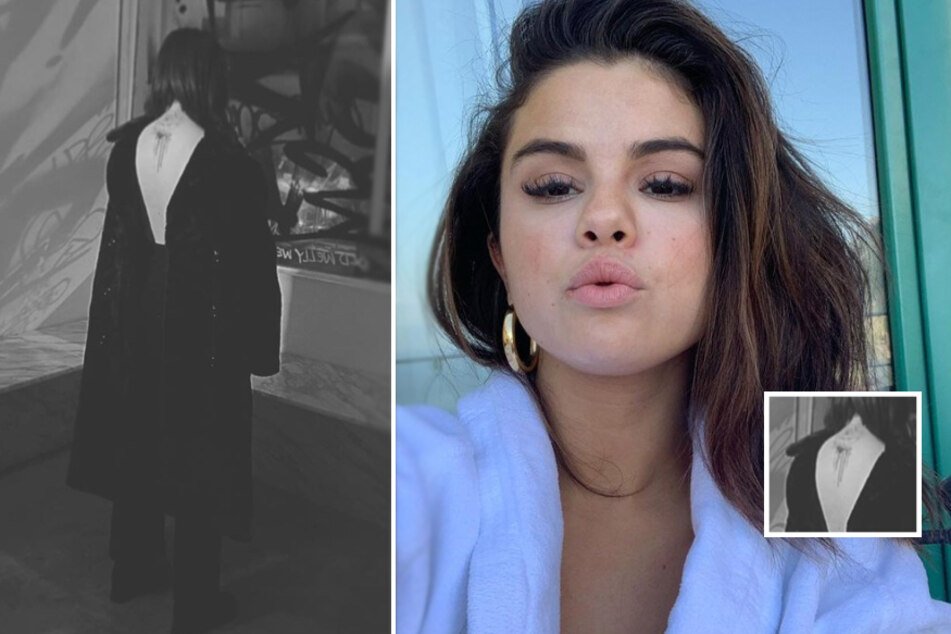 Image source: tag24.com
Celebrity tattoo artist Keith Scott Bang Bang revealed on Instagram that he inked a mysterious back tattoo on Selena Gomez. The angle of the photo he shared was not clear and it left many doubts in the minds of the viewers. The close-up details of the tattoo are still not known. It is vry big.
Selena has not posted about her tattoo on Instagram. She did share about a small matching tattoo she got in the past with her three besties Raquelle Stevens, Ashley Cook, and Courtney Lopez. But later Selena Gomez's tattoo artist shared a full photo of the tattoo. It shows a large, soft-focused rose without borders at Gomez's spine down black and dark red in between her shoulder blades.
Selena Gomez's "Rare" tattoo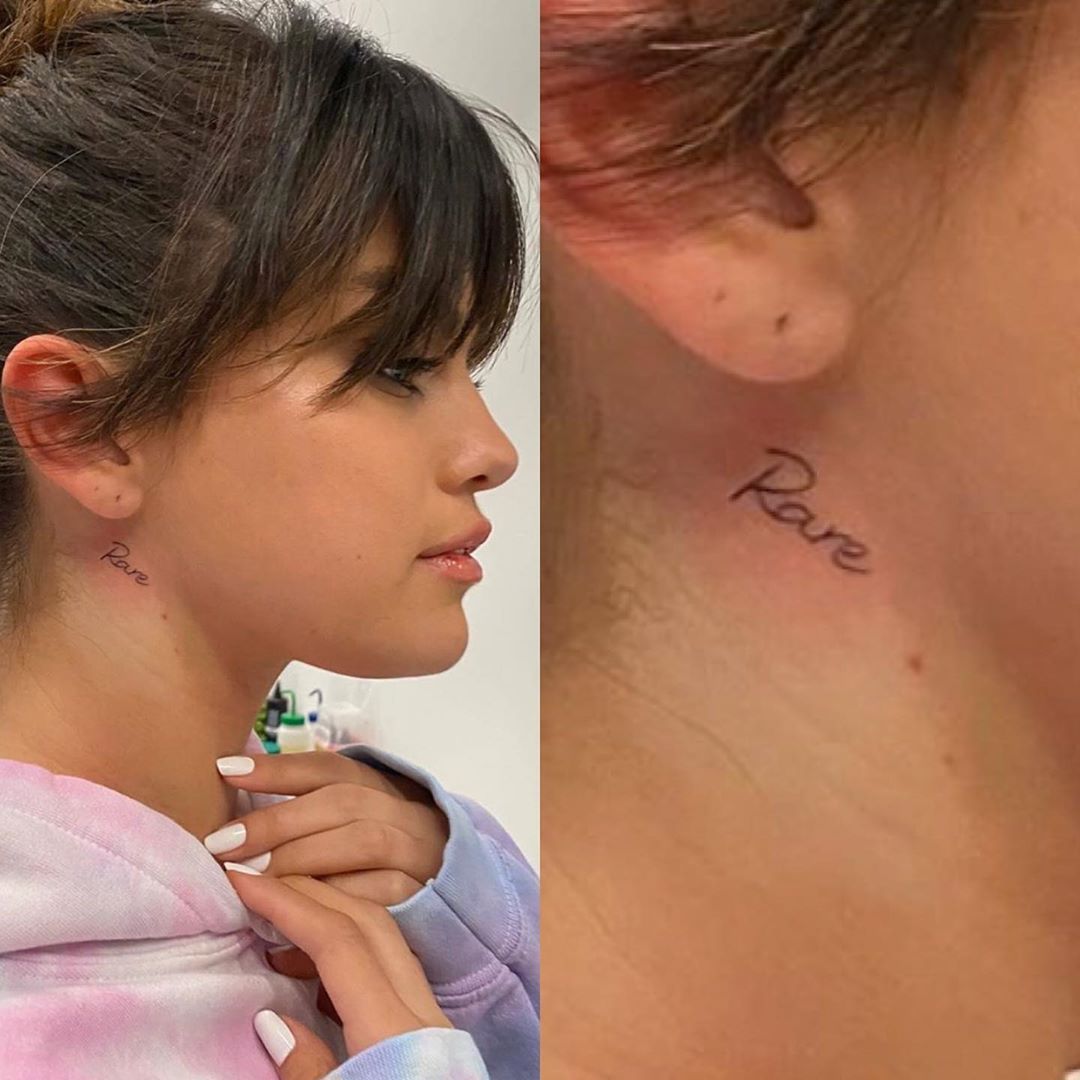 Image source: pinterest.com
In the honor of her new album, Selena Gomez got "Rare" tattooed on her neck right below her ear. The font matches that of the little cover exactly.
Travis Barker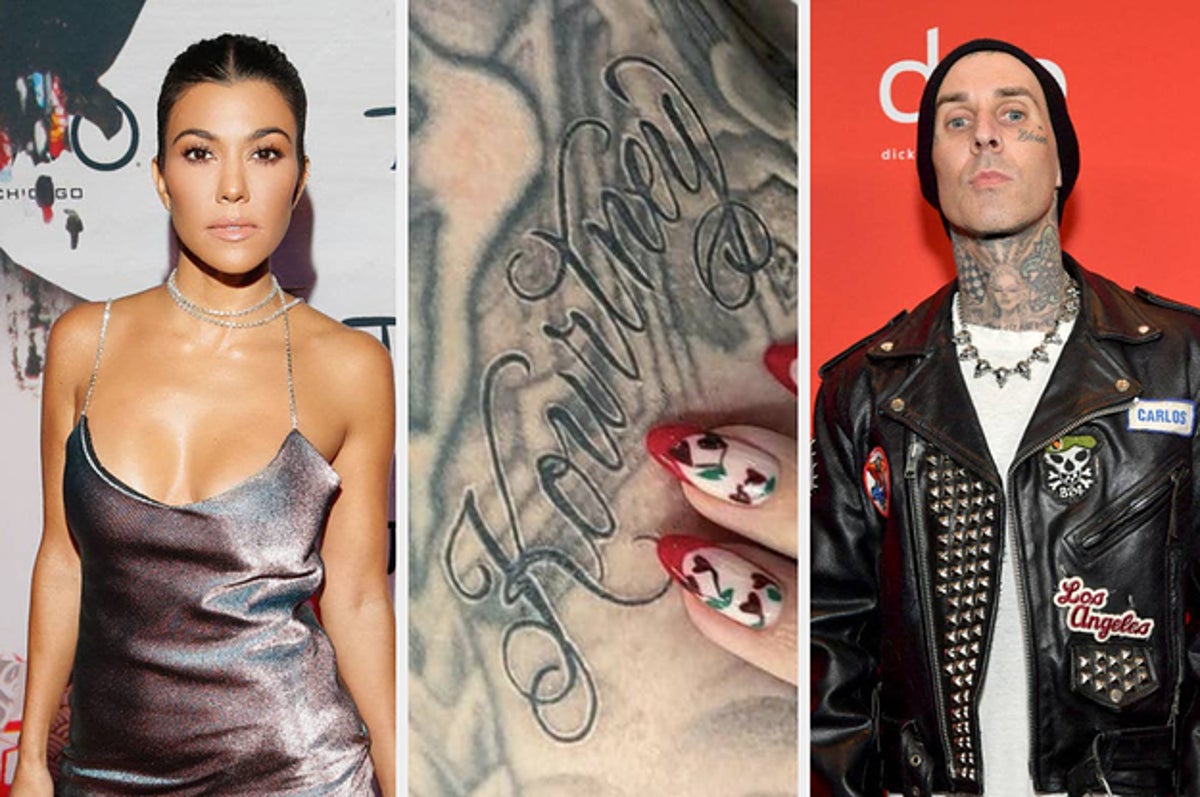 Image source: buzzfeed.com
One week after his engagement to Kourtney Kardashian, Travis added a third tattoo dedicated to his forever girlfriend. His tattoo includes the name of Kourtney Kardashian.
Billie Eilish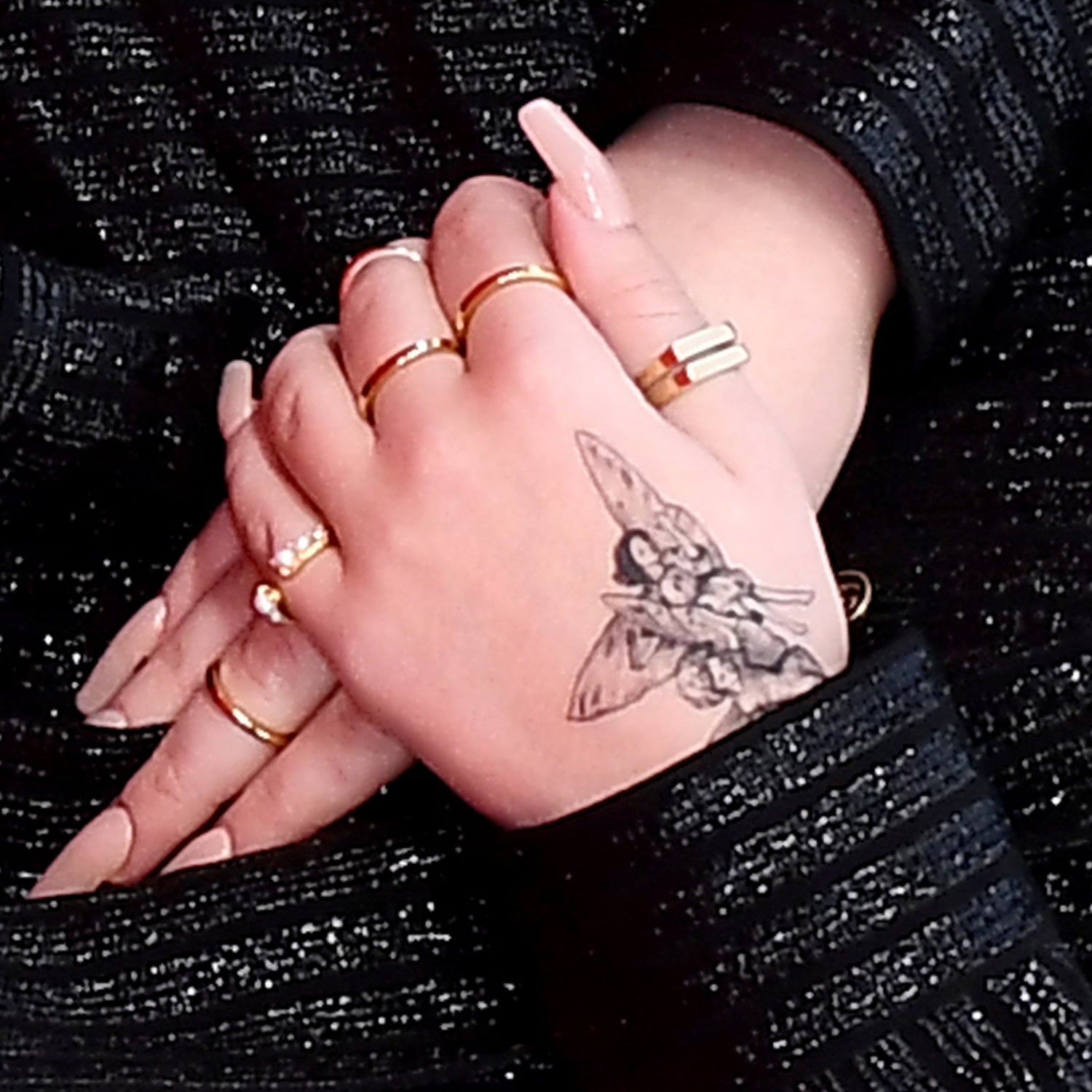 Image source: popsugar.com
Billie Eilish once promised that fans won't ever see her tattoos. Thankfully, it isn't true. the singer recently added a duo of what appear to be farriers on her hand. He showed them partially at the No Time To Die world premiere.
Demi Lovato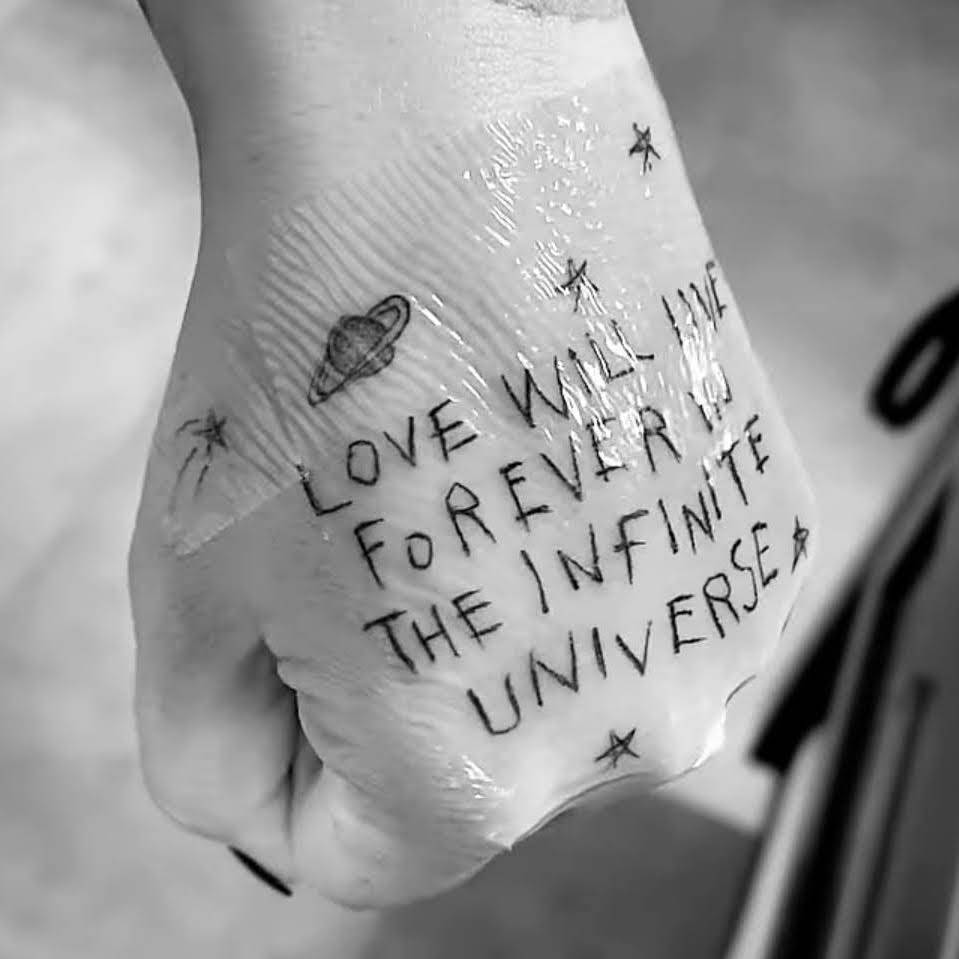 Image source: tattoofilter.com
Demi showed off his latest tat, which features song lyrics written across the top of his left hand, on an Instagram story. The celebrity tattoo artist is Dr. Woo. The tattoo reads "Love will live forever in the infinite universe". These are the lyrics from the song "Infinite Universe" by Beautiful Chorus. There are also stars and a planet in the tattoo.
Joe Jonas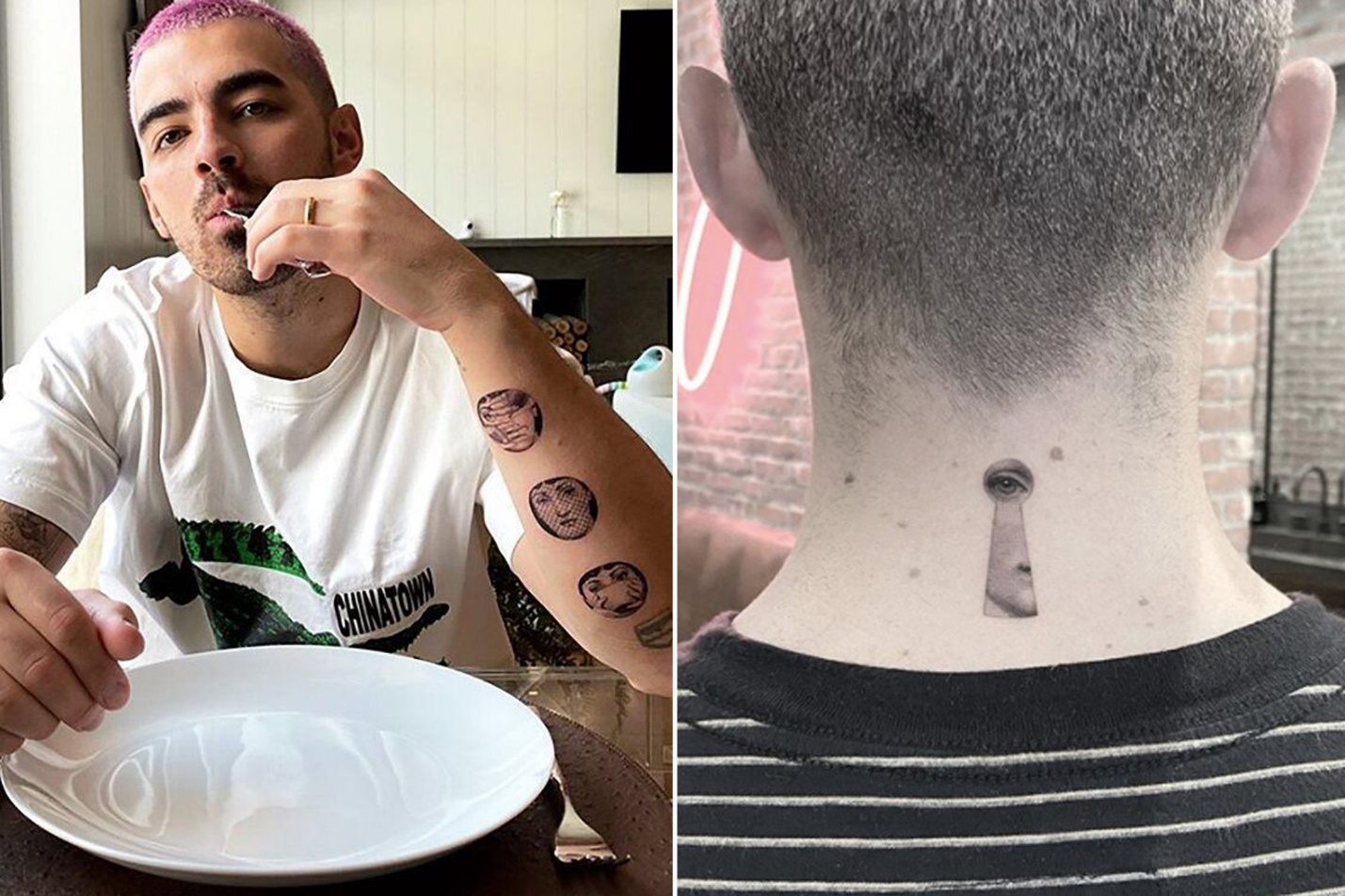 Image source: pagesix.com
Tattoo artist NAL showed off Joe's newest tattoo on the back of his neck. It features the black-and-white image of a woman staring through a peephole. The woman's face can't be seen but the resemblance to Joe's wife Sophie Turner is undeniable. One commentator asked on the post if it was Sophie and pointed out that she looked genuinely like her. Someone else pointed out the image is by Italian artist Fornasetti. So, while it looks like Sophie, that might be just a coincidence.
Chase Hudson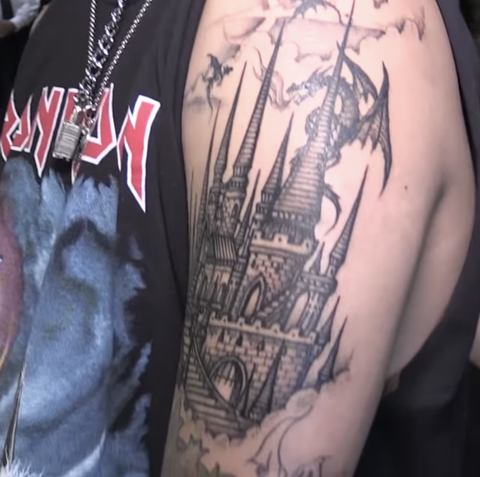 Image source: seventeen.com
Chase Hudson showed off his new ink to Hollywood Fix, flashing the castle motif that covers the entirety of his left forearm. The image is fantasy-related. Chase agrees it reminds me of Harry Potter. Though he didn't confirm if Hogwarts inspired the body art.
Justin Bieber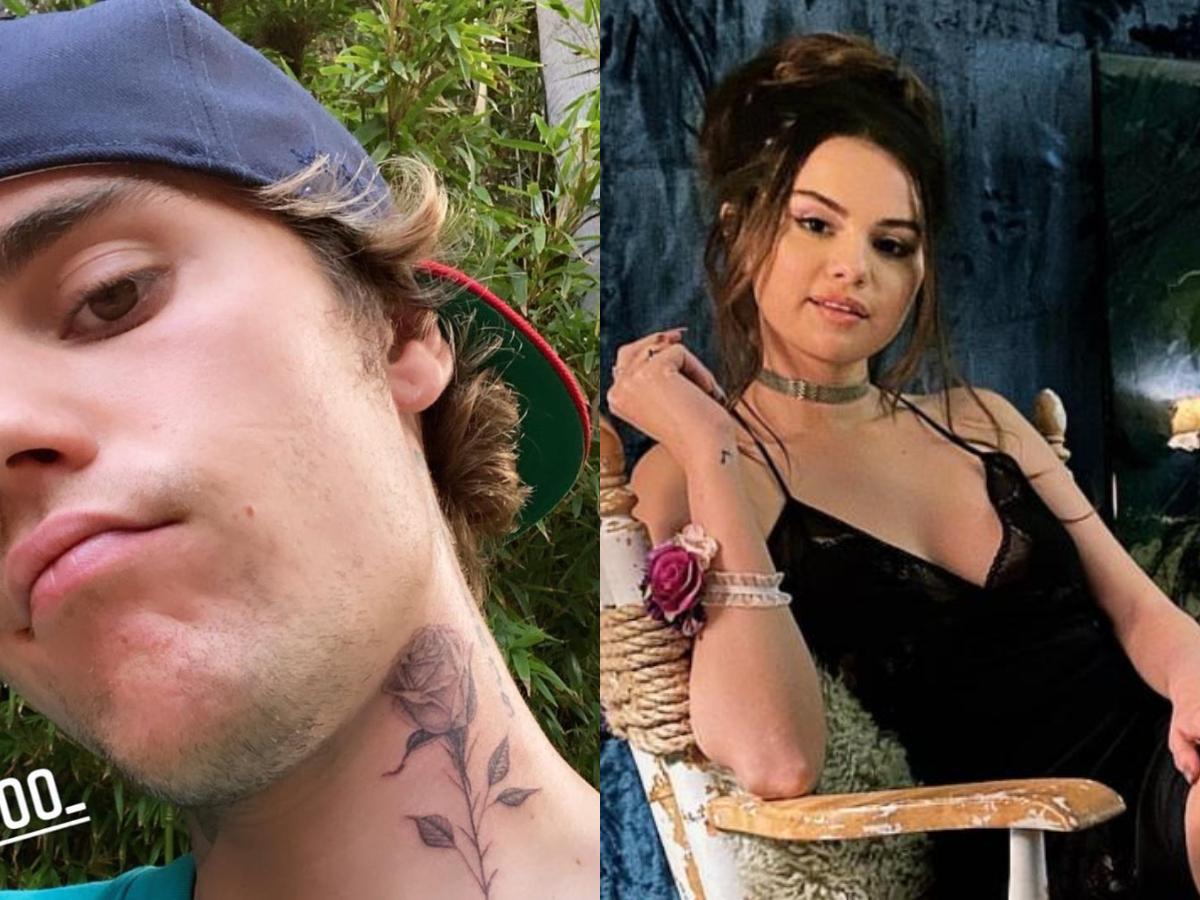 Image source: pinkvilla.com
Justin Bieber is quickly running out of space on his body to cover in a tattoo. The singer just got a huge rose tatted on the left side of his neck by the famous tattoo artist Dr. Woo. It is unclear what the rose represents, but it is gorgeous.
Vanessa Hudgens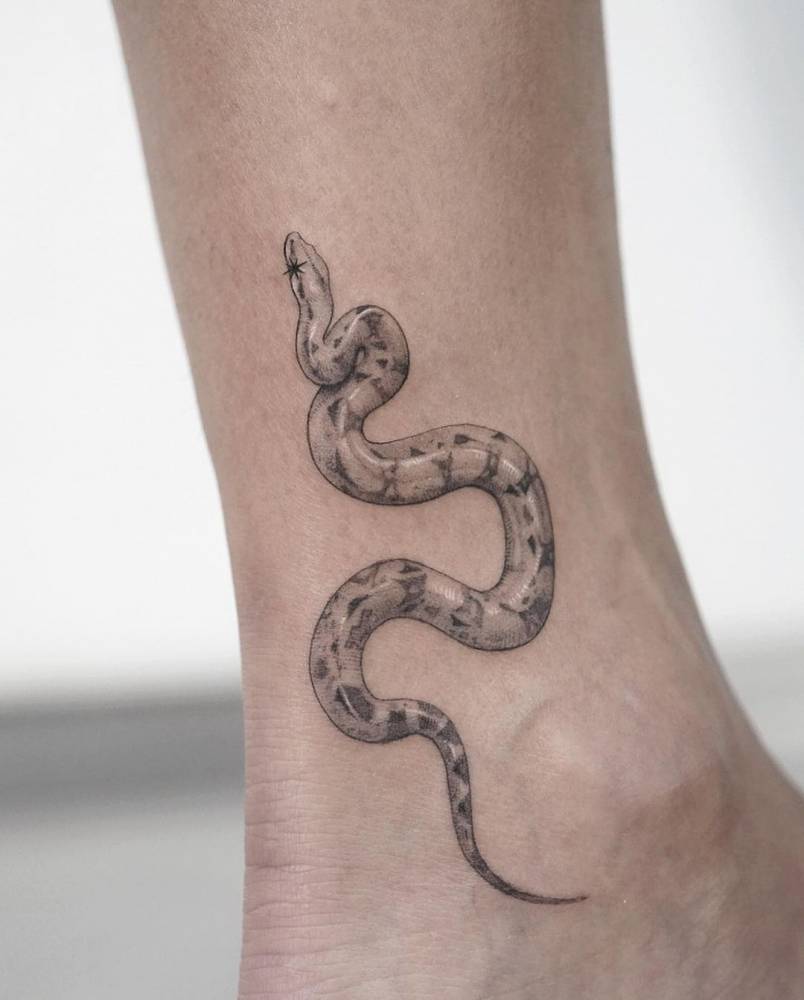 Image source: tattoofilter.com
Are you searching for the best and top tattoo design ? A wonderful tatto design for snake !A beautiful snake! The actress got a snake on her left ankle at Bang Bang Tattoo studio. It was her lucky 10th tattoo.
Zoe Kravitz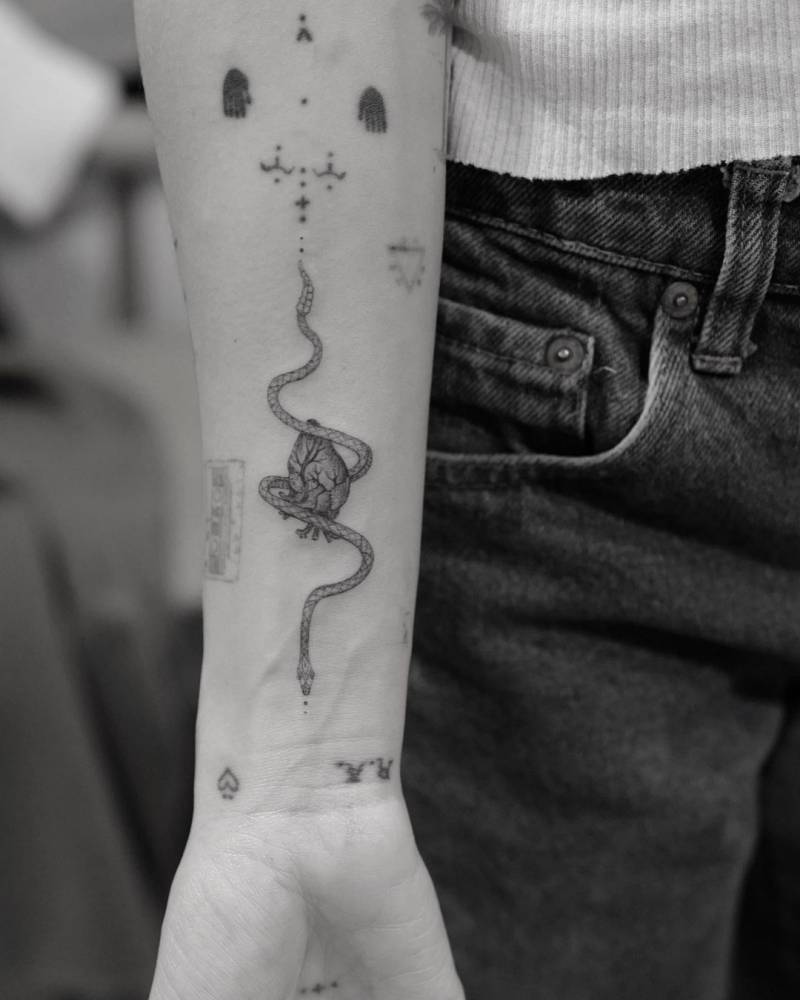 Image source: tattoofilter.com
She is the queen of tiny tattoos. The actress added another intricate tattoo to her collection- a snake around a human heart. The celebrity tattoo artist is Dr. Woo.
Kaia Gerber and Cara Delevingne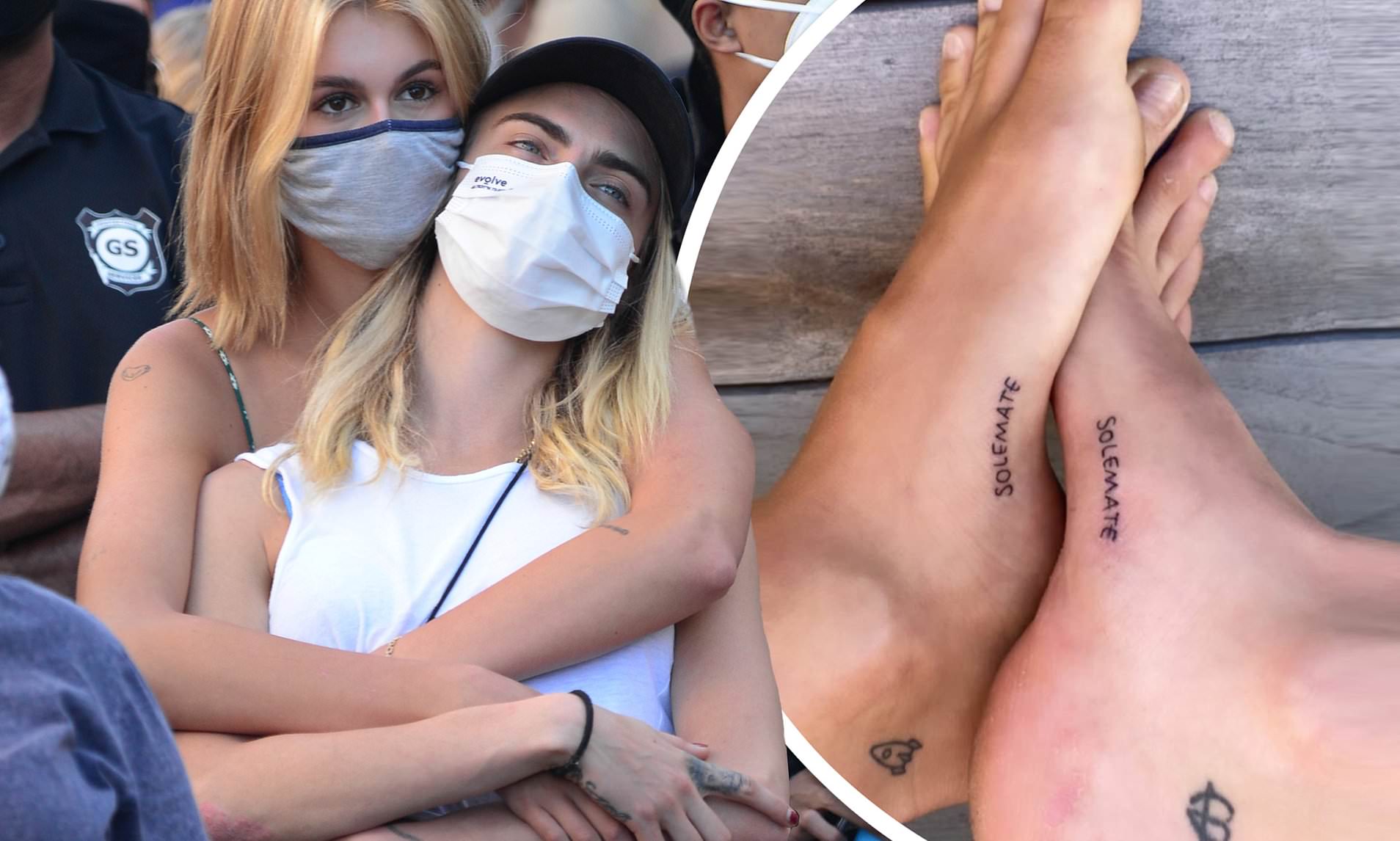 Image Source: dailymail.co.uk
Kaia and Cara are cute BFFs in the world. They have made a brand new set of matching tattoos. In the tattoo, it was written "SOLEMATE".
Ariana Grande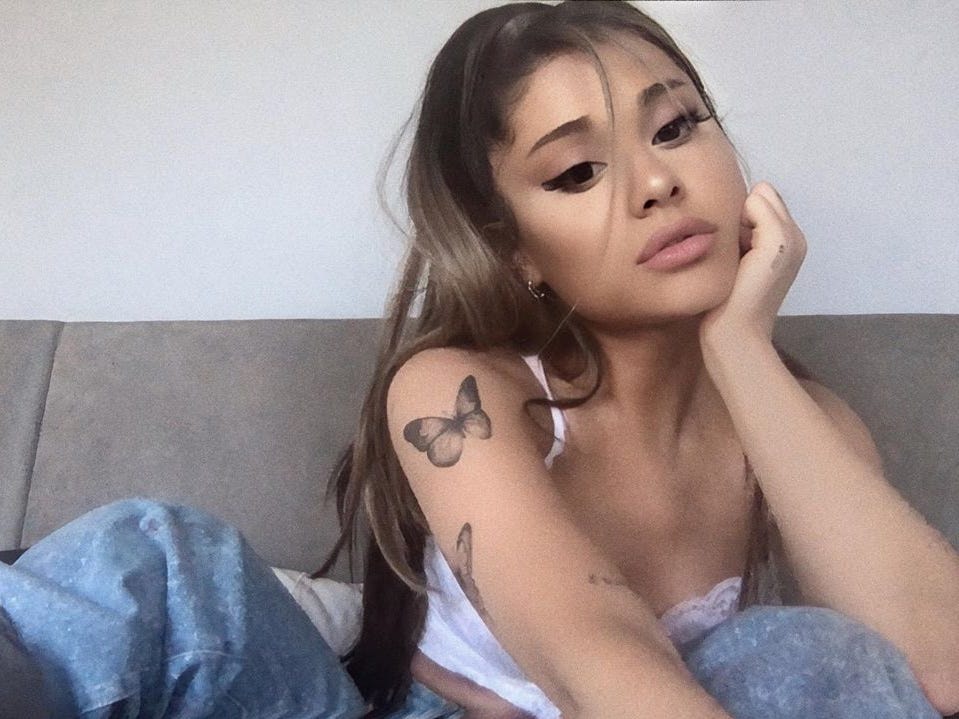 Image source: insider.com
Ariana Grande showed off her newest tattoo on Instagram and real fans will recognize the butterfly ink.
Conclusion
To be concluded, as discussed earlier, tattoos have been there for 50000 years and they will continue to be in the mainstream. It is likely that more and more celebrities will get tattoos done. It is like a trend and it will be a trend. By Bhawna