Jacob Benjamin Gyllenhaal, better known as Jake Gyllenhaal, is an American actor. He is the son of director Stephen Gyllenhaal and screenwriter Naomi Foner. His elder sister is actress Maggie Gyllenhaal. He began his acting career in 1991, in the movie City Slickers. His breakthrough roles were in October Sky (1999) and Donnie Darko (2001).
Jake Gyllenhaal has proved himself in every genre on screen. His style game follows the same: he has a versatile style and personality. There is a lot to learn from it. Jake Gyllenhaal is on the top of the acting game. Similarly, he is high on style quotient. Gyllenhaal has tried on every outfit with perfection. There is a lot to learn from his fashion sense. Jake is well-thought-out and classic. While he's not really always rocking casual gear at the best of times, his relaxed style has clear, refined sentiments. He has incredibly groomed hair.
When: 17 October 2019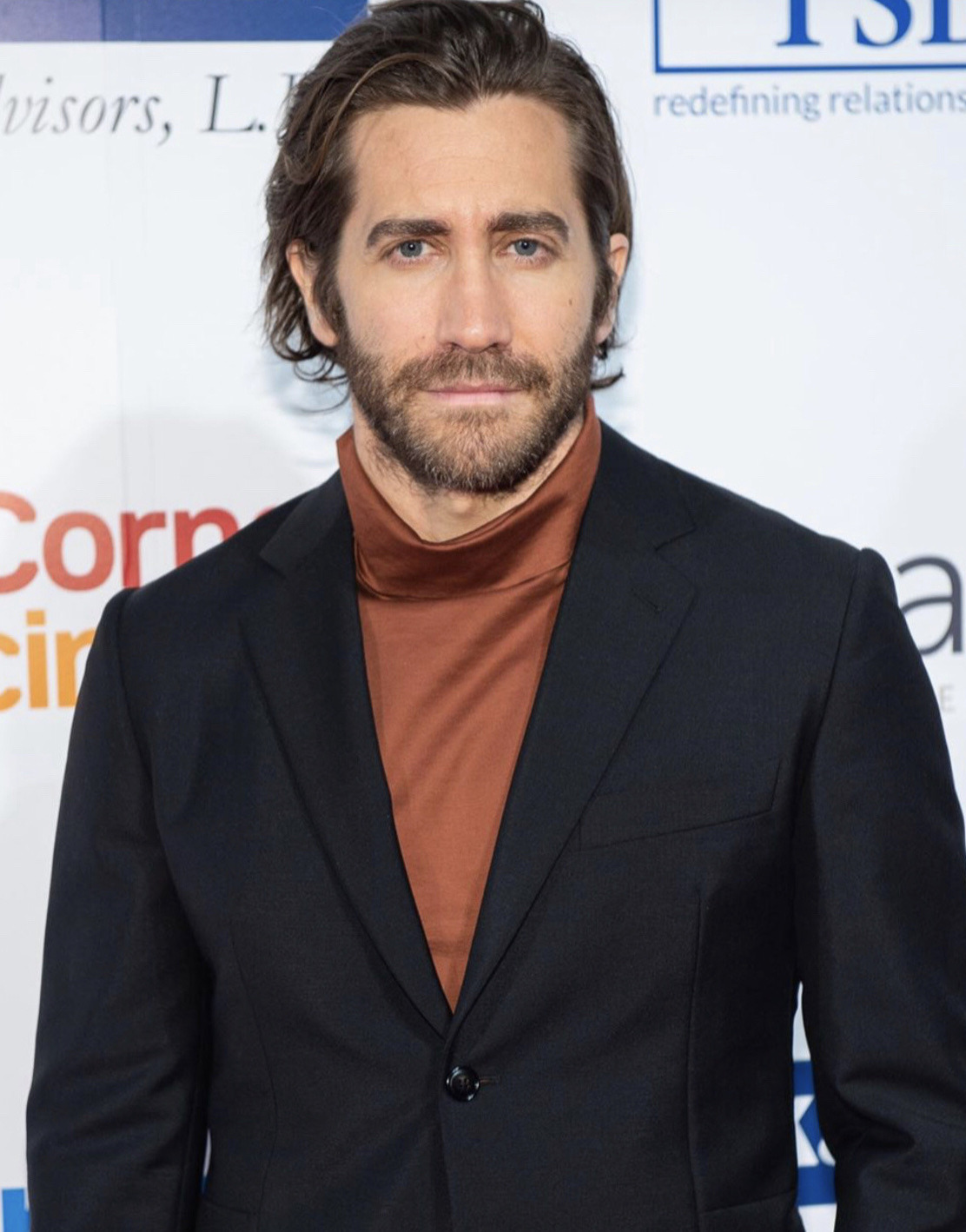 Image Source: Gyllenhaal-j.tumblr.com
Gyllenhaal is rocking a slim-cut, single-breasted black suit. He is wearing a turtleneck. The warm, burnt orange hue is a nod to the autumn. It is a classic color combination. It is also a subtle nod to the 70s.
When: 21 June 2019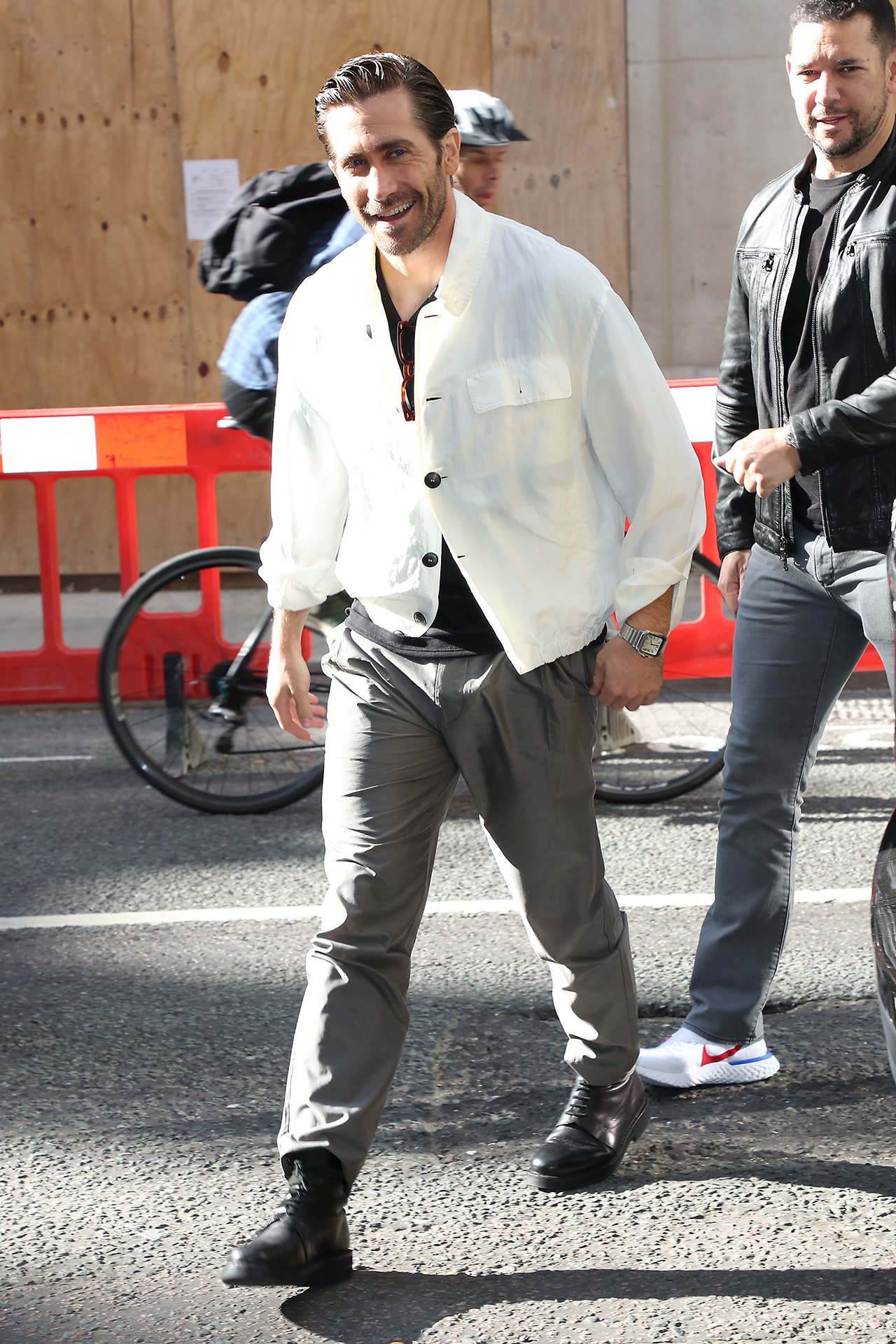 Image Source: gqindia.com
Here, she showed how to style white jeans. He has shown that a white jean jacket can also be styled instead. He has carried a black T-shirt, slim-cut grey trousers, and Oxford boots.
When: 9 June 2019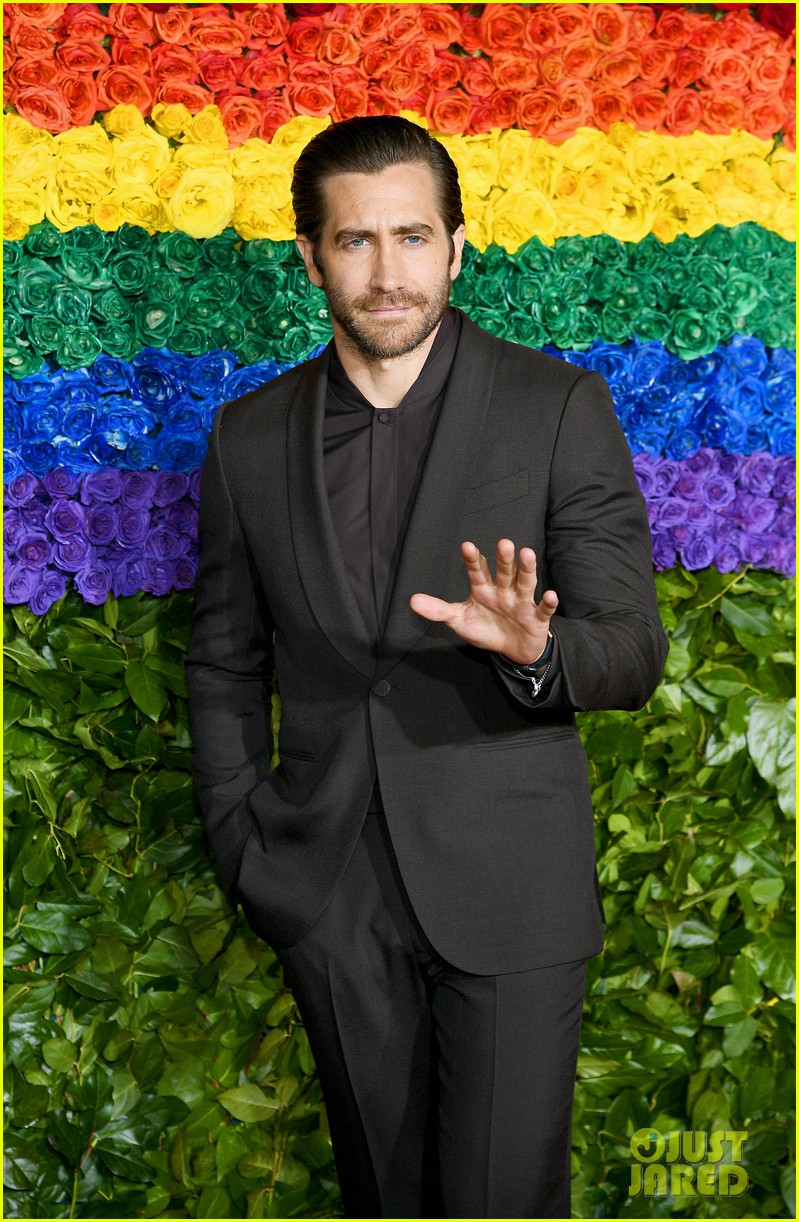 Image Source: justjared.com
He arrived at the Tony Awards in the 3-piece set from Ermenegildo Zegna. There was elegance in all the details of the outfit. He carried shawl lapels, a Mandarin collar, and lace-up brogues. He looked nice.
When: 14 February 2019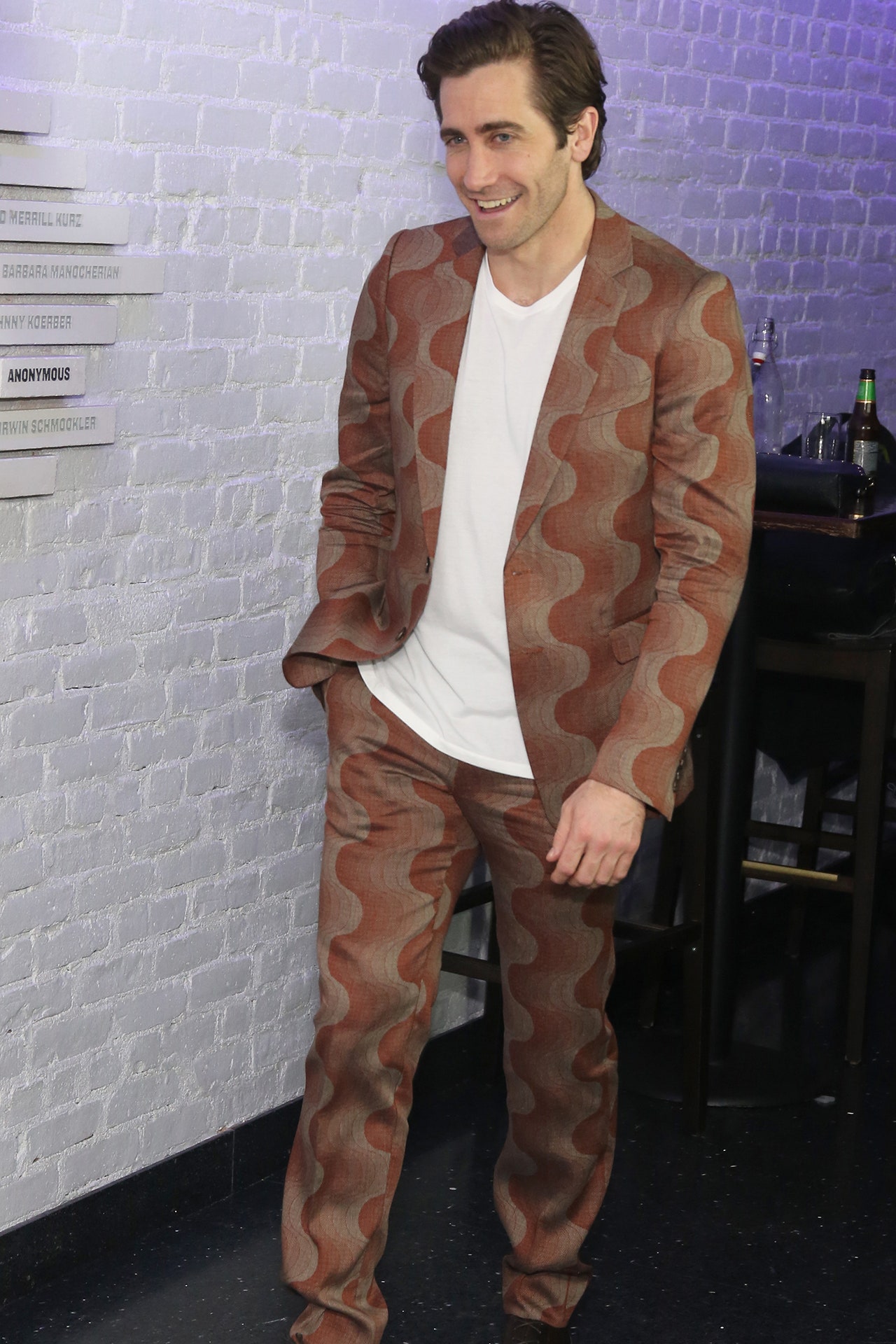 Image Source: gqmagazine.co.uk
Print isn't easy to pull off, but if you opt for a simple one in the right shades, you would rock it. Gyllenhaal did a good job by embracing Noten's range of romantic pink shades through his tailoring. He kept the styling minimal.
When: 8 August 2019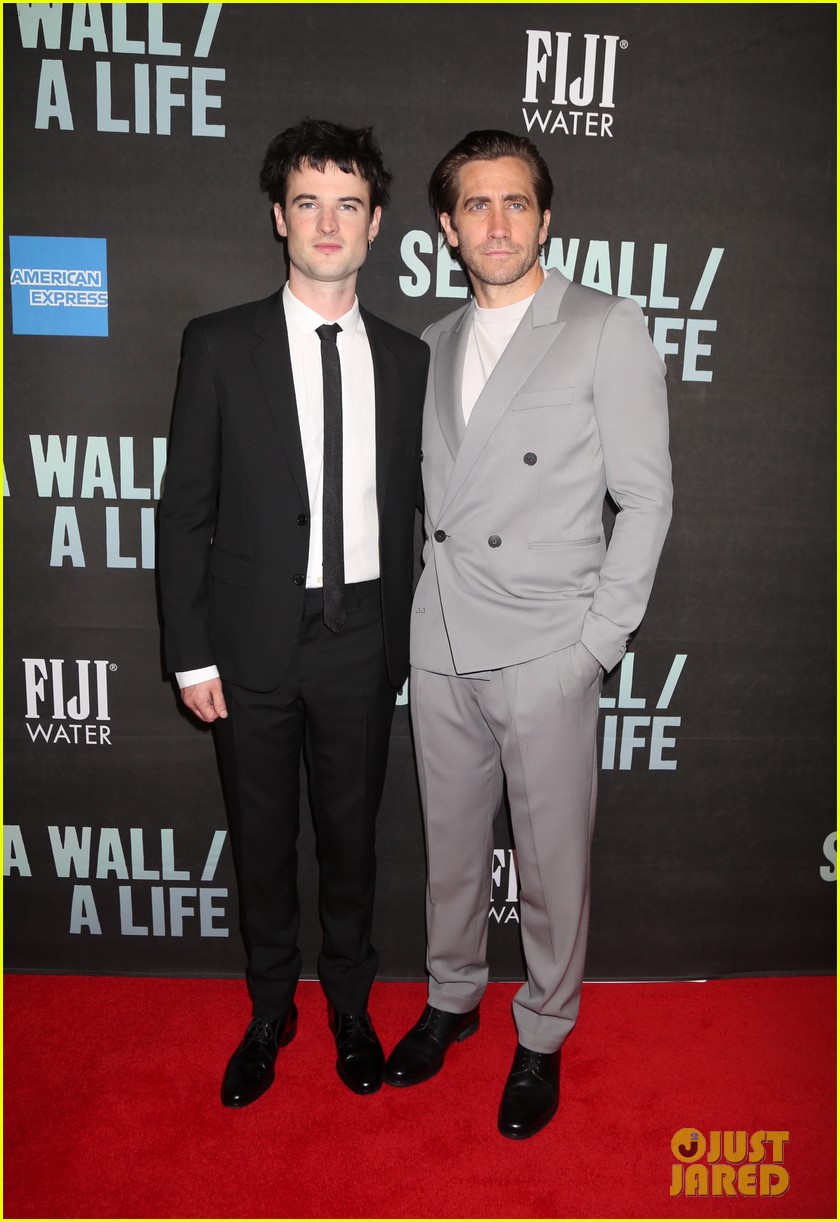 Image source: justjared.com
The double-breasted suit is too good. Jake chose to base his tailoring with a T-shirt once again, allowing the suit's formal details to stand out. Here, he is making points by those sharp peak lapels, eye-catching black buttons, and the slate grey shade. He's sourced the suit from The Row's menswear line, so chicness was pretty much guaranteed here.
When: 26 June 2019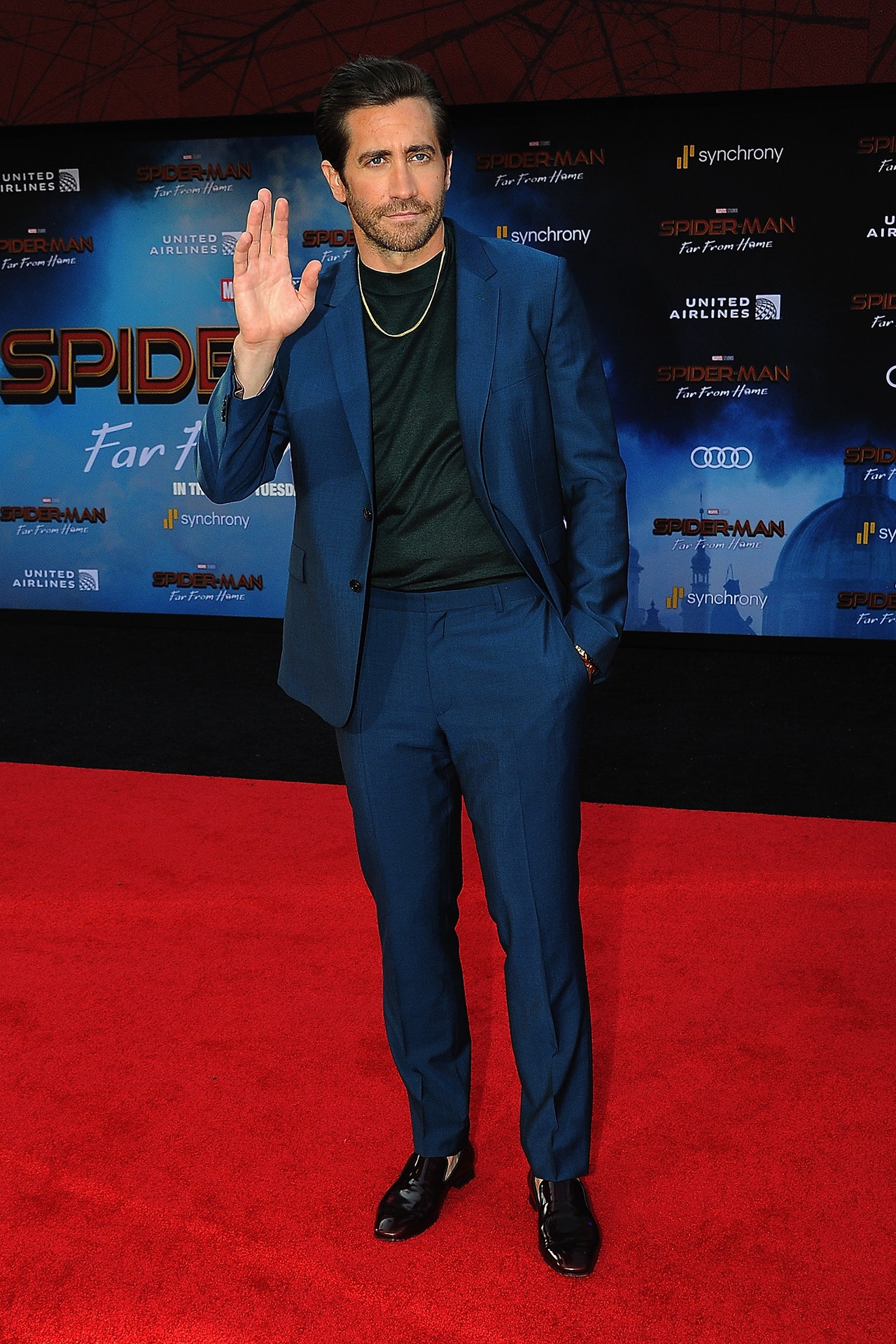 Image source: gq-magazine.co.uk
How should one master the traditional suit from day to night? Just like Jake Gyllenhaal. Navy looks good in most of the events and looks especially good with a forest green shade. The single-breasted structure of his suit is slightly less formal. It is paired with a casual jumper, a simple gold chain, and slippers.
When: 26 September 2021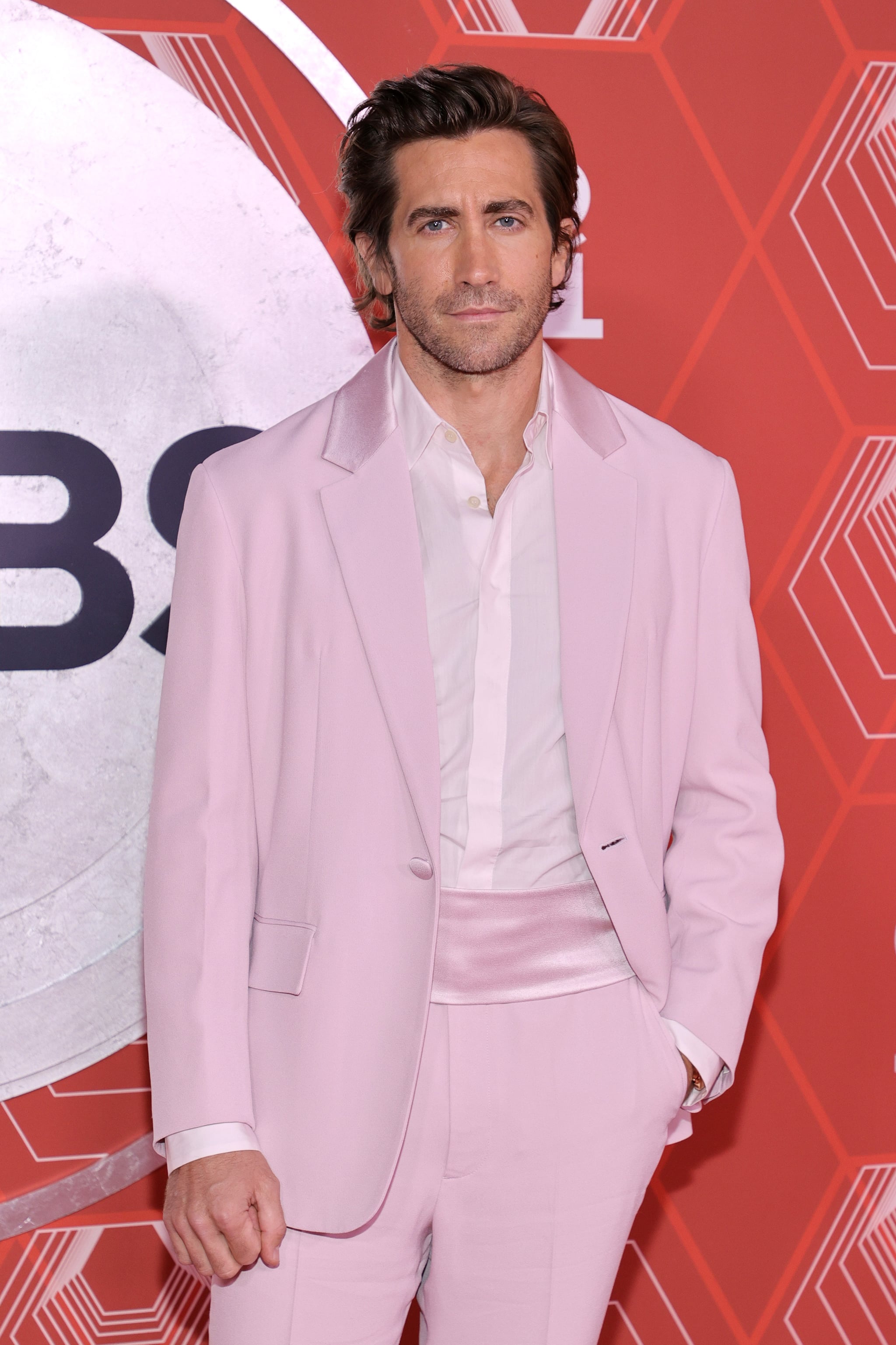 Image source: popsugar.com
Baby pink is a strong choice. Gyllenhaal attended the 74th Annual Tony Awards in New York City. The actor's baby pink tuxedo was the center of attraction. The Prada creation has an ever so slightly oversized fit that suits Gyllenhaal's style.
When: 29 September 2021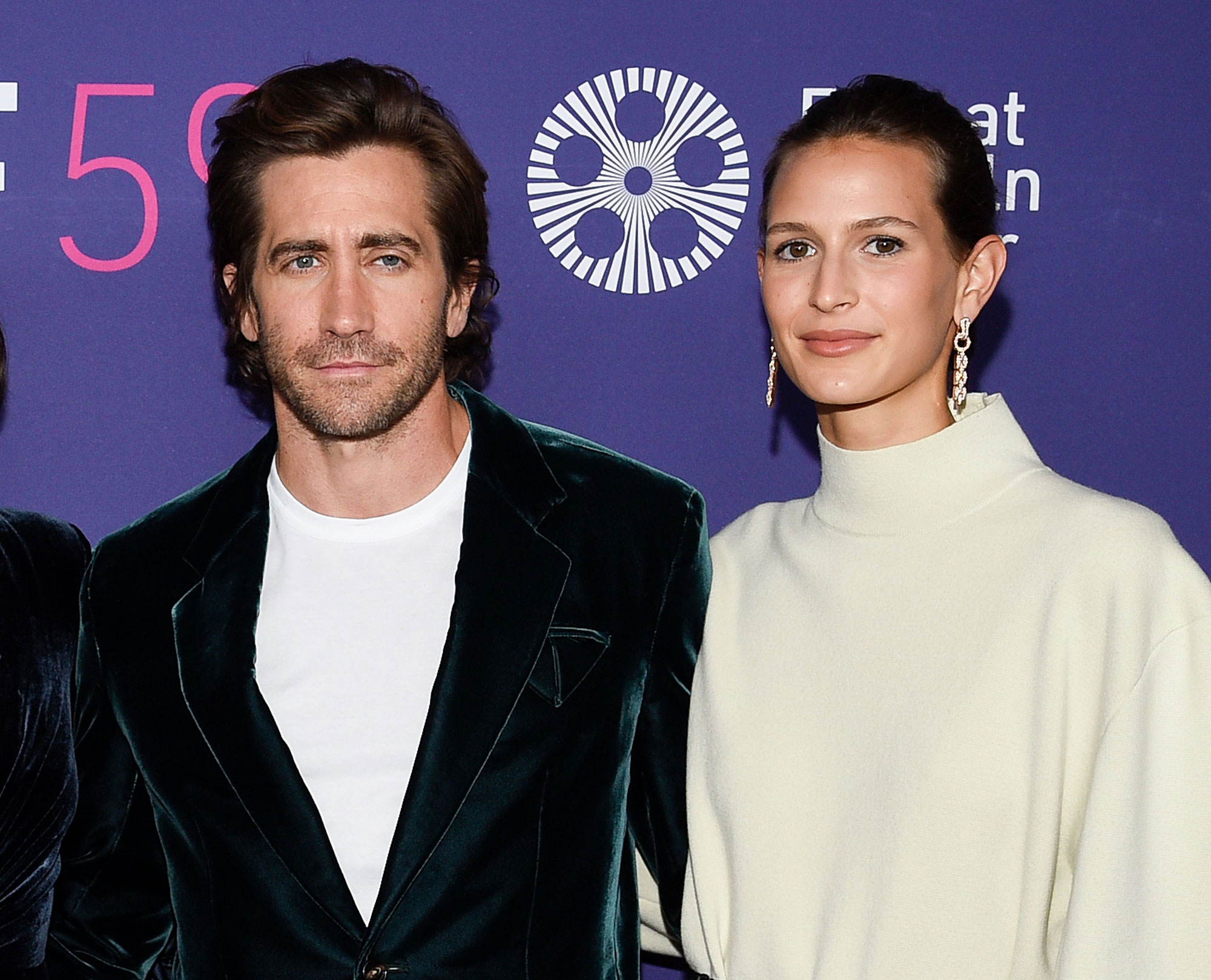 Image source: usmagazine.com
For the premiere of the movie "The Lost Daughter" (that is his sister Maggie's movie) during the 59th New York Film Festival, Gyllenhaal heralded the end of summer and the beginning of autumn with a teal velvet two-piece suit.
When: 6 November 2021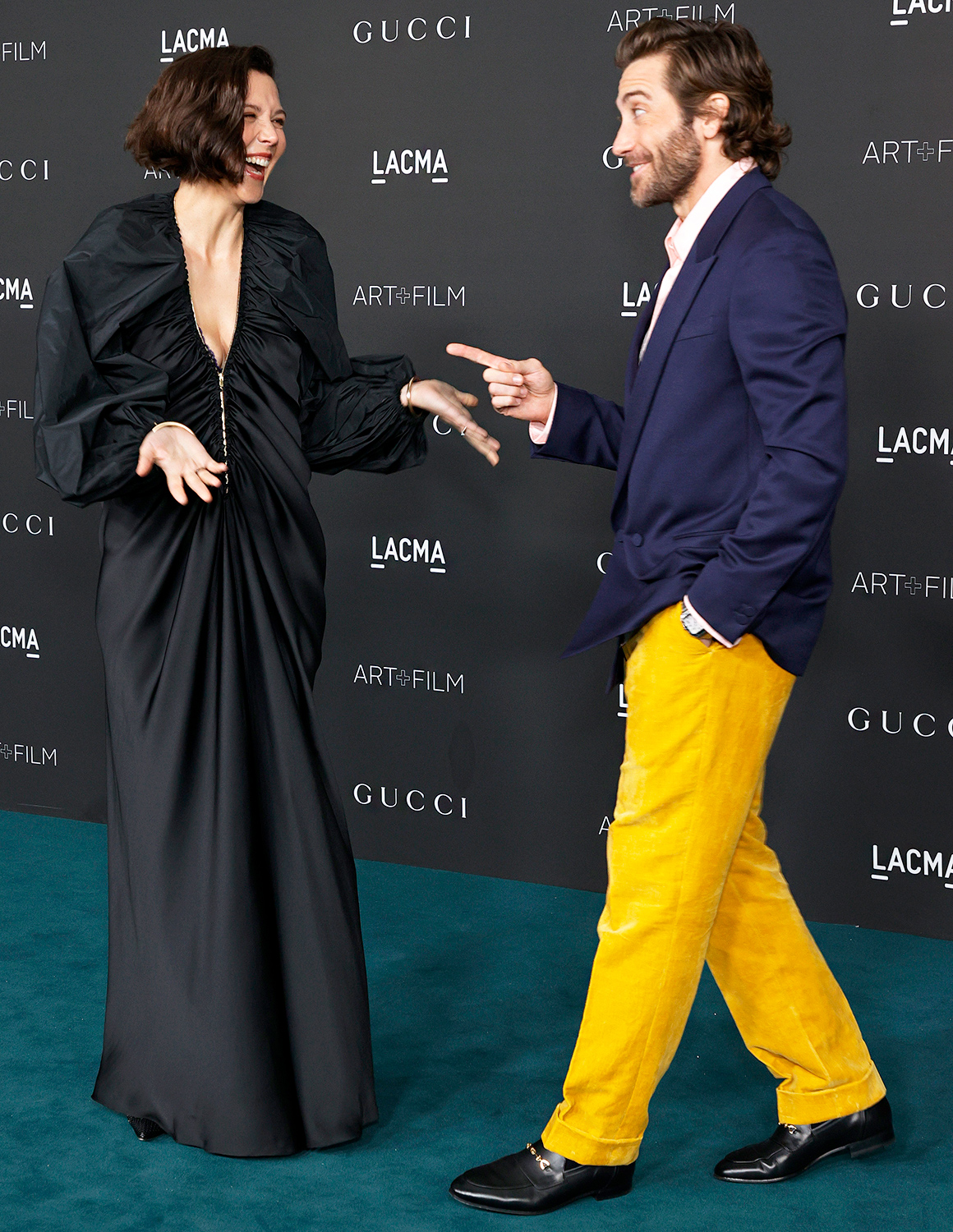 Image source: people.com
Jake was dressed in Gucci. He was like a favorite snack in the delicious colors of Nestlé's retro Butterfingers at the 2021 LACMA Art + Film Gala.
The basic Jake Gyllenhaal style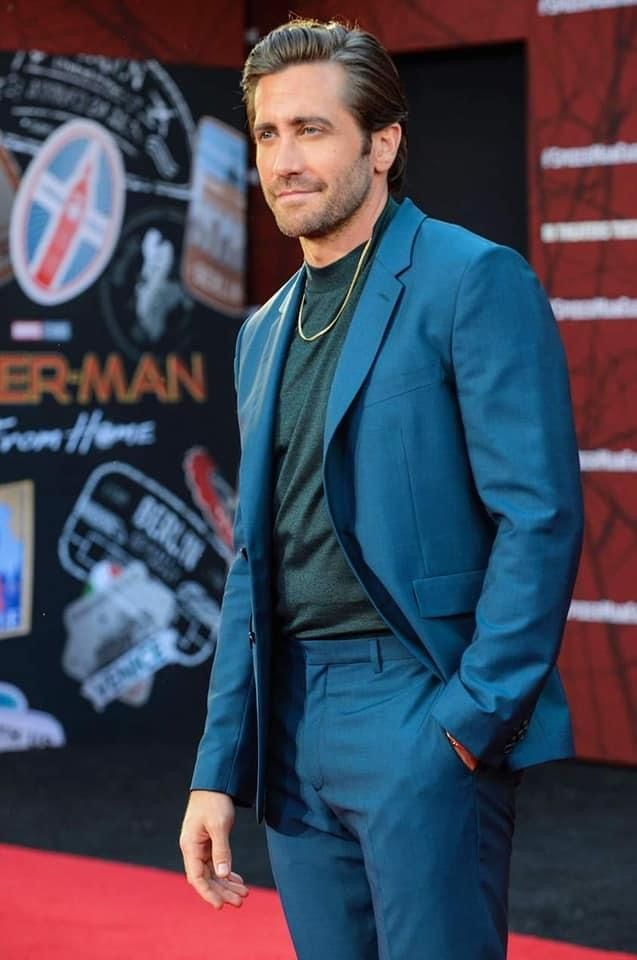 Image source: pinterest.com
He does not like skinny jeans, Gyllenhaal isn't one for fast-paced trends (or 'tight' things). His style is contemporary. He likes wearing urban, casual jackets and hi-top sneakers (with the odd silver chain). The actor is in tune with vintage-inspired American pieces- classics reworked such as the denim jacket, fleece-collared bomber, and mid-blue jeans-always in a comfortable fit.
But strong tailoring (undercut by a new hairdo) has increased his style presence at film events. Gyllenhaal is on many a best-dressed list this year alone. Classic and simple pieces work well for the actor. And when the details- shoes, tie and great hair are there- then we see him go to another level.
Strong Suit game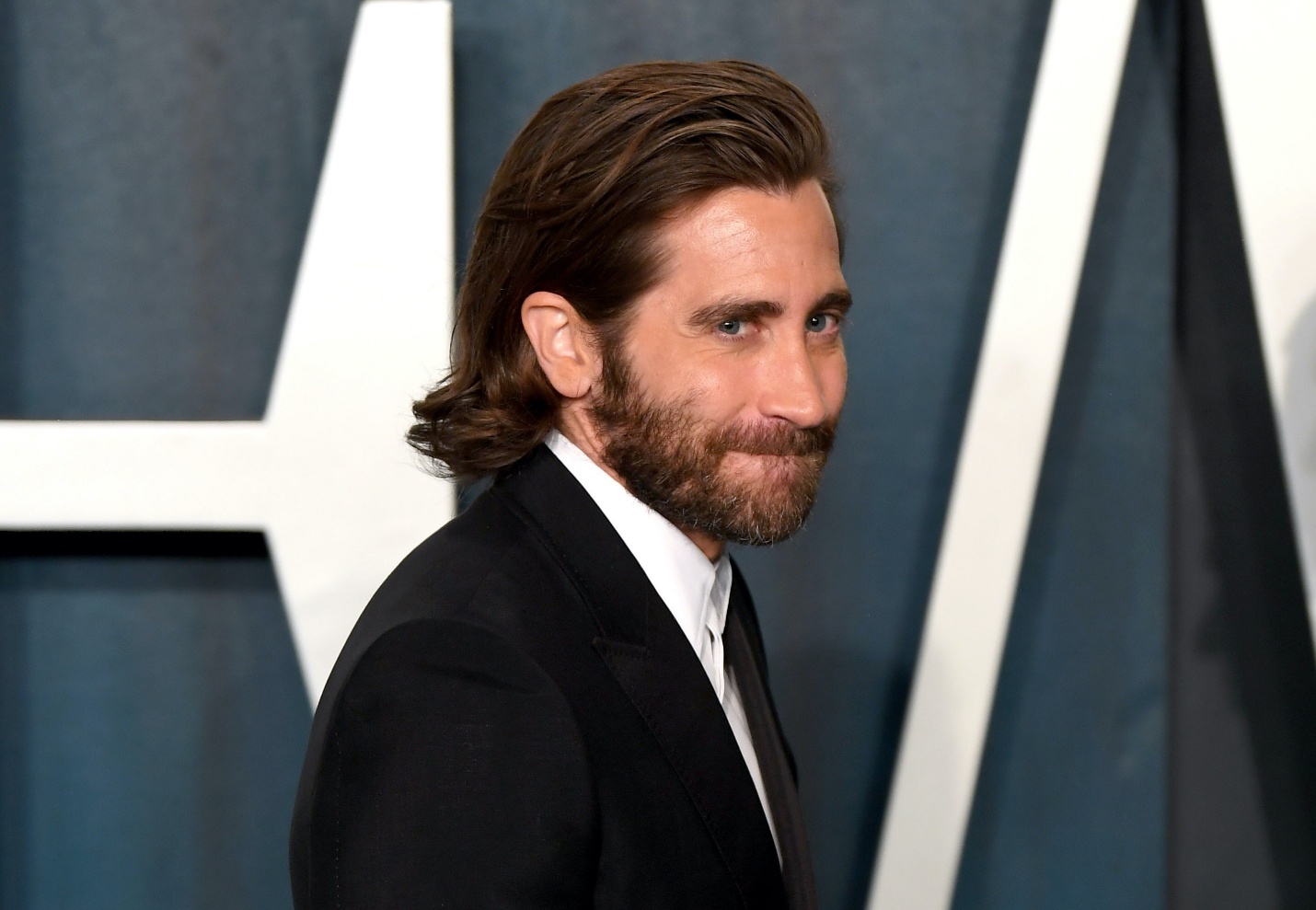 Image source: gq-maazine.co.uk
With a slicked-back haircut, only a suit will do. And Gyllenhaal keeps the tailoring super sharp with black or midnight blue. A formal three-piece takes up a continental education with a new European cut. Gyllenhaal adds a sense of school-boy charm with a navy tie and blue shirting. Gyllenhaal's beard slightly grown out simplifies the suit with two-piece wool.
Urban Streets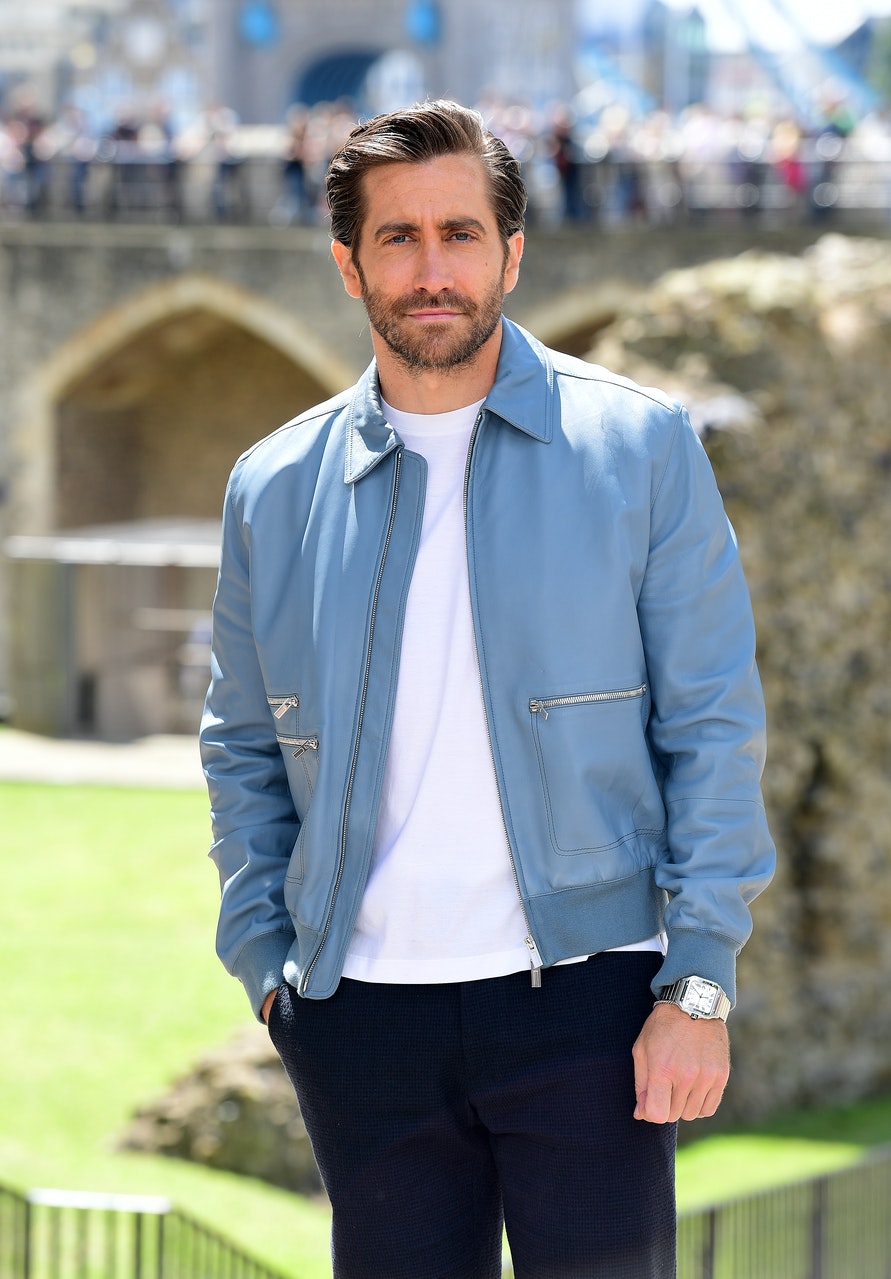 Image source: savorflair.com
Gyllenhaal likes to march with an urban army look for an off-duty outfit, especially for the New York City pavements. There is a special youthfulness to the actor's casual dress. He rocks a heavy, camo parka with a hood, a white tee, and a silver neck chain. Other times, Gyllenhaal swaps the military print for an army green bomber but keeps the relaxed-fit jeans in blue, and white tee as well, and leather hi-tops.
Dark and tailored Outerwear
Image source: topcelebjackets.com
Showing his serious side, Gyllenhaal sports tailored top in simple hues in the cooler months. It's a chic, sleek side that stems from the actor's love for true classics. Other times, the collar pops with the working of another outerwear classic-the trench.
American Casual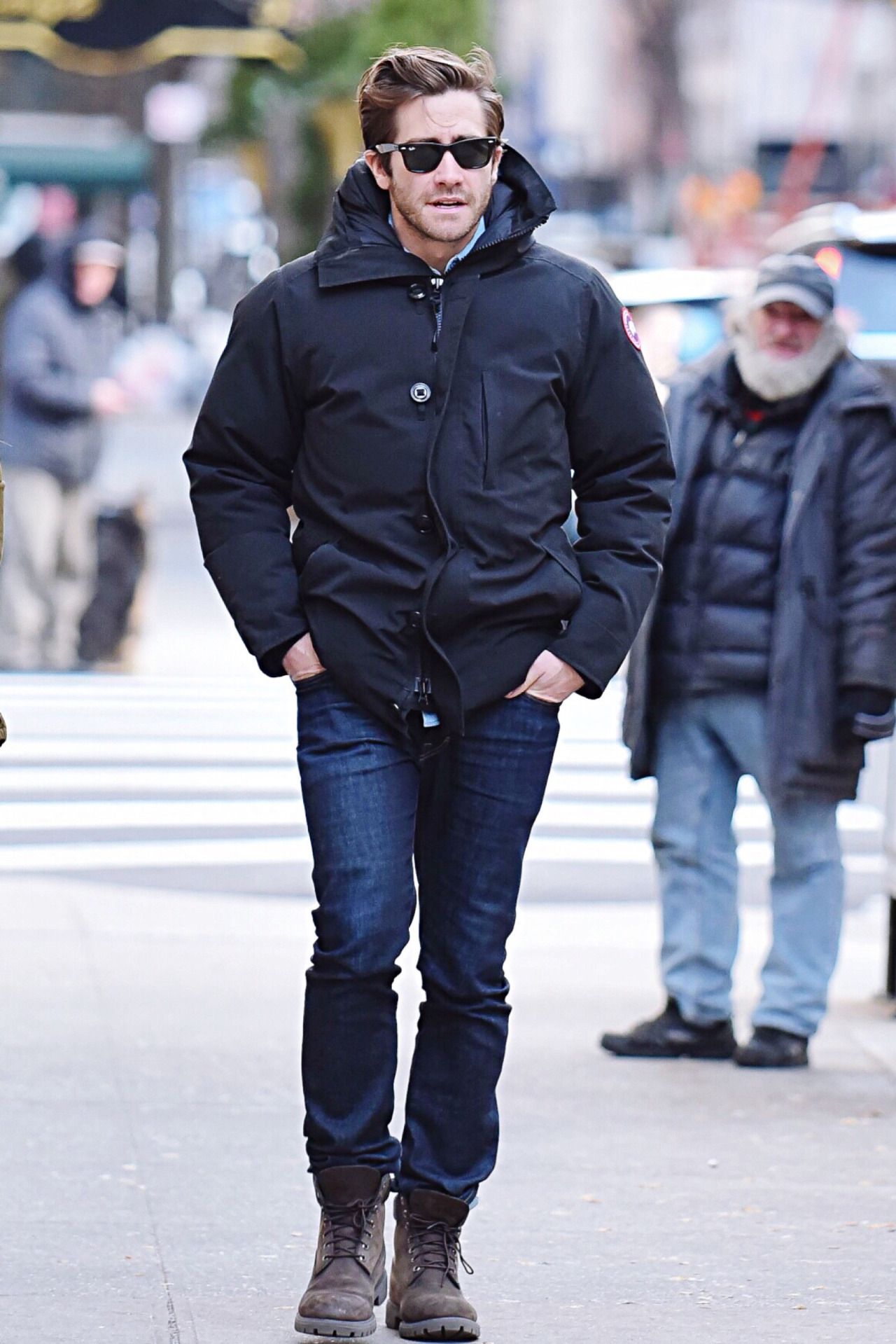 Image source: pinterest.com
Gyllenhaal is Californian. He channels a casual Americana aesthetic that is based around denim. The cotton fabric comes waxed-coated. At the airport, double-denim is strong, retaining superb contrast with dark denim jeans.
Tips from Jake Gyllenhaal's style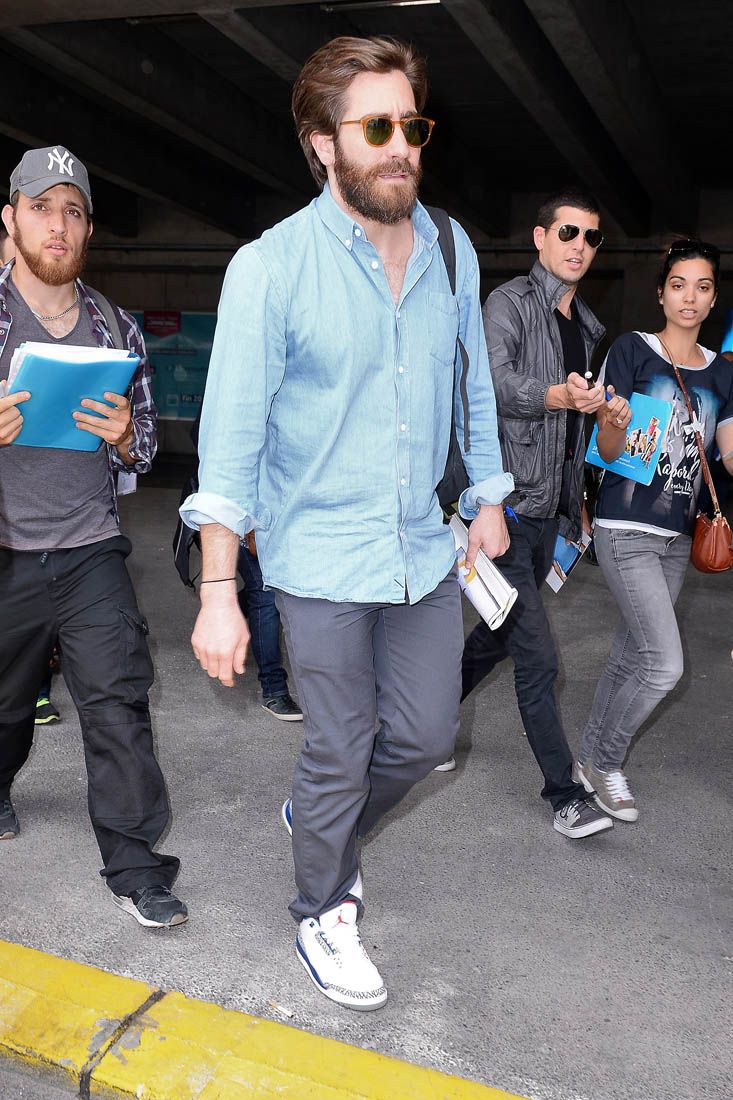 Image source: pinterest.com
Jake Gyllenhaal has a tip for you: you can style a white jean jacket instead. It works with pretty much anything. It can be worn with a black T-shirt, some slim-cut grey trousers and Oxford boots. You can layer a light brown overcoat on top of the jacket to survive this temperature-dropping season. Gyllenhaal is a quirky sort.
His roles reflect that. He got fame from the movie Donnie Darko and Jarhead. Steadily moving away from arthouse films to more mainstream efforts, his physique has evolved just like his talent. On the red carpet, he looks classic and elegant. On the street, he is a man who loves a good pair of cargo pants and a beanie. He is a master of turtlenecks. And when the occasion calls for it (Oscars, Golden Globe, etc. he's a black-tie wizard. In Gyllenhaal's case, it always seems that what you see on screen is exactly like what he is in real life.
Whatever role he plays, there is passion, integrity, and skill in his performance. And otherwise, also he is an incredibly cool person. He is one of the most in-demand men on the planet. He has big 11 films and TV series currently in production. The Netflix series 'The Guilty' was a hit also. Gyllenhaal has long stood as one of the industry's favorite clothes horses.
Jake Gyllenhaal on Why Good Style is an Expression of Self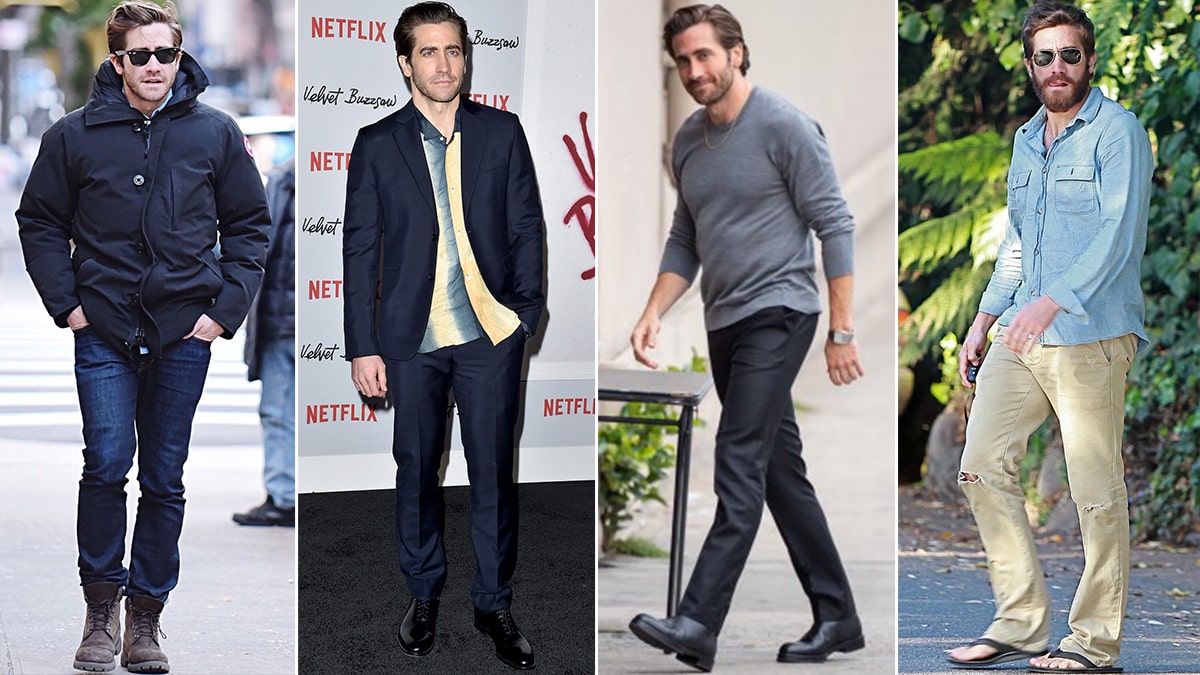 Image source: latestly.com
Since his role in Donnie Darko, Jake Gyllenhaal has proven himself to be the most enigmatic man in recent history. According to Jake Gyllenhaal, style is a representation of your mind. It's like choosing an idea, choosing a mindset with which you align and connect. Wearing an artist or designer's work on your body is an expression of your taste and choice.
Style is all about the balance between allowing yourself to come through and expressing an idea that you like, that you want to reach out to, and become. He is trying and understanding that with age there comes a different representation of self. His clothing style reflects that. People have been telling him what to wear for a long time. So, it's both: he mixes and matches what people suggest with his style and what he likes. Clothing is equally about the feeling as much as the look.
He likes to feel good, as well as look good. But, there have been instances when he regretted what he wore. There have been looks that he felt should not have been there. And according to him, regretting things you have worn in the past is a big part of self-expression, which he feels is vital in being human. The tailoring of a suit excites him. According to him, the process of tailoring behind a suit is amazing. It's a work of art, he feels.
He likes a nice T-shirt. A plain T-shirt makes him look and feel the best. Conclusion Jake Gyllenhaal is extremely versatile, both when it comes to acting and outfit styles. In acting, he can go from very psychologically challenging characters like Nightcrawler and Darko to very dramatic performances like Prisoners and Southpaw to silly rom-coms to superhero movies Spider-man Far From Home to real-life stories like Stronger, and to challenging love stories. Jake is also inspired by others' styles.
By Bhawna