The man bun is a hairstyle where all or some hairs are pulled together and tied with a knot in a round shape at the back. The hairstyle for a man's bun is a classic hairstyle loved and recognized around the world. Almost every man sees this hairstyle as a style statement. However, there are still a few people who have doubts about it. Man who wants to keep long hair and make it a style statement, the bun is a perfect dose of fashion and happiness for them. Step outside with this classic hairstyle which will stand you out from the crowd.
The Bun hairstyle is somehow confused with the top knot hairstyle where you tied the knot on a few hairs at the top back. However, in a bun, you gather all your hair in a round shape at the back. One plus point about this hairstyle for men's bun is it is simple to make without much effort which is why there is no guide video on how to make a man bun. If your hair length is short for a bun hairstyle, then go for a top knot hairstyle till hair length increases. Choose here best curly hair man bun high fade in 2023.
To tie a man bun, there are a few tips to follow. Although the hairstyle is quite easy, those who are new at this can follow the below tips.
1- Before you do the parting of your hair, decide how high you want your bun and on which side.
2- To avoid any fizzy hair or mess, comb your hair properly with one hand while tying a knot with another hand.
3- To ties the bun securely, round your knot twice around the bun.

Once you know how to make a bun, maintenance plays an important role. Follow a few tips and tricks to have a perfect and well-groomed bun.
1- More lengthy hair means more oil hair. Therefore, you need to wash your hair regularly and take good care of it.
2- For dry hair scalp, use shampoo which is suitable for dry hair twice a week.
3- For oily scalp, avoid too much use of shampoo and use a softening hair conditioner instead.
4- At last, to avoid hair fall, don't tie your hair bun too tightly.
The Perfect Hairstyle for the Man Bun
Image Source: google.com
After being checked on how to tie a simple man bun and maintain it. Let's explore a few diversified hairstyles for a man bun.The curly hair man bun has become one of the the most popular hipster hairstyles for men in the USA.

1-Curving Top Bun: This curving top bun is set highest on the back and is loosely twisted through knots making it a combination of bun and top knot style. This is a comfortable hairstyle for a man bun with long hair, plus classy and stylish.

2- Graceful Low Bun: This low bun hairstyle is graceful and simple which works with every style and keeps your loose hair tight and clean.

3- Grimy Man Bun: Everything clean and neat looks wonderful. Sometimes being messy is great. Here, a messy bun gives you a natural look and it goes best with beards for a stylish look.
4- Sap Man Bun: Bun hairstyle does not limit to tying all of your hair to a top knot. This undercut bun look gives you a completely different look where the sides of the undercut are trimmed and the rest of the hair is gathered high on top.
Top Haircuts for Man Buns: A Comprehensive Guide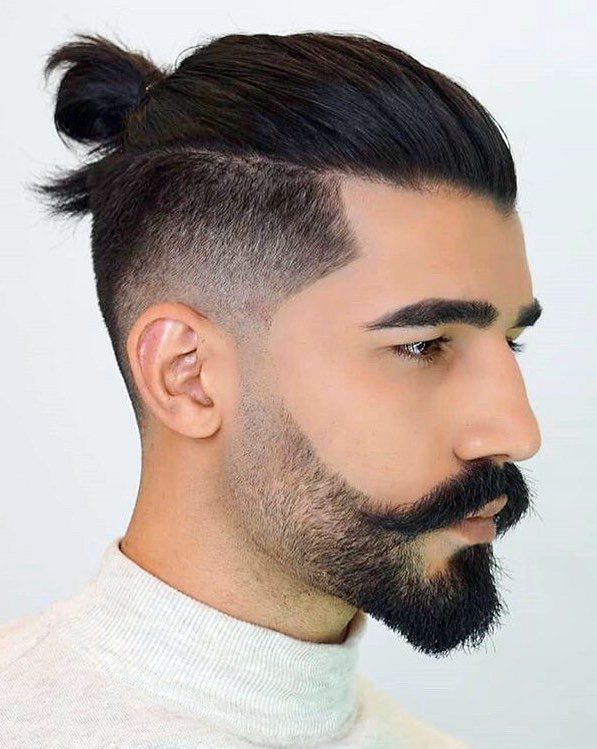 Image Source: google.com
In this post, You can find the best and latest tie a man bun with curly hair with stylish. There are numerous ways of making a man bun. It can either be simple or unique with a twist. Your bun depends on several things, your face cut, haircut, hair texture, length, hair color, and so on. So before you choose a bun style, go to a good hairdresser who will help you figure out everything about your hair and will make it a perfect hair bun for men. Check out below easy yet unique hairstyle options for a man bun.
1- Elementary Man Bun: This one is most popular among man as it does not require much effort and there is no specific steps in making this style. You need to pull all your hair together and round it on top at the back.
2- Straight Bun with Long Hair: Here in this bun style, every hair is straightened out to give it a perfect neat look, and some hair is tied high at the top to make a bun.
3- Infinity Bun: Bored with a simple hair bun for Men in 2023? Try out this new yet unique infinity sign hair bun and you will surely going to rock with it.
The limit to making different man bun hairstyles does not end here. You can experiment with any style and see what fits you the best.
What Hairstyle Is Best for Round Face Male?
Image Source: google.com
Having a round face is not a limitation for trying out new hairstyles. Man bun hairstyle for a round face can be both simple as well as modern. You know your face is round when your cheekbones are broad but your forehead and jaw are in circle shape. For this face cut, it would be best to place your bun at the very top of your head. Doing this will take attention towards your jawline and exposes the whole face cut properly?
Related Article: Exploring the Benefits of Burst Fade Mullet Straight Hair
Never settle down for anything else. Go bold with unique hair bun styles for a round face and make people's heads turn for the good.
What is the best Hair Product for Curly Man Bun?
Men with curly hair have to deal with problems like setting up hair properly all the time and gathering all hair evenly to tie it neatly. To take care of your curly hair bun, try out below hair products once:
1- Style Hair with Oil: Styling oil helps you set your hair properly, and also it hydrates your hair regularly. Use this oil after taking a shower for good results.
2- Hair Gel: Hair gel will help you shape your curls and set your frizzy hair for good.
3- Balm on Beard: If you have a facial growth of hair, then use a beard balm that will soften your hair texture.
4- Hair Shampoo and Conditioner: Hair care is important, so always wash it with shampoo and condition both. This will protect your natural hair thickness and will soften it.
5- Hair Spray: Use a hair spray once you have washed it to set your curly bun as it is for the rest of the day. This gives a fine look to your hair.
6- Resting Conditioner: If your hair strands are too dry or frizzy, consider using a conditioner at last which you can leave for the whole day. This will moisturize your hair.
Conclusion
Now you know what a man bun hairstyle for curly hair is, how to make one with style, what maintenance is required here, and what style options you have for a hair bun. Do not be afraid to try these modern and classy hair bun styles, as it works on every occasion and make people turn their head. If you are a style freak person, then go and give it a try. If not sure how to do this on your own, then choose a good hairdresser for help and male clean and neat hair bun.
(By Nikita Jain)
You Must Also Like
Buzz Cut Burst fade Mullet in 2023: A Comprehensive Guide