Fashion is inching closer to normality. Fashion is ever-changing and the good news is that it is becoming closer to normality. This is so good. You would be relieved by this. Fashion enthusiasts must not let fashion trends go like that. If you thought the pandemic spotlight on essentials would result in basic and safe collections, give thought again. Collections from Dior, Louis Vuitton, and Vetements are signaling the return of maximalism in spring/summer 2022 men's wear. Loud fashion, according to research is being seen as a form of optimistic expression. Dopamine dressing has been a trend too.
Cardies Fashion Trend for Men 2023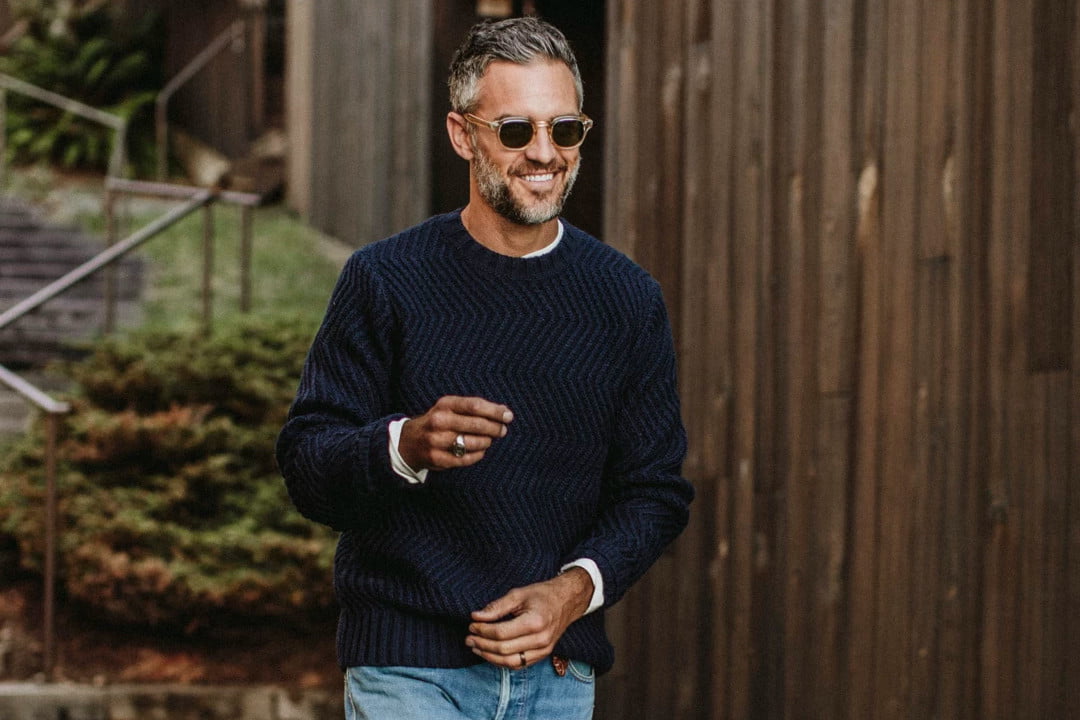 Image source: themanual.com
A cardigan is a type of sweater that has an open front. Commonly cardigans are open-fronted and have buttons whereas clothing that is tied is instead considered a robe. Knit clothing with zippers can also be referred to as a Cardigan. A more recent fashion trend has the garment with no buttons or zippers.
Traditionally, cardigans were made of wool but can now be made of cotton, synthetic fibers, or any other material. Plain cardigans are often worn over shirts and inside suit jackets as a less formal version of the waistcoat or vest that constrains the necktie when the jacket has been removed. Monochromatic cardigans, in sleeved or in vest form, can be viewed as a conservative fashion staple. As an item of formal clothing for any gender, it is worn over a button-down shirt.
A less formal style is wearing a T-shirt underneath. This season the designers are coming up with the clever idea of creating coats out of cardies. These are called cardigan coats. Coats that are in fact cardigans- these are otherwise known as heavy-knit cardigans. The popular knit style is still going strong. The cardigan is the perfect layering piece for all the year. The cardigan gains traction as they were visible all over the Milan runways. Sleeve-free li The sleeve-free is a very popular trend. Tailored sleeveless blazers and biker jackets are getting popular.
Skirts and Tunics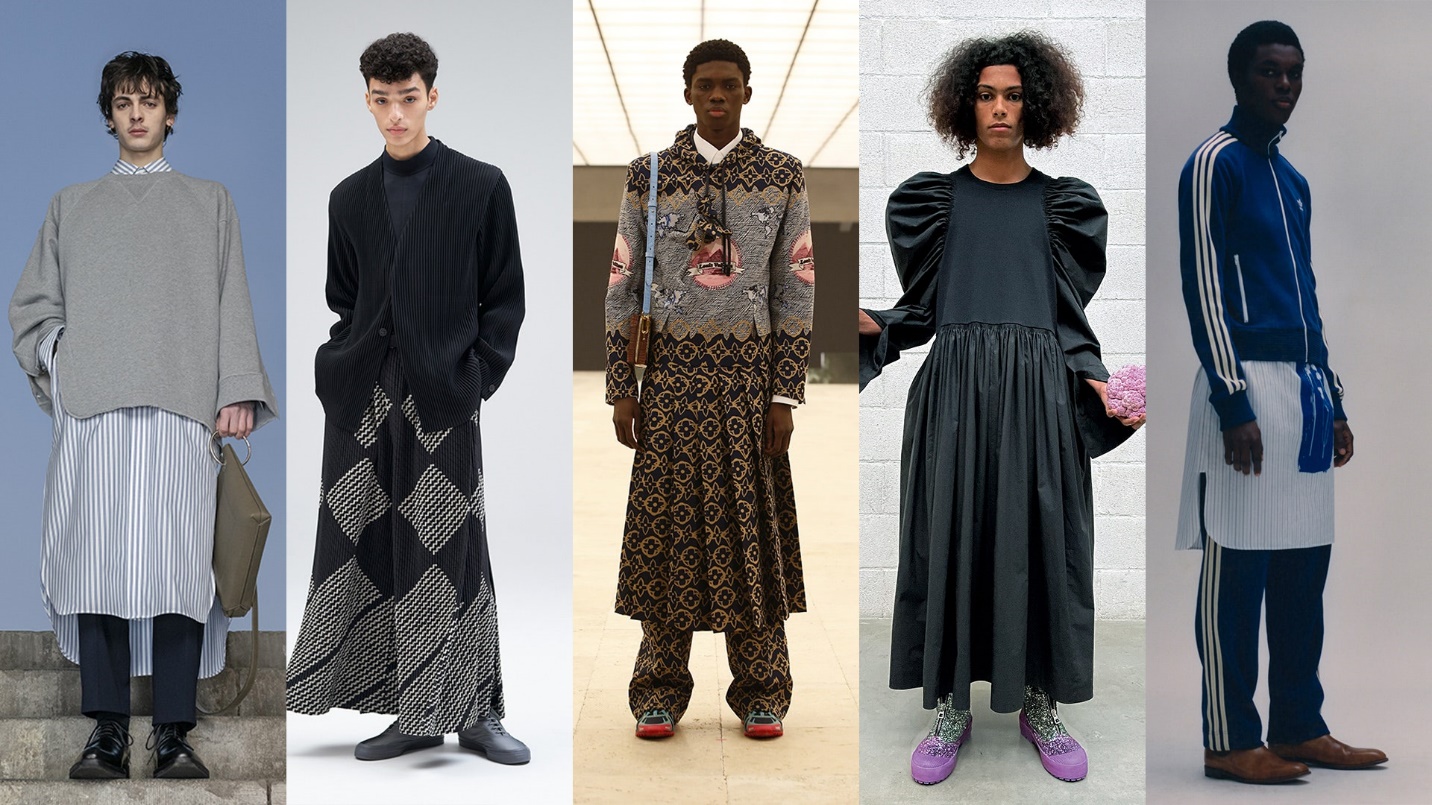 Image source: gqmagazine.co.uk
These things are concerned more with women but now men are also resorting to skirts and tunics. Micro skirts are also a fashion trend.
Suits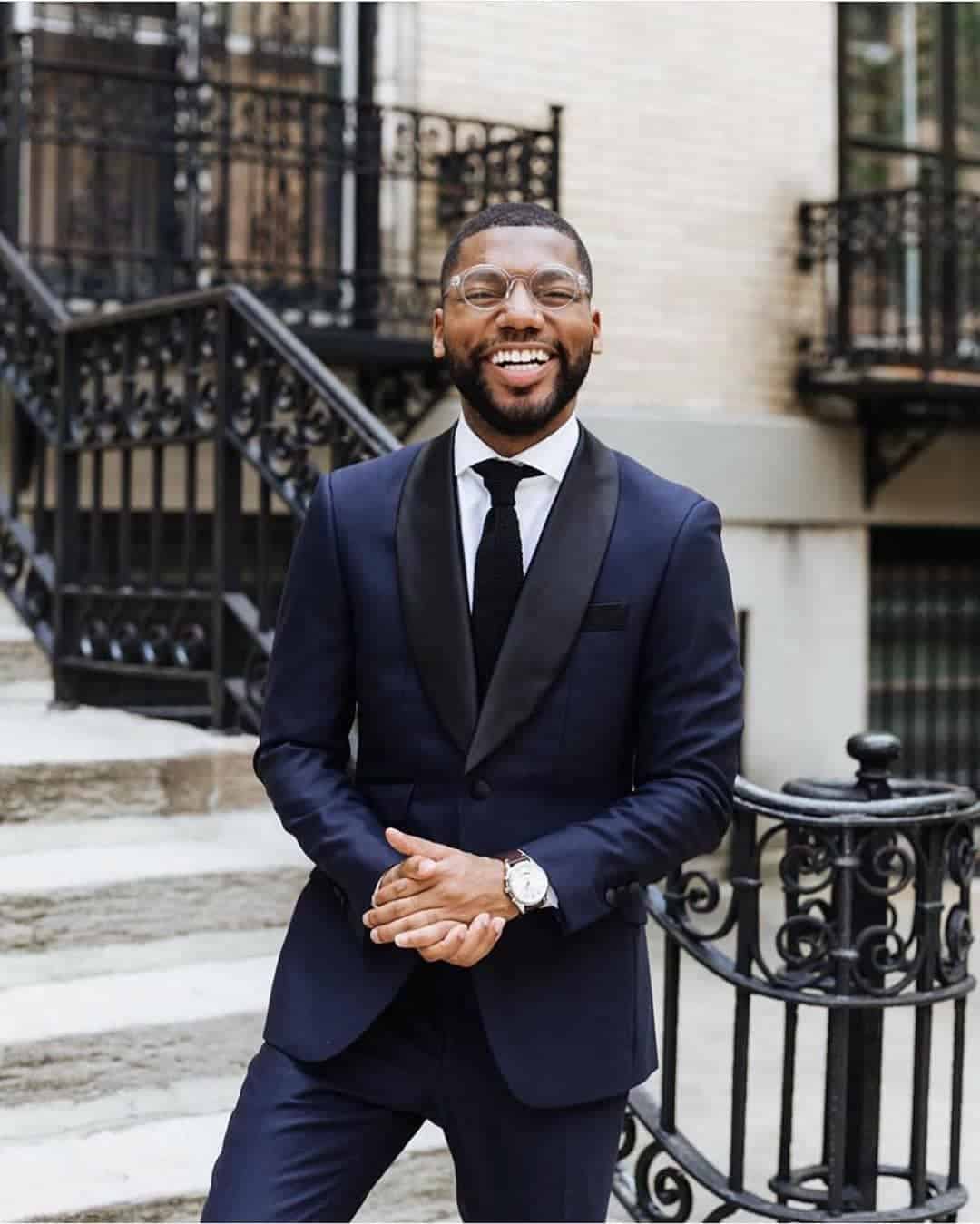 Image source: dresstrends.com
It is no secret that the way we dress for work has changed a lot. Suits were there in fashion and will continue to be present. A suit is a set of clothes comprising a suit jacket and trousers of identical textiles worn with a collared dress shirt, necktie, and shoes. It is considered both formal and informal. In Western Dress codes, it is considered informal wear.
The lounge suit originated in 19th century Britain as a more casual alternative for sportswear and British country clothing. Models of classic men's suits 2022 are distinguished by special restraint and preciseness, both in shade and in a cut. Black, gray, blue colors are the most relevant when we talk about classic men's suits.
Suit trousers can be wide and tapered, jackets can be straight and fitted, and classic. There are suits for men in denim fashion also. Denim is not a novelty, but such a jacket looks stylish of course. Refreshing denim comes in a variety of shades, featuring both light and dark options.
Big Shorts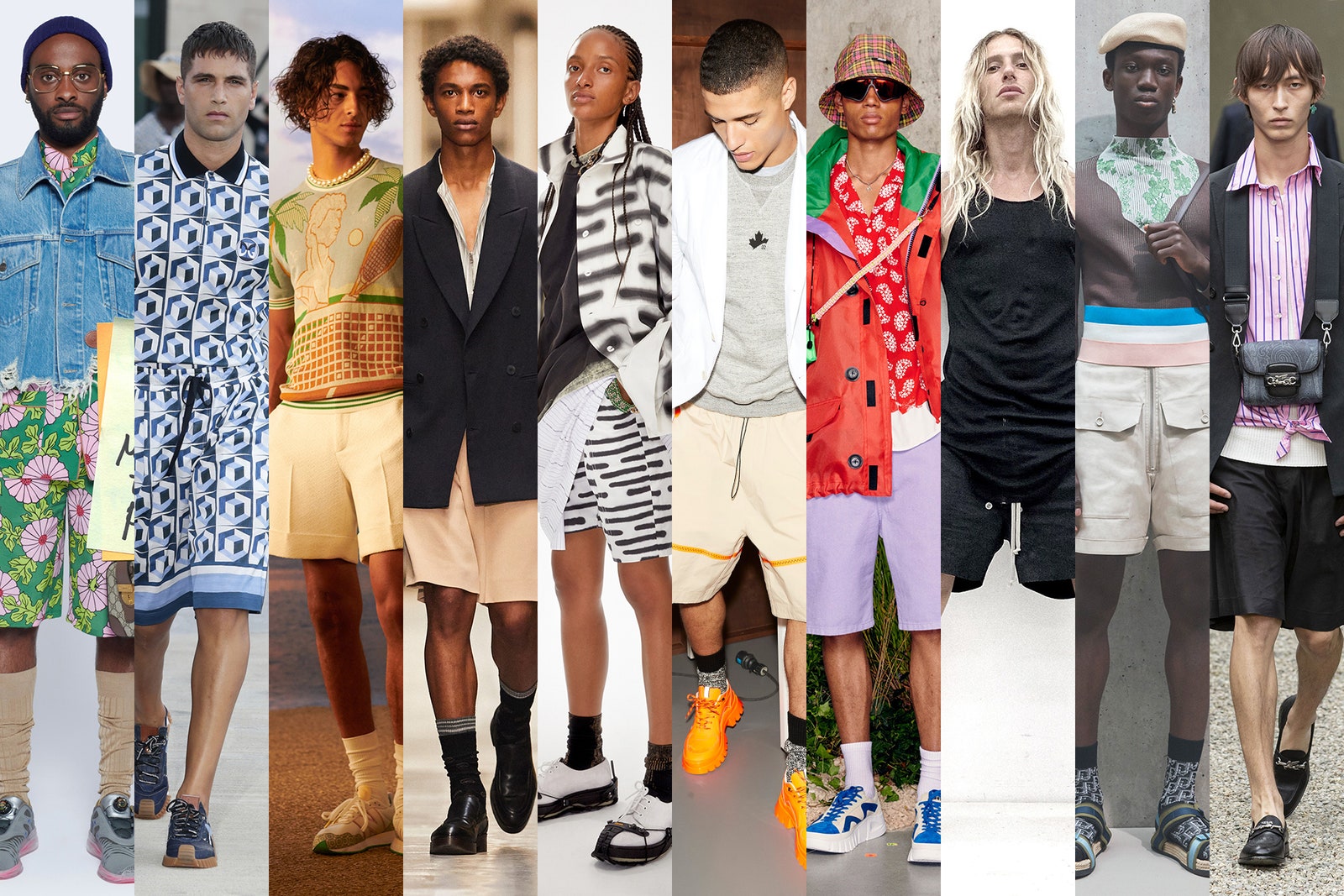 Image source: gqmagazine.co.uk
Short shorts have been there for a time but now the trend is of oversized Bermuda shorts. Bermuda shorts model was once worn by British colonists. Such shorts come in a variety of colors now, but the most popular are white and khaki. Bermuda shorts have a loose fit and their appearance is closer to the classic.
They can be worn with T-shirts, shirts, jackets, only the fabric of the products should be combined. Men's shorts are the most relaxed and comfortable piece of summer outfit. Modern men's shorts styles 2022 are irreplaceable clothing options for the summer, providing maximum comfort.
Make Room for a Roomy Skirt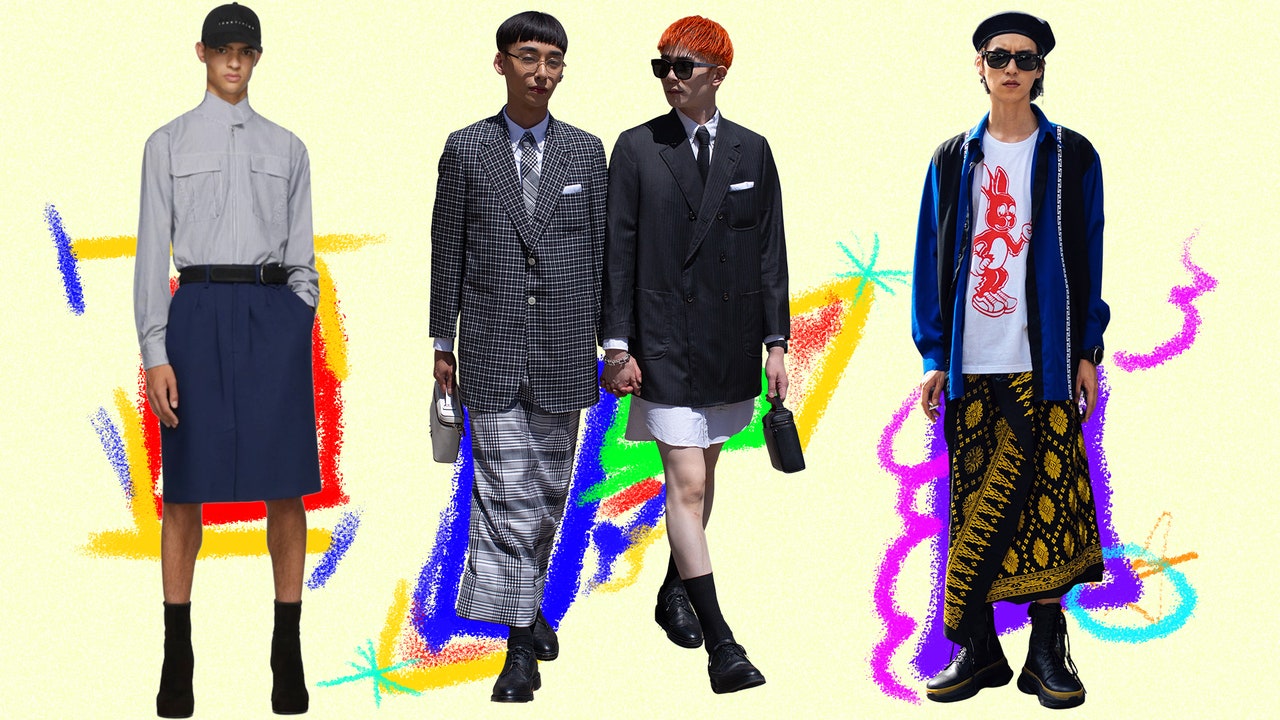 Image Source: gq.com
These are easy, breezy, and light. If you are going to buy one new item next summer, you should make it a super-light shirt. Despite their recent popularity, skirts in men's fashion aren't a new phenomenon. While traditionally menswear-inspired trends are common within womenswear today, society is less accepting of men wearing skirts and dresses. But still, they are being accepted because it is a fashion trend.
Slip on a Personality Sandal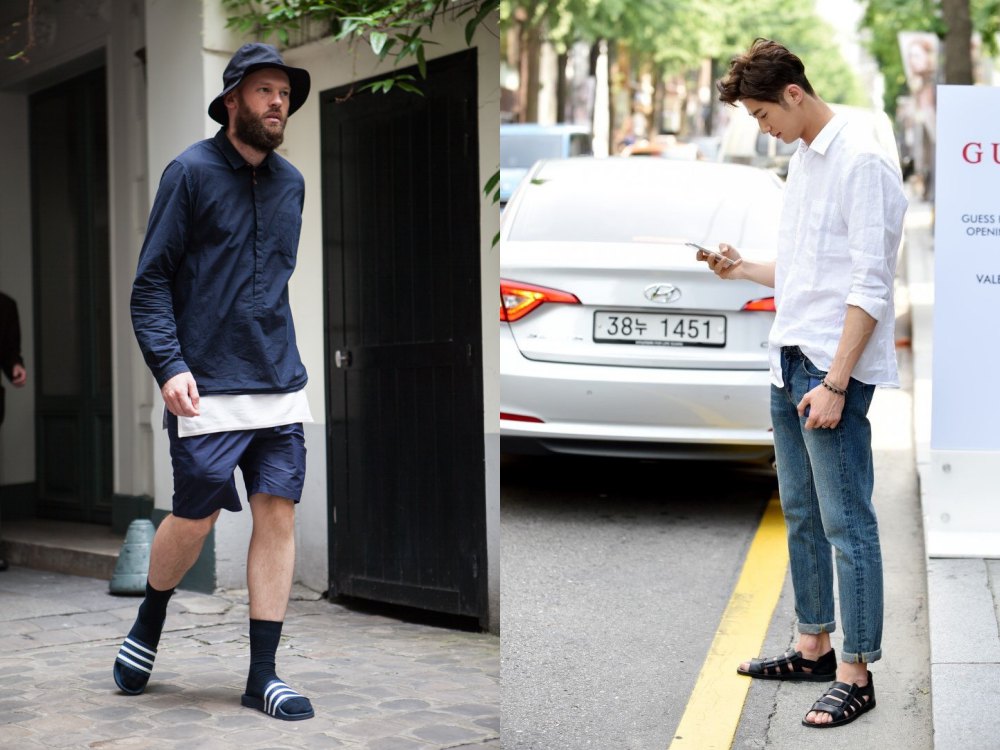 Image Source: kingsleeve.com
Perhaps it's got something to do with the fact that we all wore slippers during the lockdown that all the big designers have gone mad on the very comfortable slippers for Spring-summer 2022.
Raincoat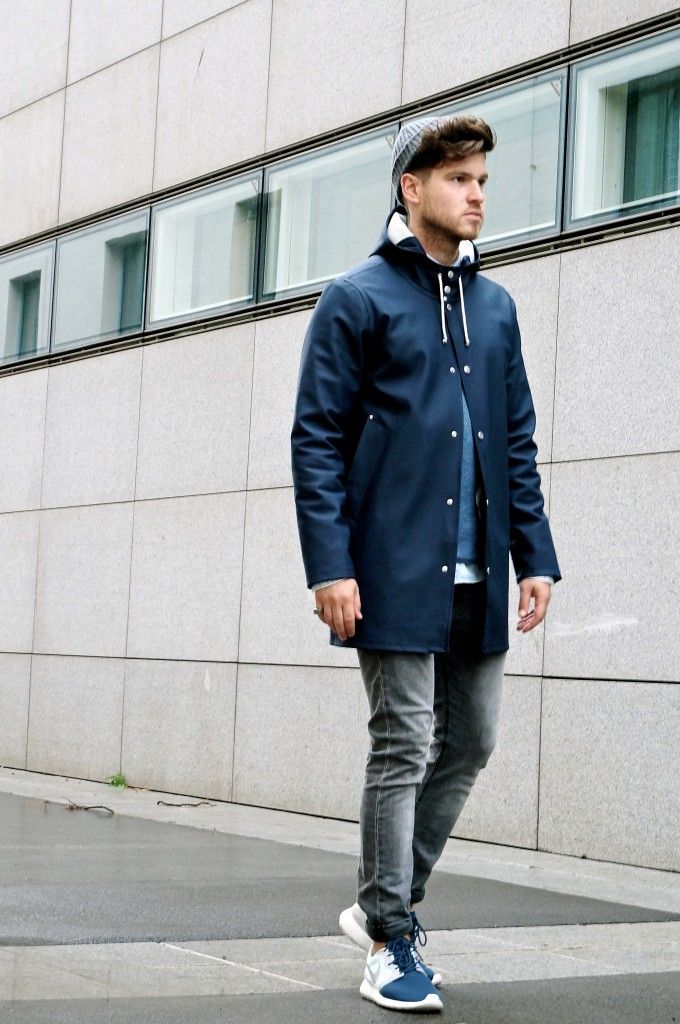 Image source: pinterest.com
The raincoat is a classic for a reason. In 2022, there would be longer hemlines and army jacket-inspired silhouettes. These practical outwear looks are cool as well as classic. Funky knits These are quirky and comfy knit sweaters that show off personality and are very easy to style.
Leather vests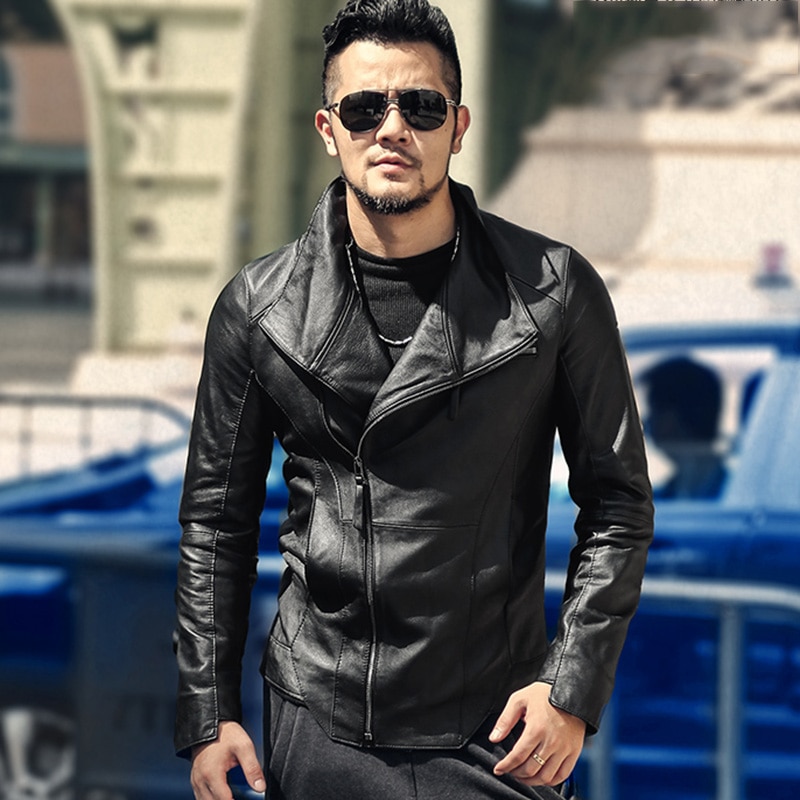 Image source: aliexpress.com
Leather vests get an edgy update with rich leather and metal hardware. The vest is making a comeback for spring 2022 and they are nothing but traditional. These trendy vests are a great way to add a dramatic flair to any look.
Head-to-toe pink Pink, a once stereotypically feminine color, now embraced the joyful shade with monochrome ensembles in a variety of textures. Flip-flops These are worn by women but the oft-debated toe-baring sandal is also coming up in men's fashion.
Chevron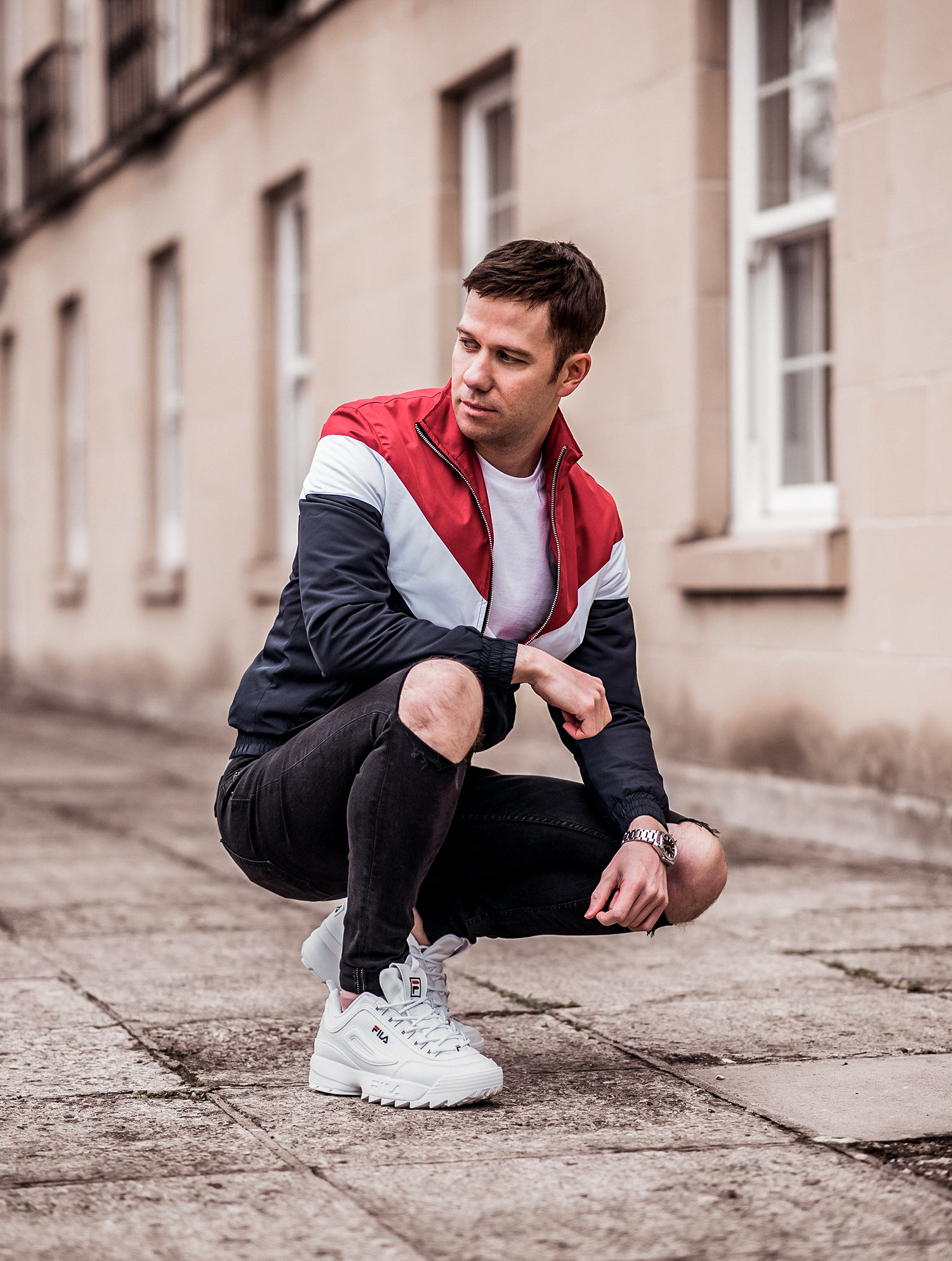 Image source: youraverageguystyle.com
Once a hallmark of 2010s southern style, Chevron is making a comeback in a muted palette and wide stripes.
Sweater Vests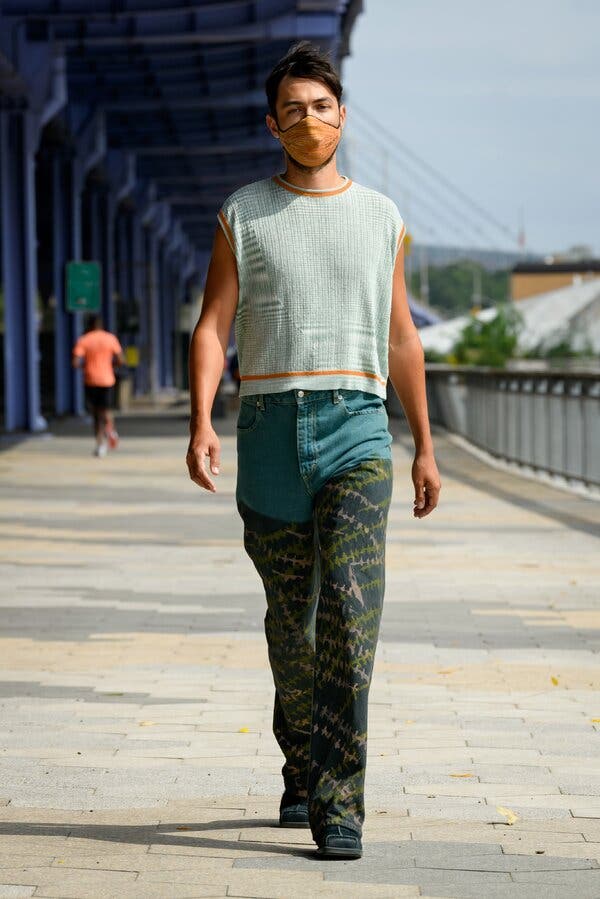 Image Source: nytimes.com
This style is trending for both men's and women's fashion.
Skirts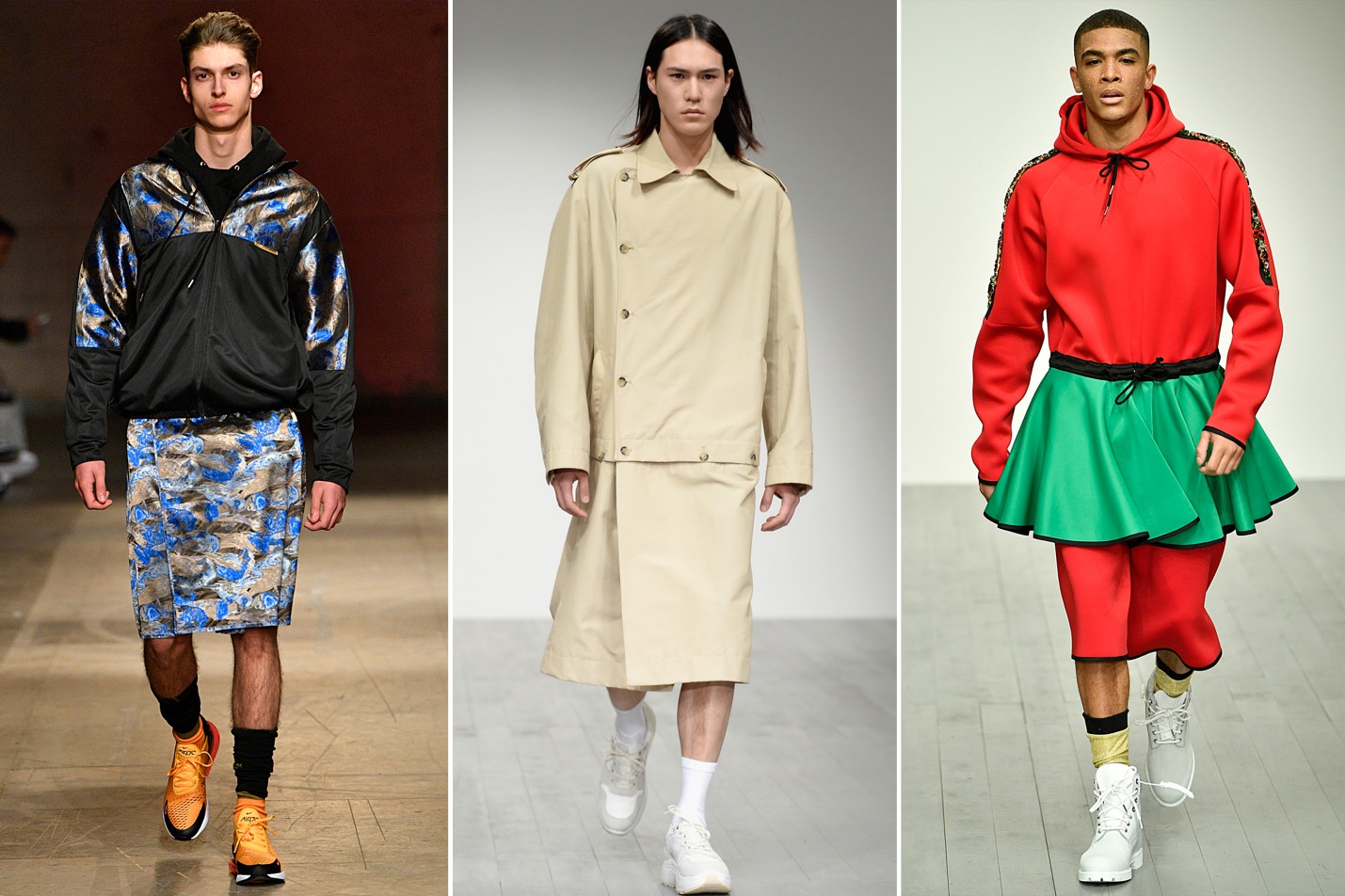 Image Source: nypost.com
Models pushed the boundaries of Western gender norms by showing up in skirts. Monochromatic looks Monochrome was a major highlight at Milan Fashion Week. The trend has colors ranging from neutral creams and camels to vibrant hues such as royal blue and tangerine.
Bomber Jackets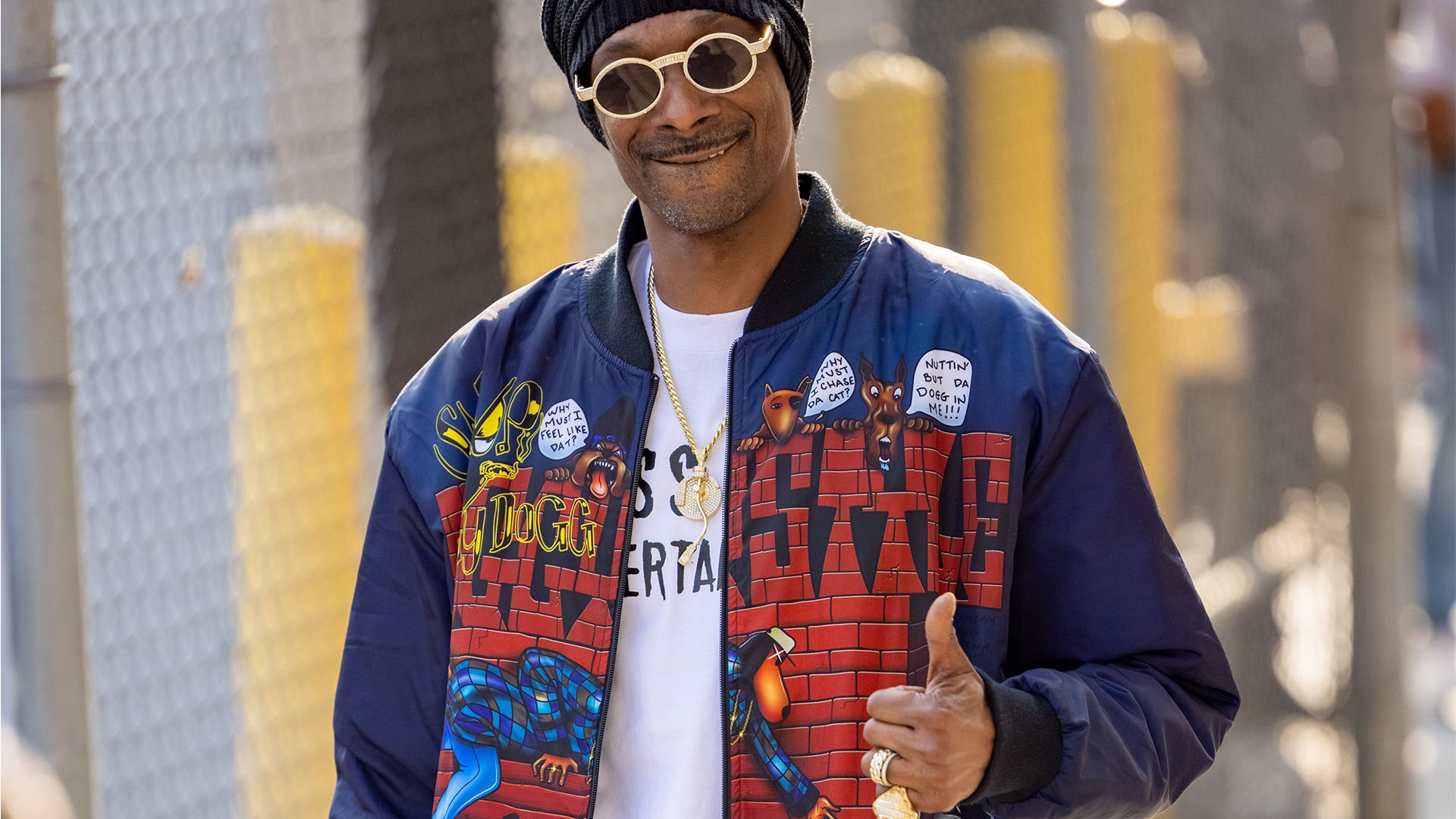 Image source: gqmagazine.co.uk
The bomber jacket is a timeless men's outerwear staple known for its versatility and ribbed cuff. Now it has made a return. It is one of the classic-lasting styles for men's coats. It is also versatile with many changeable elements. Front-zipper as ornament embroidered pattern and nostalgic color make bomber jacket popular on runways.
Personalized Tailoring A softly constructed suit offers painless ease back into a formal dress after a year and a half of work from home. The soft-fabric and easy-going construct form a nice suit. Your body would be at ease with this formal dress. The suit is making a major comeback this season.
Mixed and Match Fashion Trends for Men 2023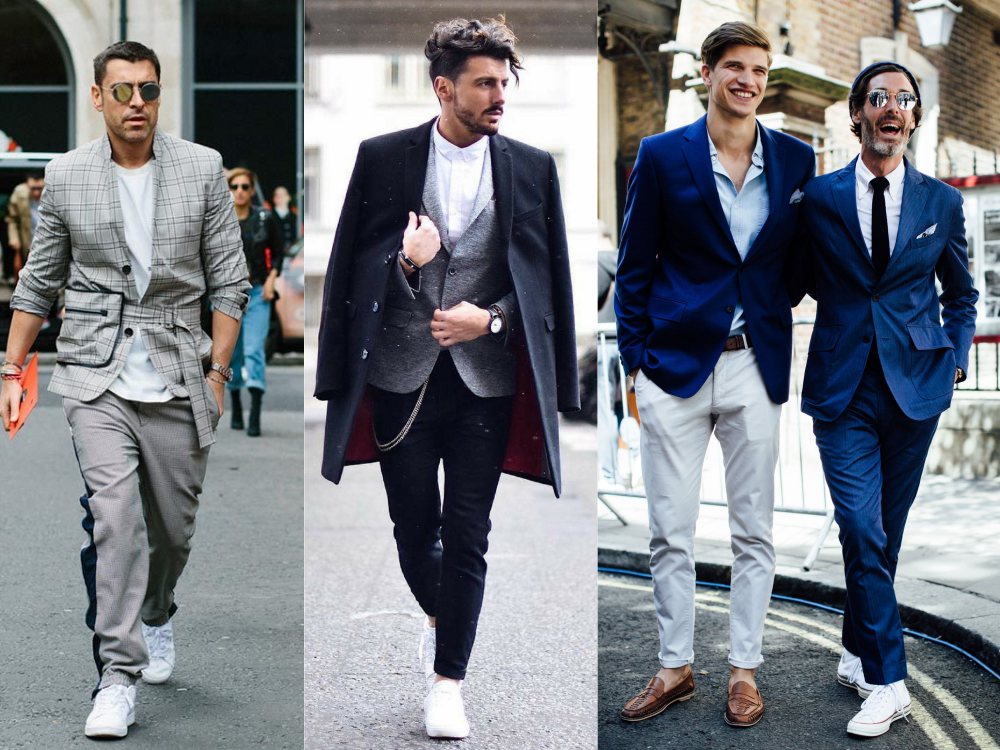 Image Source: kingsleeve.com
This is the maximalist trend. Today people are mixing and matching colors and it is the revival of the maximalist trend. It is away from the ordinary colors. It is a spiced-up trend. Denim on denim Doubling up on denim is one of the most fashionable dresses. Denim is now a staple of fashion items.
Tinted sunglasses This color trend is gaining popularity. This is the colored-lens sunglasses trend. A colored semi-transparent lens is all the craze at the runways of Milan Men's fashion week.
Open-toed sandals Chunky, utilitarian-inspired sandals are here to stay. The sandal trend has yet to retreat into obscurity but rather it is only becoming more prevalent. As a fashionista, you must have a pair of sandals in your fashion rules to match. Color blocking Color blocking is once again on the rise, adding more joy and fun in dressing. The super-saturated color wave has returned.
Oversized shoulders The 80s trend is back once again. Whether it be a blazer, a coat, or a suit, if you ever want to do it bigger and better, this is the trend you should go for. Oversized shoulders also rock the way. Whatever a blazer, a suit, or a coat, an oversized shoulder is a must-have design trend.
Single color for ensemble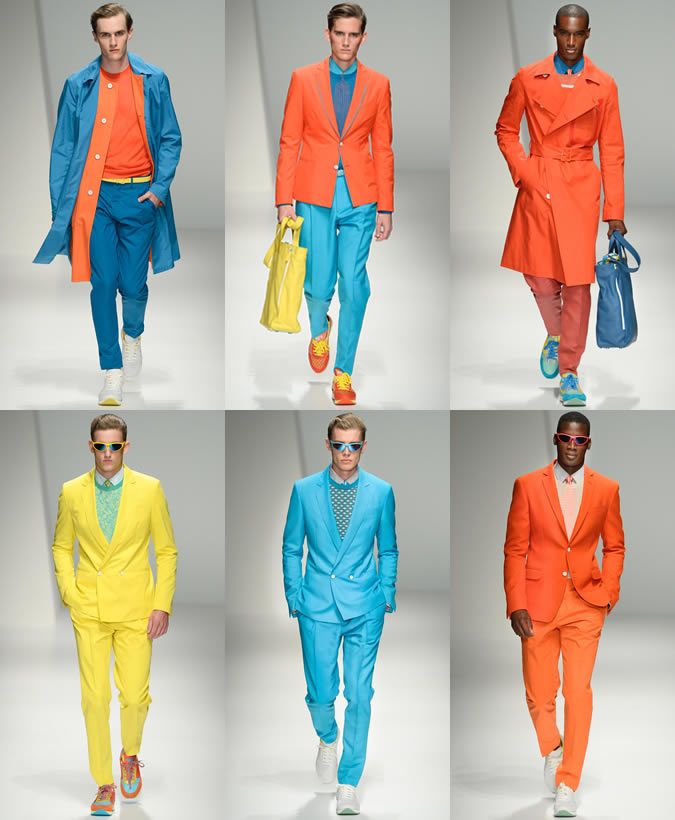 Image source: pinterest.com Using one color for a look is an outstanding trend. Color lump We can meet the fun and joy in the design of color lump. Bright and sparkly color is back to the stage. More quaint designs are worthy of looking into. Blue jeans style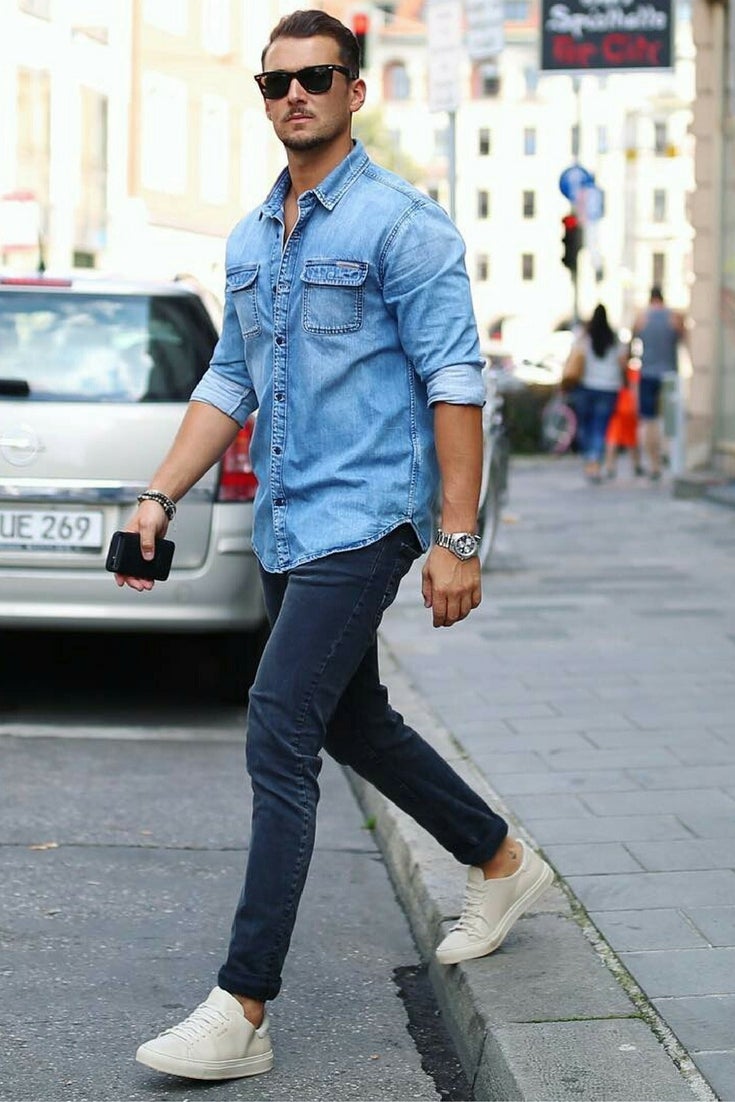 Image source: lifestylebyps.com Double up on your denim, as the Canadian tuxedo trend has hit the pinnacle of fashion. Maximalist revival The Milan runways were filled with humor. Designers were mixing and matching prints and patterns in an array of colors. The outcome, delightfully fun collection that will be sure to raise your spirits post-pandemic. Skirting the issue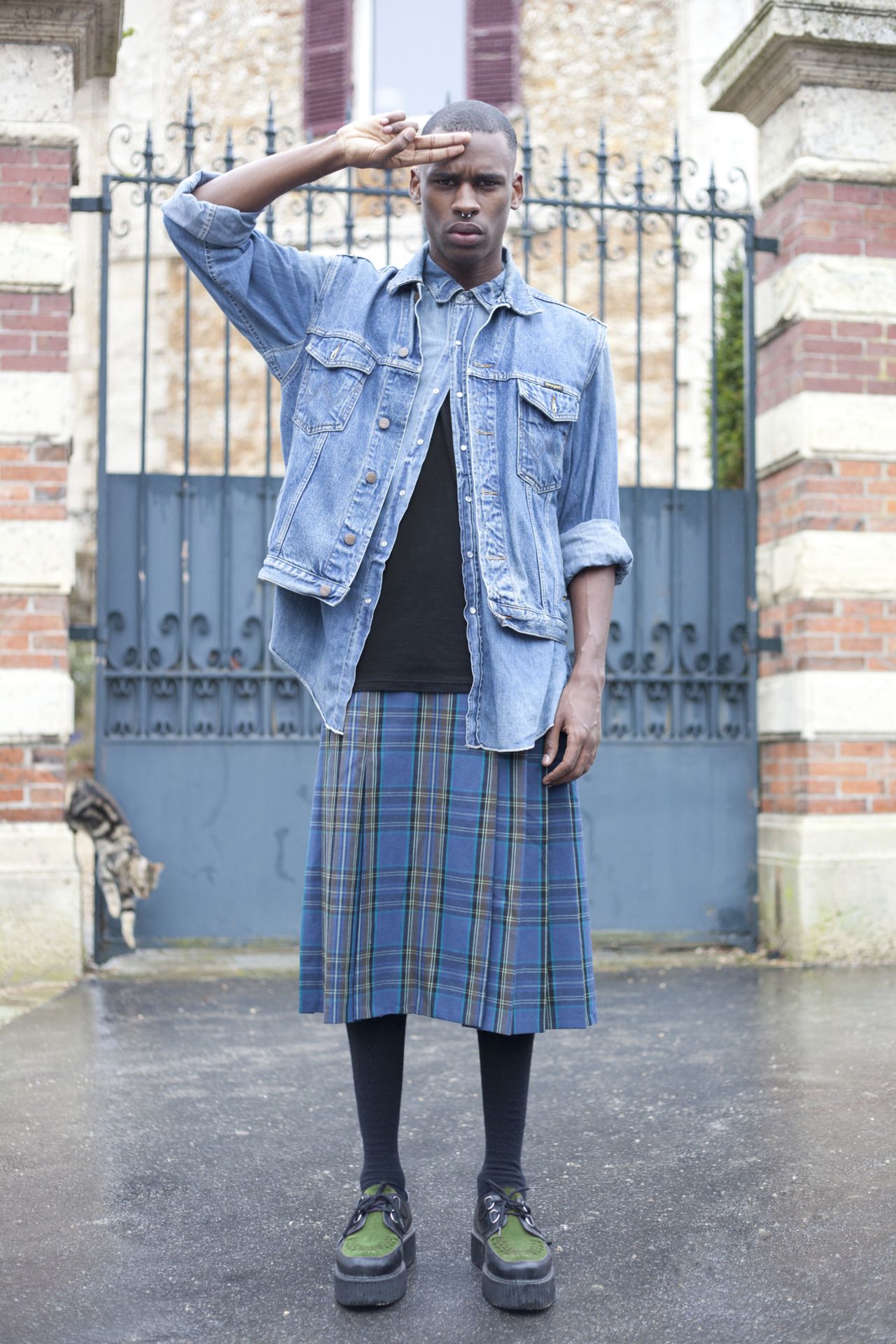 Image source: pinterest.com Parisian designers are pushing the boundaries of gender norms by showing an abundance of men in skirts on the way. There are so many fashion trends that are prevalent in society. New fashion trends would continue to come and old ones would both vanish and still exist. So, fashion for 2022 will have many trends to look forward to.