Men's suits are a garment worn for fashion. Coats typically have long sleeves and close using buttons. Other possible features include collars, shoulder straps.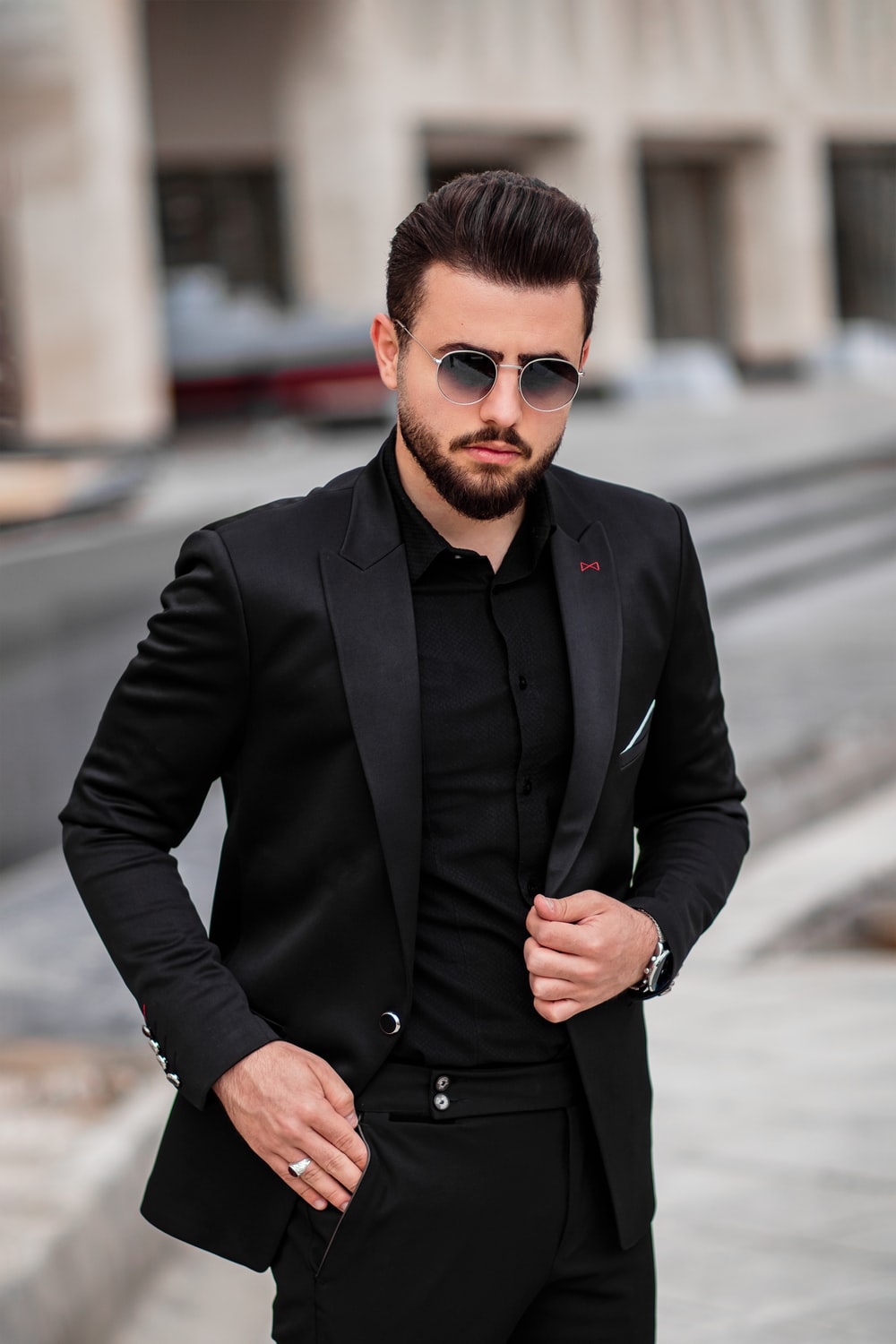 Image source: unsplash.com History The medieval and renaissance coat is a mid-length, sleeved men's garment fitted to the waist and buttoned from the front with a full skirt, not unlike the present-day coat. There are certain styles taken from the late 18th- century paradigm called Great Male Renunciation. By the 18th century, overcoat had come. Jacket and coat came to be used interchangeably. In the 19th century, coats and overcoats had come. The term undercoat is an archaic term. Men carry suits on formal occasions. When of identical textile, and worn with a collared dress shirt, necktie, and dress shoes, it was considered traditionally informal in western style. Types Lounge suit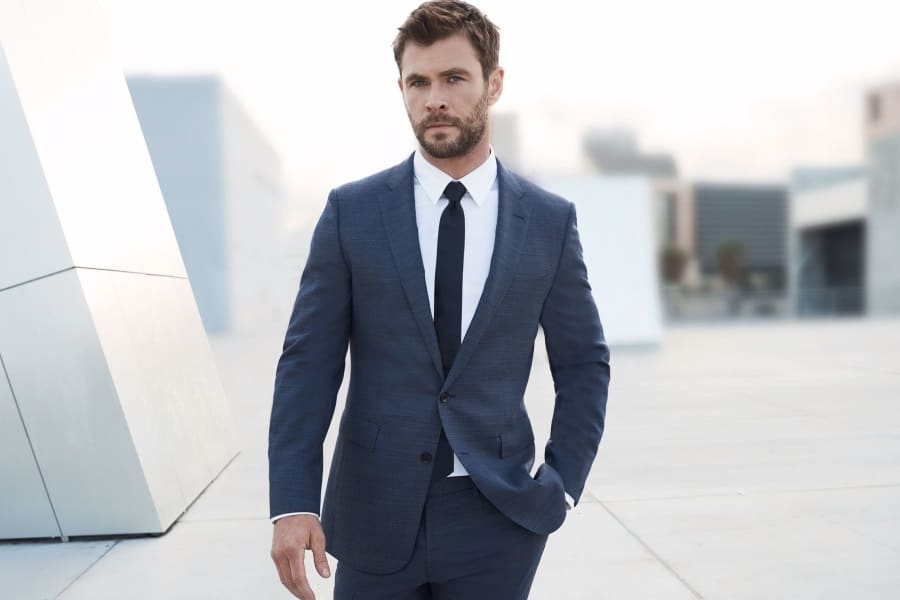 Image source: manofmany.com It came in 19th century Britain as more casual wear as an alternative to sportswear and British country clothing. It replaced the frock coat in the early 20th century as regular daywear. It was a sober one-colored suit and came to be known as a lounge suit. Business suit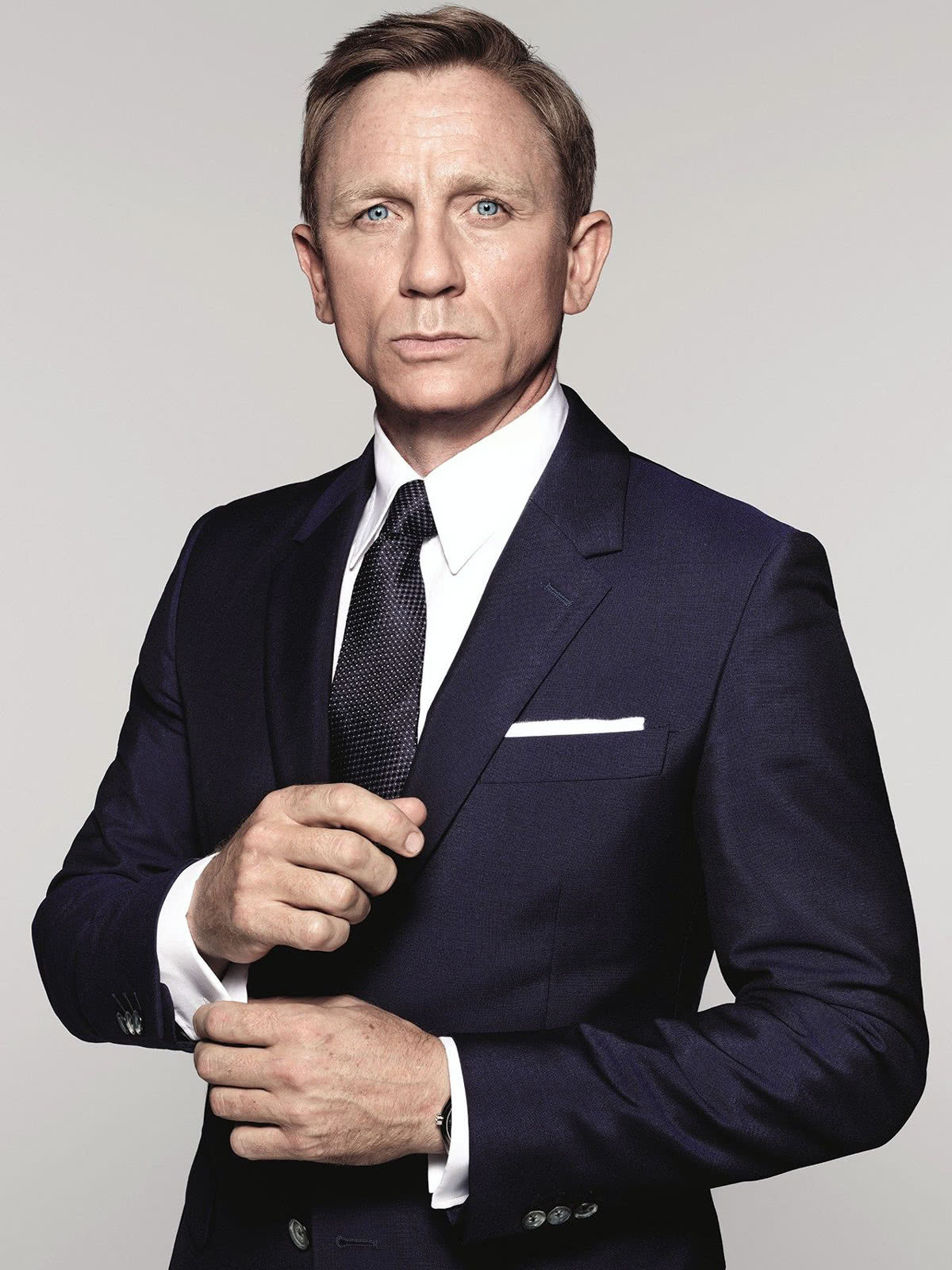 Image source: luxedigital.com A lounge suit for professional occasions is called a business suit. Two-piece suit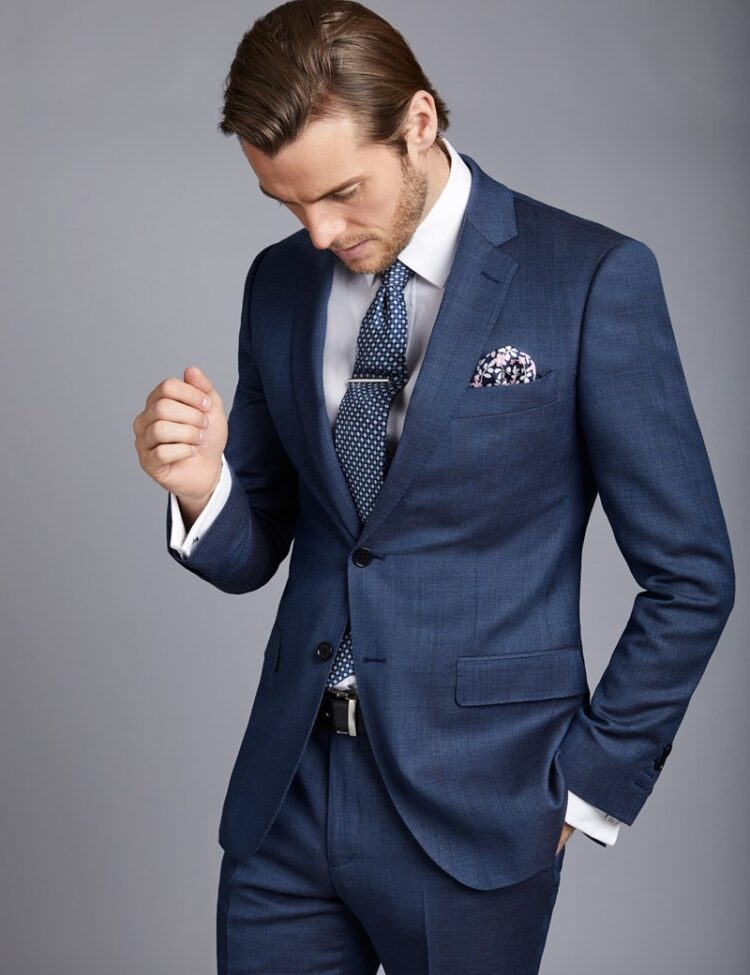 Image source: dapperconfidential.com It comprises of jacket and pants. Three-piece suit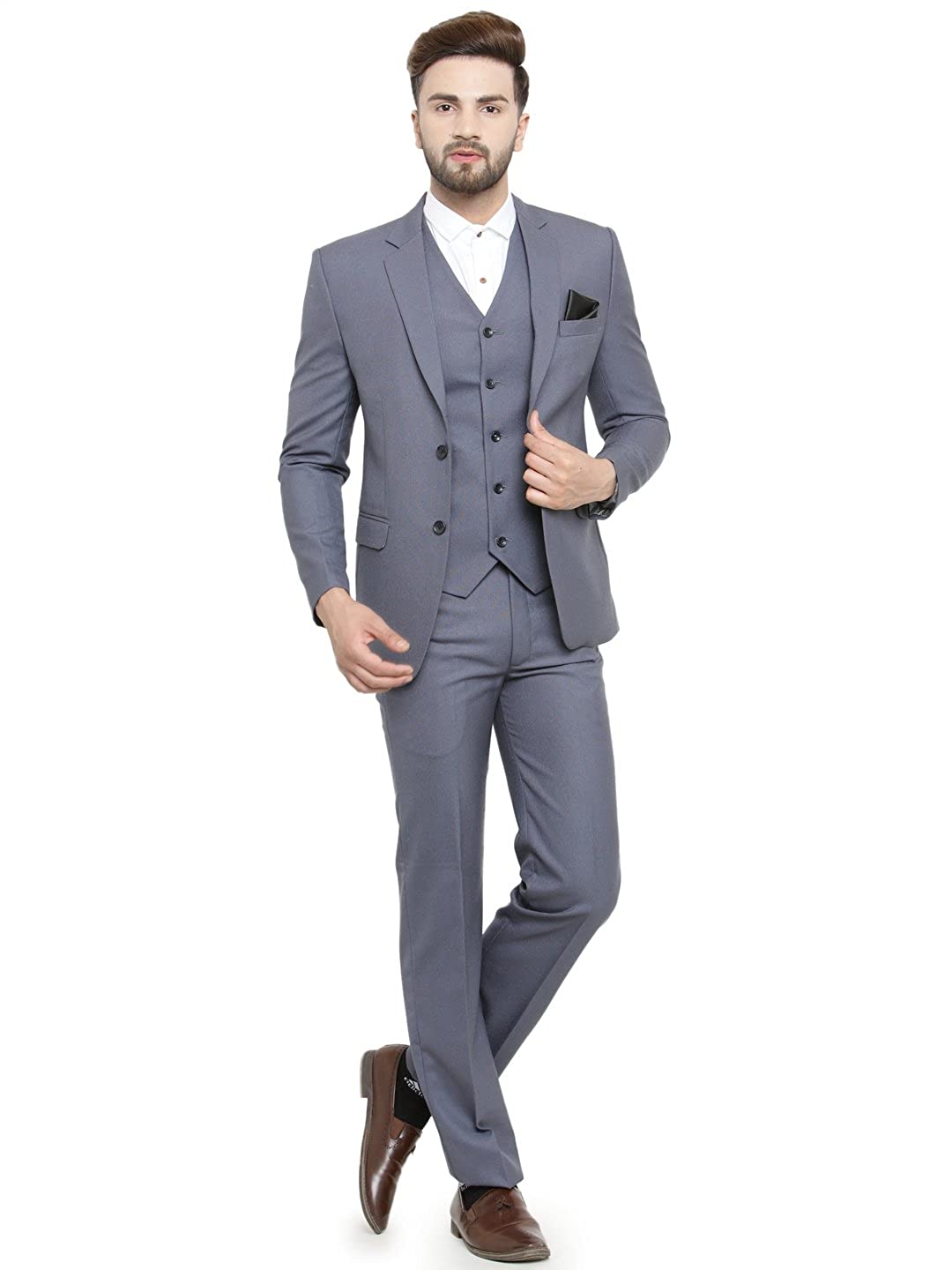 Image source: amazon.com It comprises of jacket, pants and is added with a waistcoat. Hats were also worn with suits in Western culture. Informal suits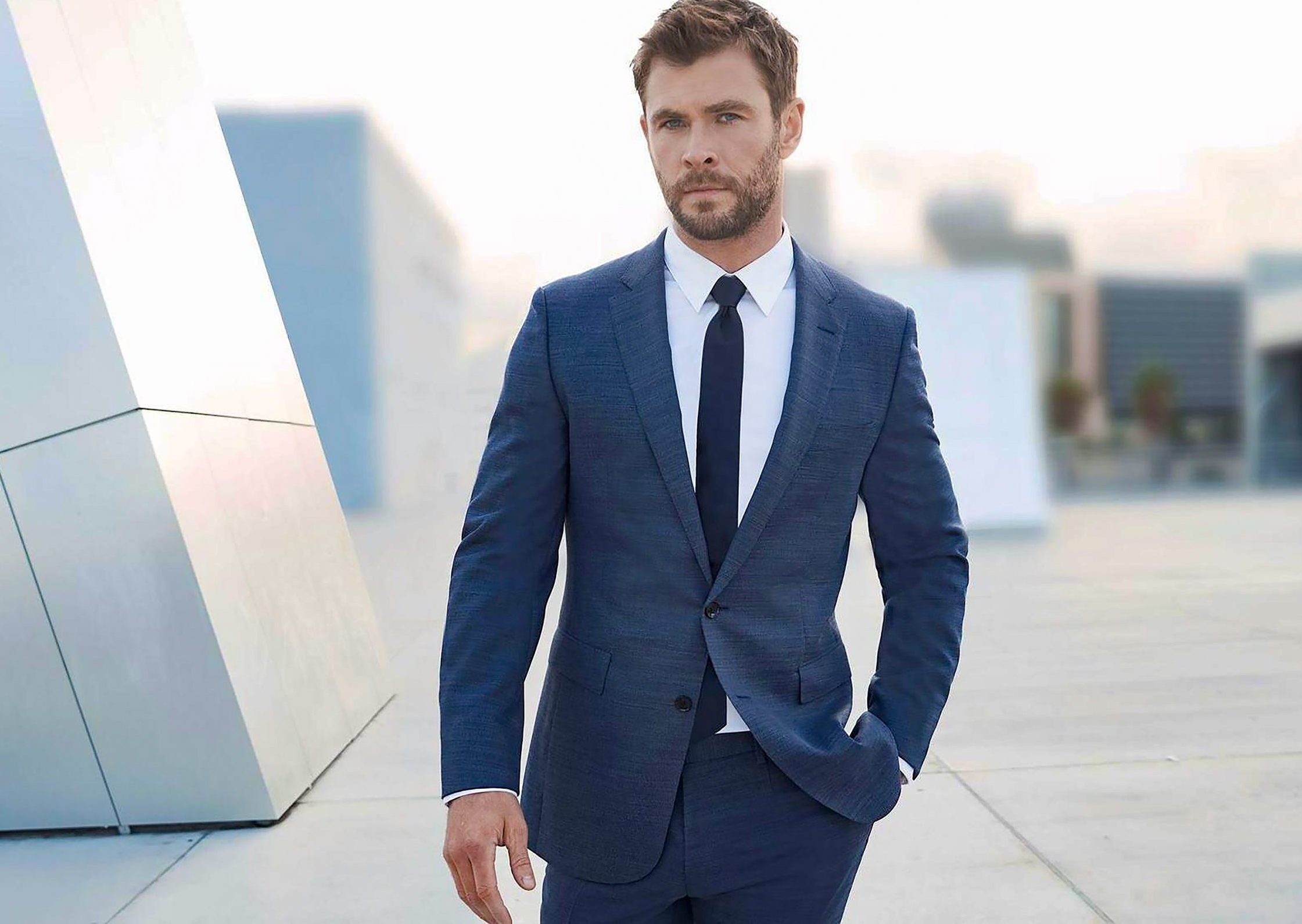 Image source: hundreddollarsuits.com These have been traditionally worn with a fedora, a trilby, or a flat cap. Other accessories that were carried are handkerchiefs, suspenders, or belts, watch, and jewelry. Semi-formal suits These are notable suits also called dinner suit (black tie), and the black lounge suit (stroller). These arose as less formal alternatives for the formal wear of the dress coat for white tie. Bespoke suits These are suits tailor-made from the client's selected cloth. These are custom-made according to measurements, taste, and style preferences. Made-to-measure suits These are according to a pre-made pattern, modified to fit the customer when a limited selection of options and fabrics is available. Ready-to-wear suits or Off-the-peg (Commonwealth English), or Off-the-rack (American English) These are sold as they are, although some alteration tends to be required. 'Suit separates' In this, lounge jackets and pants are sold separately to minimize alterations needed. These also include odd-colored blazers or sports coats. These are smart casual options. This style changed the elaborately embroidered and jeweled formal clothing into simpler clothing of the British Regency period, and it gradually evolved to the paradigm of the Victorian era. In the late 19th century, this gave rise to the modern lounge suit. Brooks Brothers gave the first "ready-to-wear" suit, a suit which was sold already manufactured and sized. Haggar Clothing first introduced the concept of separately sold jackets and pants. These are widely found in the marketplace also. The silhouette of any suit is its outline. The shape is the essential part of tailoring that often takes handwork from the beginning. Cuts The 2 main cuts are double-breasted suits and single-breasted suits. Double-breasted suits are a conservative design with 2 columns of buttons, and it is spanned by a large overlap of the left and right sides. In Single-breasted suits, sides overlap very slightly, with a single column of buttons. Good tailoring is characterized by strongly tapered sides and minimal shoulder. Rack suits are often there to reduce labor. Casual suits are characterized by less construction and tailoring. This is a loose American style. Suits are made in many fabrics, but the most common is wool. The main colors for suits are black, light grey, navy. These can be with or without patterns. Grey flannel suiting has been worn widely since the 1930s, particularly. In non-business settings or less-formal business contexts, brown is another color, olive is also very nice. In summer, light shades like tan or cream are popular. Tweeds For the non-business purpose, Tweed has been popular since Victorian times and is still worn commonly. A wide range of colors is available, which includes muted shades of green, brown, red, and grey. Tweeds are usually checked or can be plain also with a herringbone weave. Although Tweed suits are not popular now, the jackets are often worn as sports jackets with odd trousers (trousers of different cloth) The most conventional suit is a two- or three-button and either medium o dark grey or navy. Other colors are grey, black, and olive. White and light blue are acceptable at some events, especially in the warm season. Red and bright green is considered usually considered "unconventional" and "garish". Traditional gentleman's suits are of plain color. In the United States and the United Kingdom, around the beginning of the 20th century, lounge suits were never traditionally worn in plain black, as this color was reserved for formal wear. However, there was a decline in formal wear since the 1950s and the rise of casual wear in the 1960s which allowed the black suit to return to fashion. Many designers were moving away from the business suits toward more fashion suits. Traditional business suits are commonly in solid colors or with pin stripes; windowpane checks are also acceptable. Outside business, the range of acceptable patterns broadens, with plaids such as the traditional glen plaid. The color of the patterned element (stripes, plaids, and checks) varies by gender and location. For example, bold checks, particularly with tweeds are not being used in the U.S., while they are used commonly in Britain. Some unusual patterns such as diamonds are old and rare everywhere. Inside the jacket suit, between the outer fabric and the inner lining, there is a layer of strong interfacing fabric to wool from stretching out of shape; this layer of cloth is called the canvas after the fabric from which it was traditionally made. Expensive jackets have a floating canvas, while other manufactured models have a fused canvas. Jacket Most single-breasted suits have two or more buttons. Dinner jackets (called "black tie") usually have one button. It is rare to find a suit with more than four buttons, but Zoot suits have six buttons due to their longer length. There is also variation in the placing and size of buttons. The top of the button lines up closely with the natural waistline. The bottom button is commonly not meant to be buttoned. It is common to keep the jacket buttoned while standing and to unbutton the same while seated. Double-breasted jackets have only half of their buttons functional because the second row is for display only. Some rare jackets can have as few as two buttons, and during the 1960s and 1970s, as many as eight were seen. Six buttons are typical. A four-button-double-breasted jacket usually has buttons in a square. The layout of the buttons and the shape of the lapel are coordinated. Lapels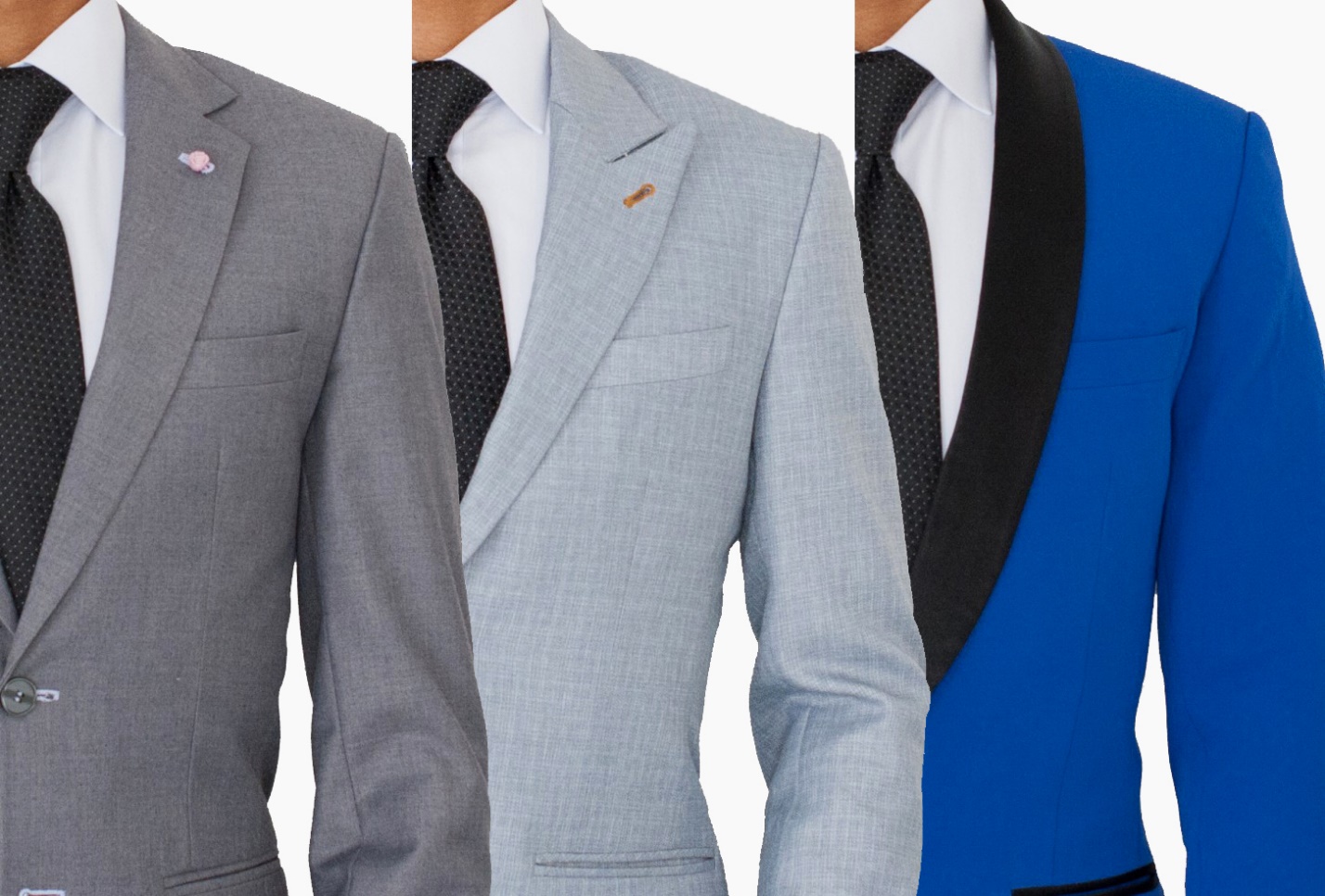 Image source: suitsexperts.com Lapels can be notched, also called "stepped", peaked, also called "pointed", shawl, or "trick" (viz Mandarin and other conventional styles). Lapels have different connotations and are worn with different cuts of the suit. Notched lapels Notched lapels are the most common. They are found usually on single-breasted jackets and are the most informal style. They are distinguished in a way by a 'notch' at the point where the lapel meets the collar. Peaked lapels Peaked lapels have very sharp edges which point upward towards the shoulders. Double-breasted jackets commonly have peaked lapels, although peaked lapels are often found on single-breasted jackets also. Shawl lapels Shawl lapels are a style that came from Victorian informal wear. For black-tie events, only jackets with pointed as well as shawl lapels should be worn. In the 1980s, double-breasted suits with notched lapels were popular with a new style. Waistcoats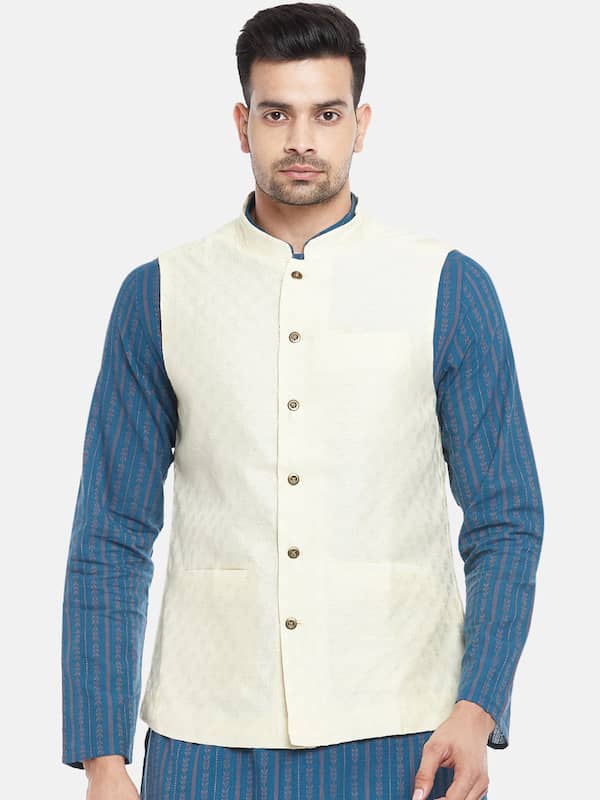 Image source: myntra.com Waistcoats were almost always worn with suits prior to the 1940s. Traditionally, the bottom button of a waistcoat is left undone, like the vents in the rear of jacket, which helps the body bend when sitting. Some waistcoats can have lapels, others may not have. Trousers Suit trousers are always made of the same material as that of the jacket. Even from the 1910s to 20s, before the invention of sports jackets, specifically to be worn with odd trousers, wearing a suit jacket with odd trousers was seen as alternative to full suit. Sports jackets are modern. Suit jackets are always worn with matching trousers and the trousers are worn with matching jacket. One variation in the design of trousers is whether or not to use pleats. The most classic style of trouser is to have two pleats, in the forward direction, since this gives more comfort sitting and better hang standing. This is still a common style, and for these reasons has been worn throughout the 20
th
century. The style is seen as the smartest. It also features dress trousers with black and white tie. Cuffs Turn-ups on the bottom of trousers, or cuffs, were initially popularized in the 1890s and these were popular with suits throughout the 1920s and 1930s.
By Bhawna