Blackpink is one of the first names that will pop up when you think of K-pop. One of the, if not the most popular K-pop girl band in the world, Blackpink is a cultural and fashion phenomenon that is celebrated all around the world. The band's fashionable looks in their music videos, concerts, and public appearances make great ripples in the fashion scene every time. K-pop fashion is taking the world by storm, and K-pop concert outfits are a solid reflection of the said craze.
Blackpink's members Rose, Lisa, Jissoo, and Jennie are all the faces of some of the leading fashion brands in the world, including the like of Dior, Saint Laurent, Calvin Klein, and Celine.
So when it comes to their concerts, the band wears the best of international fashion styled by the best stylists in the industry. Blinks follow suit and wear the chicest ensembles to emulate and appreciate their favorite artists. Blackpink Fashion is young, cool, and trendy.
Image Source: google.com
Style Tips for Creating the Perfect Blackpink Concert Outfits
1: Feminine vibe: K-pop girl groups including BlackPink love to wear feminine outfits. Laces and trims, floral prints, skirts, dresses, and cute accessories are great options to consider.
2: Accessorize well: Blackpink loves wearing statement and complimentary accessories with all their outfits. Stacked necklaces, hairbands, bracelets, sparkly earrings, etc are absolute no-brainers for the event.
3: Comfort is key: Blackpink concerts are no joke. They are high-energy, immersive events that will have you dancing and moving around the whole time. Make sure whatever you wear is comfortable and allows you to fully enjoy your time. One great example would be ditching heels and going for fashionable white sneakers.
4: Colors: Blackpink Outfits are always super colorful and coordinated. So, don't be afraid to play with colors! Blackpink is all about having fun! Wear your favorite colors and go crazy with combinations. Pink is a great option to really rep the team.
5: March: Wearing your beloved march is a great way to support your favorite brand and show your appreciation. Pairing your march with sparkly elements is a great way to dress up for the day.
6: Recreation: DIY recreations of iconic music video looks and concert outfits are a great way to dress up for the concert! It may take some time and effort to make it, but it is a great way to show your love for the band. Perhaps the Jennie Pretty Savage Outfit is a great one to recreate!
Top 5 Outfit Ideas for Your Blackpink Concert Look
1: Cute Feminine Top and Jeans: High-wasted jeans and a bold, colorful top make for a relaxed yet fashionable outfit. To finish the look, add a pair of trainers and some heavy jewelry.
2: Blouse and Jeans: Statement High-waited jeans and a bold, colorful top make for a relaxed yet fashionable outfit. To finish the look, add a pair of trainers and some hefty jewelry.
3: Mini Dress and Boots: Grab a little dress with a lively print and a pair of ankle boots for a more feminine appearance. Add some statement earrings and a cross body purse as accessories. The boots are a comfortable option and super trendy.
4: Oversized t-shirt, Ripped Baggy Jeans, and White Sneakers: A trendy choice in general, this comfortable outfit paired with cute accessories and a bum bag is perhaps the best option for the day. Not only is it perfect Blackpink airport fashion, but it is also a fabulous way to cruise through the concert comfortably.
Tips for Accessorizing and Finishing Up Your Black Pink Concert Look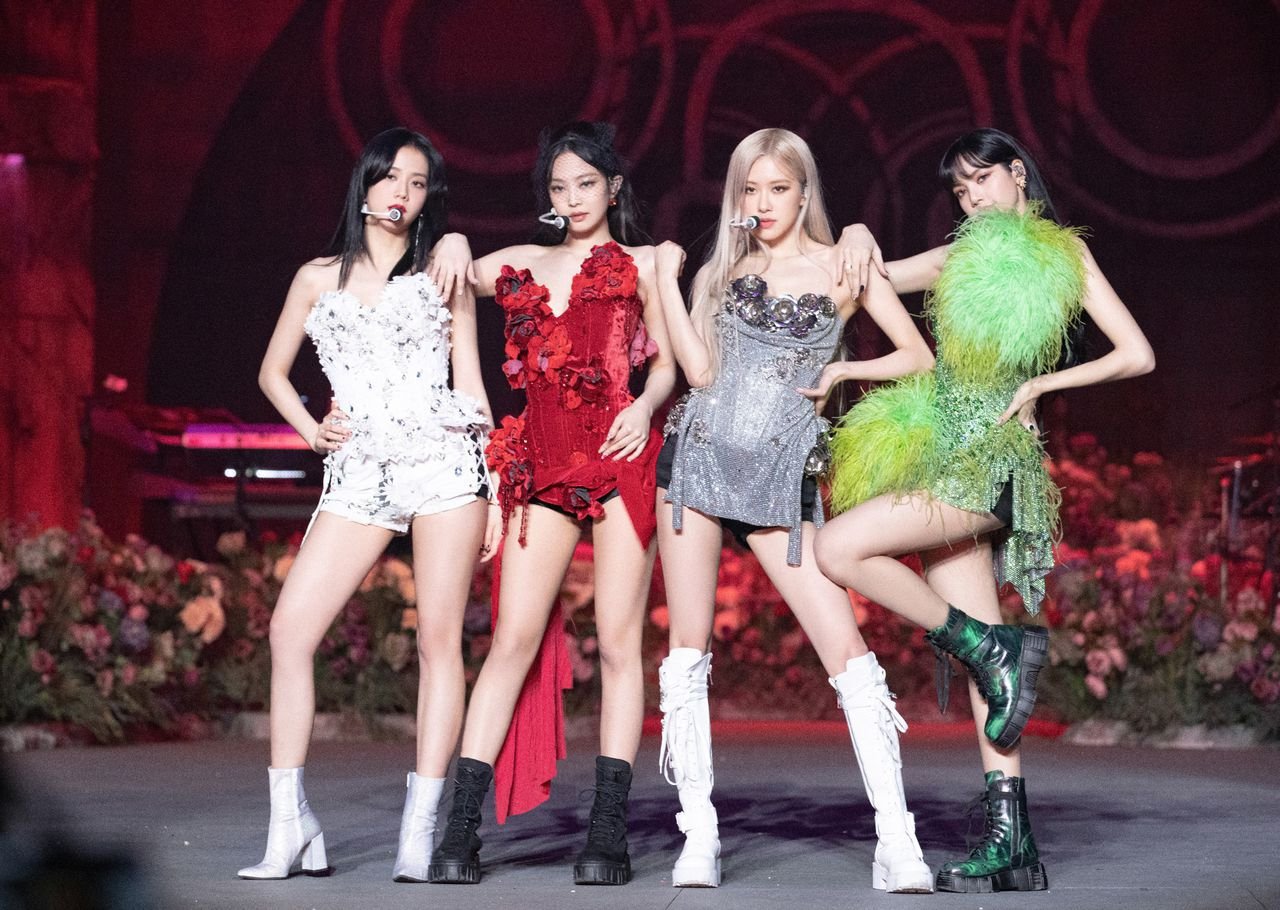 Image Source: google.com
While in a Blackpink concert, you must carry the following accessories as not only are they fashionable, but they will also prove to be very handy during the show:
1: White Sneakers: As mentioned before, wearing comfortable footwear is a must. A classic white pair of sneakers is a great option as it is versatile and very trendy.
2: Bag: Carry a bum bag or a cross-body sling to carry your essentials to the concert. It is easy to store things like your phone, wallet, paperwork, cards, makeup, etc in smaller handier bags than pockets or conventional purses.
3: Necklaces: Blackpink outfits often feature heavy stacked necklaces and pendants along with chokers. These are great options to add to your outfit and look on theme.
4: Earrings: Even though hoops are a terrific way to accessorize, you must try to avoid items that can get caught in various things and hurt you. Cute studs and sparkly dangling earrings are a far better option to dance around in.
5: Ultra-feminine: Headbands, scarves, bows, etc. are cute additions to glam up your outfits and add a layer of femininity to your outfit.
6: Makeup: Blackpink concerts are loud, energetic, and colorful! Make sure to reflect that in your makeup. Colorful lids, glossy lips, winged liners, and blush are a must!
Are BTS' V and BLACKPINK's Jennie Dating?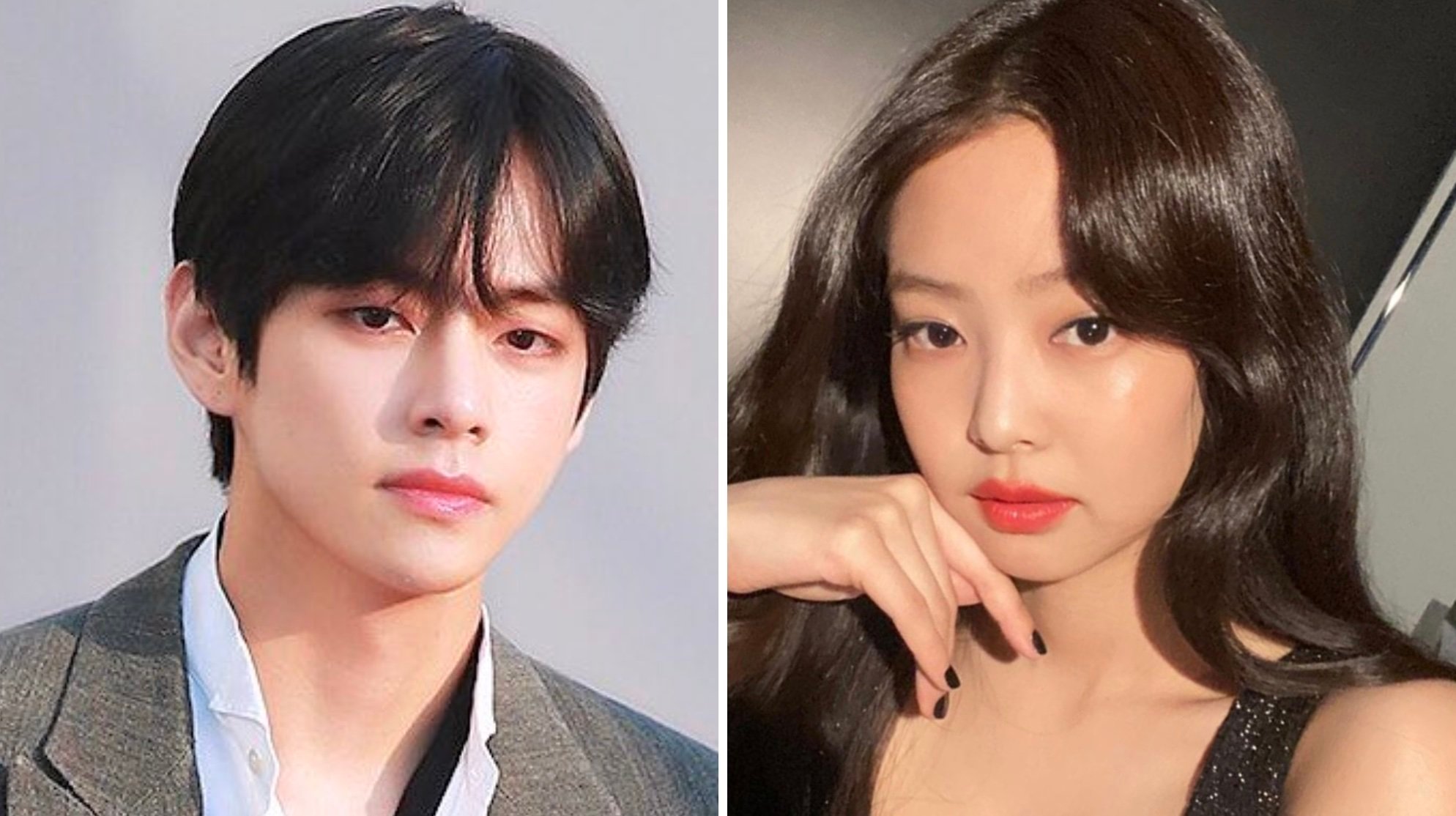 Are you a fan of BTS' V and Blackpink's Jennie? Well, you're in for a treat! The two K-pop stars have recently been reported to be dating. While the news has yet to be confirmed, fans are already excited about the possibility of seeing these two beautiful and talented artists together. If you're a fan of K-pop and love a good love story, this news is definitely something to keep an eye on.
Hold onto your seats, K-pop fans! Rumor has it that BTS' V and Blackpink's Jennie might be dating each other. Fans of both groups are buzzing with excitement about this news, especially since both V and Jennie are some of the most popular and admired idols in the K-pop industry. We don't know what the future holds for these two stars, but one thing's for sure: if they are really dating, it's going to be an exciting time for all of us.
It's the news that has taken the K-pop world by storm: BTS' V and Blackpink's Jennie might be in a relationship together. While nothing has been confirmed yet, fans are already speculating about what this means for the two idols and their respective groups. Will they come out and confirm their relationship? Or will they keep it under wraps for the time being? Whatever happens, we're sure that the fans will be happy for them and will continue to support them in all their endeavors.

Written by- Ananya Majumdar
You May Also Like
Paris Fashion Week March-April 2023