Fashion is a global phenomenon and yet, we only think of Europe when we think of it. Asia and Africa have been unique hubs of fashion that take immense pride in their culture and tradition. African fashion is often overlooked in the global arena, and that is a massive loss to the world. African fashion is diverse, unique and meaningful. It has been an inspiration for many global fashion brands for many years too!
Let usl dig into the world of African clothing in this complete guide, studying the various designs, patterns, and accessories that distinguish this distinct fashion trend. We'll give you the information you need to incorporate African wear into your collection. Prepare to be enchanted by the beauty and timeless elegance of African fashion.
Image Source: google.com
How to Style African Prints for Men like a Pro
When it comes to African wear for men, there are a few key tips to keep in mind to achieve a professional and polished look. Here's how to style Africa fashion like a pro:
1: Keep it balanced: Because African designs are colorful and opulent, they should be paired with neutral colors to produce a balanced aesthetic. Try pairing a vivid African design shirt with neutral-colored pants.
2: Embrace pattern mixing: African prints are known for their detailed designs, which may be combined to create beautiful combinations. Make sure the patterns have complementary colors or have a common design aspect.
3: Pay attention to fit: Fit is essential for every clothing, especially African designs. To preserve a sleek appearance, make sure your apparel is fitted to your body type.
4: Accessorize wisely: African designs work nicely as accessories like hats, ties, pocket squares, and even shoes. There are many authentic options to choose from.
5: Confidence is key: Wear African prints with confidence. The vibrant colors and bold patterns make a statement. Find a style that matches your personality and have fun.
African Wear Accessories Every Stylish Man Should Own
When it comes to African wear for men, several accessories elevate your style. Here are some accessories every stylish man should consider owning:
1: Kente or Ankara Bow Tie: A bow tie made of traditional African cloth, such as Kente or Ankara. Instantly adds a striking accent to any attire.
2: African Print Pocket Square: A pocket square made from African print fabric. A subtle yet impactful accessory that can bring a pop of color and pattern to blazer.
3: Dashiki or Kaftan: A dashiki, also known as a kaftan, is a traditional African topwear garment. It's a flexible garment that can be dressed up or down.
4: African Print Scarf: Bright and beautiful, this may be worn around the neck, draped over the shoulders, or fastened as a headwrap.
5: Handmade Leather Sandals: Handcrafted leather sandals are comfortable and stylish especially during warmer months.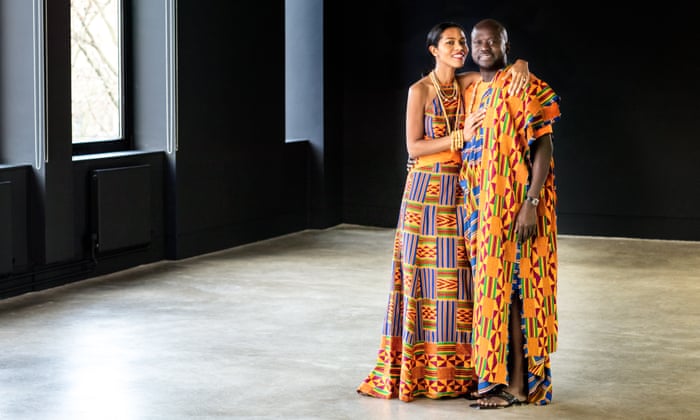 Image Source: google.com
How to Incorporate African Wear into Your Everyday Wardrobe
Start by learning and immersing yourself in African fashion.
The Africa Fashion Exhibition 2023 is a highly anticipated event that showcases the rich and diverse fashion landscape of Africa.
1: This exhibition aims to highlight the creativity, craftsmanship, and cultural legacy of African fashion. It presents traditional African attire, avant-garde masterpieces, and cool fashion accessories.
2: The Africa Fashion Exhibition 2023 also includes interactive workshops, panel discussions, and expert presentation. It helps in providing valuable insights into the fashion industry. They promote important exchange among designers, entrepreneurs, and fashion enthusiasts.
Search for 'Africa fashion exhibition review' online and you won't be disappointed.
1: The Africa Fashion Exhibition was praised for celebrating African fashion and culture. The spectacular runway displays, which highlighted flamboyant African patterns, traditional craftsmanship, and new ideas, were complimented by attendees.
2: The interactive seminars and panel discussions gave useful insights and fostered industry knowledge sharing. The show was praised for its role in globalizing African fashion and providing networking chances for designers and fashion fanatics. Overall, the Africa Fashion Exhibition review has been deemed a success.
The Rise of African Wear for Men in the Fashion Industry
The Africa Fashion Show 2023 is a highly anticipated event that will showcase the creativity and diversity of African fashion.
1: It brings together world-famous designers, models, industry executives, and fashion fans from all across the continent. The show will include spectacular runway demonstrations showcasing traditional African costumes, modern designs, and cutting-edge fashion trends.
2: The Africa Fashion Show 2023 aims to celebrate African fashion and promote emerging talent to the world. It promises to be a spectacular event that will elevate African fashion on a global stage.
The advantages of online fashion buying include convenience, a large range of selections, access to worldwide brands, time savings, quick price comparison, user reviews, and the opportunity to purchase anytime and anywhere with doorstep delivery.
Companies like SHEIN are global platforms that enable people from all over the world to get their hands on trendy clothes for cheap prices. African fashion has made a significant impact on companies like SHEIN, by providing designs as well as a huge consumer base to them.
SHEIN is especially popular in South Africa. Offering a wide range of trendy clothing, shoes, accessories, and more, SHEIN South Africa online provides South African shoppers with convenient access to affordable fashion. With its user-friendly website and mobile app, customers can browse through a vast selection of stylish items, place orders, and have them delivered right to their doorstep. SHEIN South Africa online aims to cater to the fashion needs of men, women, and children, ensuring that shoppers can stay up-to-date with the latest fashion trends at competitive prices.
Image Source: google.com
Fashion Trends for Spring Summer 2023
Cool Fashion Trends Coming Up in 2023
Written by- Ananya Majumdar